If you are wanting to elope in Olympic national Park, here are my top 5 Popular locations (and 5 secret ones)!
How to elope in Olympic National Park. A thorough guide having an elopement on the Olympic Peninsula in Washington.
So you have decided on having an adventure elopement (if you're still thinking about it, read my blog about the differences and similarities here). Congratulations! You're one step closer to your big day. Now you're thinking about having your elopement in Olympic National park. That too is a fantastic choice. I'm gonna give you a lot of insider information in this post as I have lived at the park border my entire life and have adventured around the area for decades.
Let's start with the fun part. You get to choose where. As one of the most diverse parks in the entire country, you can elope anywhere from the top of a mountain to a picturesque beach to a boat on a peaceful beach. I'm going to give away a few of the locals secrets now so please treat them with the respect they deserve.
The most popular places: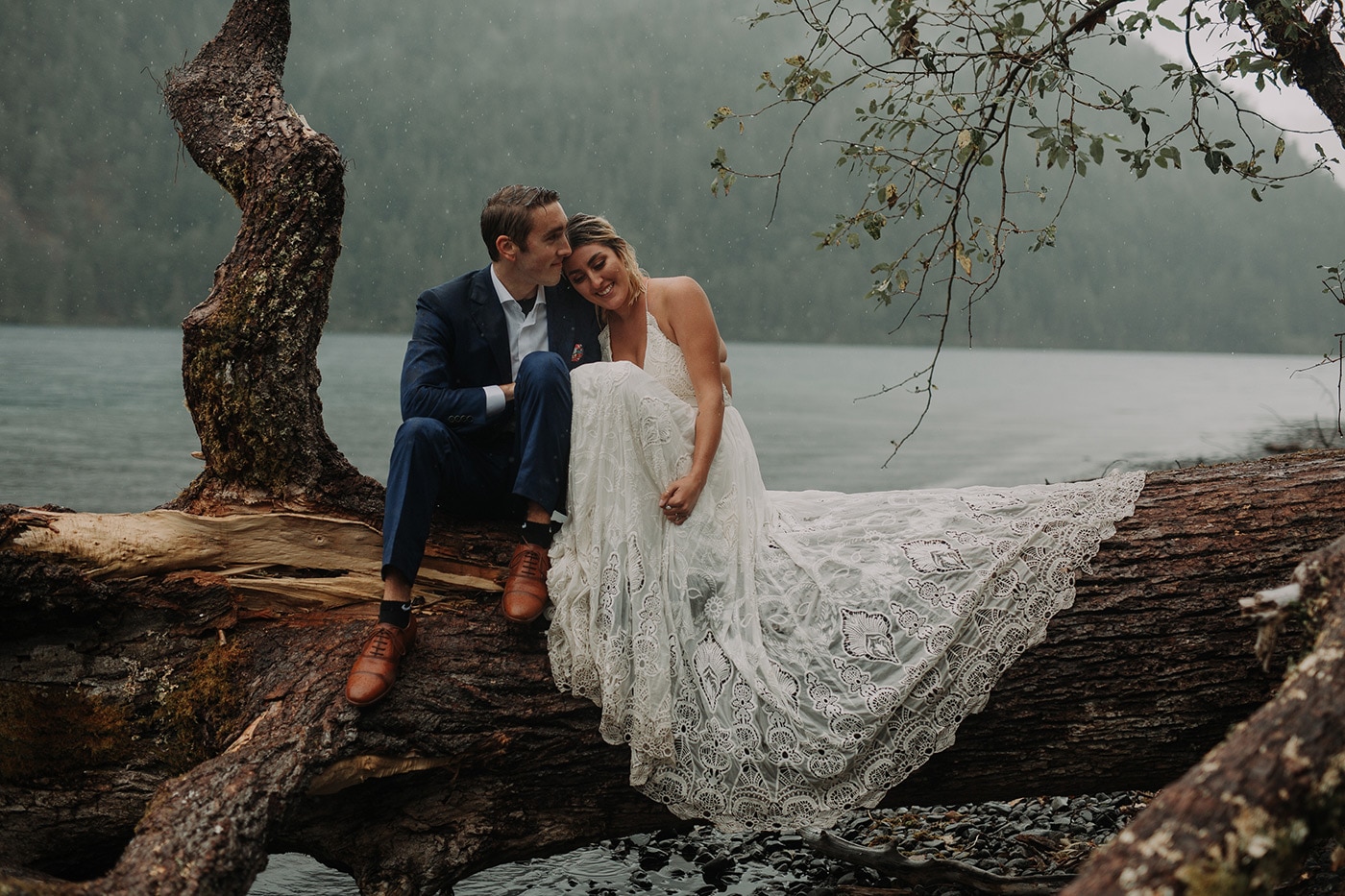 2. Lake Crescent.
Just outside the beautiful town of Port Angeles, Washington, is Lake Crescent (formally named Crescent Lake but not to the locals). This area is a dream for a couple who wants an adventure elopement. For the popular places, Nature Bridge is better for bigger weddings. Not only can they accommodate larger groups for the ceremony, they also have spaces for the reception as well as rooms for guests to stay in. 
The premises is used for teaching children about nature so some of the buildings are not usable during the classes. You must check ahead of time if you want to have your elopement here for available dates and other details. There is also Lake Crescent Lodge. A Lake Crescent Lodge wedding makes for an epic day. It is also right on the water with a big dock where you can rent canoes or kayaks.
 The nearby moments in time meadow is a gorgeous open area for larger groups. The Lodge provides all of the seating (up to 40 guests) but you will have to provide the catering. There are rooms for guests but the base price is only for use of the space. There's a lot of secret spots here so I will talk about those in a bit.
Here is a blog post for a moody lake crescent wedding https://kimbutlerphotography.com/blog/moody-lake-crescent-wedding-2020/
Here is one for a Lake Crescent Lodge Elopement https://kimbutlerphotography.com/blog/romantic-elopement-at-lake-crescent-lodge/
Here is the official National Park Service page for Lake Crescent https://www.nps.gov/olym/planyourvisit/visiting-lake-crescent.htm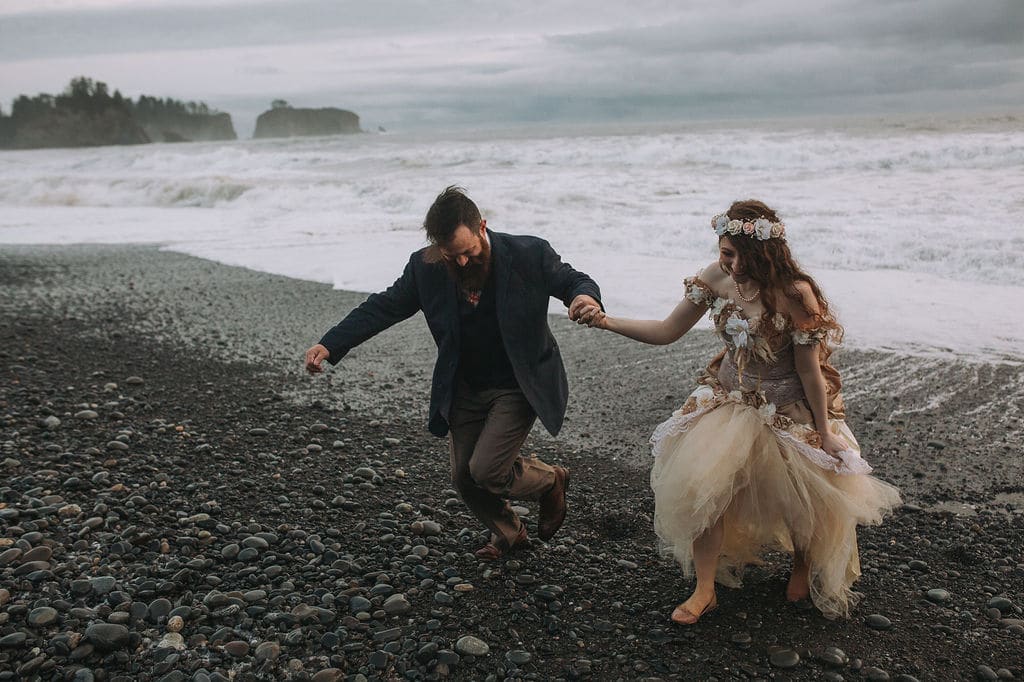 3. Next up is the one and only Rialto Beach.
 https://www.nps.gov/olym/planyourvisit/rialto-beach.htm The beach at Rialto is amazing. The rocky beach is incredibly beautiful with Seastack Rock providing the backdrop for a wonderful elopement. There is a large campground that has many sites overlooking the beach. You will want to make reservations as the campground fills up quickly, especially during the busy summer weekends.
 Being close to the water, the campground is open year round except during bad weather conditions. Rialto weddings are also fairly common so you may want to plan ahead of time if you're going to have your ceremony here.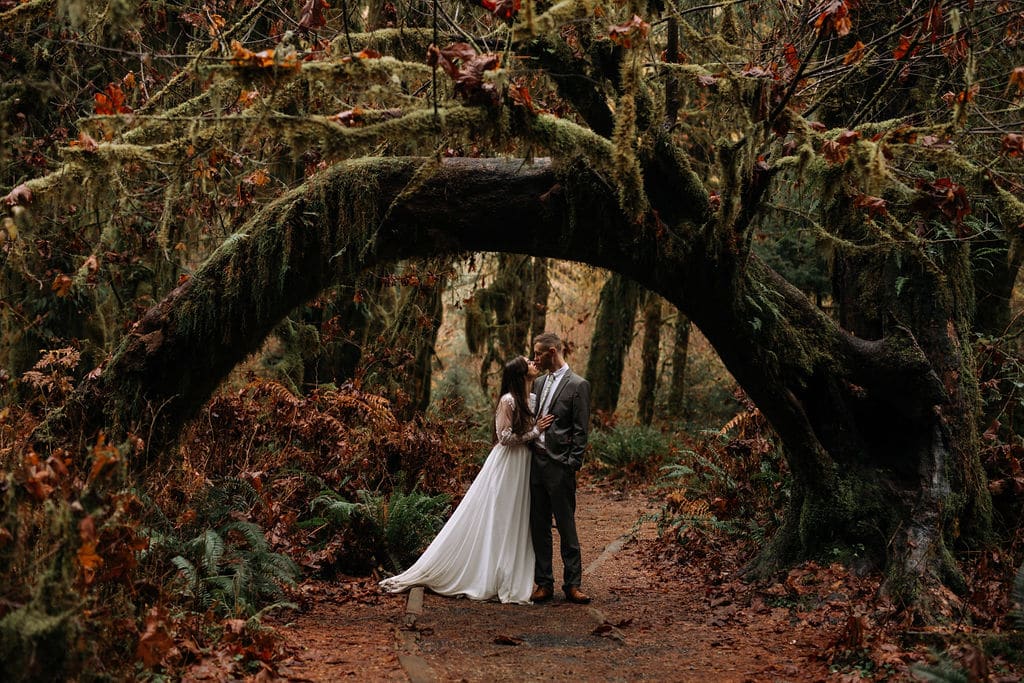 4. The Hoh Rainforest
A Hoh Rainforest Wedding is a magical occurrence in the depths of Olympic National Park. The ancient trees are magnificent and glorious. There is a campground at the end of the road where you and your guests can stay the night. There are camping fees per site and reservations are recommended.
 This is a highly trafficked area and privacy may be a little difficult. However, there are a couple trails that can lead you to amazing locations. The first trail is the most common. This is called the Hall of Mosses trail. To say this is a beautiful place is such an understatement. There are trees that are so tall and wide that you have to see it to believe it for yourself.
 The moss coming off the trees is several stories tall and creates such a gorgeous scene that makes the area feel so fresh and open. At the same time, the trail here feels so close and happy. It sounds strange but this place feels like it is on another planet. Trust me, this place is perfect. 
The other trail is on my secret list so keep reading below to find it. I'll talk more about weather considerations later but an Olympic National Park Elopement at the Hoh Rainforest has a much higher chance of rain or at least clouds. After all, it is called a "rain" forest for a reason. Just please take that into consideration if you are going to elope here.
Here is a link for more information about the Hoh Rain Forest https://www.nps.gov/olym/planyourvisit/visiting-the-hoh.htm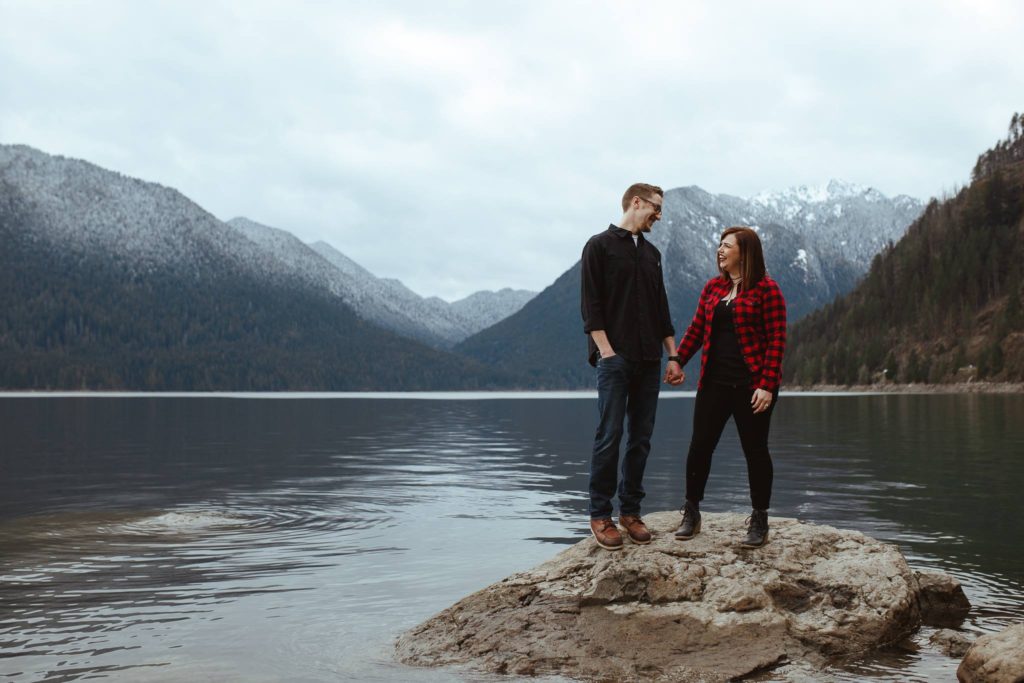 5. Lake Cushman is another popular location. 
This lake is near the hood canal, which is on the opposite side of the park from the other locations we have seen. To get here, you will want to travel on 101 in Washington on the hood canal to Hoodsport. Once you go off the main highway, there is a little bit of pavement. After that, the road changes to many pot holes and is very rutted. The drive is completely worth it. 
For the first part of the lake, the water level is higher. Near the end of the lake the water level is lower and you can actually go out onto where the water would be. There are a ton of huge stumps from previous logging decades ago. I have actually had couples stand up on these and pose there for me. It is quite the different experience compared to the other popular locations. 
While a Lake Cushman elopement isn't extremely popular, it still gets quite a bit of tourist attention. If you are wanting a place that could be more private, you may want to see my secret spots below.
Here is some more information about Lake Cushman and the Staircase are of Olympic National Park
https://www.nps.gov/olym/planyourvisit/visiting-staircase.htm0
My Secret Shooting Locations
Secret spots are secret because few people know about them. Therefore, I may not say exactly where the locations are so your adventure elopement may be more unique. I have worked very hard to find these wonderful places so you can enjoy the private places with me as your photographer. With that being said, here are a few of my many secret spots I can take you to if you book me.
1 Most people think Deer Park is only a road that has a movie theater and a few houses. They couldn't be more wrong. Deer Park Road is a long winding road that eventually turns into dirt and is very narrow. This is an area that is perfect for a small elopement ceremony. There are quite a few areas to pull off and take photos but the best place to perform the ceremony is at the very top.
 Past the campground there is another road that stops at the ultimate destination. The view is that of dreams. You can see all the way to Vancouver, Canada and Mount Baker to the north and the Olympic Mountains to the South. The road is subject to closure for much of the year so planning a Deer Park elopement during the summer is probably the best idea. 
There are various trails that go around the campground that lead to meadows and many beautiful tree formations. There is also a trail that leads to my next secret spot.
Here is a spectacular Deer Park elopement that I photographed https://kimbutlerphotography.com/blog/deer-park-elopement-chelsie-and-zach/
2. Obstruction Point
 Obstruction point road can be reached from a few ways. I have photographed Obstruction point elopements and they are among my favorite. The main way to get to here is by the road from the top of hurricane ridge. It is not very well marked but I'll let you find it or I can show you when you book me. Much like Deer Park, the road into Obstruction Point is very long, narrow, and windy. 
There are a lot of places to park your car and take spectacular photos. I love this place so much that I even had my 10 year anniversary photos taken here. There are wide open views to the north and to the south, also like Deer Park, but there are a lot more places to stop along the way.
 Due to the road being near the top of Hurricane ridge, Obstruction Point road is closed for quite a bit of the year. Also, the road isn't plowed during the winter which means that you would have to walk over 10 miles to the end.
Here's an amazing session that I photographed at Obstruction Point. https://kimbutlerphotography.com/blog/olympic-national-park-engagement-session-juwelene-allan/
Here's some more information about the obstruction point road and surrounding area https://www.nps.gov/olym/planyourvisit/obstruction-point-to-deer-park.htm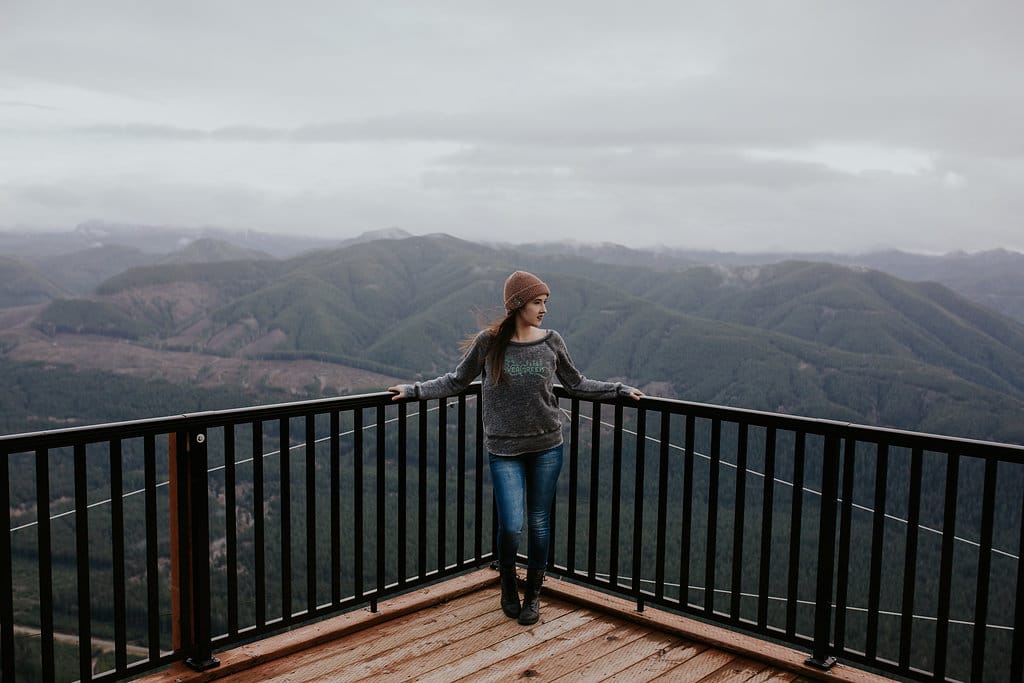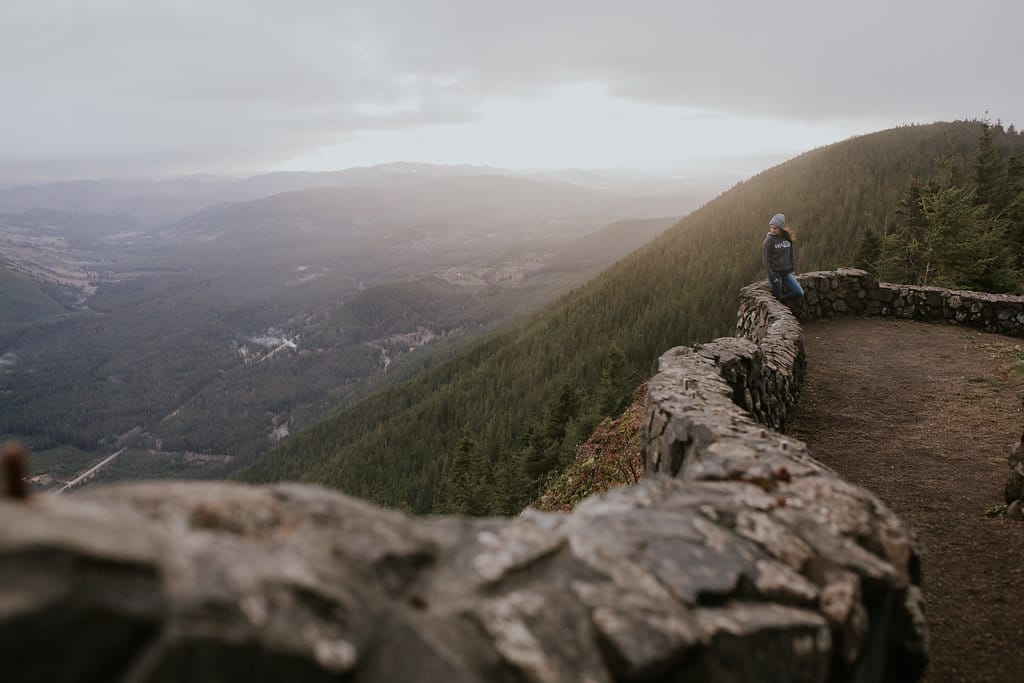 3. Snyder Overlook. 
I'm not sure this is even the official name for this place but it's crazy beautiful up there. The road to get to this is past Lake Crescent but before Forks. That's all I'm gonna say to keep it quiet. The narrow road would be difficult to pass with a large vehicle but once you get to the top, there is a small platform that would be perfect for a very small ceremony or bridal photos.
 From the platform, you can see the entirety of Lake Crescent, Lake Sutherland, and much of the northern Olympics and forest. As with any Olympic National Park Elopement, the weather can be very temperamental but even rain and clouds can be moody and sensual. I'll talk more about the weather in a little bit.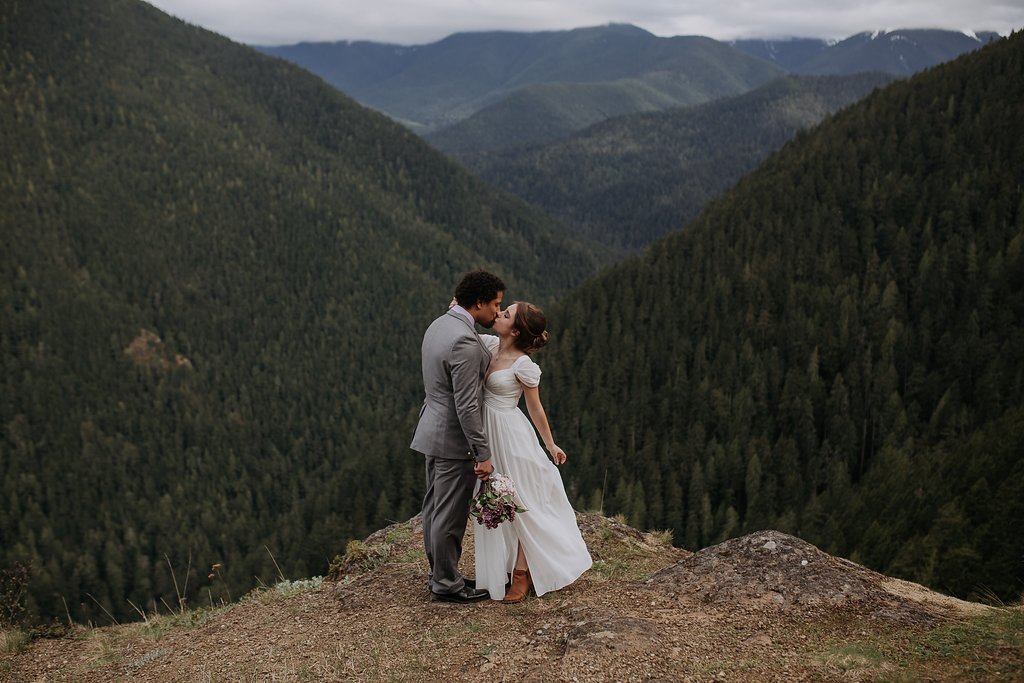 4. The Valley Overlook
 The next secret spot is another place that doesn't have a name that I know of. I call this spot "valley overlook" because, well, it looks over a valley. On the way up to hurricane ridge, there is a small pull out with an unmarked trail. The trail goes down a steep embankment which you would not be able to get to with snow on the ground or even if it has rained. I have only shot a few elopements here so it is still incredibly unique. I'll show you where it's at when you book me. It's totally worth it.
Here is an elopement that I photographed at what I call the "valley overlook" https://kimbutlerphotography.com/blog/ken-liz-hurricane-ridge-elopement/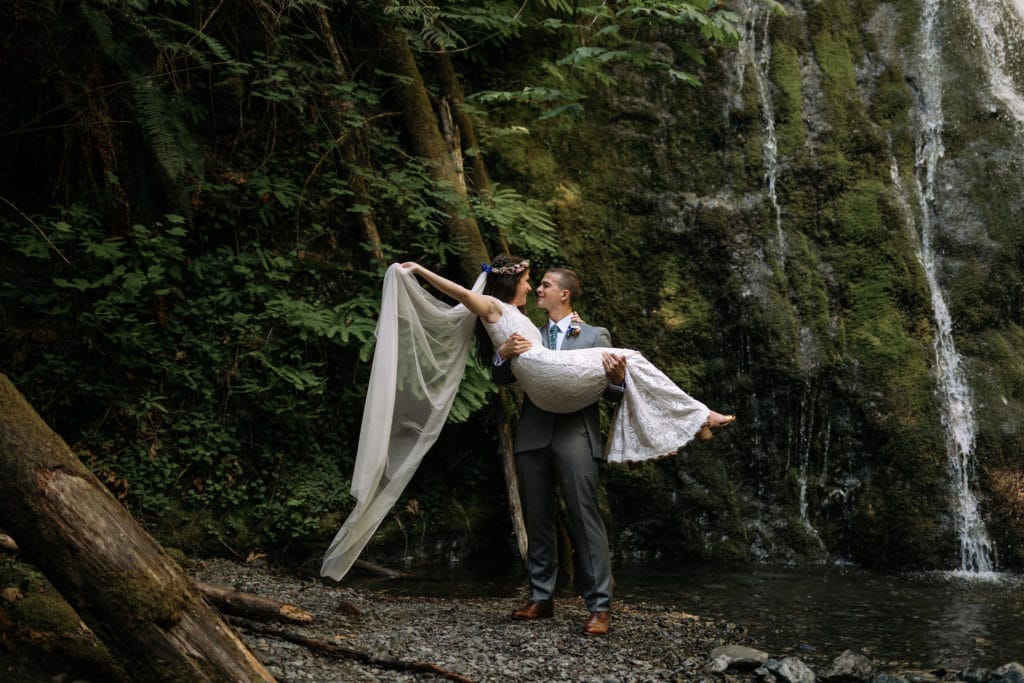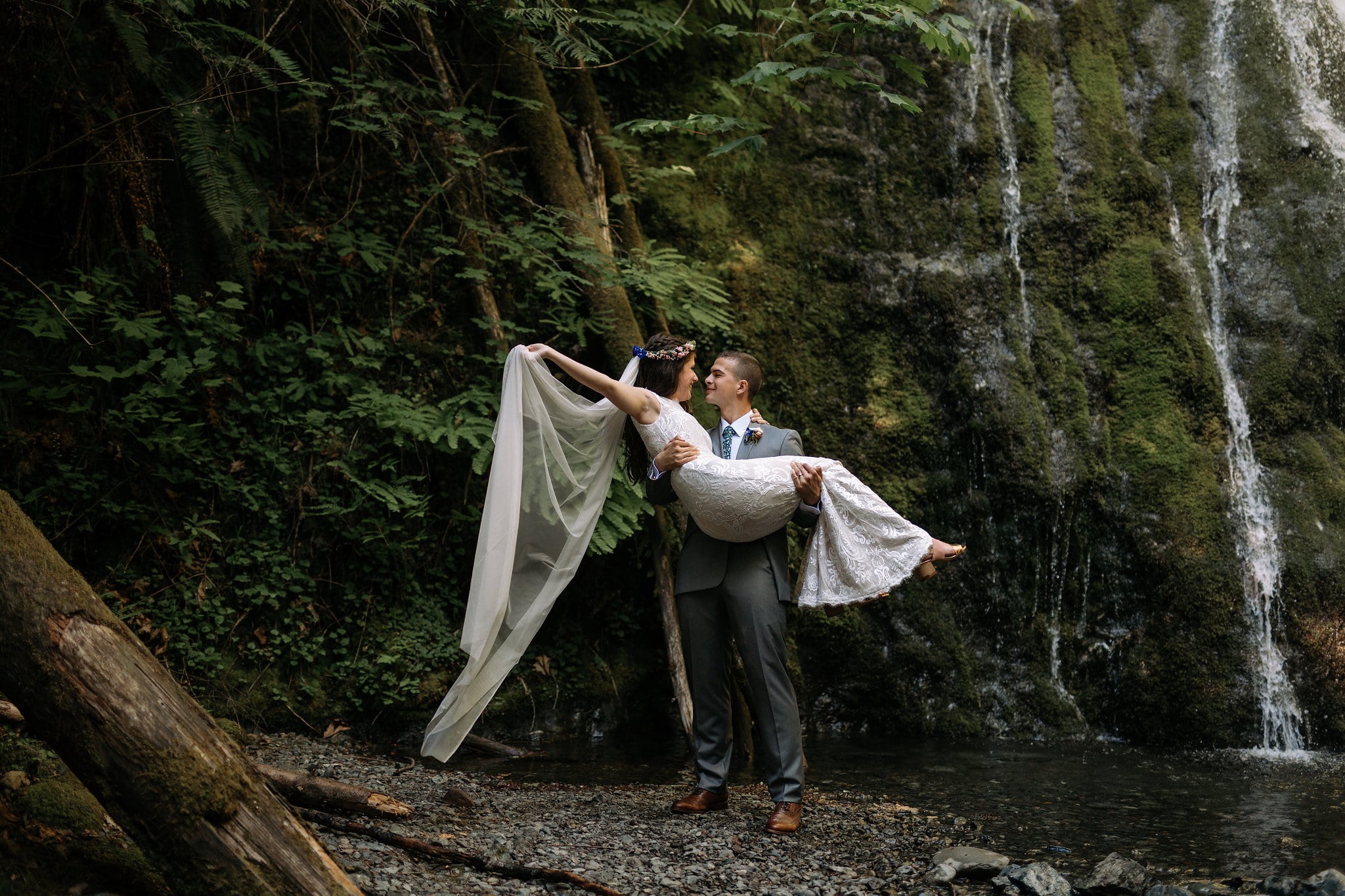 5. The Elwah
Although this next spot isn't extremely secret in general, I know some spots off the beaten path that nobody normally goes to. The Elwah River elopement couple will be treated to the peaceful river, Madison Falls, powerful results of the raging river, and possibly even some hot springs if you're willing to hike that far. I have a special source that lives on the river that would let me go out to a secluded spot that would be perfect for a small ceremony.
 Madison falls is only a short hike from the road and easily accessible to disabled and elderly wanting to be present for your big day. If you continue down the road, it was actually washed out a few years back. However, there is an amazing hiking trail that leads to the other side. Not only are there beautiful forest scenes along the way, but the trail actually comes out on the other side of the wash out, which makes for a great backdrop.
 If you're up for a longer adventure, the olympic hot springs are about 10 more miles down the road, which eventually leads to a trail. This area is ripe with so many locations within a small area. Let me show you how it's done.
BONUS Secret area #1
This is another not extremely secret area but it is quite beautiful and not nearly as popular. Cape Flattery is the most northwest point of the lower United States. While it is not technically in the National Park, it is very close. There is not much lodging or camping nearby and it is quite a drive out to get there. The hike to the end of the trail is fantastic. Much of the trail is board walk so, while it may be slippery in the rain, this makes for unique photos on any given day. The hike is 1.2 miles out and back and includes plenty of places to stop and enjoy the view while I take your photos.
Here's an amazing elopement at Cape Flattery
Here is a link to Cape Flattery to have an elopement and the surrounding areas https://makah.com/activities/cape-flattery-trail/
BONUS Secret area #2
The final secret spot I am going to tell you about is technically outside the Olympic National park, but is also very close and a personal favorite. Salt Creek. It's close enough to Lake Crescent that you could get both lake and ocean. Or even Hurricane Ridge first then here last. or Vise Versa. This is the best sandy beach near Port Angeles. The rock formations can rival Cannon Beach in my humble opinion. There is a campground nearby for people to stay at and at Salt Creek Recreation Area. 
If you're wanting to do this spot, visit this link for more official info http://www.clallam.net/parks/saltcreek.html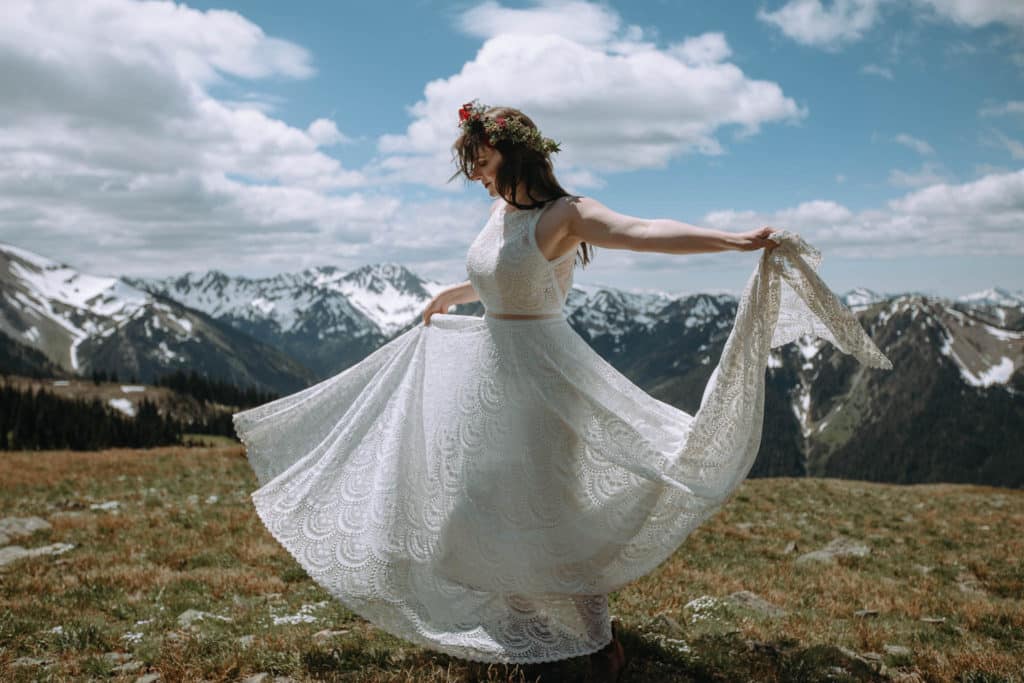 I have a lot of other secret spots but I'll save those for another blog post, and for the clients that want specific areas of the park that don't have many people around them. Stay tuned for another part to this entry and you won't be disappointed.
Let's talk about some details in having elopement in Olympic National Park. In the park, obtaining a special use permit is significantly easier when you have a smaller amount of people. Here is a link to obtain that permit. https://www.nps.gov/olym/planyourvisit/special-use-permits-commercial-permits-overnight-reservations.htm
You will need to pay the $50 fee. You will need to also email the park headquarters (email link also in the above link) at least a month ahead of time. If you do not receive approval, you could be in serious trouble if you are caught having a ceremony in the park. You could receive fines or be kicked out of the park permanently—as could I for photographing it—so please don't risk it.
There are many more locations you can have a small ceremony in versus having a large ceremony (20+ guests) mainly because of physical limitations. Many of the private beaches or forest meadows are very small and intimate. Having a lot of people in locations like these can prove difficult and damaging to the area.
The final detail I wanted to talk about is the weather and what time of year is best for your elopement. In Washington, the weather can change dramatically quickly. The locals saying "if you don't like the weather, wait 5 minutes" is completely true. In western Washington, there is not much definition between seasons. We get snow in April, 70 degree days in February, and not much heat during the summer. 
If you are wanting a sunny day, you should probably plan on having your ceremony some time in August or September. If you want snow, you'll be lucky if you get much without going into the mountains during winter. The snow that does come at the lower elevations doesn't usually last very long. If you want rain, you're in luck. It rains more in Washington than in most other states so you should always plan for it to be a possibility if you're having your photos taken outside. 
You also need to know when the sun rises and sets. I have heard horror stories of people not thinking about when the sun goes down and planning their ceremony outside in winter after 4pm. If you didn't know, this is when it starts to get dark around that time of year. This can also mean that during the summer, sunrise photos may have to be around 5 or 6 am.
I hope this post has helped you determine where you want your Olympic National Park Elopement to be in. Keep in mind, it is quite possible to see multiple locations. For this reason, I always recommend couples to schedule a full day or even multiple days. That way we can see as much as you want and not be limited by time.
Thank you so much for reading and I look forward to hearing from you soon.