Let Us be a part of Your ADVENTURe
Say hello to your photo & video team! Helping couples explore & elope in the Pacific Northwest, Alaska & Worldwide
You've found your other half. The one you could survive the pandemic with, and the person you feel most comfortable to be your true weird self around. But before you elope, let us help you create the best and most personal day ever!

This is where we come into the picture
(pun intended)...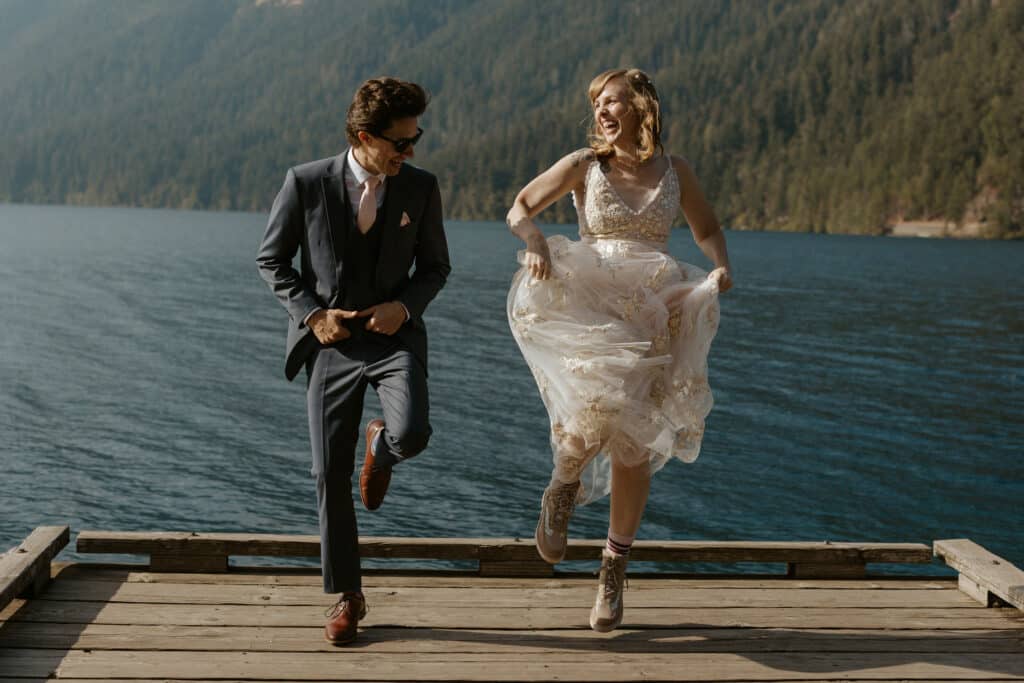 But Is an elopement right for you?
If you say yes to any of the following, then let's. chat asap!
want Less Stress in the planning process?
Want to keep the focus on the two of you and less on the "stuff"?
Want to avoid drama and pressure from family and friends?
Time to embody the #justelope life
Your choice to elope means:
Giving yourselves permission to get married on YOUR terms!
You're driven by your desire to adventure and forgo the stress of the big wedding!
You want something personal and unique to you and your INDIVIDUAL interests.
You believe that getting married should be personal and intimate-only for those closest to you.
You're the ones getting married;
How you do it matters!
We are your photo & video team!
We live in a van. We love shooting adventure elopements more than eating tacos (and we love tacos). If you like the idea of a hiking trail being your wedding aisle, and wild animals (and not just your family) being your witnesses, then you're in the right place, and we the team for you!
Awesome Couples Just Like You
What others have to say about hanging with us!
"Simply Put...
INCREDIBLE!"
Kim Butler is, simply put… INCREDIBLE. My boyfriend (Now fiancé!) booked her for an adventure session turned engagement session on the Oregon Coast. Upon meeting Kim, I realized I was in good hands. She made me feel comfortable, at ease and most importantly… BEAUTIFUL! She's down to earth, fun to work with, and there's no one else I'd rather trust with capturing our precious moments from now on. As for her work… Kim promptly sent us a teaser a couple days after our session and when we saw them we were absolutely blown away. This girl is no ordinary photographer! She is a MASTER at her craft! Her pictures tell a story. She knows how to make sure all the emotions being felt translate into each and every photo. So, if you want pictures that can bring you back to a specific moment and can make you feel those feels all over again, INVEST IN KIM! I promise you will not be disappointed 🙂 Not only did we gain gorgeous, frame-able art to display around our home… we also gained a lifelong friend. Thank you so so much Kim! We can't wait to work with you again for our wedding photos. See you in Scotland!
"Helped us feel comfortable"
Kim was, in short, absolutely amazing. We planned an elopement to the Grand Canyon and found her through Google and I am so glad we did. We met her and Jesse a few days before the ceremony to do some scouting which I really appreciated and she approached anything we wanted to during the pictures or where we wanted to go with an absolute yes. She helped us feel comfortable being ourselves in front of the camera and her photos are wonderful. I loved the vibe of her photos from when I had first looked at her work and just felt so confident that she was the photographer to capture the beauty of the Canyon and the joy of our day. She also recommended a sunrise ceremony for the best pictures and she was right on. I don't think once during our session I stopped smiling or laughing, and I felt that Kim really captured who we are and how happy we were on our wedding day. The turnaround time for our pictures was also incredibly fast. I am so grateful for how she was able to capture us in the moment and now we get to keep all of those memories.
"The best I could have ever dreamed of"
Kim Butler and her husband where the best photographer and videographer I could have ever dreamed of. My fiancé and I are from MS and wanted engagement photos taken in Yosemite National Park. I'm not very well traveled so I needed a lot of guidance. Kim told us where to fly in to, gave us some ideas to stay, and even reminded us to when and how to get our park reservations. Then on our actual day to be with her, she knew exactly all the good places to go during the time of year we were in the park. She never made us feel rushed or as if we were on the clock. She cared more about getting the shot than how long it was taking. It was also so nice to have her and her husband there because it gave my finance someone to talk to while he was out of his comfort zone. They are so personable – and their pup is so sweet 🙂 And lastly, I like how they are up front and honest. They told us that this was their busy season and it could take a while to get our video and photos back. I like that. And fun part is, it actually didn't take as long as they predicted. I got our teaser photos when we were getting off of our flight back home and the video teaser came I think a week later. We love our photos and video so much that we show everyone and have prints coming in as we speak. In all, I will definitely use Kim and Jessie again. No doubt.