Ultimate Elopement Packing List 35 Items!
Ultimate Elopement Packing List 35 Items!
Even though it's not as public an event as a big, traditional wedding, there's still a whole checklist of things to remember when you elope! Luckily for you, I've got your whole elopement packing list covered right here.
Collect together these items a week or two before the big day to make sure you don't forget anything and know exactly how you plan to pack and transport it! Especially if your day involves any amount of hiking, you'll want to pack light enough to manage it between the two of you and any guests you're inviting. If I'm your elopement photographer, I'll do my best to help too, but keep in mind I've got a bunch of heavy camera equipment to lug along as well!
Start with the Obvious
Although this first set of items may be redundant for me to bring up, I want to make sure you don't forget them! That's why many of these are in my ultimate elopement guide as well. Having everything written down in one checklist can help avoid anything falling through the cracks, so let's start with the big things.
Backpacks

– Or something to collect everything in!

Backpacks

are great if there's much hiking, though not essential if you're mostly driving to your locations. Some people will even hang signs off of them that say just married…so cute right?!
Outfits and accessories

– Your dress, suit, veil, jewelry, socks, hats, etc. Also think about how you're going to pack your outfits if you aren't wearing them the whole day (I recommend a lightweight garment bag to keep them protected) Also don't forget to take into account if you can hike in whatever outfit you decide on.  
Rings

– You don't want to lose these! It's a good idea to bring the boxes rather than just putting them into a pocket.  
Florals/decor/props

– I'd keep this fairly minimal and let nature be your decor, but keep any florals well watered and check with your national park or other location for any rules about what decor you can and can't bring in.
Marriage license

– Give yourself plenty of time to get this registered and ready to go with the county in which you're eloping. Some counties make you wait at least 3 days but require it to be used with in 60 days (or longer).  I can help with this, just know it can be an issue.
Pens

– It's kind of hard to sign a marriage license without them!
Permits

– If your location requires any sort of special events permits and/or park passes, you'll want to have these ready to go.
Footwear

– If you're planning to wear fancy heels or really nice dress shoes that aren't comfortable for a ton of walking, pack them instead and opt for some hiking boots until it's time for photos.
Coat/jacket/shawl

– Depending on the weather, this is a must! Especially if you're

eloping in Olympic National Park

or other PNW locations in fall or winter, you'll want to have something to keep you warm and dry between photos.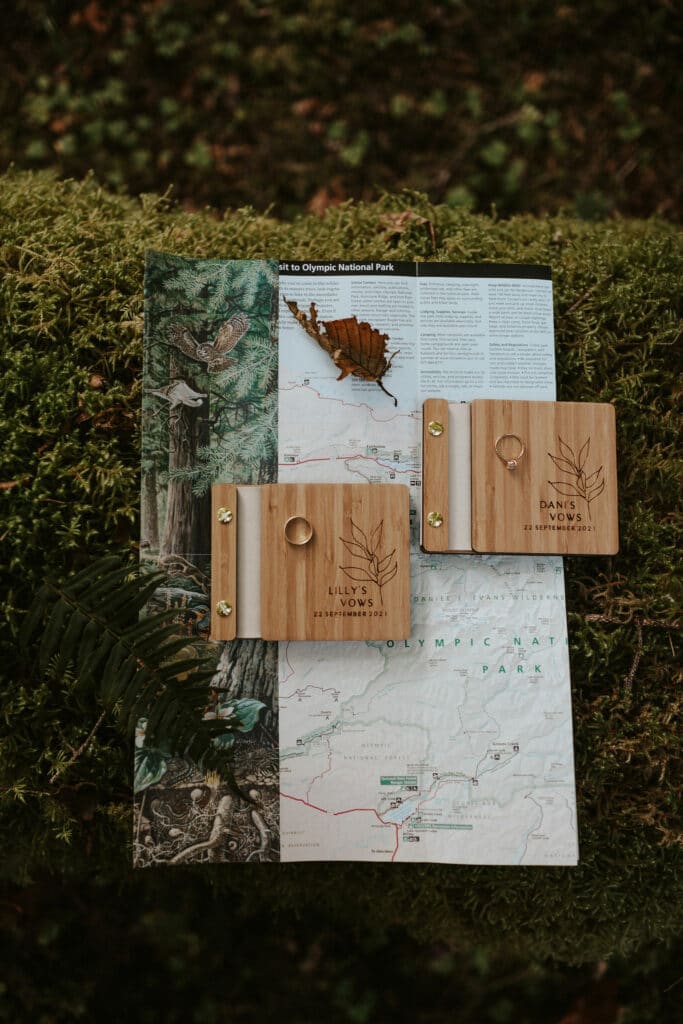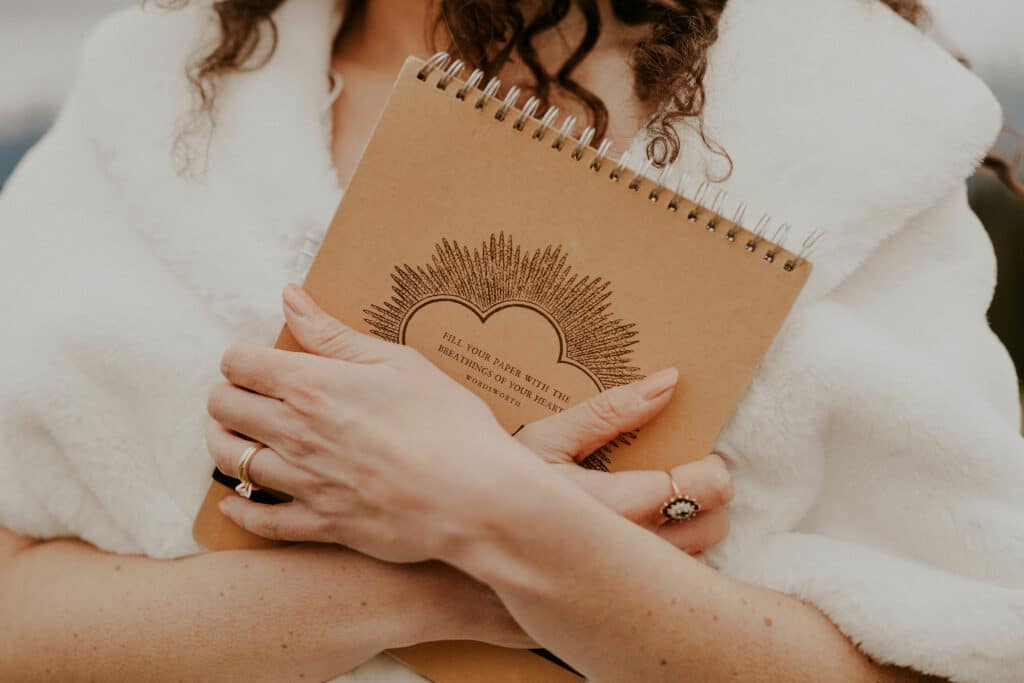 Be Ready for Anything
When you're eloping, preparedness is next to godliness! Here are some little just-in-case items you might want to bring along.
Tide-To-Go pens for those unexpected spills and stains
Mini sewing kit for quick patch jobs
Small bag of makeup for touch-ups
Makeup wipes for clean-ups
Compact mirror to see what you're doing
Tissues for all the emotional moments
Wrinkle spray to smooth everything out
Hairbrush or comb for those knots you don't want to tie today
Hairpins for pinning hairs
Hairspray and/or gel for unruly strands
Deodorant for less than desirable scentiness (the photos won't know the difference, but you might!)
Prepare for the Great Outdoors
When you're out with nature, you get everything that comes with it – stunning backdrops, beautiful sunsets, romantic greenery, dirt, bugs, inclement weather, sunburns…you get the picture. Put together this little outdoors-friendly kit to combat the downsides and leave nothing but romance.
Sunscreen to avoid getting red with anything other than the flush of wedded bliss
Bug spray to repel any unwanted wedding guests
First aid kit to care for scrapes or bumps in the moment
Disposable rain poncho to stay dry if the sky gets emotional
Quick dry towels to dry off. A must if you're eloping on a beach, even if you don't plan on getting in the water.
Food and Beverage
Elopements are all-day affairs. Keeping yourself, your partner, and your guests well fed and hydrated will give you the energy to thrive all day long.
Quick protein-rich snacks – Bars, jerky, mixed nuts, or other small pick-me-ups.
Celebratory meal – Just because you're eloping doesn't mean you can have a meal together to celebrate your nuptials! I've had some couples follow their elopements with reception-style dinners at restaurants, but others have opted to bring along a romantic charcuterie board to their elopement location, which makes for great photos.
Water bottles – Hydration is a must! I'll have no fainting grooms!
Champagne – This is a celebration, after all!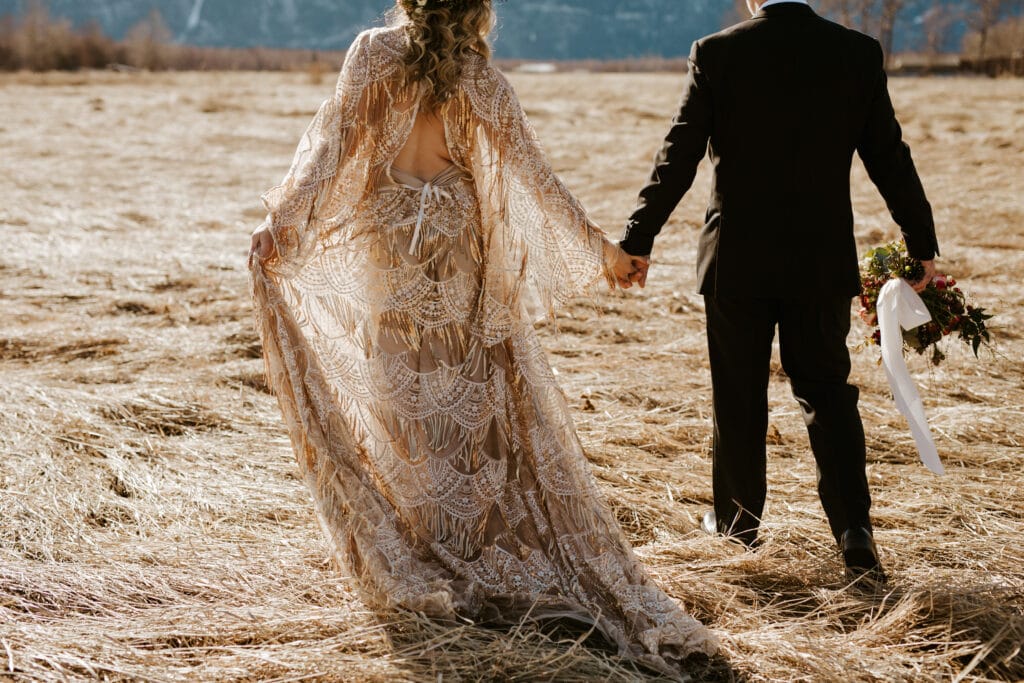 Sentimental Extras

If you've got room to pack, add these detail pieces to give your elopement a little something special.
Handwritten vows

– Write out your

vows in a pretty notebook

for some lovely detail shots.
Invitations, save the dates, or announcements

– Again, great for detail shots showing your story
Candles (and a lighter)

– These are especially romantic for any after sunset photos, but make sure they're permitted at your location and there aren't any burn bans in effect.
Bonus Items
Pop up changing tent

so you can have some privacy during outfit changes
A blanket or rug

for some boho vibes
Cute umbrellas

, especially if you're eloping in the PNW!

Transparent umbrellas

are super romantic, imho.
Any Questions?
If you're struggling to get everything well packed, or want to bring something that you're not sure will be allowed, feel free to ask me! As a traveling elopement photographer, I've seen some pretty adventurous elopements and scouted all the best locations. I'd love to help you plan and prep for your day!
If I've already answered all your questions and you're ready to book me for your elopement, awesome! I can't wait to meet you!