Dani & Lilly

A PNW Adventure Elopement in Olympic National Park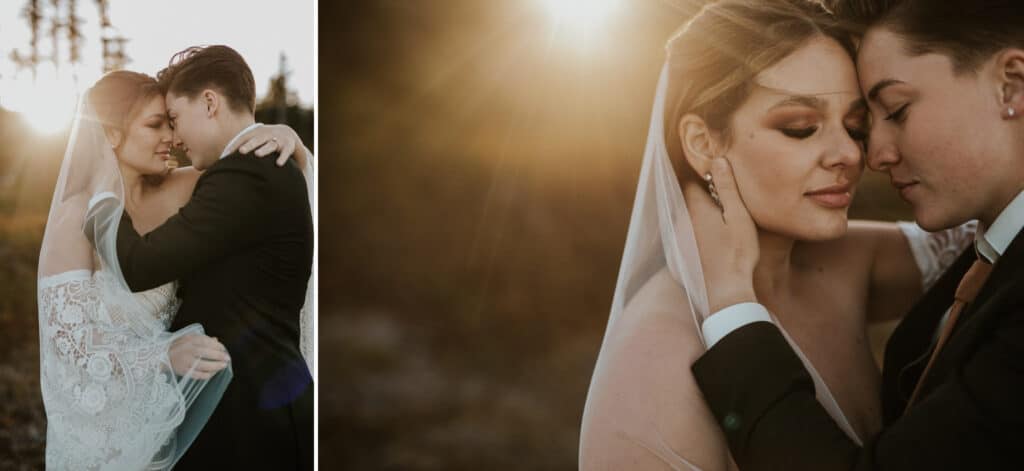 Back in September of 2021, I had the great joy of photographing Lilly and Dani's PNW (or Pacific Northwest if you're not in the know) Elopement in Olympic National Park! I've done elopements here many times before, but this one was something special. I got to take two whole days to show this gorgeous couple all of my favorite spots on the peninsula, from beaches to mountains to waterfalls. They were up for anything and so obviously in love, they made my job easy!
Meet the Couple
Dani and Lilly are one of those couples you just instantly connect with! Their deep love and affection for each other is so obvious in every look and cuddle, and their pure awe at their surroundings was infectious!
The two met through a mutual friend at a military exercise in Las Vegas and have been together for two years. On getting engaged, the couple knew a traditional wedding just wasn't right for them. They wanted a Sacred Union that was intimate and all about one another rather than catering to a bunch of other people. I definitely think this was the right choice for them! As they put it, "no stress, all bliss."
Lilly and Dani knew they wanted something rooted in nature, and although they originally considered eloping in Red Woods, they couldn't say no to the variety of landscapes and views you get at Olympic National Park! We originally planned on this being a single full-day elopement, but because it was supposed to rain halfway through the first day, we decided to make it a two-day adventure. That's definitely one of the perks of going with one of my full day packages!
Getting Ready at Madison Falls
Spending time with these two as they got ready at Madison Falls was so precious. They both kept saying it just felt so surreal that it was really happening, and I loved seeing them share the pre-elopement jitters and excitement with each other! Getting ready together allowed Dani and Lilly to help each other with the sweet details, like Dani's detached sleeves and Lilly's coat. The waterfalls and shadows were the perfect, dramatic backdrop for the warm, boho vibes of Dani's flowy Ruedesein dress and Lilly's classic deep green suit. Their style could not have been more on point!
Ceremony at Lake Crescent
Per usual, this was my favorite part of the whole two-day elopement! I loved their vows – they were so eloquent and romantic and heartfelt. I couldn't help but cry!
The ceremony was officiated by Dani's long-time friend Jess, who came all the way from Utah for the big event. The couple described her as one of their favorite people on this planet, so it was only fitting that she be the one to join them together.
Their vows were written down in these custom wooden notebooks [ask couple where they got them, maybe we could link?], giving them the perfect keepsakes to treasure their union with!
Charcuterie Picnic near Hurricane Ridge
In my version of an elopement reception, I took the couple up to one of my secret spots near Hurricane Ridge (no, I won't tell you where it is! You'll just have to book with me to discover it!) for a charcuterie picnic, complete with champagne, a cozy blanket, and some lanterns for a little extra evening glow.
This picnic was the perfect way to end day one, giving the newlyweds a chance to relax, enjoy some food, and take in the fact that they were officially MARRIED!
Day Two Kick-Off at Lake Crescent Lodge
I met up with Lilly and Dani at Lake Crescent Lodge to start off the second and final day of their elopement, and these two were already geared up for adventure! They were total troopers, climbing logs and kicking off shoes for a dip in the icy glacier lake before I even had to suggest it. They even hiked up their pants and dress to wade out to some log platforms so I could get these amazing shots!
Exploring the Hoh Rainforest
Next up, we took a stroll down the road and explored the Hoh Rainforest for some cozy, lion-and-the-lamb moments. Since they eloped in September, there was a beautiful blanket of fallen leaves mixed with the moss and ferns. If you're willing to get a little wet or risk a little rain, I definitely recommend a PNW elopement in the fall! The flexibility of making it a two day elopement helped us to avoid super inclement weather, and all the fog and clouds just gave the whole thing an almost spiritual feel.
I also snagged shots of their rings and vows here – the thick green moss was just right for it! If you want to feel like you've stepped out of reality and into a fairytale (or vampire romance novel), Hoh Rainforest is definitely the place to go!
Sunset at La Push Beach
To wrap up the whole thing, we took a stroll down La Push beach for sunset. Although we didn't see any werewolves, we did find this huge piece of driftwood! Dani and Lilly even climbed on top of it so we could really take advantage of the golden hour.
Lilly was so excited to finally be married. She grabbed Dani's hand and the two ran around in the waves as she did a jump kick! I love when couples don't mind getting their outfits dirty at the end, because nothing beats these wet n' wild photos when you're eloping at a beach.
After Sunset
After sunset, we said our farewells and the couple returned to their cottage on the bay in Port Angeles for a few more days to enjoy more time together before returning to the real world. Later this year, they'll be honeymooning in Ireland, and they hope to have a formal reception in the future!
If you loved exploring the Olympic Peninsula with Dani and Lilly, it might be the right spot for your own elopement or adventure session! Although the national park is super popular for elopements, I know some great secret spots we can go to for more privacy on your day. Click here to learn more and book me!