This is a guide for people trying to decide between having an adventure elopement and having a big wedding.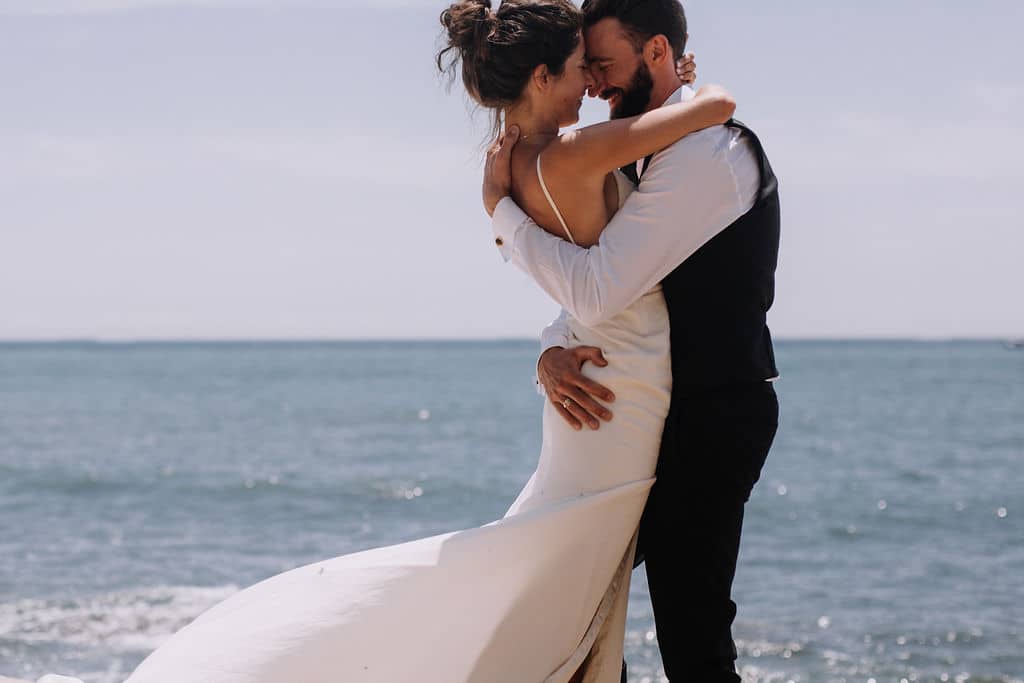 Why elope? What does it mean? How will your family feel? What's the point? Okay so, before you freak out and think I'm talking about your parents' definition of eloping, let's discuss what it actually means today. An elopement is completely different than a wedding in many aspects but it is similar in other aspects. First, let's take a look at the differences. For a lot of people, the differences are the reason they choose to elope.
One of the biggest differences is the stress. Let's face it, planning a huge wedding can be extremely stressful. Everybody and their Aunt  wants to have a say in which flowers to use, the seating or why you should have the ceremony in their back yard. Then there's the locations. They will charge you half the value of your house to use a location for a few hours and then they will complain that your guests didn't wash their own dishes. Well, maybe that's an exaggeration, but you get what I mean. Everybody has their own story of how much drama they have in their lives so choosing to elope is so popular these days.
Another main reason why most of my couples choose to elope is the cost. The cost of a regular wedding can easily go over $100,000. Most people do not have that kind of money to spend on one day. You should not be starting your life together by going into debt. If you have that kind of money, great. Go for it. But my point is that most people can't afford that. With an elopement, you have such minimal expenses that you can save your money toward your first house or a car or a child if you're wanting to start a family right away. You get the point.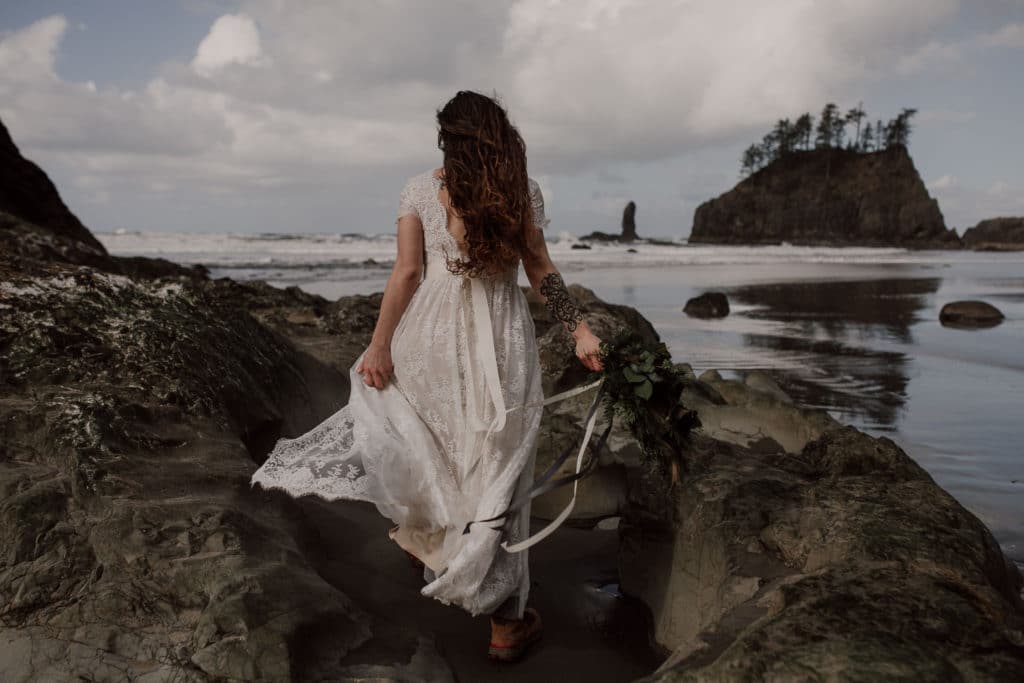 Do you love the adventure? No? Really? Ok you can leave… Now that we have weeded those people out, we can discuss my favorite part. Marriage in itself is a huge adventure. Why not start it out with an adventure elopement at your favorite spot. It could be where you met. It could be a place you have dreamed of going—Patagonia, Alaska, The Amalfi Coast, The Dolomites, on a net over the Grand Canyon, on top of Mount Everest—the point is, the possibilities are endless. When you use me as your adventure elopement photographer, you can go anywhere you want. The possibilities are endless.
You can still wear a dress, he can wear a tux, or you can both wear whatever you want. I have seen grooms in kilts, brides in a flame red dress with a 10 foot train, hiking boots and backpacks, really whatever will make you feel beautiful and comfortable.
Privacy is so much easier to attain for your big day when you decide to elope. You get to choose the people you want there. If you want to elope on a beach in Hawaii with a couple of your best friends, go for it. If you want to have your elopement ceremony by yourselves with just me and your officiant present, that's a definite possibility as well. When it comes to privacy, a smaller amount of people makes it a lot easier to find a private place with nobody else around. I have photographed ceremonies when it was only the couple, the officiant, myself, and the birds singing to the wind. It is truly glorious.
Now having known the many differences, let's discuss the similarities.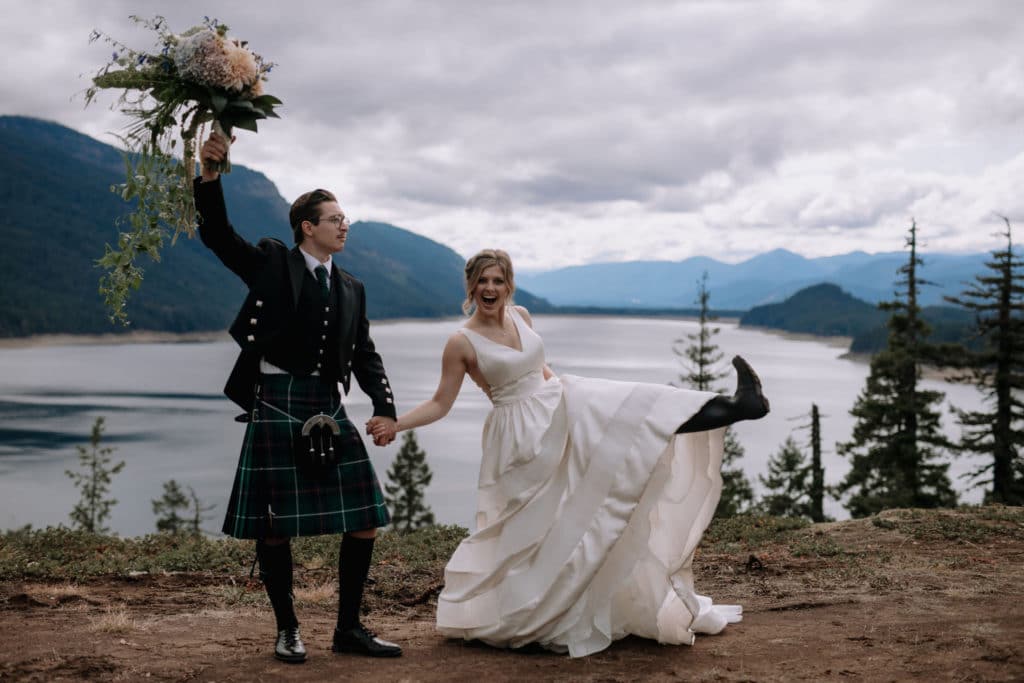 The biggest similarity with an adventure elopement and a regular wedding is that in the end of the day, you are married. Even though you can spend an infinite amount of money, endure a huge amount of stress, and forgo your privacy for the day, the piece of paper you get at the end of the day is still the same. For a lot of people this is a major reason to elope. I want the day to be about you two, not the extra "fluff" and monogramed napkins or anyone else.

You still have to pay money. For an elopement, depending on a few factors such as location, guest accommodations, and other things, there will still be costs. However, you will be able to put your money where you really want it. Hiring a good photographer is a priority for many couples because they are able to remember their wonderful day with substantial items. Some people also choose to travel to wonderful locations, like I said before. My point I am making is that although both cost money, eloping can save you a lot of money.
I don't want this to sound like having a traditional wedding ceremony is a bad thing at all. Quite the contrary. I have photographed a lot of beautiful large weddings and I still treasure them. I am making the case for elopements for those people who may not know why they should at least consider one.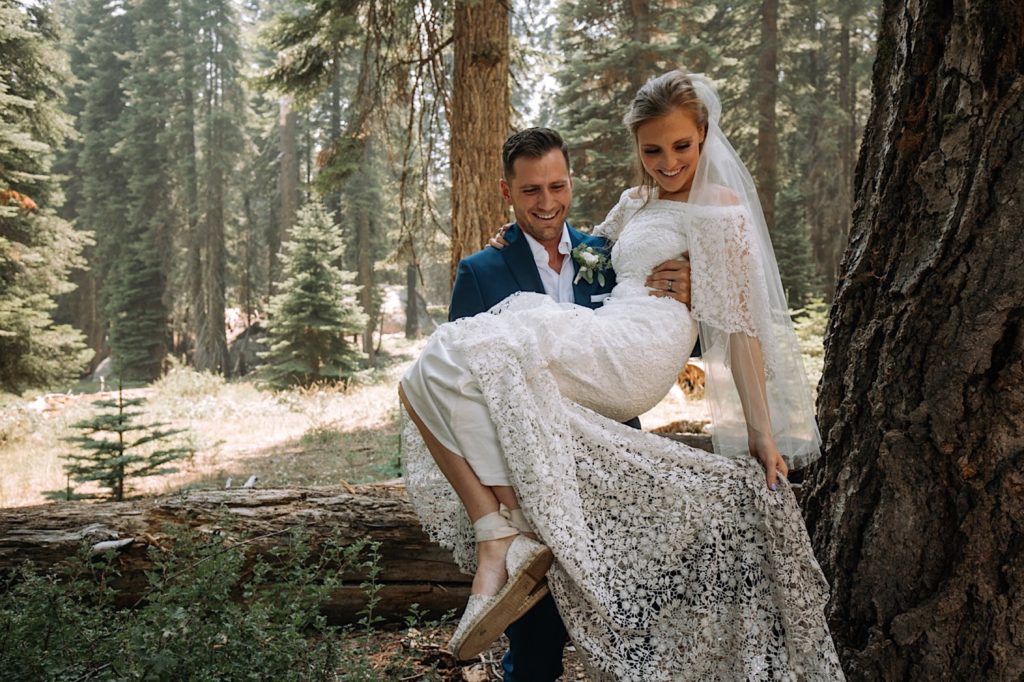 Getting married is a beautiful thing. For those who can't afford a large wedding, want less stress, want the adventure, and want the privacy, eloping is a great option to start your lives together. I'll leave you with this thought—have you ever asked a couple who had a large wedding if they would do it differently? Most of them would say yes because of one or more of the reasons I said before.
Ultimately, it is your choice what to do. If you're still asking yourselves why elope, I ask you this question in return—why not? When you're ready to begin planning your big day, contact me and we will get to know each other while I help you through the whole process. Let's do this!