Finding Your Perfect Wedding Dress in Montana
Here is some help for you're a bride and if you're buying a wedding dress in Montana
When it comes to buying your wedding dress it can be so incredibly daunting. Having been there myself, I know some of the crazy things we think about while going through the process.
"What will look good on my body?"
"Dear God my boobs look fantastic!"
"I'm a size 4, why does this dress fit so well but is a size 8?" (which FYI, David's Bridal caters to Asain brides, their sizing is a self-esteem crushing 00)
"I love this style of dress, now can I find it in my budget?"
"Do I want lace..tulle…chiffon…organza?"
"Strapless? Two piece? Draped or flowing?"
And on and on and on…
I legit tried on 20 dresses when I get married in 2009, straight off the rack, at David's Boring Bridal. But things were SO much different back then, and it was so much harder to find something flattering, unique, as well as in a good price range. I seriously wish I had a place like Plume Bridal (https://www.plumebridal.com/) when I was getting married!
So many of their pieces are made locally. They really care about their brides and making sure they have the perfect dress for those stunning Montana backdrops. My personal favorite designer is Lumi Bridal (https://www.lumibridal.com/). When it came time to showcasing some amazing dresses in Glacier National Park, I picked my two favorites I wanted to show off the versatility of the company as well as what different dresses can do.
Everything you see is imported from Europe from the best possible materials. The owner is actually originally from Norwegian coast and moved to Rocky Montana. So she has those connections to get the best stuff possible for her brides.
When it came time to the photo shoot I wanted to show off the stunning designs of the dresses and how easy they are to move in. Trust me, when it comes to your wedding dress, you want to be able to move around. No more are the days of gigantic hoop dresses that takes an army (aka 10 bridesmaids) to move around in. Especially if your my kind of bride and you plan to go on a bit of a hike to get to the perfect spot for your intimate elopement. Glacier National Park is perfect for an intimate elopement and one of Lumi's dresses are the perfect accessory for those views.
The backless was simple but understated. It was so lightweight and easy to put on and move in. A great dress for anyone with long hair. I can just picture either a long braid with a flower crown, or in the case of Laura, soft waves and flowing naturally. I don't even have the words for how much I love this dress. But I know that it is also the kind of silhouette that looks good on all body types. I personally would love to see a bride with a beautiful back tattoo rock the hell out of it!
Now as for dress number two, this is where the drama comes in! Open back and a skirt that doesn't quit! Your guests, or the surrounding outdoor wildlife, will be left breathless when they see you in this stunner! It even comes with the option to add MORE to the skirt if you really want to show those mountains whose boss!
Granted, the day we did this photo shoot the road to the sun was closed, but can you just imagine how stunning these dress would be standing up on this spot and throwing it in the wind?? Jaw to the floor, holy shit, epic AF photos will be taken for sure!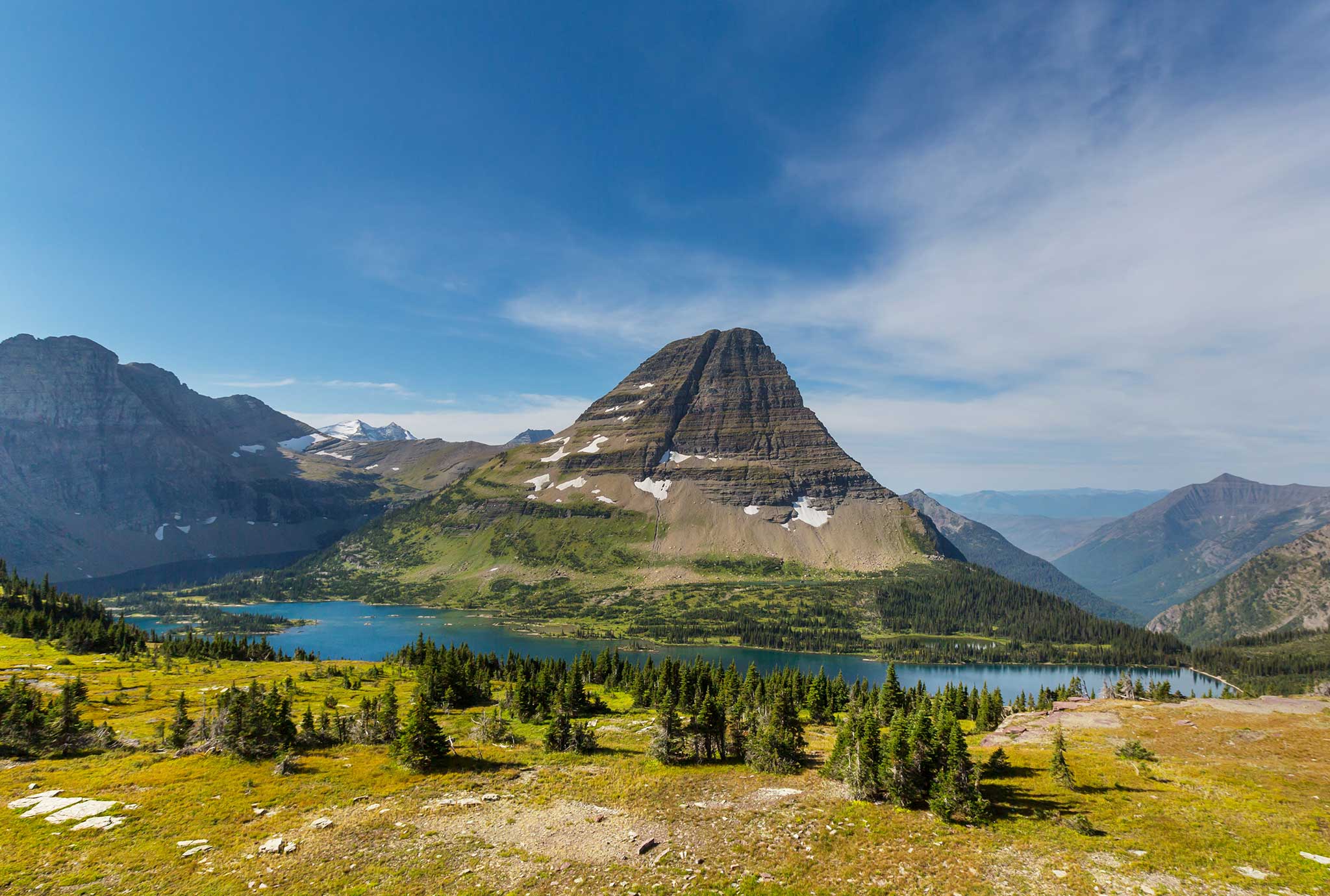 There are lots of things that I love about weddings, but for me personally, the wedding dress is my all time favorite part about it! Ever since I was a kid I loved weddings, so it's great that this ended out being such a large part of my profession. I get to enjoy being around them all the time.
So when I say that Lumi Bridal is a good place to get a wedding dress in Montana, you can trust me! Let's find you the perfect dress, the best views, and let's get you two friggin' married!