How To Elope in Yosemite? A guide to your big day in this beautiful park.
1 Pick your photographer—Find who is your best fit. Let's talk.
2 Pick your date – because you are eloping the date might be more flexible.
3 Pick your location – there are many places in the park but you may want more privacy
4 Apply for your permit – this is a big one, don't forget it.
5 Find your vendors – I have a huge list but I'll give you a few of my contacts below.
6 Book your place to stay – I'll give you a few of my favorites below
7 Other miscellaneous things you'll need like hiking boots and reservations to get into the park
8 Relax and enjoy your elopement!
There's the list. If that's all you want, you can stop reading. If you want more details, I will keep going. I have done a lot of elopements in Yosemite and they are all incredibly unique. This is a very large park and there are a lot of places to see and tons of hikes you could go on.
 I decided to do this guide after I photographed a beautiful elopement. I realized that there's so much more to the how to elope in Yosemite question than most people think. Because it is a very busy park that requires certain procedures to happen, you need to know all that.
Because a lot of the park is closed during half the year, you need to know what places are open during what times of the year. Because there isn't much lodging available inside the park, you need to know what places are the best within a short driving distance. Add in the fact that currently you need a reservation months in advance just to get into the park and you'll understand why you need a guide for this.
Why did you decide to elope? Most of the reasons I get boil down to stress. You want less of it and this is the best place to start.
However, if you're wanting to elope, you also need to be able to adapt. You need to know that even though eloping will take out a lot of stress, unless you can adapt to the challenges on the day of, it will still be stressful. These could be anything from inclimate weather, certain areas being very busy, your dress gets dirty, you forget your boots, or any number of other things. The point is that it can be as easy or as difficult as you make it.
OK OK OK I'll start with the list already. Thanks for hearing me out about all that other stuff, it's pretty important too.
How to Elope in Yosemite – Pick your photographer
I know what you think I'm gonna say. I am your photographer. Stop searching. I'm the one for you. Well, that might be the case and I'd love to work with you but we need to make sure it's a good fit.
To be honest, I have turned down clients because I thought it wouldn't have been a good fit. If we just don't click, it wont work. If we try and force it, the photos will show. It just doesn't make sense sometimes.
 But the good news is that as long as you're willing to enjoy yourself, chances are that we will work well together. I get so many couples that say "we are so awkward behind the camera" or "we've never done this before" or many other things that make people feel like it could be difficult. Let me reassure you that once you decide to trust me, your photos will be amazing, you will have so much fun, and you will remember this for the rest of your life.
How to elope in Yosemite – Pick your date
I only put this second to picking your photographer because your photographs will be the only physical items that last and chances are that your photographer will be more flexible for the date than other vendors. If your photographer isn't flexible within a couple days (usually because of weather), you should consider looking elsewhere.
 I have had to push back many elopements because of terrible rain, snow or other things that happen (ahem, Covid). It's usually just a day or two but that's why I always block out a couple days before or after. That's just for you.
Picking your date is so high up the how to elope in Yosemite checklist because a lot of other things depend on it. You have to know your date to book your stay, your other vendors, your things you want to see, all that jazz.
When considering your date, you want to decide where you want your photos taken. Glacier point road is usually closed from middle to late October until usually about Memorial Day weekend. This is also one of the most popular spots so if you're wanting this spot, you'll have to deal with the Spring/Summer crowds. The early Fall can slow down for crowds but is a gamble as for the weather. It could rain more or even snow as Yosemite valley is around 4000 feet and Glacier Point is 7200 feet.
If you want to elope in the winter, you will want to stay in the valley. There are a lot of waterfalls we can go to as well as some amazing views of El Capitan and Half Dome. The main advantage of winter/early spring is that there are far fewer people. During the summer the valley is very busy and can get very warm.
 However, Glacier point road is open, as are the most popular hikes in the park – Sentinel Dome and Taft Point. Both of these hikes are relatively easy but I would pick one or the other and not both as the hikes take a few hours each. Tunnel view is also another great spot that is open almost all year.
One of the most underrated parts of the park is the eastern side. Tioga road is an incredible drive and is amazing for photos. Most people don't go here because it is not open the whole year and it is a ways out of the way from the main attractions. You'll be treated to glorious meadows, magnificent mountains, and grand valleys with far less people around. If you want seclusion for your elopement, this is a great way to find it.
How to Elope in Yosemite – Pick your location
This is the fun part. This is why you picked Yosemite in the first place. If you've never been to Yosemite, chances are that you've seen some photos of it. The beautiful sunrise at Glacier point. The stunning sunset at Taft point. The jaw-dropping El Capitan that makes you feel so small. These are all great places. Let's dive in….but before we do I just have to say, there are a lot of spots that I am going to keep to myself so don't think this is the entire list.
Glacier point is easily the most popular spot in the park for photos and ceremonies. The area is pretty large and it is not uncommon to see multiple weddings happening at the same time. It is possible to still have some privacy with a little bit of hiking to some secluded spots. We recently had a little ceremony near here where nobody else was around but the views were spectacular. 
On the way to Glacier point is another spot called Tunnel View. The view is of the valley but from up higher. It's only a little bit off the main valley road. This is almost always a very busy spot so I wouldn't plan on having a ceremony here if you want privacy. We can definitely do some hiking on the trail to the south if you want to be by ourselves. I'll show you when we get there. It's pretty killer.
Let's go back down to the valley. Yosemite valley is epic. There are a few popular spots I'll tell you about. First things first. The valley can get very, very busy. Especially during spring/summer. It isn't uncommon to not be able to find a parking spot during the peak times of the day. That brings me to my next point.
The best things you can do to get some privacy are to pick a day during the week and to take photos any time other than middle of the day. One of the more popular things I have done recently is splitting up the day. We meet at sunrise for 3-4 hrs, then we take a break during the busy times and maybe get some lunch, dinner, picnic or other things. Then we take a hike for sunset or just meet up somewhere and take more photos for 3-4 hrs. We could also do multiple days if you want. You always have that option.
In the valley, you have the half dome field, Yosemite falls, El Capitan, bridal veil falls, horsetail falls, and a ton of other areas where we can see tons of beautiful sites. Whatever you want to do, we can. Or you can let me take the reins and we can find the best spots for you. Sound good? Let's do it!
Tioga road starts at where hwy 120 and Big Oak flats road meet. If you keep going on hwy 120 (aka Tioga rd) you will get to some pretty amazing side roads. If you go up Cherry Lake rd and eventually wind your way to the Hetch Hetchy Resevoir. This incredible place is very private and not very popular. We can get a lot of great photos here. This would be perfect for vows or even a vow renewal.
Continuing down the road of the how to elope in Yosemite plot, Tioga road goes all the way to Mono Lake. But still inside the park is Tolumne meadows. This is a popular spot when it's open but it's also a very large area. We can get photos next to the river, with mountains in the background. It's really incredible.
And then there's…oh yeah. My secret spots. I'll show you some photos here but I wont tell you where they are until you contact me. So click that contact me button below and let's get started.
How to Elope in Yosemite – Get your permit
Ok I bet you're wondering why this is so far down the list when the permit should be so important. Well, in order to fill out the permit, you need to know your date, your photographer, and your location for the ceremony as well as a lot of other information.
The permit needs to be filed at least 2 months in advance. And even that doesn't guarantee acceptance. I would do it as soon as possible. Especially if you have more than a few guests for your wedding. If it's just us, contact me and we'll see what we can do. If you are having any kind of catering, more than 10 guests, or anything unusual, make sure to note that on the permit. 
Here's the link to it so feel free to download it and fill it out once we're booked and ready to go. Currently, the permit costs $150 plus any recovery charges that result in damages done by guests or vendors to the park grounds. This is why I say keep it as simple and as small as possible.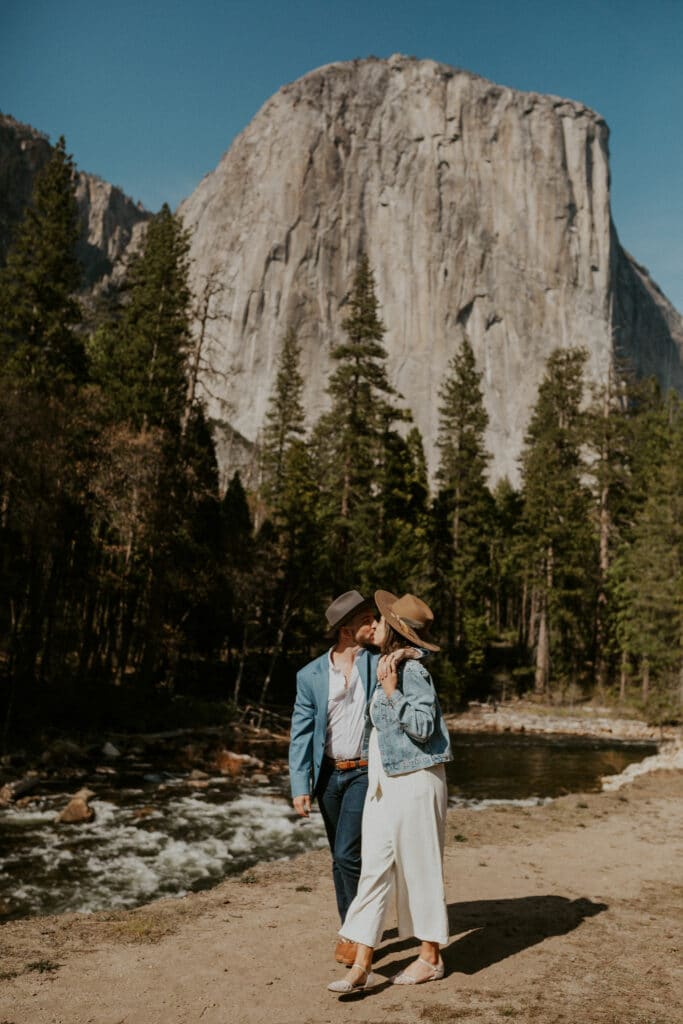 How to Elope in Yosemite – Find your Vendors
This step can be different for everybody. Some people may not need any vendor services. Some people might want flowers, cake, catering, hair/makeup, beverage services, or anything else you can imagine. Let's get this party started shall we?
Florists:
Vanessa Ingersoll
www.cultivatedbyfaith.com
cultivatedbyfaith@gmail.com
Angela of Sprig & Spring
www.sprigandspring.com
angela@sprigandspring.com
Most people want flowers. If you're eloping in Yosemite, chances are you probably don't want an extravagant amount of flowers. Maybe you just want a single bouquet and a boutonniere. I've got you covered. I have worked with all of these people in the past and they are the best of the best. I wouldn't recommend them if I wouldn't use them again.
Cakes & Food:
If you want to have a cake, you may want to do that at one of the lodges or a big area where where you have room to eat and have fun. I wouldn't recommend trying to bring a cake along on a hike but it's up to you. Just don't forget to clean up the mess you make from shoving it your loved ones faces, literally and figuratively (ya know they'll be jealous).
Catering takes things to a whole new level. One elopement I did recently here had a caterer that provided 3 meals plus a cocktail hour all inside the park. It was pretty incredible. This is something some people choose not to have because it is usually reserved for larger groups. Once again, it's totally up to you. We can make this day however you want it. Just save me some too. Or don't and I will be sad and drooling.
Hair & Makeup Artists:
Jireh Artistry www.jirehartistry.com
Another very common question in get right after the how to elope in Yosemite question is should I have my hair and makeup done. I say absolutely. If you want it, go for it. Only thing is, don't expect it to last a long time. The wind can pick up at any moment and blow your hair into a tornado or we could go hiking and your makeup could go all over the place. Fortunate thing is that we can adjust it at any time and make it look perfect for the photos and video.
How to Elope in Yosemite – Book your place to stay
There are a lot of places to stay in Yosemite. Most of the places are campgrounds. If you're interested in that, make sure and check out REC.GOV well in advance to make sure you can find a spot. If you would rather stay somewhere like a house or lodge, I'll give you a few options.
First is the Yosemite Valley Lodge  This is an incredible building within walking distance of many of the attractions. It is literally across the street from Yosemite Falls and a few minutes drive from Half Dome and El Capitan. Make sure and book way in advance especially if it is during the summer. 
There's also a few towns nearby where you can stay in hotels or AirBnB if you would rather. Yosemite West is the closest area but the stays are limited. Here's a couple of my favorites. Favorite Spot #1, Favorite Spot #2, Favorite Spot #3, Favorite Spot #4
El Portal has a few hotels to stay at and the drive is relatively short.
One of the coolest spots to stay, if there's any availability is called Autocamp  This is a very unique little campground with luxurious glamping spots with Airstream trailers at many sites. The amenities are fantastic including all day bbq, swimming pools, tour guides, and many other things. If you want something different, check this out.
How to Elope in Yosemite – Miscellaneous items you'll need to know
There's a lot to learn about how to elope in Yosemite. A few small items are left so let's go over those. If you plan on going for a hike, make sure to choose the appropriate footwear. Many couples bring hiking boots and love showing them off in photos and video. You can also bring a few pairs to change into. You may want to bring a backpack or two and some extra makeup.
You will also need to make a reservation to get into the park. If you were able to get a reservation to stay at the lodge, this covers your reservation to get into the park. If not, you will need to make one and enter the park on the day you make it for. https://www.recreation.gov/timed-entry/10086745
I will carry the bug spray and screen if you want it so we're covered, so to speak.
How to Elope in Yosemite – Relax and Enjoy your Elopement
This is probably the most important part of all. Trust us and let us do our thing. We will make this day unforgettable. All you have to do is take a deep breath and have fun. Whether you are having a 2 hour session or a 12 hour elopement, when you book with us, you are trusting experience and you are not going to regret it.
We have done all the research and put in many hours or work to get you the best of the best. Let's chat about how we can make this dream a reality for you. Thank you so much for reading and I hope you have enjoyed this post.
Thank you so much for reading this blog about how to elope in Yosemite.  If you would like to read more informative and inspirational posts, make sure and check out my blog here.