Gorgeous Yosemite National Park Fall Elopement 2022
Fall in Yosemite National Park is, in my opinion, the best time for an elopement! The leaves are changing, the sun isn't so overbearing, and it's much less busy than the warmer, sunnier seasons. It may be chilly, but the benefits far outweigh the temperature drop! Sam and Scott were total troopers despite the cold and rain, and the result was an elopement that looks like it came right out of a storybook.
Getting Out of the Rain in Our Secret Tunnel
I've actually never seen it this thickly cloudy at Yosemite before! It looked more like the Pacific Northwest than California and completely changed the landscape. It was like seeing it for the first time, even though I've shot many sessions before at Yosemite. Because it was sprinkling rain when we first started, we decided to seek cover in the tunnel by Tunnel View, where I took Sam and Scott to one of my secret spots. 
We had these super cool lanterns which, when combined with Sam's beautiful white cloak, made them look like they belonged in Lord of the Rings or Narnia! We even used the lanterns to create some really glowy studio-quality lighting and got some stunning close-ups of the couple.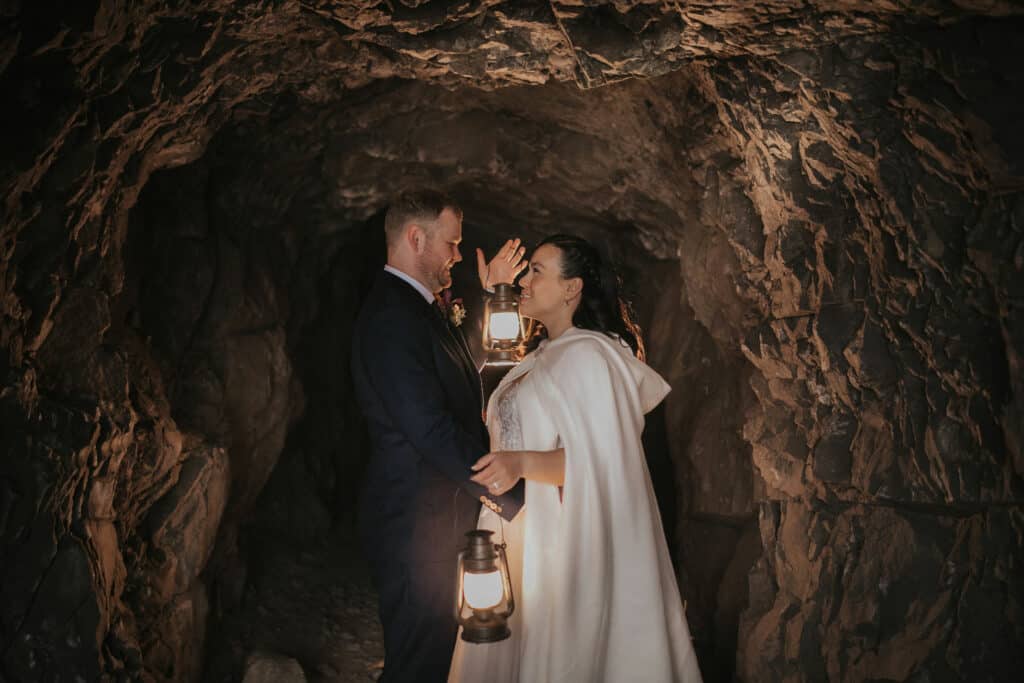 El Capitan Valley
After I finished obsessing over how creative we could get in the caves (and once the rain let up), we headed down to the El Capitan Valley for the ceremony. Sam was super emotional the entire time – it was so sweet! You can tell how in love these two are.
The spot we settled on for the official ceremony was covered in a blanket of orange leaves, with a fallen log and the Sentinel Dome in the backdrop. Combined with some evergreens and the crazy thick fog, I seriously felt like we were in Olympic National Forest, not Yosemite! It was stunning.
For most of our time in Yosemite, everything was so covered in thick fog that you could barely see El Capitan peeking through. This made for a pretty fantastic payoff later, though, when the sun came out and we could finally behold the massive granite formation in all its glory!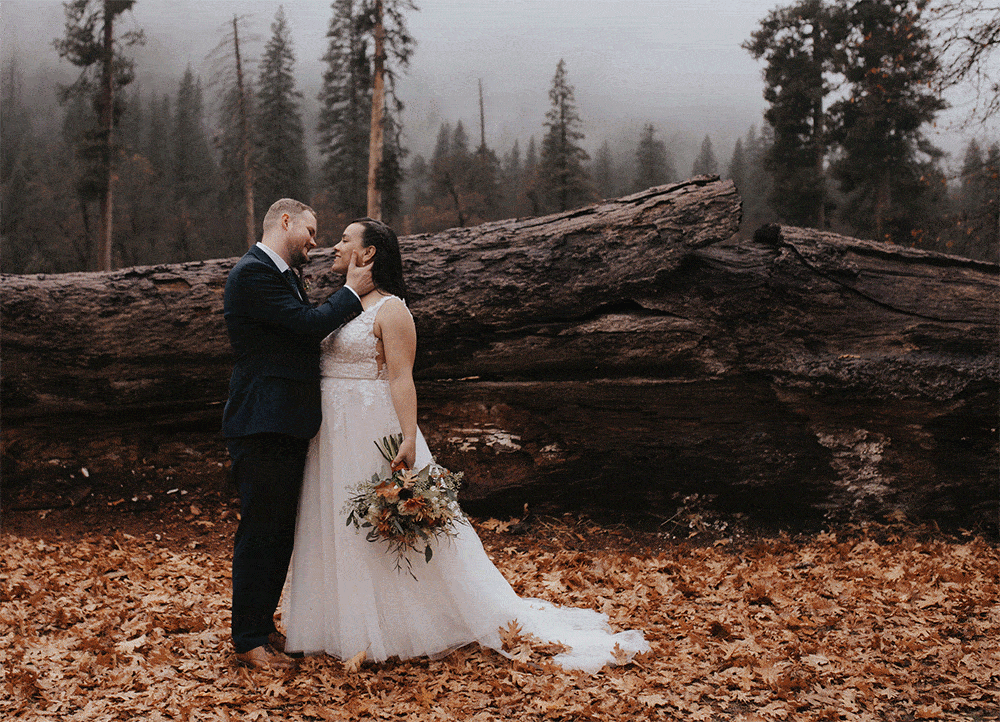 Reflections by the Swinging Bridge
After the ceremony, we explored the still and calm waters by the Swinging Bridge. The trees here were so colorful and made for some gorgeous reflections in the water – every photographer's dream! We really took advantage of it being the "off season" here. Normally this is one of the Yosemite hot spots, but we had no trouble finding privacy on this cool November day!
An Ode to Toucans
I need to interject here to give Scott's custom jacket the attention it deserves. Scott's nickname for his new bride is "Toucan Sam," so in honor of her, he had his suit jacket custom lined with this tropical Toucan fabric! How cute is that?? I just love the special, unique touches my elopement couples put into things like this. It's the kind of stuff that just wouldn't be as financially practical when doing a big, traditional wedding.
Yosemite Chapel and Lower Falls
The Yosemite Chapel is already a lovely backdrop for photos, but it was made even more special by the family ties. Scott's parents were married there over 30 years ago! To celebrate this, Scott and Sam replicated his parents' wedding photo. After this mission was successful, we explored a trail behind the chapel that had another gorgeous carpet of fallen leaves, much like the ceremony spot. Fall elopement = fall colors, and I'm here for it!
Because the falls are so beautiful, it's often a very busy Yosemite hot spot in the summer and even early fall. It's not easy as an elopement photographer to find a private spot to actually grab some photos around the falls, but we actually had no trouble so late in the year!
Returning to Narnia
To finish our time in Yosemite, we headed back to Tunnel View and brought back out the lanterns and Game of Thrones cloak. It was all very foggy, very moody, and very high fantasy! There were blackened dead trees all around that made it feel ominous in the best way – somehow very dramatically romantic. To wrap it up, we stopped by a random pull off for some quick sunset shots before saying our goodbyes.
Yosemite or the Pacific Northwest?
Looking at these photos, you may be feeling inspired to plan your own elopement at Yosemite National Park. I'm totally with you – it's gorgeous! But fair warning, the climate in these photos is not typical of Yosemite, even in the late fall. It's usually very sunny in classic California style, so if you're drawn to this location because of the moody, foggy photos – you might be more inclined toward locations in the Pacific Northwest like Olympic National Park!
Lucky for you, we're a photography and videography duo living our best #vanlife, meaning we can meet you anywhere to make your elopement dreams come true! So whether you want to elope in California, Washington, or somewhere else entirely, I can't wait to meet you there for the elopement adventure of a lifetime. Inquire today and let's see if I'll be in the area for your big day!