How to Elope in Olympic National Park
I am an elopement photographer for Lake Crescent, Hurricane Ridge, The Hoh Rainforest, La Push, Rialto beach, Ruby beach, and the Olympic Peninsula as a whole.
  

If

  

you are looking to have your wedding or elopement in Olympic National Park or the surrounding areas, this is the guide for you.

 
 

I grew up in Port Angeles and I know the area like the back of my hand and I have made many contacts in the wedding and elopement industry.

  

As your elopement photographer, I can help you plan your wedding day by giving you access to all of these contacts and locations.

  

Here is a brief list of what I will cover in this guide.

  

I will not give away everything until you book with me but I'll give you a few free ones today.
How to Elope in Olympic National Park:
Pick me as your elopement photographer.

 

I will help you plan every aspect of your elopement or wedding day.

 

In this section, I will cover why I will do the best job for you.

 

Pick your location(s).

 

This is the next most important part of your big day.

 

I have the inside scoop because, not only have I spent most of my life in the area, I have scouted countless locations that other photographers on the Olympic Peninsula have not even come close to.

 

Pick your officiant.

 

There are a lot in the area and I have photographed many elopements and weddings with most of them.

 

I'll give you my short list.
Pick your florist.

 

Finding the perfect florist is more than just going to a flower shop on first street in Port Angeles.

 

It takes knowing the people and having a good relationship with them to make sure you get exactly what you want for your beautiful bouquets.
Pick your Hair and Makeup Artist.

 

You want to look your best on the day of your elopement so I'll give you my favorite people who can make that happen.
Nom Nom.

 

Time for the cake.

 

Who makes the best cakes? Who does creative cakes? Who does simple yet elegant cakes? Want the list? Keep reading.
Pick where you want to stay.

 

Do you want to be close to your ceremony location? Do you want to be by the beach or in the mountains? Would you like to go glamping? I'll give you all my favorite places to stay and enjoy your time here.
Best places for wedding catering, best restaurants for a nice sit down meal while you're here. Who doesn't love food?

 

Food can be a big part of a wedding or it can enhance the mood of a wonderful elopement day.

 

I'll give you all the insider details of my favorite places to eat.
Bonus!

 

This is where I'll tell you some things to do that only locals know about.

 

From hiking to downtown shopping, I'll give you some great ideas of how to spend your time here.
I will give you my resources of what you need to do to elope here, legally that is.

 

There's more to it than just the "I Do's" and photos.

 

But don't worry, I'll help you the whole way.

 

In this section, I'll also cover what permits are needed where, what fees you'll have to pay to get to certain places, what time of year is best for what locations, what time of day is best for the area, and a couple other details.

 

You'll just have to keep reading to find out. 
Let's get started!
Hi, I'm Kim!  I have been an elopement and wedding photographer on the Olympic Peninsula for most of my life and I thoroughly enjoy it.  I pride myself in the wedding day experience.  That begins at the first email.  When you reach out to me for the first time, my wheels start turning and the excitement I have for making your elopement dreams come true starts flowing in my brain. However, the absolute most important thing at first is making sure we are a good fit.  
Your elopement photographer is your "make it or break it" for your wedding.  I am your biggest resource.  Elopement photographers nowadays need to fill the roll of wedding planner as well as photographer. I feel like this is where I stand apart from the crowd.  I have all the resources and contacts to make your day the way you want it to be.  That being said, I am first and foremost an adventure elopement photographer.  We need to jive on that.  
We must have that immediate connection without forcing it.  I feel like I am easy to get along with.  I am at my best when couples are at ease and relaxed.  This is how your experience should be.  I want for every couple who inquires with me to know that I want them to enjoy their wedding and be able to remember the day for the happiness that they shared together. 
 Please do not be frightened when I tell you that I have passed up a few weddings after I have felt that we weren't a good fit.  Please read through my blog/journal and understand that I am here to make sure you enjoy your elopement or wedding.  I won't make you do anything you're uncomfortable with, but just know that some of the most epic photos I have taken come from couples pushing themselves outside their comfort zones.
There is so much adventure to be had here. That is why I am an adventure elopement photographer in Olympic National Park. I specialize in outdoor elopements and weddings.  This park is full of places for you to go outside your comfort zone and into the epicness that you want for yourselves.  Let's get started today! 
Obviously, one of the first things you will need to do is pick a date.  If I am unavailable on the date you have chosen, I may ask if that date is flexible.  I can shoot weddings or elopements any day of the week as long as I am in the area.  If your date is not flexible and I am unavailable, I will give you some referrals and I will be sad to see you go.   
One of the first things that many couples get hung up on when they are planning their elopement or wedding here is the overwhelming amount of locations to go to.  Fortunately, I have compiled a list of my favs  so you can pick from that or we can find somewhere else to go. Do you want to find somewhere that is away from people such as a secluded hike 10 miles back into the wilderness with a turquoise lake and snow capped mountains in the background while you area peeking out of your tent? We can do that.
 Do you want a place where your grandparents can walk to easily but still be beautiful beyond your wildest dreams? We can do that too! Or how about we find a combination of the two? Would you like to involve your family at first for the ceremony then have the rest of the day (or even a few days after that!) to capture your adventurous souls in their happy places? We can totally make that happen.
Maybe you just want it to be the two of you and myself and an officiant (well you'll need a couple "witnesses" to sign your forms but more on that later).  That can be arranged. There are also a lot of places that are super busy that, if you don't mind the crowds, can be amazing and awe-inspiring.  No matter where you choose, we will make your wedding dreams a reality.  I also want you to know that most of my locations are kept very secret so they don't become flooded with people.  I pride myself in finding unique shooting locations and I have worked very hard for my couples to get them the best places possible.
When it comes time to picking your officiant, you need consider a few things.  Do you want a religious ceremony or a non-traditional one?  For religious ceremonies, most Pastors will require marriage counseling to be completed ahead of time.  The length of the required sessions varies. 
 Jason Himmelberger of is a wonderful Pastor of the community based church.  He is one of the most down to earth, loving and kind people you will ever meet.  His services are free, including the required marriage counseling.  Another wonderful person I have worked with is Lisa from Northwest Nuptials.  Lisa performs anything from traditional ceremonies with religious undertones to non-traditional non-religious ceremonies.  Her prices vary, but her most common package is around $325.
  Jimmie Berguin (aka @officiantjimmie) is an officiant who travels around the Pacific Northwest.  His bubbly and personal style has made him popular from Eugene, Oregon all the way up the coast to Port Angeles.  To many couples, he seems like less of a random officiant and more of a close personal friend.
The flowers for an elopement may be as small as a single bouquet (or no flowers at all) too as large as you can possibly carry.  Fire & Blooms is one of my favorites.  Bergen does it all.  From big weddings to small elopements, she creates beautiful masterpieces that come from a combination of your imagination and her own. A lot of her greenery is locally foraged too.  
Another amazing florist team I have worked with is  Keely and Kitara of Dahlia Fields  They also offer full service weddings (not at the moment because of covid) and elopements.  They have pop up shops around the Sequim Area and offer online purchasing.  Many of their arrangements come straight from their own field in Sequim.  Another fantastic florist option is Linda from Angel Crest Gardens, which is just outside of Port Angeles.  To locals, they are known best for their boxes around town that offer U-Serve flowers.  They also offer many different sizes and options for bouquets or individual flowers.
On the day of your elopement, when you want to look your best but don't want to or are unable to do it yourself, that's where a hair and makeup artist comes in.  There's a few ways to do this but you want to make your appointment in advance to make sure you can get in.  Some hair salons will only do your hair but will allow a makeup artist to work on you at the same place.  Some HMUA's will go to your specific location and do it all there.  The prices vary so here's a few options.
  One of my favorite options for hair in the area is in downtown Port Angeles.  Jocelyn at Bliss is an amazing stylist and makeup artist who will travel to the location of the elopement or wedding or she will work from the salon.  Sheilynne from Pacific Brides is an amazing HUMA who creates a wonderful experience around the hair and makeup styling.  She's a lot of fun to be around. 
Is it time to eat yet? Yeah it is! You guessed it.  It's time to talk about the cake.  There are a couple of cake artists in the area who specialize in wedding cakes.  I have worked with both and they are both amazing.  First up is Olivia of Wildflower Cakes from in Port Angeles.  These elegant creations are as tasty as they are beautiful.  She has a huge variety of cake styles and many flavors of icing and filling.  Many of her cakes have a very PNW vibe.  
The other great option is Sue from That Takes The Cake in Sequim.  Sue is mostly known for her decadent and creative cupcakes. They have also become popular for smaller weddings. She ships them around the world and she has applied this creativity and mouthwatering flavor to her cakes and the result has been nothing short of heavenly.  I love working with both of these amazing ladies and I look forward to it in the future. Continuing with the food theme, let's talk about catering.  
Not many elopements have catering but if you want a reception with a larger group, chances are you'll want to call up some of these people to cook up some tasty goodness for you.  I know there's a large amount of taste differences but I have narrowed my list down to four.  These are in no particular order. 
Coyote BBQ is an amazing barbecue restaurant that is known for the face melting brisket.  You will not be disappointed here. Next is a place that is actually in the same building and its called Kokopelli Grill.  Kokopelli is known mainly for the fresh seafood dishes but also serves steak and chicken masterpieces. Spruce is the best vegetarian/vegan option in the area.
  Make sure and ask these restaurants which items are available for catering as some items may not be on the same menu.  Either way, you can't go wrong with anything that any of these places will serve you. Another favorite for a more romantic atmosphere is Bella Italia.  This wonderful little place is also downtown and easily accessible.  They serve beautiful meals ranging from traditional Italian like spaghetti or lasagna to locally sourced salmon dishes that will satisfy even the most distinguished seafood fanatics.  They also have a few "Twilight" inspired meals from when Bella visited the restaurant during the popular movie series. 
There are a ton of good restaurants in Port Angeles and Sequim but, seeings as Port Angeles is closer to Olympic National Park, I will focus on there.  My absolute go to favorite restaurant for atmosphere and food is Next Door Gastro Pub.  Located in the heart of downtown, this wonderful little slice of heaven is easy to find and wonderful to experience.  They serve everything from decadent burgers with coffee rubbed beef to exquisite salads that seem like they come from a 5 star restaurant in a big city.  They also have amazing chicken wings that will light your mouth on fire.  If you're into beer, they serve local brews and cocktails. 
There are tons of other restaurants in the area and I could go on and on for a long time but I've given  you a few of my favorites.  You can't go wrong with any of these.  Or you can find any number of good places to eat.  It's your choice.  Have fun. Once you've had you've been put into a food coma, it's time to find a place to stay.  Since the most popular places to stay are either hotels or airbnbs, I will give you a few options from each.  
Let's talk hotels first. The Red Lion is by far the nicest hotel in the area.  Right on the waterfront, the northwest themed hotel boasts beautiful water views and outdoor decks for many rooms.  The rooms start around $175 and go up from there.  This place books very quickly especially during the spring/summer seasons so reserve your room as soon as you can.
Next up is Olympic Lodge.  This is also a nice hotel with a huge common area with a big fireplace and a view of the golf course to the south.  Many of the rooms have views to the south and can see the wonderfully groomed Port Angeles Golf Course.  The rooms start at around $135 and go up from there, depending on the amenities.  They are right next to Joshua's restaurant if you want something close by. My final listing is one of the most unique places to stay.  
Lake Crescent Lodge is a half an hour or so west of Port Angeles and is right on the lake.  While the lodge is very nice, the crown jewels are the cabins available May-December.  These cabins are incredibly romantic and beautiful.  The picturesque lake is only minutes away along a short trail.  Even if you don't stay here, you have to visit this area at least once.
Now I'll cover some of the best AirBnbs in the area.  I love staying in actual houses whenever I can because, as an elopement photographer, I can appreciate supporting families and I have often had much better experiences with AirBnbs.  I'll let you be the judge but here are a few of my favorites: Home 1, Home 2, Home 3, Home 4, & Home 5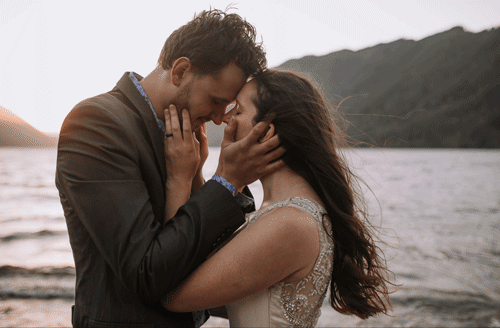 Any of these would be perfect for a couple people wanting some time away to relax and just enjoy nature. So that's about it, right? Well, not really.  You still have time to check out some really cool things to do.  You can hike a few trails, shop downtown, check out the many wonders of Olympic National Park, or countless other things.  Here's some of my suggestions for my top things to do around the park with limited time (3-5 days). 
My top favorite thing to tell people about is seeing the sights of Olympic National Park.  The first place I would have you go is up to Hurricane Ridge, where I have photographed many elopements.  In the same day, it would be possible to see Lake crescent out to the west about a half hour drive.  You could then finish off at one of the amazing restaurants I mentioned above and stay at one of my favorite AirBnb's. 
If you want more than just driving, my next suggestion would be to go hiking.  There are hundreds of miles of hiking trails but my most recommended are hurricane hill (near the top of hurricane ridge), Storm King (off of Lake Crescent), or the 7 lakes basin trail (expert level, starts after Sol Duc Falls).  You can also go biking on quite a few trails such as the Lake Crescent section of the spruce railroad trail.  
If you plan on taking a pet, make sure pets are allowed on specific trails as the National Park does not allow them in most areas. Downtown shopping is a ton of fun.  There are not a lot of big corporations in Port Angeles so finding locally owned and operated small businesses is as easy as parking your car and walking down the sidewalk.  Everywhere from clothing to antiques, there is sure to be something that captures everybody's interest. 
Now comes the really (not) fun part.  Here's the particulars on what you legally need to do to get married in Olympic National Park.  First and foremost, you need to have a permit (found here under special use permit https://www.nps.gov/olym/planyourvisit/special-use-permits-commercial-permits-overnight-reservations.htm )filed as early as possible, at least one month in advance. This can be done online with the link above.  You also need to file, either in person or online, for a marriage certificate.  It needs to be at least 3 days in advance but can be up to 60 days.  These can be obtained at the courthouse in Port Angeles. 
The final thing you will need is two witnesses and someone who  is ordained to sign the certificate.  That's it you need.  Now, as a special treat, you get to see one of my favorite Olympic National Park Elopements.  I hope you enjoy and thank you so much for reading!