Kathy & Lou

Stunning Desert Elopement in Page, AZ
is one of the most stunningly scenic locations for a desert elopement, but some spots also tend to be rather overrun with Instagrammers for this same reason. But when Kathy and Lou told us they wanted to elope in Page, we knew we had to make it work and scout some really unique spots to keep it romantic and intimate without missing all the best views.
Sunrise at Potato Hill
This was one of those lesser-known locations we scouted beforehand and discovered was shockingly underused considering how stunning it is (don't tell anyone – this is one of our new secret spots in Arizona!) Because of its intimacy and unbelievable wide open views, Potato Hill was the perfect place for Kathy and Lou to stand on top of a massive rock and say their vows as the sun came up.
This was my favorite part of the day. It was SO stunning and romantic and perfect for this totally unique and adventurous couple.
Alstrom Point
Once these two lovebirds were officially hitched, we made our way over to Alstrom Point – another Arizona favorite! We didn't go all the way up the road so we could prioritize timing and make sure we hit all our planned locations, but definitely spent enough time there to enjoy the towering plateaus and mesas and the gorgeous, warm glow of the early morning.
One thing I love about this spot is it's not just classic red rocks – although there's definitely plenty of those too – there's just so much variety in the landscape and backdrops. It's everything you could possibly ask for in a desert elopement location!
Glen Canyon Dam and Lake Powell
For our last stop of the morning, we checked out an overlook back in Page where you could see the Glen Canyon Dam and Colorado river thousands of feet below, but it was super busy so we didn't stay long beyond a brief grab at a secluded spot for some epic shots.
We also explored a spot called "the chains" on the opposite side of the dam where Lake Powell starts, and this is where the real money shot happened. And by money shot, I do mean this gif: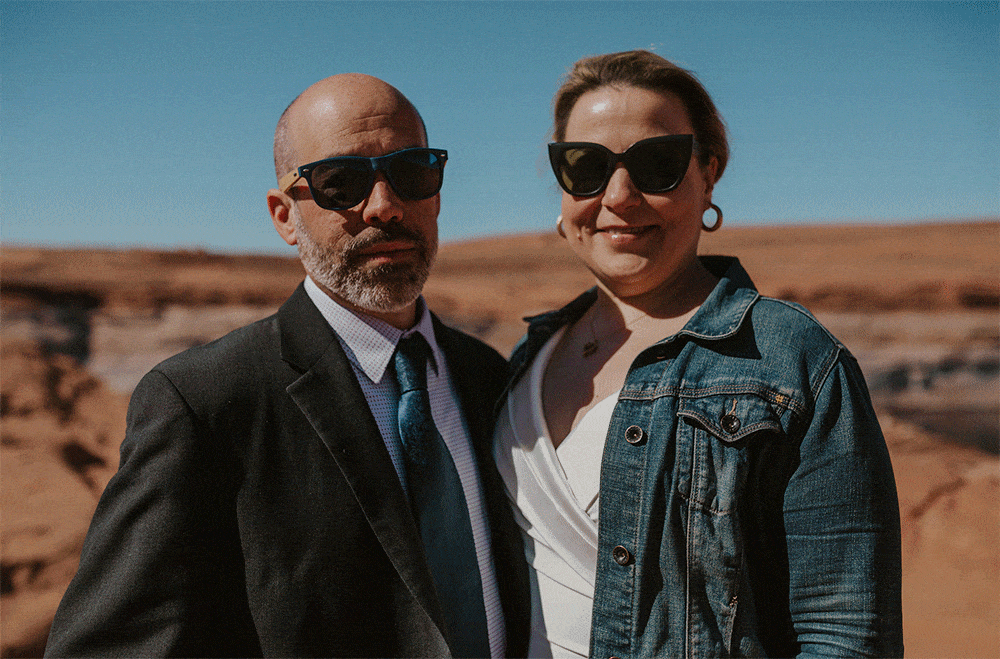 This moment cracked me up because it was so perfectly Kathy and Lou! It was their way of saying they don't care what anyone has to say about it and they're gonna elope if they want to, so @*#& anyone who says otherwise. If that doesn't tell you exactly the kind of couple these two make, I don't know what will!
Marble Canyon
After a lunch break at LP Espresso to stave off the hangries, we hit the road again and took the scenic drive down to Marble Canyon. There's a set of bridges here crossing the Colorado river, so I walked up one while Kathy and Lou walked up the other to pose for some epic shots of them on the arched bridge with green waters below. The river gave some nice variety to the dry desert landscape, so we took our time here getting lots of really unique and fun photos.
Champagne and Cliff Dwellers
To close out one of the most fun elopements I've done this year, we went to a big open area for a celebratory champagne pop. Neither of them had ever done a champagne pop before, so it was a lot of fun to see how giddy they were! Kathy went crazy with it and loved it – we were all laughing so much!
Finally, we found a really cool old rocky building where we got some cute "home sweet home" shots of the happy couple – this building is known as "Cliff Dwellers" and actually has a really unique story behind it. It was a great day and I was so happy to have helped make Kathy and Lou's elopement dreams a reality!
Interested in an Arizona Desert Elopement?
Arizona is definitely one of the elopement hot spots in the U.S., so I make it my mission to find all the undiscovered locations that will make your experience totally unique! If you want an unmatched desert elopement experience in Arizona, I'd love to make it happen for you. Contact me to find out more and see if I'm the photographer of your dreams – I already know you're the couple of mine!