How to Elope in Page, Arizona!
If you're here reading this, then I know what you need. You want to get married in the desert, maybe even in the state of Arizona?! You want sweeping landscapes, swoon-worthy photos, romantic nights, and maybe even some adventure? Well then you are in the right place!
Page, the perfect small town with big options for your wedding plans!
Page, Arizona is one of the best places in the world in my opinion. Within a few hours you have Lake Powell, The Grand Canyon, Zion National Park, Monument Valley, Antelope Canyon, tons upon tons of slot canyons and many more parks and dirt roads to choose from. This place is virtually limitless with possibilities for your elopement. Let's plan your big day together!
In this guide on how to elope in Page, Arizona, we will discuss locations, vendors, how to book, how I can help you, and a few other things–you'll just have to keep reading to find out!
How to Elope in Page
Part one
LOCATIONS
LET'S START OFF WITH MY FAVORITE PLACE AND THE MOST VERSATILE, LAKE POWELL!
If you want to elope in Page, you MUST at least visit Lake Powell. Technically, most of the lake is located in Utah, but you can access it in Page at several marinas. A really cool way to both enjoy the lake and have a place to stay is to rent a houseboat! It's seriously cool and something that has hardly been done before for elopements, so if you want to stand out from the crowd, this would be a great way to start!
Added plus, we could potentially go to other little coves or find a secret spot that no one else has been married before on the lake!? With eloping at Lake Powell your options and locations are endless as long as you have access to something that floats. An easier way to explore, or a fun day trip before or after your nuptials, would also be by kayak. Click here for the top rentals.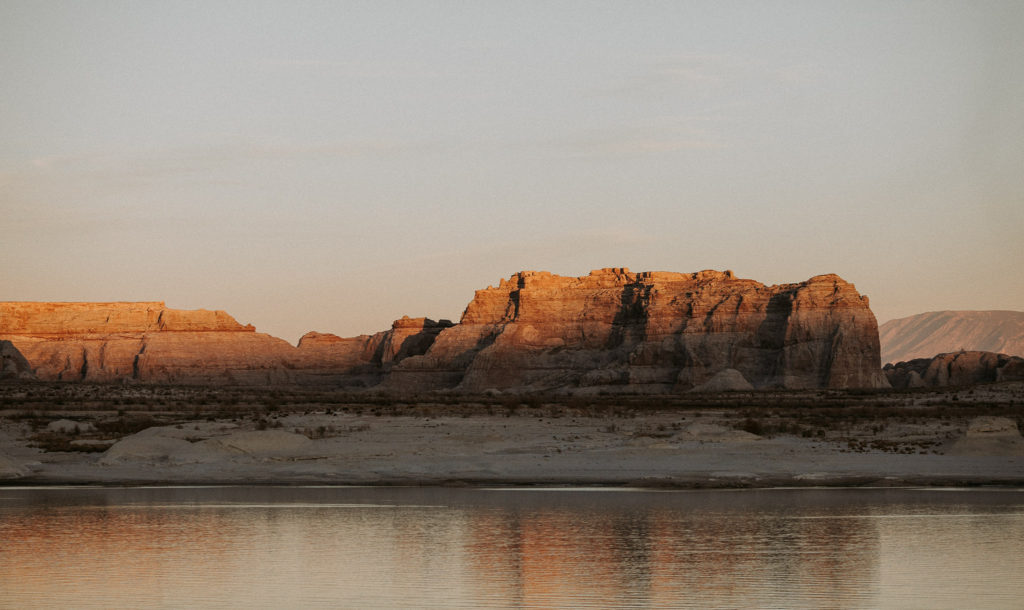 Oh I'm not done yet with Lake Powell! There are lots of places nearby that would be perfect not only for your elopement but if you wanted to have a sort of reception, bonfire, party after words.
You need to check out my favorite camp ground ever, Lone Rock! It's this gigantic rock out in the water that watches over the shores of the lake like a gate keeper. It is beautiful and there is P-L-E-N-T-Y of space for you and all your friends to camp out!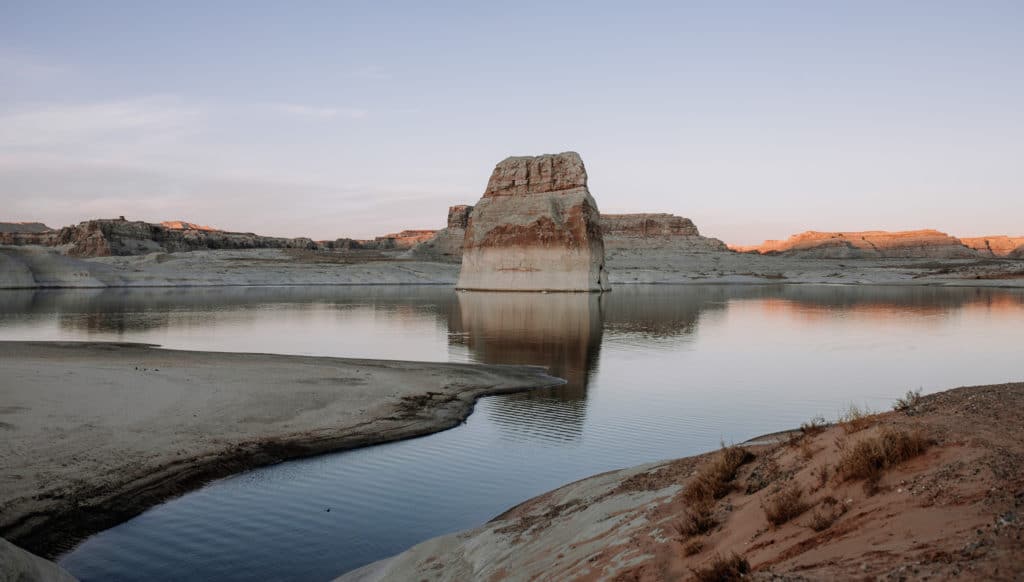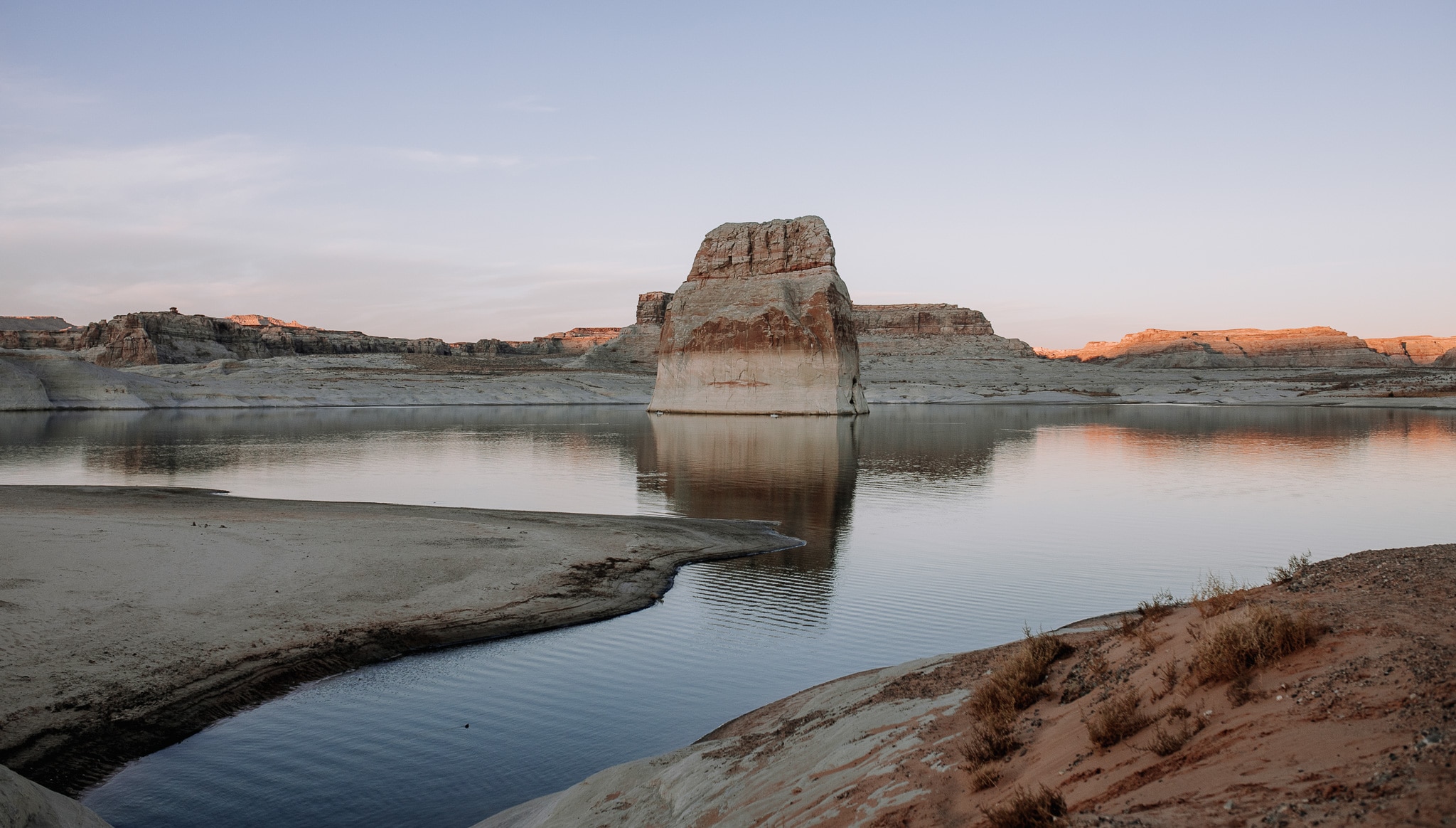 The last spot on the lake that is worth mentioning if you're wanting to elope in page is Alstrom Point. This is for the truly adventure seeking couples. You will for sure need a high clearance 4×4 car in order to even get to this location as the road is pretty gnarly! But the view from above is impressive and so romantic when the sunsets. If you want to go that extra mile, a sunrise there is the spot to end all sunrises. You won't regret getting up early for it, I promise! The photo below is just after sunset.

Next on the list really needs no introduction because of it's viral popularity, Horseshoe Bend!
Obviously, it is named for the shape the river has made around the rocks but would ya look at that view! With it's epic views and otherworldly sunsets, you can see why this would be such a dreamy place to be for your elopement. What once was a barely known truck stop just a few years ago has exploded into elopement history!
 With that said you should then be pretty aware that it is a VERY popular spot! It is best to elope there in the very early morning or at sunset to avoid the biggest of crowds. If you really want to make it quiet for your ceremony, you would want to aim for early winter or early spring. It does snow in Page. I know, snow in the desert!? How crazy!? But it will make for a more intimate setting.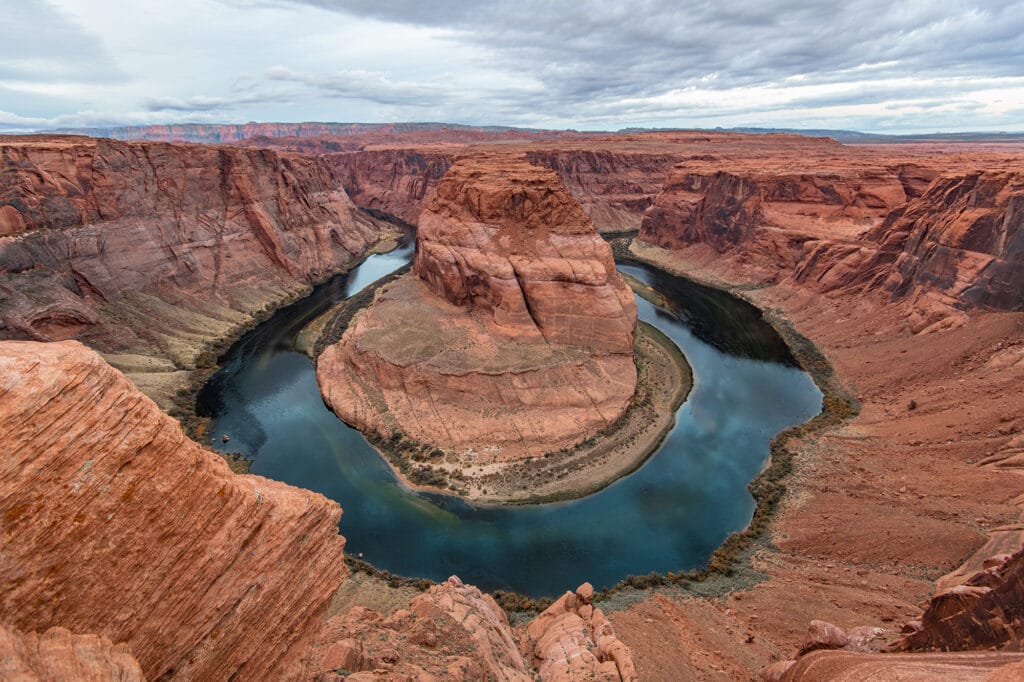 How about eloping in Antelope Canyon??
If you have done any research about how to elope in Page, you probably know all about this epic location. I will say upfront that Antelope Canyon is currently closed due to Covid. But that won't last forever! And when it does open back up it will for sure be an incredible place to say your "I dos!" It just might be a little while longer. But just to help you be prepared, you would need to look into getting a permit and possibly a private tour.
The last spot (that has a name) is Glen Canyon.
In actual Page, there isn't nearly as much of this  area as there is in southeast Utah, but at least there is the bridge! There is the overlook like the picture above. It's like Horseshoe bend as it has the epic view of the river canyon, but no permit or entrance fee needed! There are a few other spots you can go to in the area that don't have names, and I have spent plenty of time scouting them out to find them just for you!  Let's chat now and I'll give you some of my ideas once we're on the same page.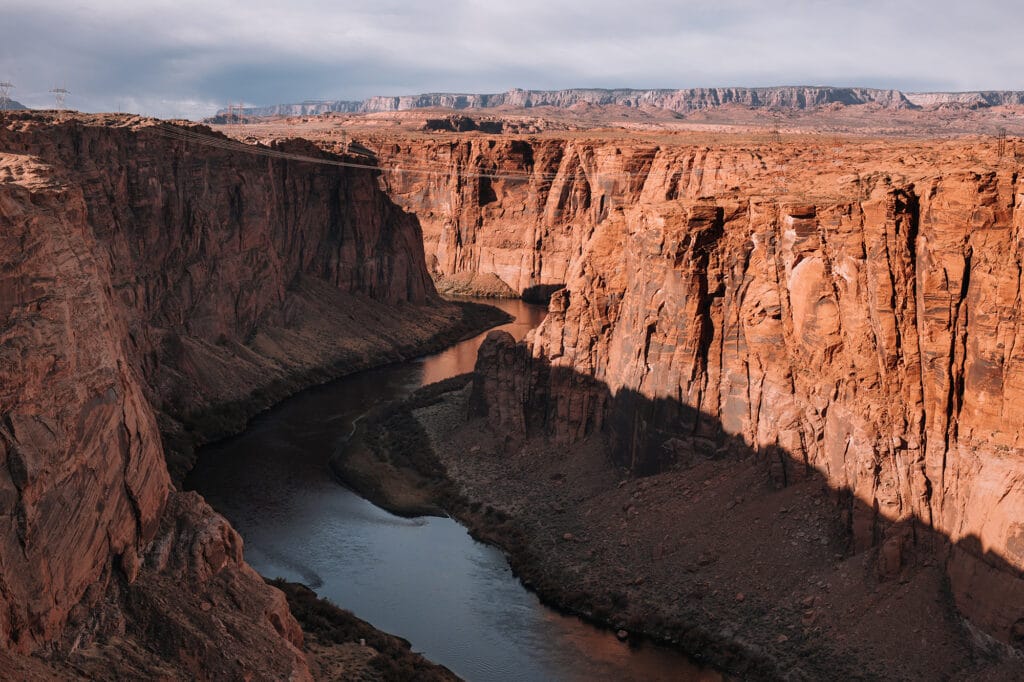 Now is the time for part TWO of this guide on how to elope in Page- the vendors.  This might seem overwhelming but this is to help you make your elopement planning easier.  On a side note, on most of my packages I offer to assist with planning services to take away some of your stress.  Let me know if that's something you want!
 I personally spent the time reaching out to each of these vendors to make sure that they were accessible just for you and your needs. Below are a handful of Florists, hair and makeup artists, even an officiant!
Florists:
Grace Beck of Wyld Root
Instagram: @wyldroot
Email: wyldrootflorals@gmail.com
Phone: 520-309-5221
Sedona Florist
Instagram: @sedonaflorist
Website: www.mountainhighflowers.com
Email: info@sedonamountainhighflowers.com
Phone: 928-203-4211
The Floral Theory
Instagram: @thefloraltheory
Website: www.thefloraltheoryaz.com
Email: thefloraltheory@gmail.com
Phone: 480-278-1309
Hair and Makeup Artists:
Something Beautiful Styles
Instagram: @somethingbeautifulstyles
Website: www.somethingbeautifulstyles.com
Email: admin@somethingbeautifulstyles.com
Phone: 623-910-8986
Sedona Beauty Team
Instagram @sedonabeautyteam
Website: www.sedonabeautyteam.com

Email: sedonabeautyteam@gmail.com
Phone: 480-262-0215
Officiant
Kat Vaughn-Wiltsee
Instagram: @adventure.wedding.officiant
Email: kvaughnwiltsee@gmail.com
I sincerely hope that helps make your planning so much easier! Now I can't promise that they will be open for your date but it's a jumping off point! And I can always help you find someone once you are an official client!
Now for the final part of the planning for you to elope in Page, figuring out where to freaking stay! For many elopements I tend to take "get ready" photos of you two together. Ya know what I mean. Your dress hanging, him putting on  his suit, you finishing getting your makeup done, and so on and so forth. 
For some people, when it comes to the place that you plan to get ready and where you plan to enjoy each other on your wedding night, the person little casa is important. Just for shits and giggles, I'm going to start with the creme del'a creme, and the bougie to the millionth degree, down to the super laidback and chill. Hold onto your butts for this first spot!
Say hello to Amangiri I seriously have become obsessed with this place and how chic it is, the incredible light and architecture, but also the unbelievable location it's in. It's about a half hour from Page, and it just over the border in Utah. It's on 600 private acres with hikes and even some adventures that are only for the really brave! But as incredible as this place is and how I would give my left hand to stay there, the rooms range from $3,500-$6,650 A NIGHT! It really is a once in a lifetime place to stay.
Hopefully by the time you're reading this sentence you're feeling a whole more confident in planning your elopement to Page, AZ! There are a few other things I am sure I can help you with once you're an official clients. Where can you rent a jeep? What other secret spots are there to go to? What kind of food is there in Page? Because we're Millennials and Generation Z, we love our charcuterie…who do I suggest?? I mean, I got to keep some things secret until you know you want to go with me. *wink*
But one thing you can be sure of before you sign on the dotted line, you're going to to be getting some seriously amazing photos to remember this whole experience by! Just for funnzies, below is an elopement that I had back in November in the area (Lake Powell and Horseshoe Bend) and I wanted to share them with you just so you can envision yourselves in their shoes. Please enjoy and I can't wait to hear from you about your elopement in Page, AZ and get started planning. Contact me now!
Thank  you so much for reading this guide.  I hope it has helped you and that we can start getting ready for you to elope in Page, Arizona! If you would like to see some of my other adventure elopements or weddings, adventure sessions or engagements, or just wanna see what I've been up to, you can check out my blog here.