The following is from the bride, Erin.
We met in college in 2002 because my best friend Dustin joined the same fraternity as Darryl. We always had a crush on each other, but were dating other people until we finally were both single and bumped into each other at our friend Kenny's Tax Party in 2008. Darryl claims he was chasing me around for years 🙂 and we haven't been a part since. Darryl wore a sexy and dapper suit from Suit Supply and Cole Haans loafers. I wore an Alice + Olivia dress with Badgley Mischka heels. I never wanted a white wedding dress — I found this dress when searching for multicolor dresses, but it was a couple seasons old and no longer for sale — after obsessively looking for months, I took a chance buying the only one I could find (size 2 – way too small! and used). My amazing tailor (Eltsa Custom Sewing in  Seattle) worked miracles on making the dress work for me. I didn't show it to Darryl until the day we got married, but wanted him in a nice blue, fitted suit so we were both colorful.
Details about the planning and big day I had a lot of help from my mom and other family and friends. We hashed out a lot of big details early on, but I had no idea how granular wedding planning is, or how much work/stress it would involve! But it was all perfect, even the small hiccups we experienced the day of, and I wouldn't have done much differently. We live on a boat in Seattle, and I had a vision of being able to incorporate the boat somehow into the wedding. There aren't many places that fit the bill for this, and when we came up to Port Townsend to scope out the venue, we immediately fell in love with the venue, marina and quirky town. The Northwest Maritime Center offered both indoor and outdoor options, in case PNW weather did not cooperate (thankfully it did!), and we were able to exit our ceremony onto the boat with our wedding party. The beautiful views from the NWMC meant a lot of decorations weren't needed, and they also were very helpful and provided a lot of leeway/flexibility to meet our needs, like making sure our dog Axle could come in the venue, or setting up a wooden boat for a huge charcuterie spread for cocktail hour.
Our ceremony was incredible. We asked a good friend Brian, who lives in London, to officiate, and while we gave him some general ideas of what we wanted, he did not tell us what exactly he was doing so it was all a surprise. It was touching, funny and "us" — my favorite parts were probably the tying of the fisherman's knot, finding out that Darryl and I wrote/started our vows the exact same way (they were a surprise as well), and having our dog Axle as the ring "bear". We had multiple people stop us to tell us they have never cried like that at a ceremony before. It was pure love. I am crazy happy with my ring too! We came to Port Townsend and made them at the new place, With These Rings.  Knowing they were made for each other by each other made it even more special when he put it on my finger to be his wife.
Kim was phenomenal. I'm really glad we did photos the night before after our rehearsal BBQ, because it let us get comfortable with having our picture taken (something we aren't used to). The photos are incredibly gorgeous and really captured the energy and love that was a part of our wedding.  Advice for other couples getting married: The lead up can be extremely stressful, and then the best parts are over in a flash! I think I'd recommend not planning a wedding more than a year in advance (we were engaged for 2+ years), because that gave me a long period of time to overthink the details. Also try to not sweat the small stuff – things will go wrong and there is no way to anticipate it all. I was pretty chill starting the week before the wedding, which felt great, because I decided to just give in and let things fall as they were going to.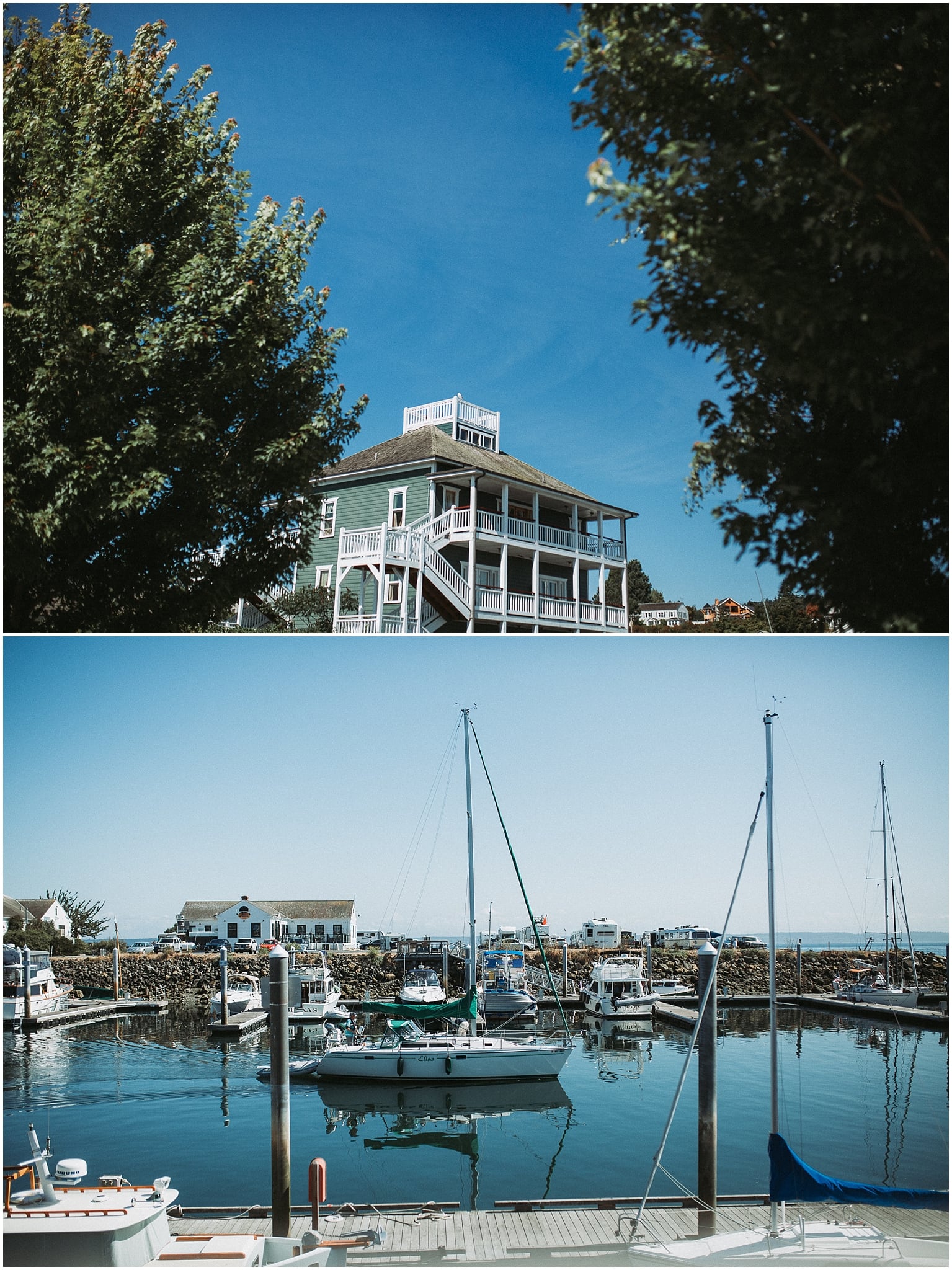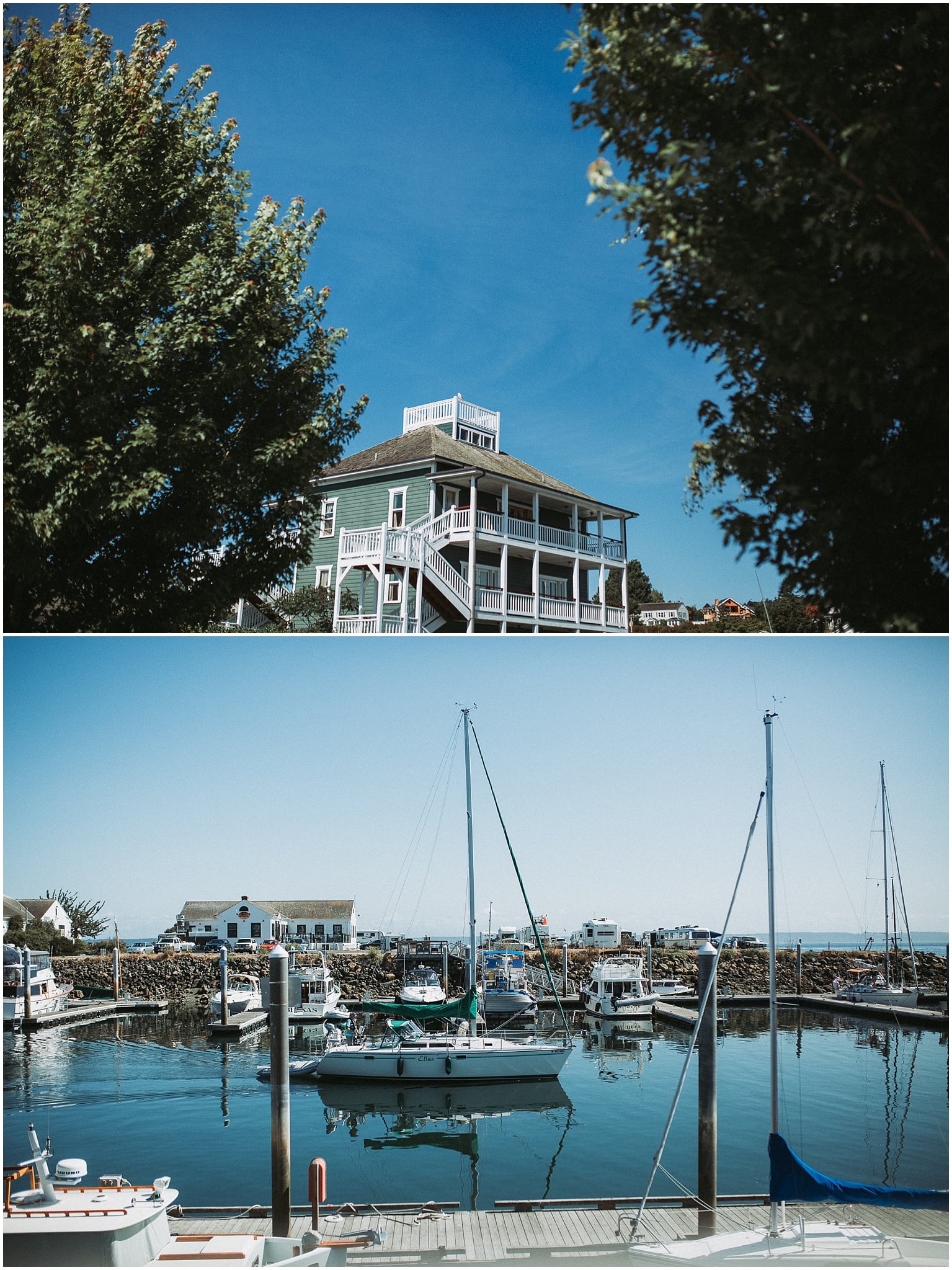 "I never wanted a white wedding dress"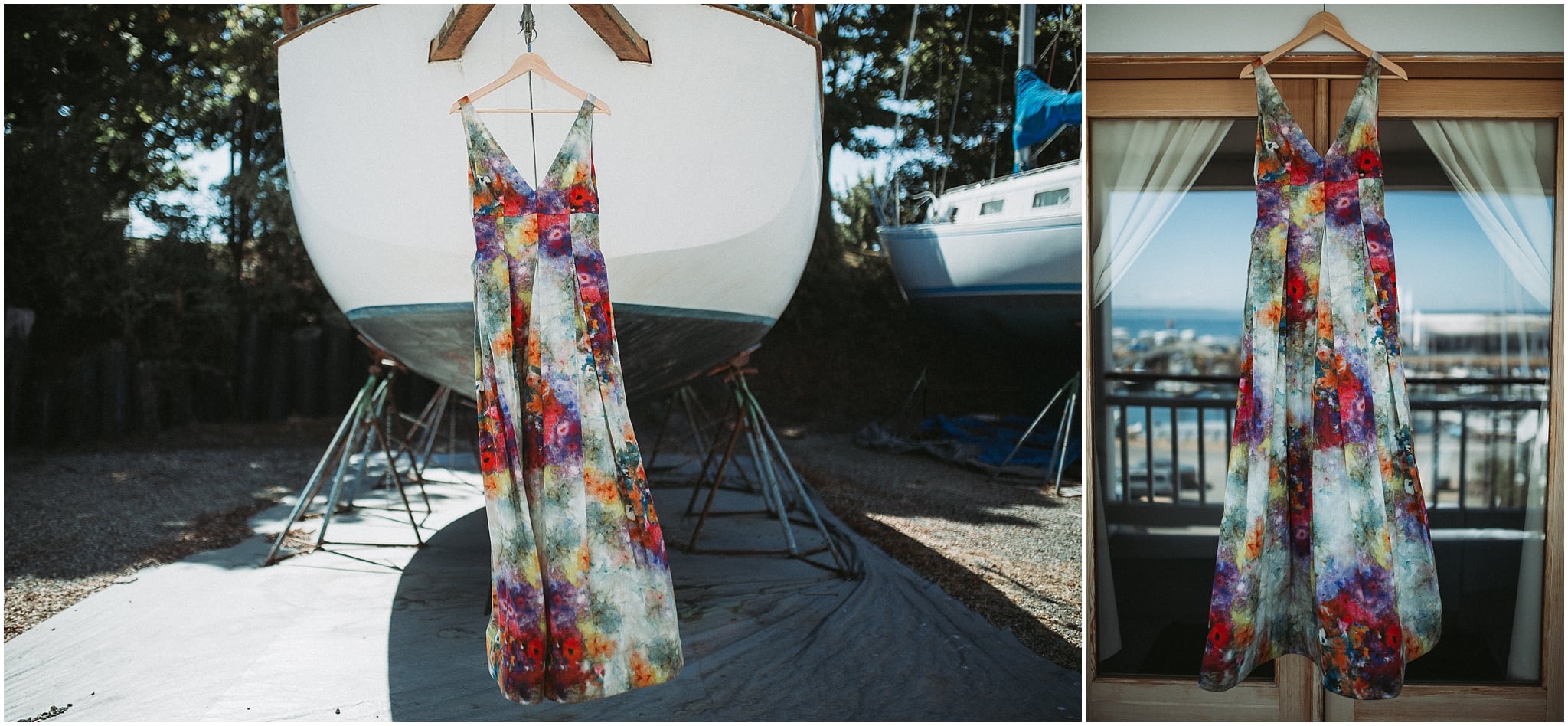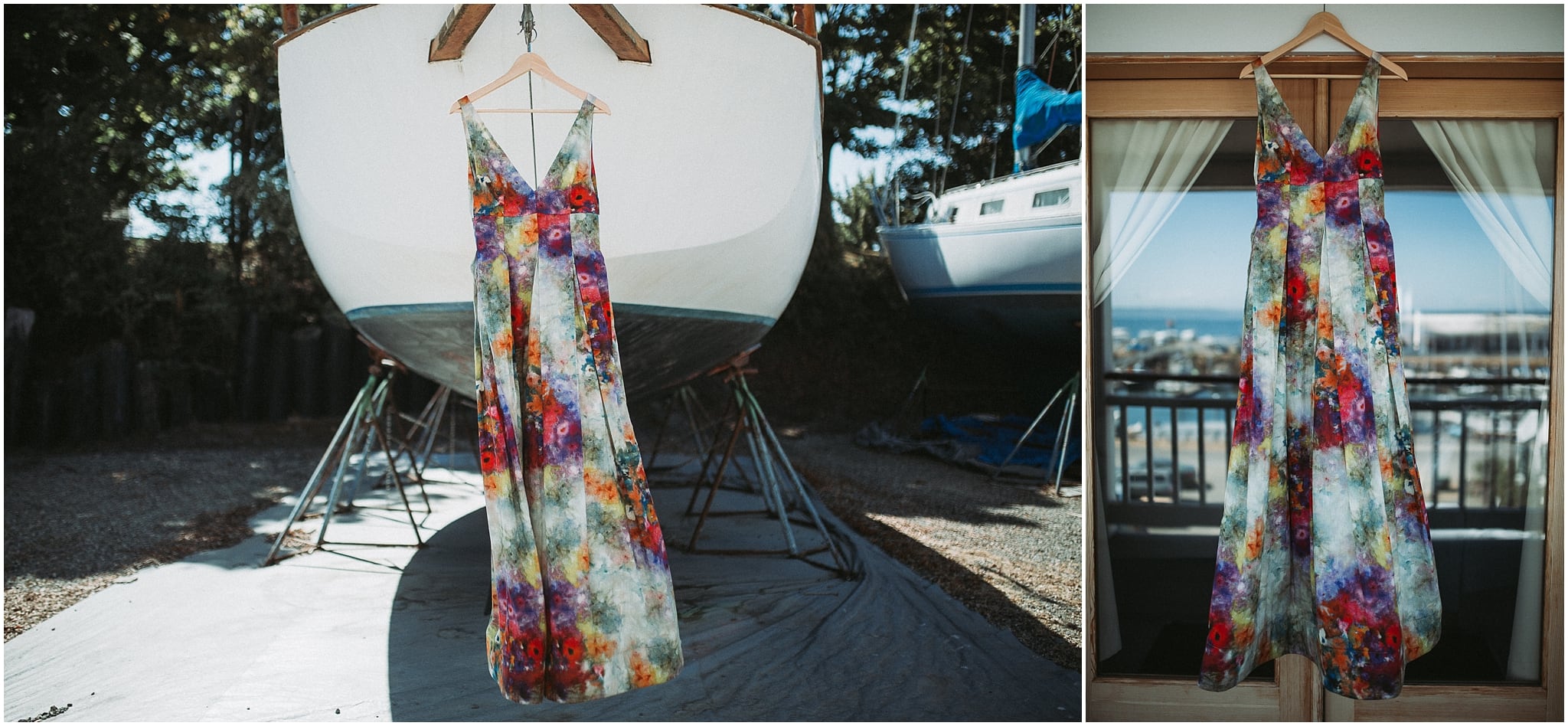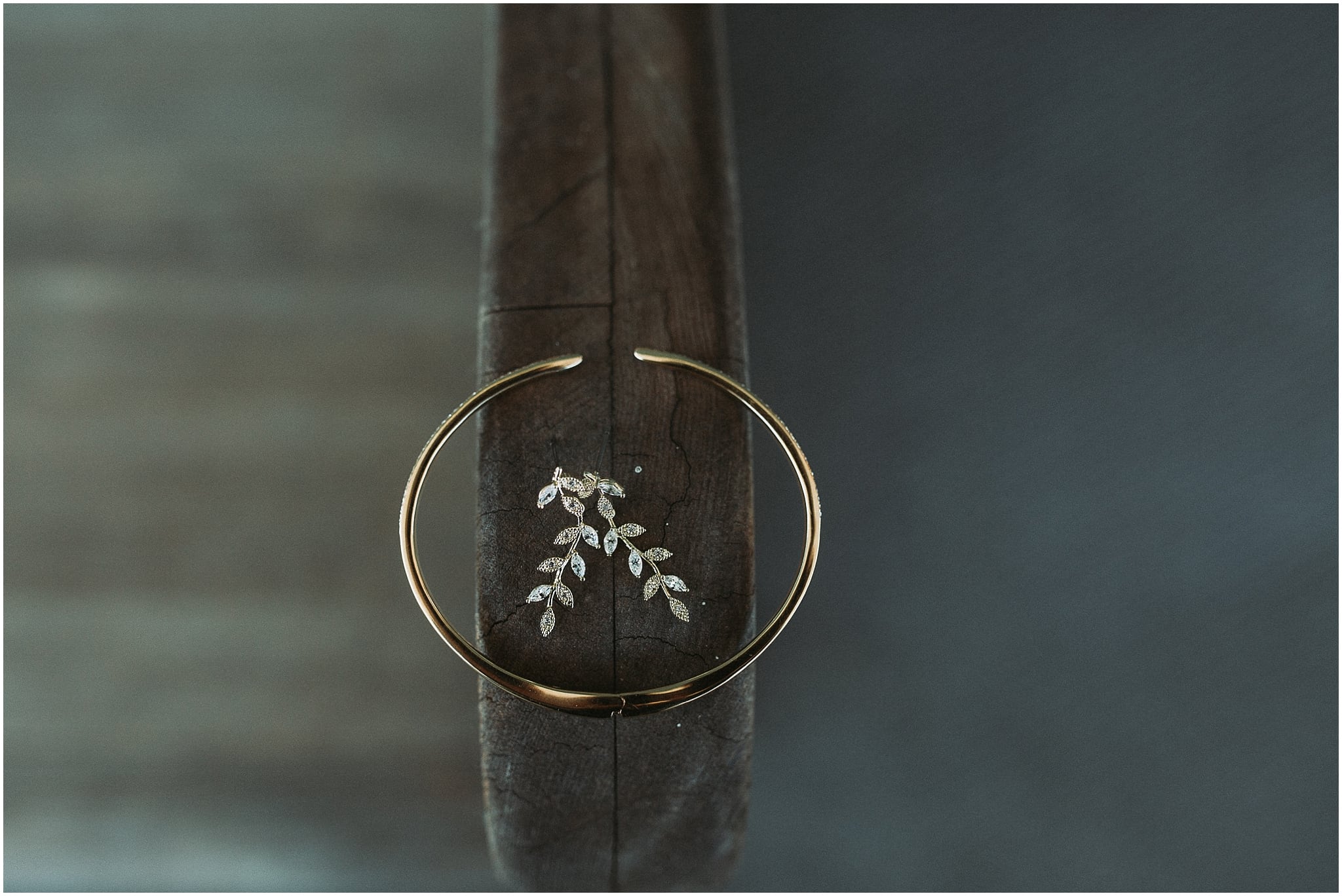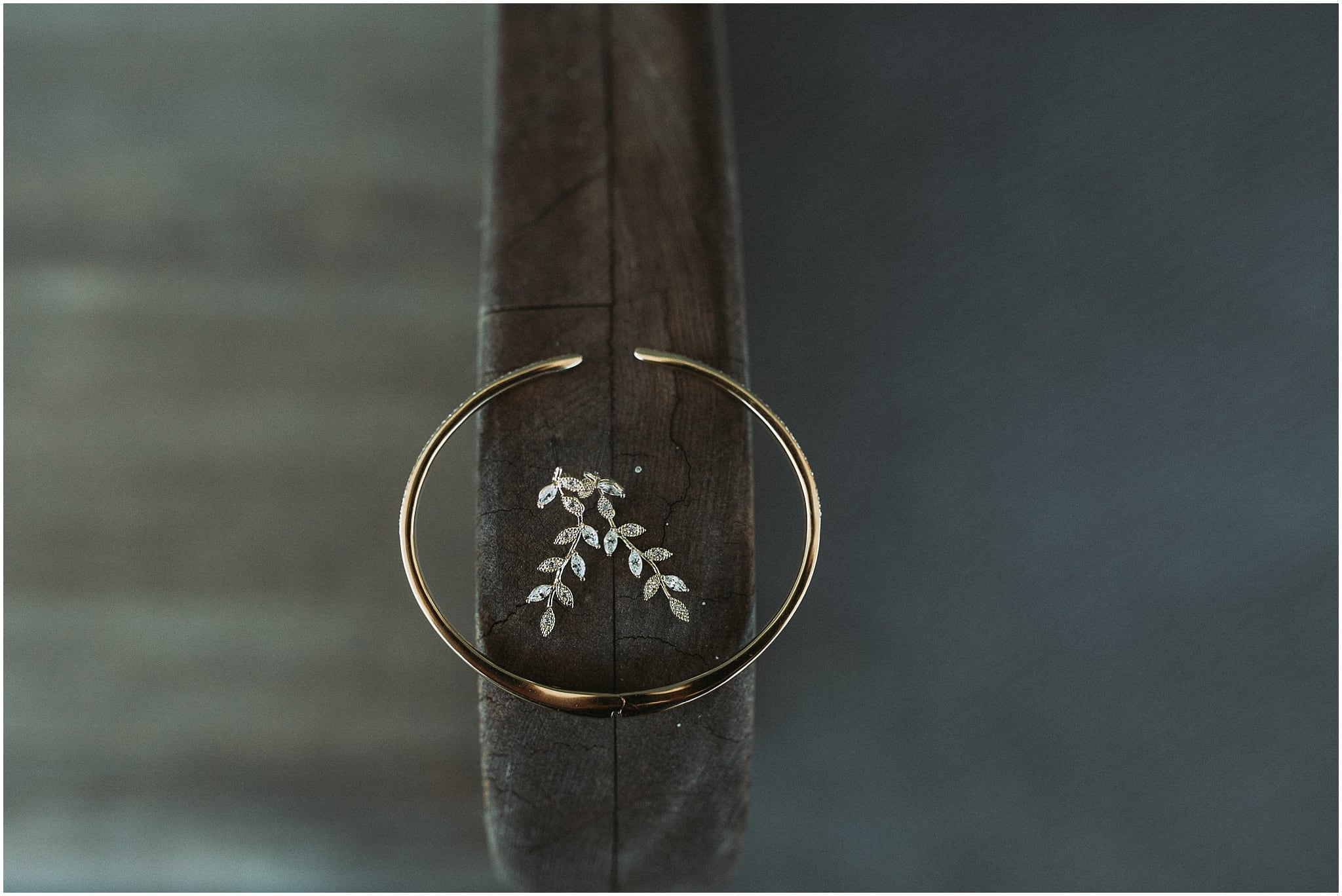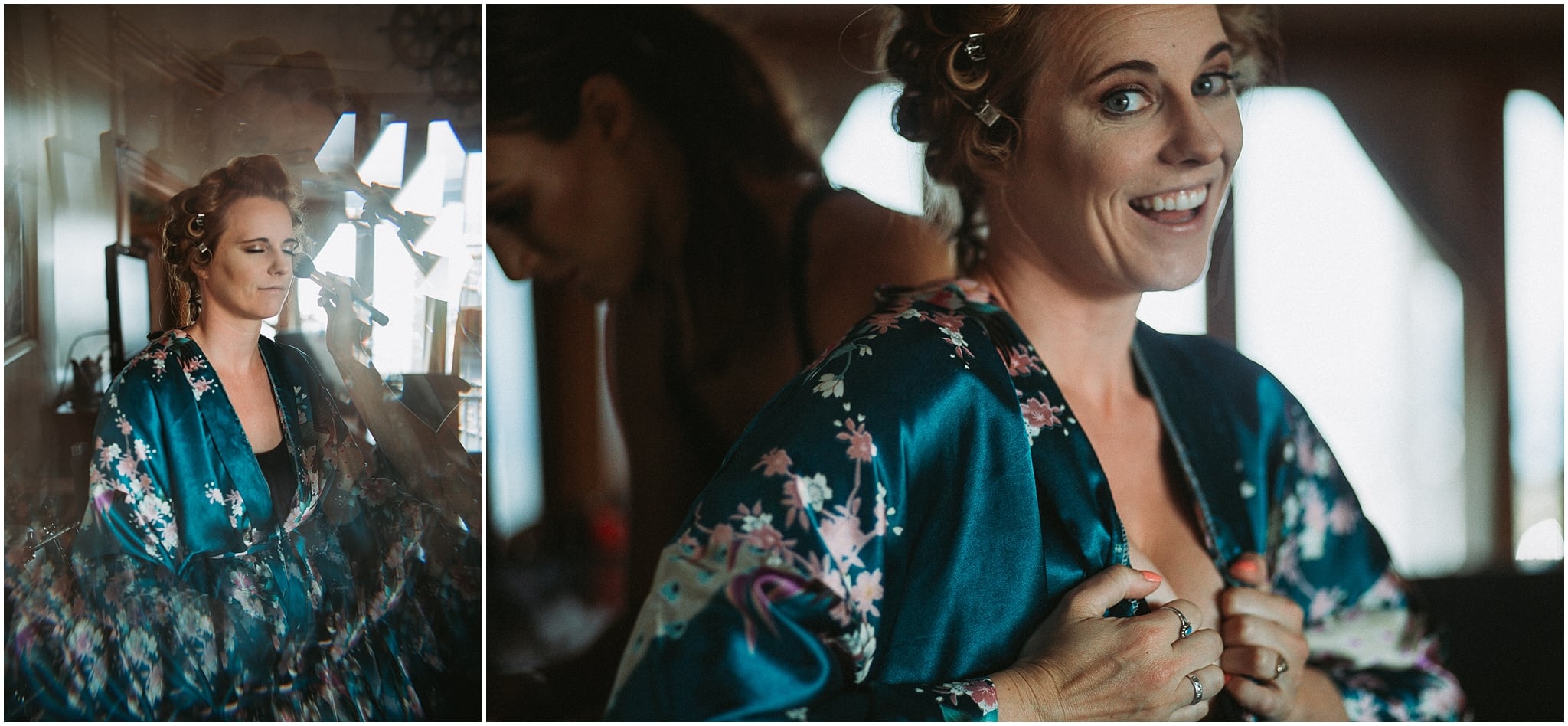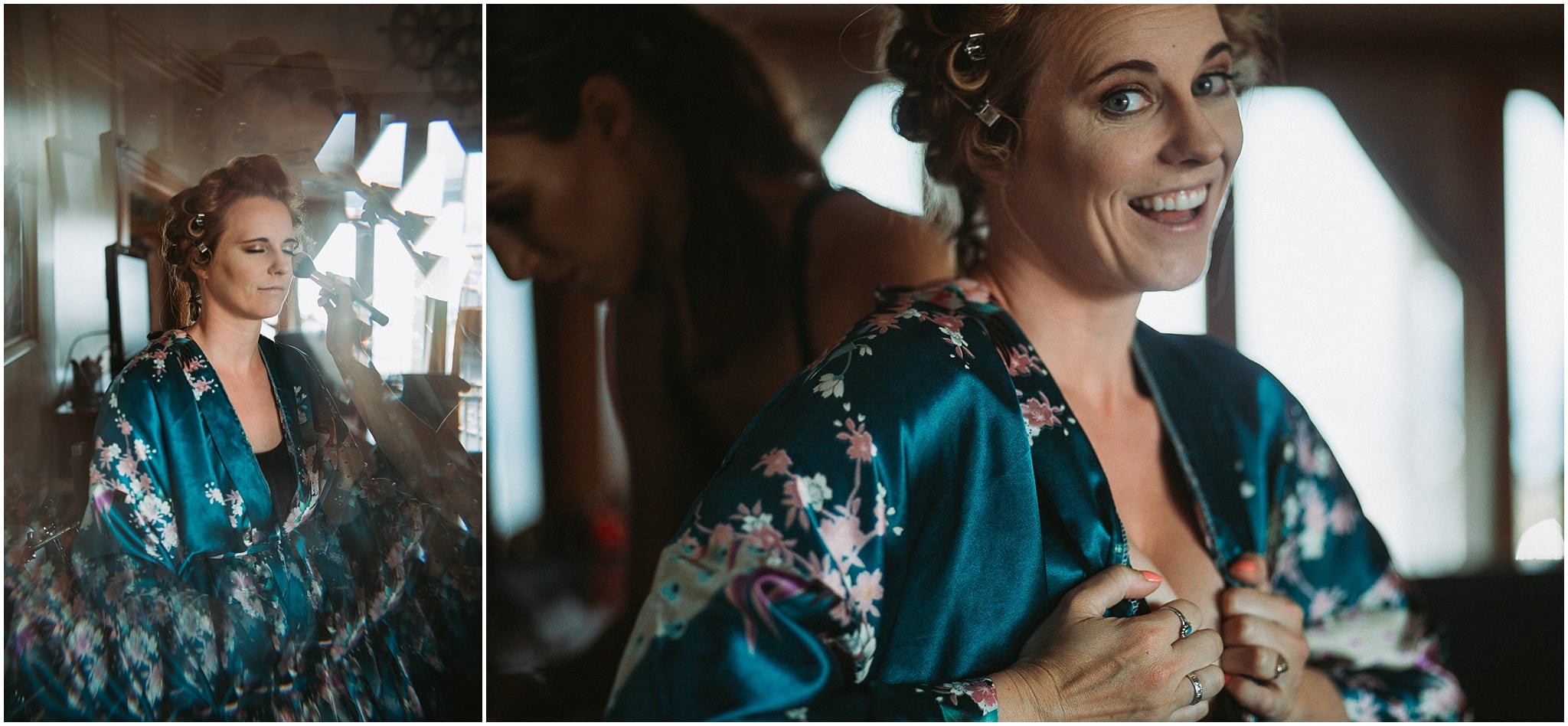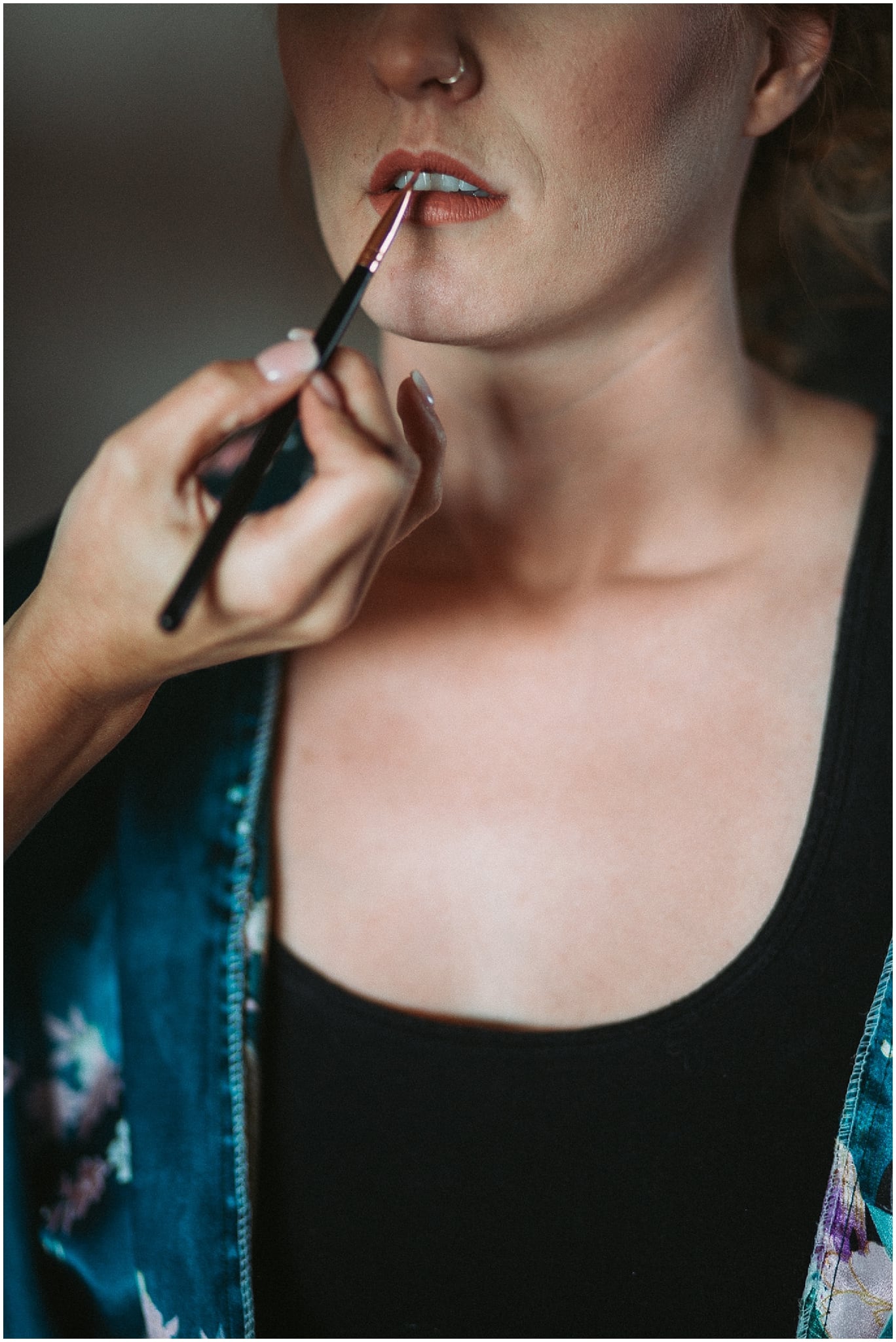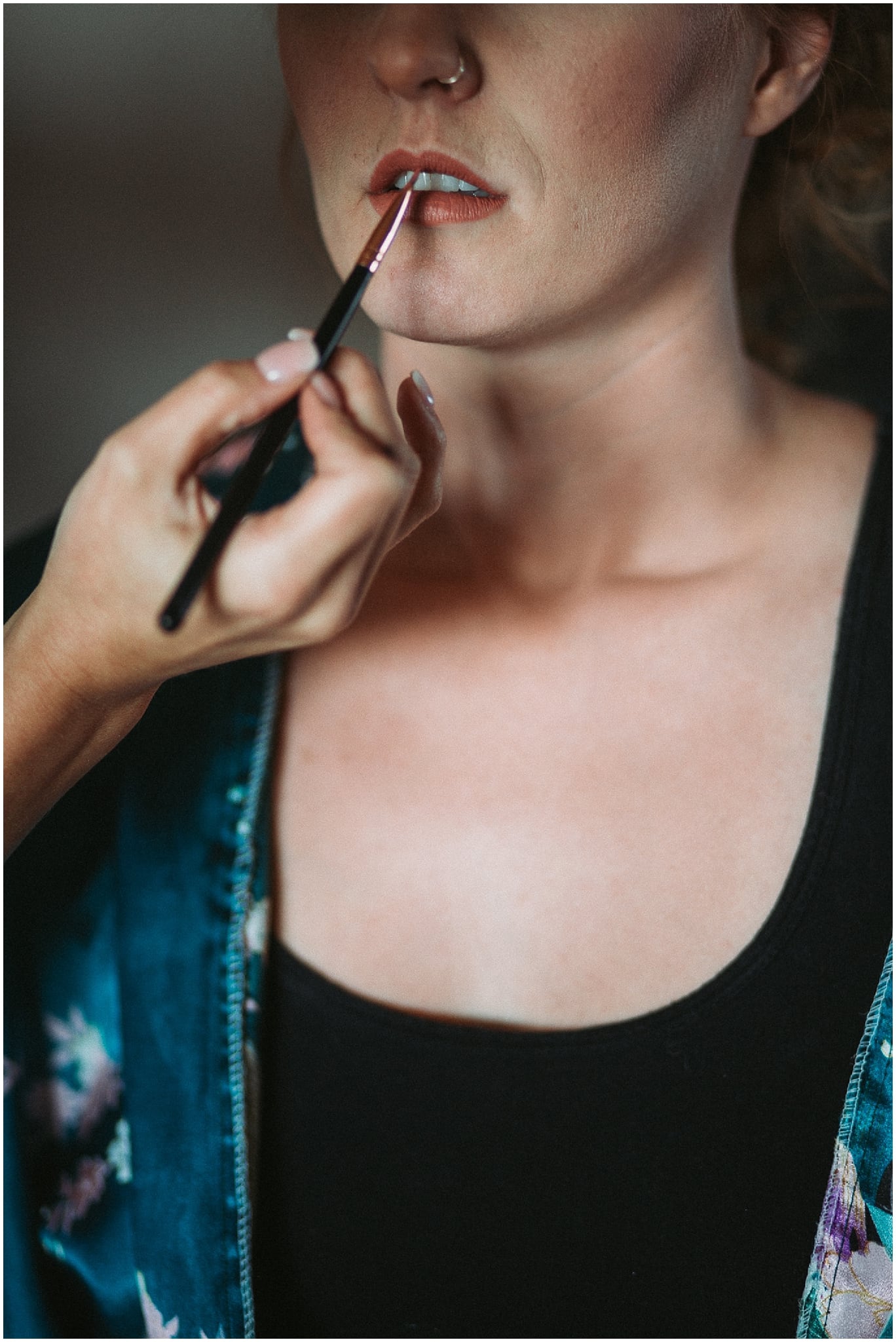 "We live on a boat in Seattle, and I had a vision of being able to incorporate the boat somehow into the wedding."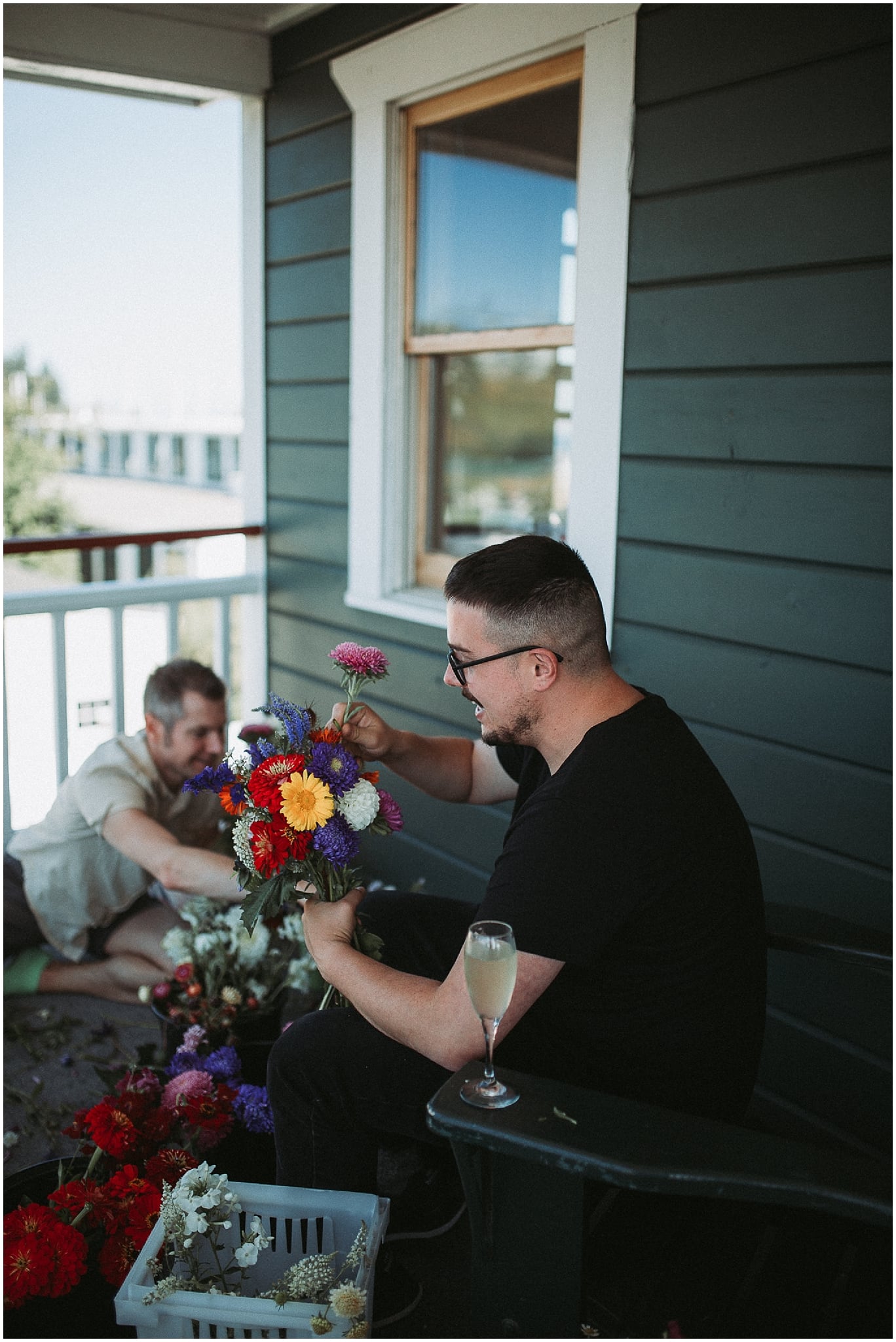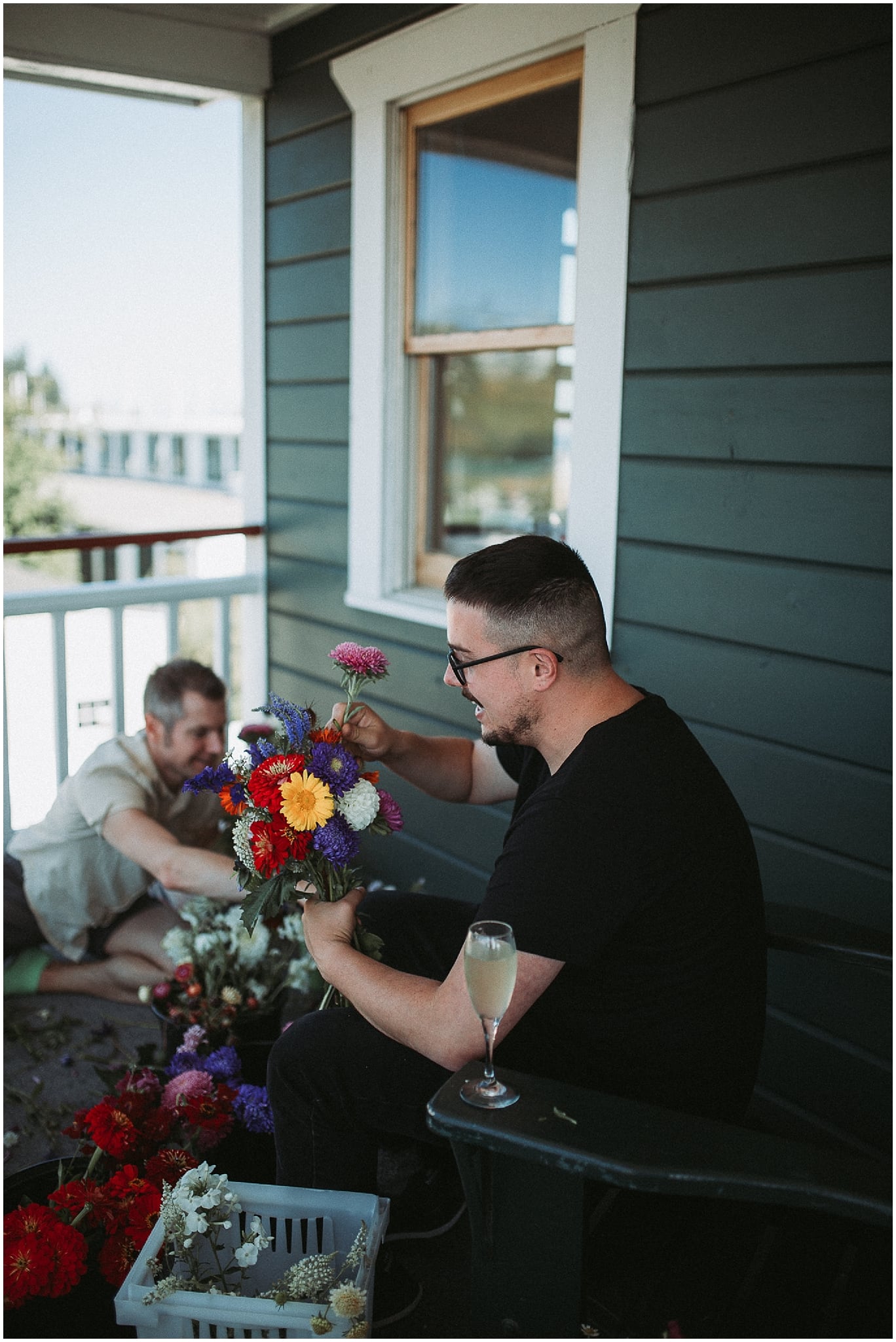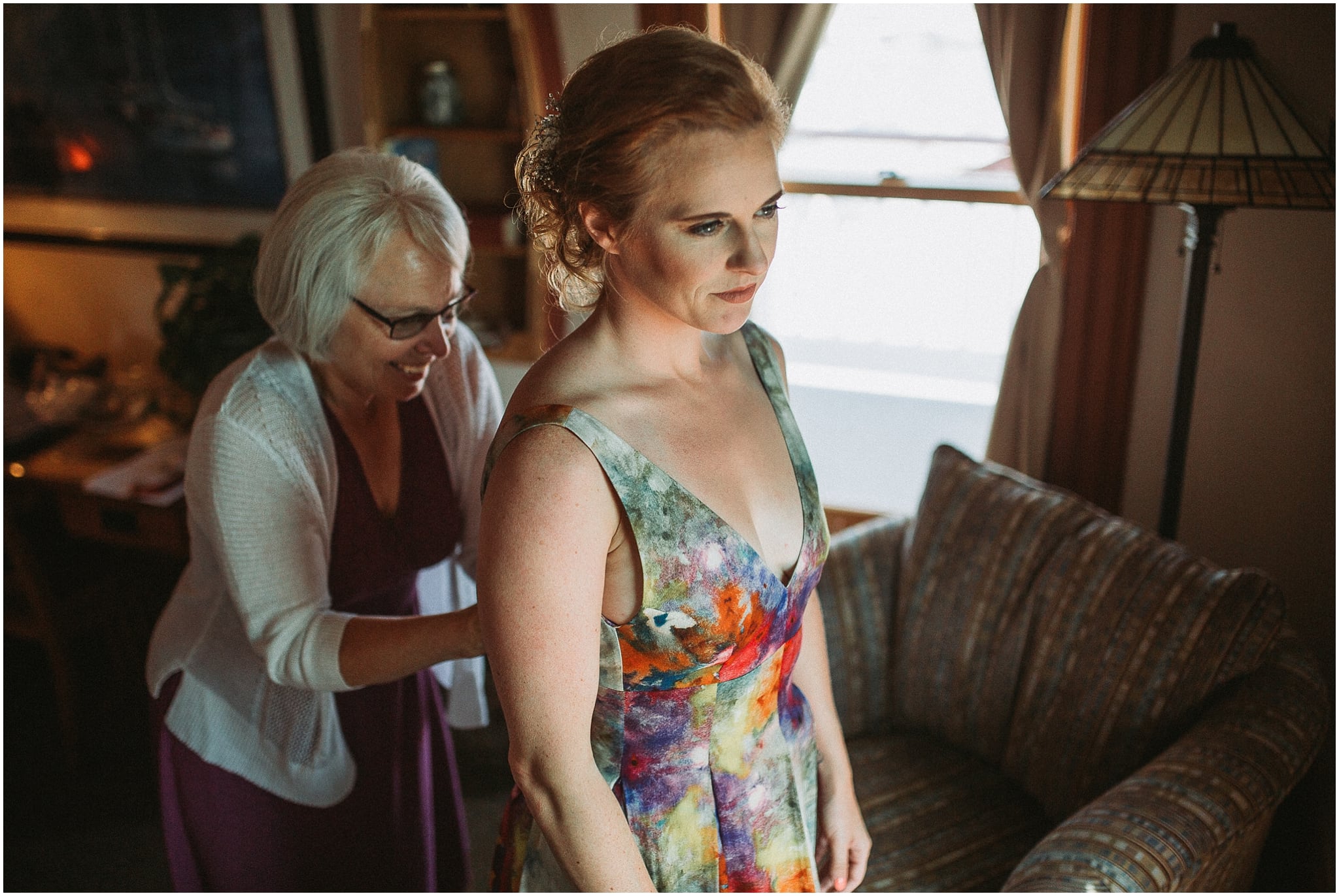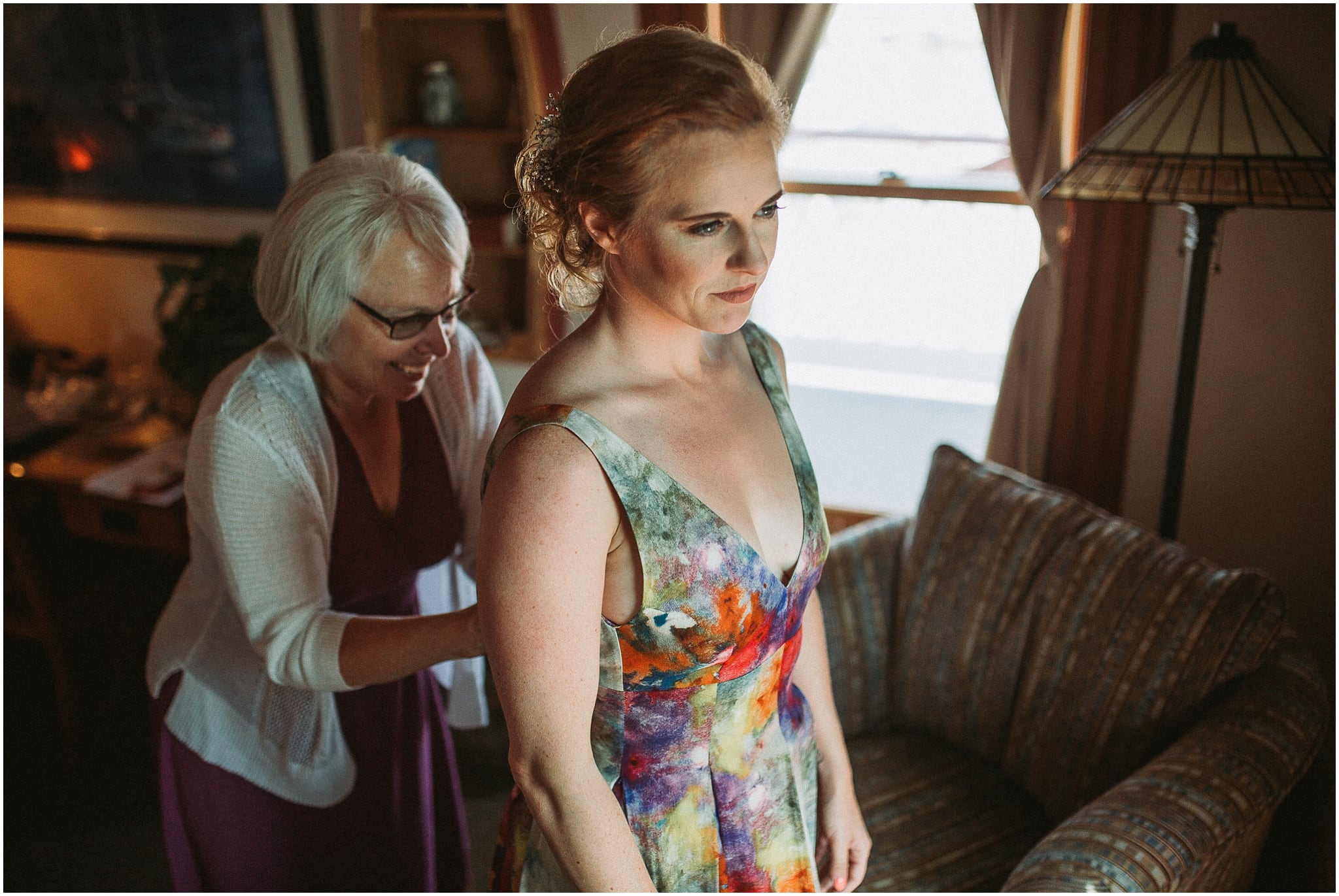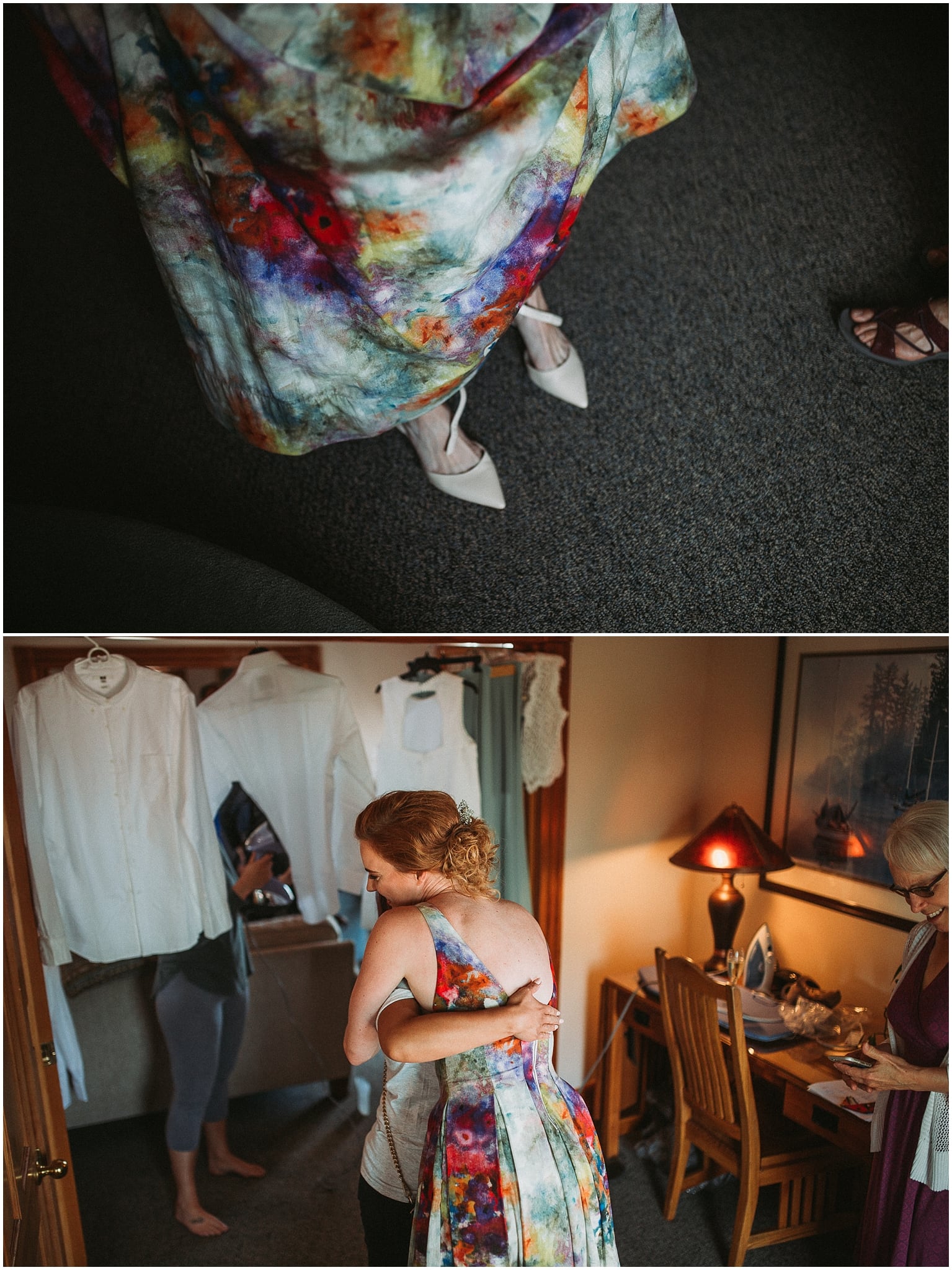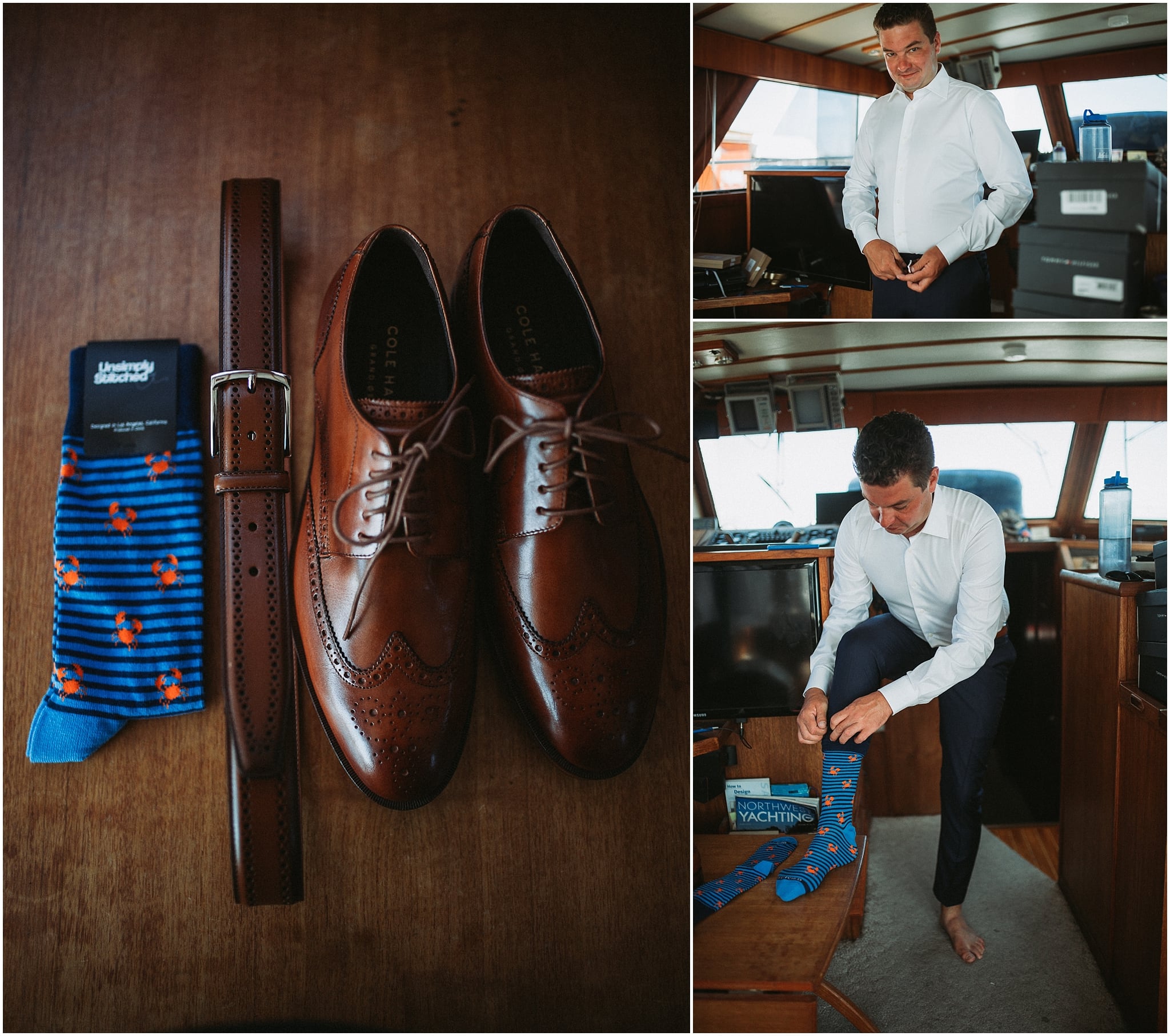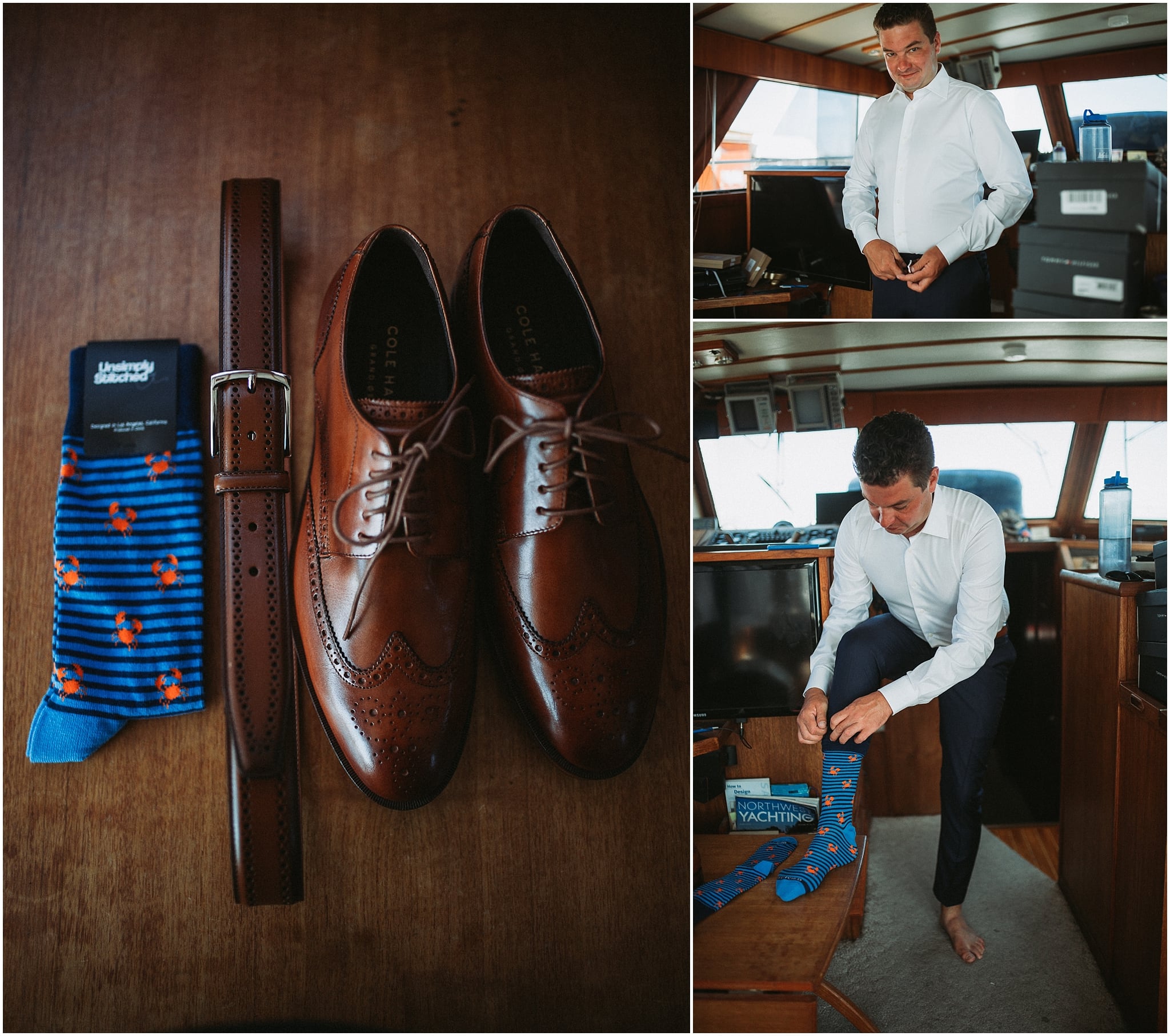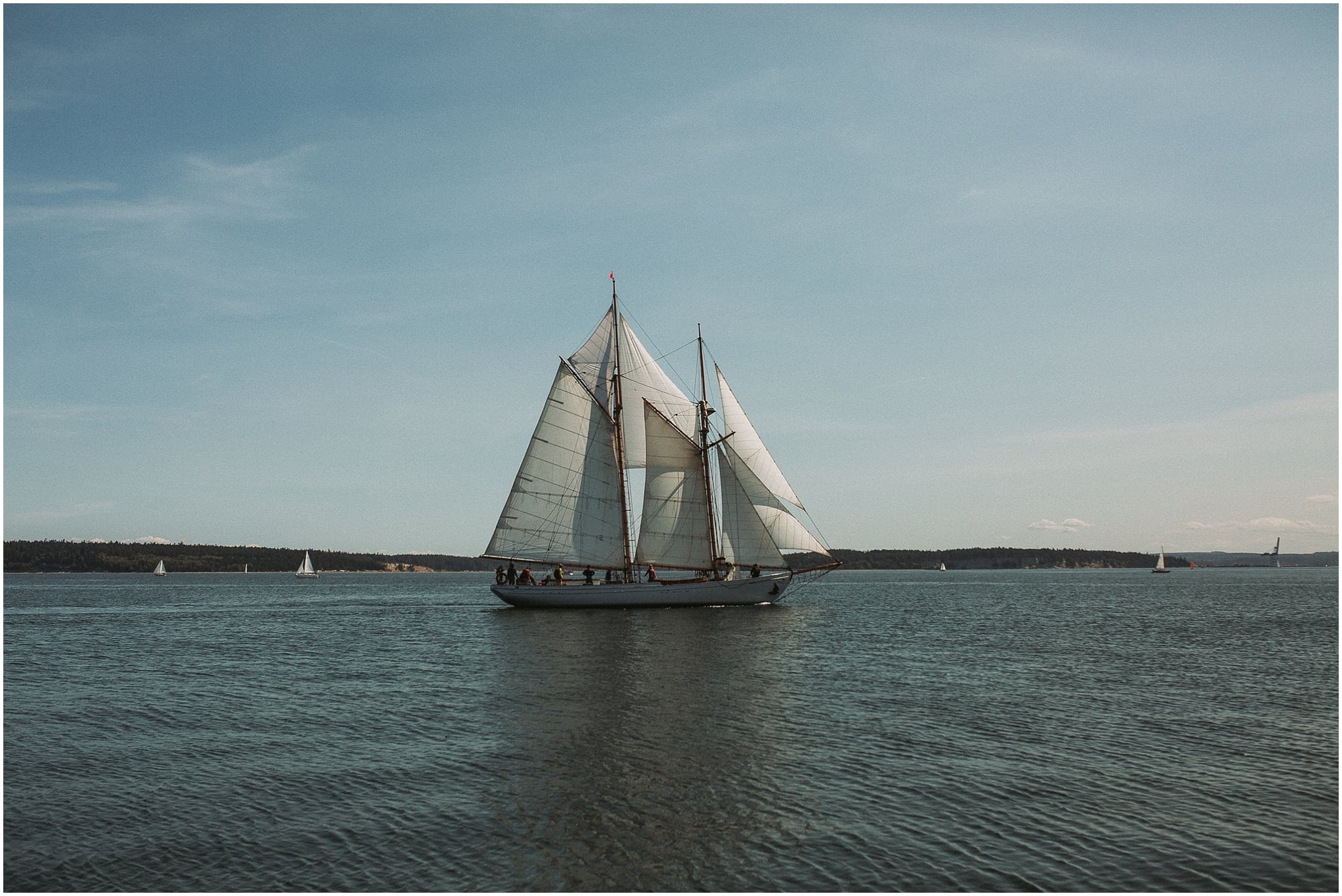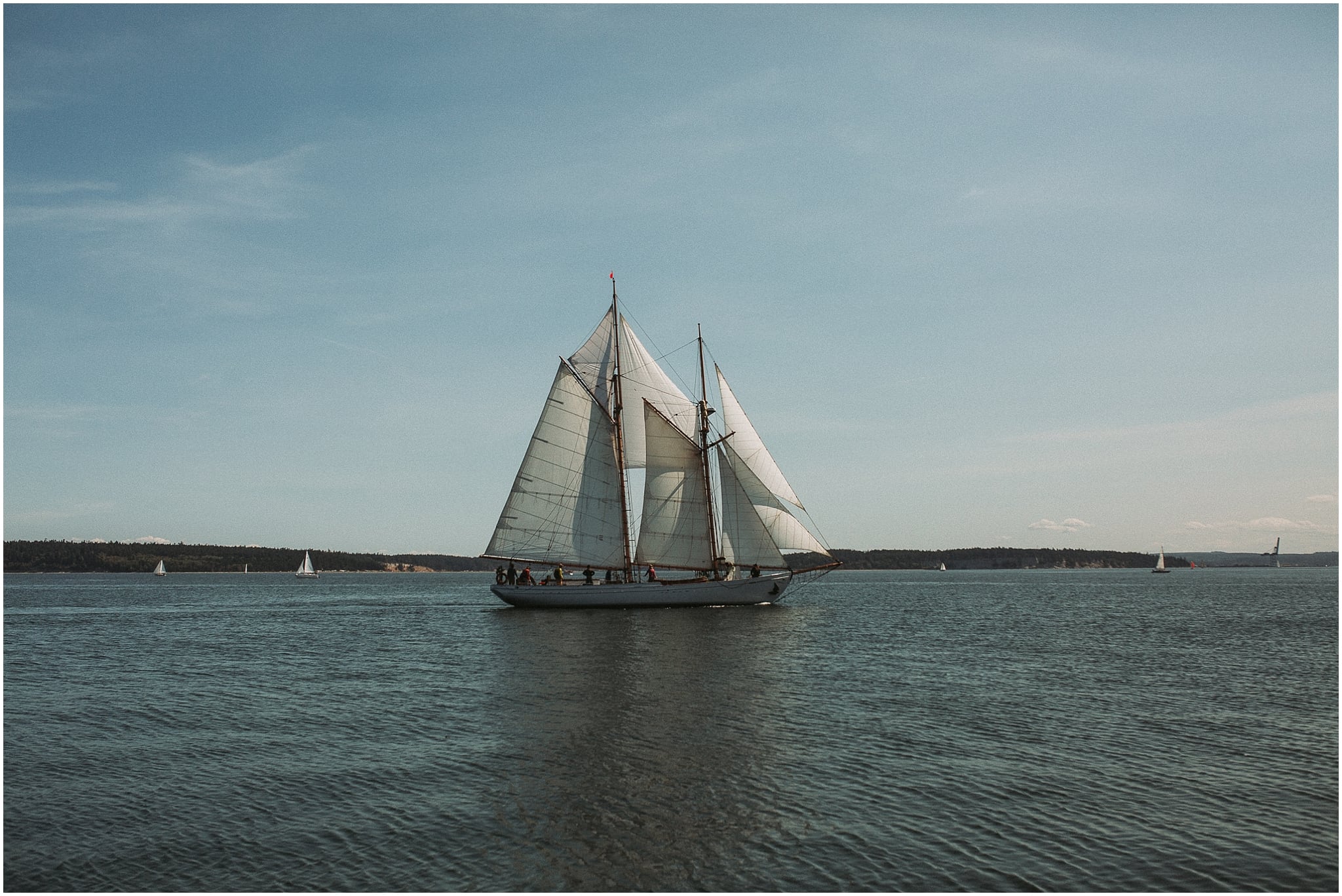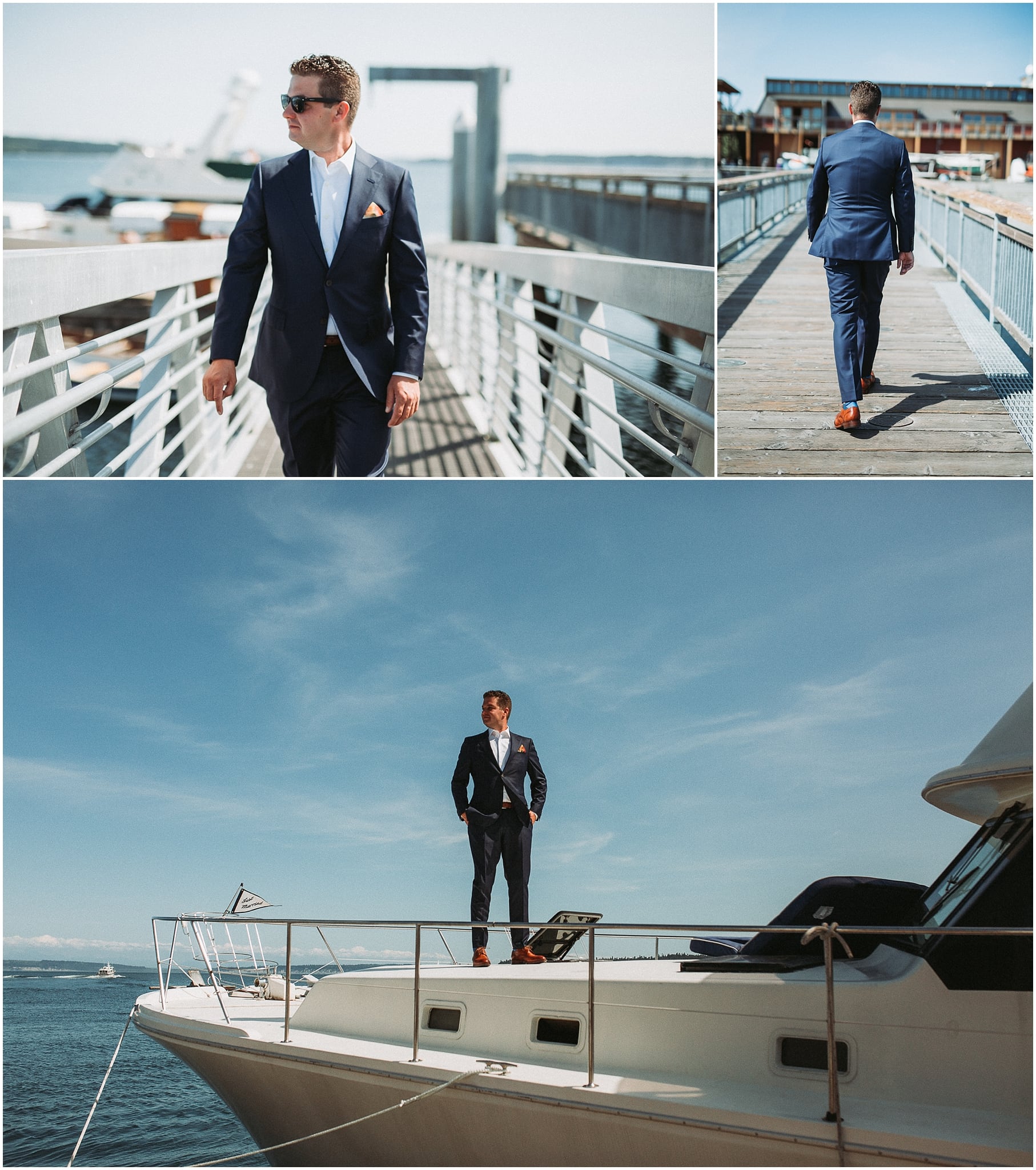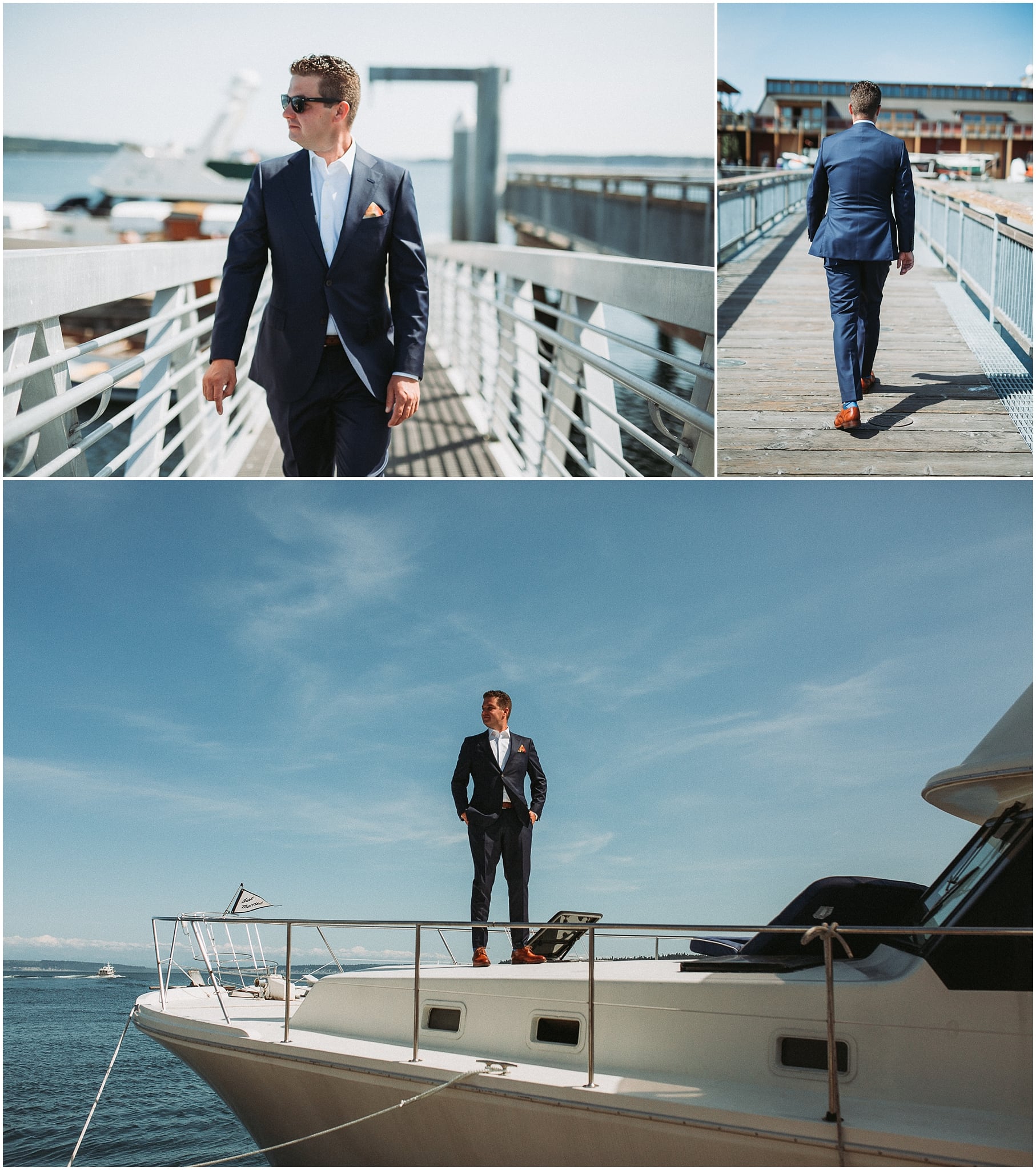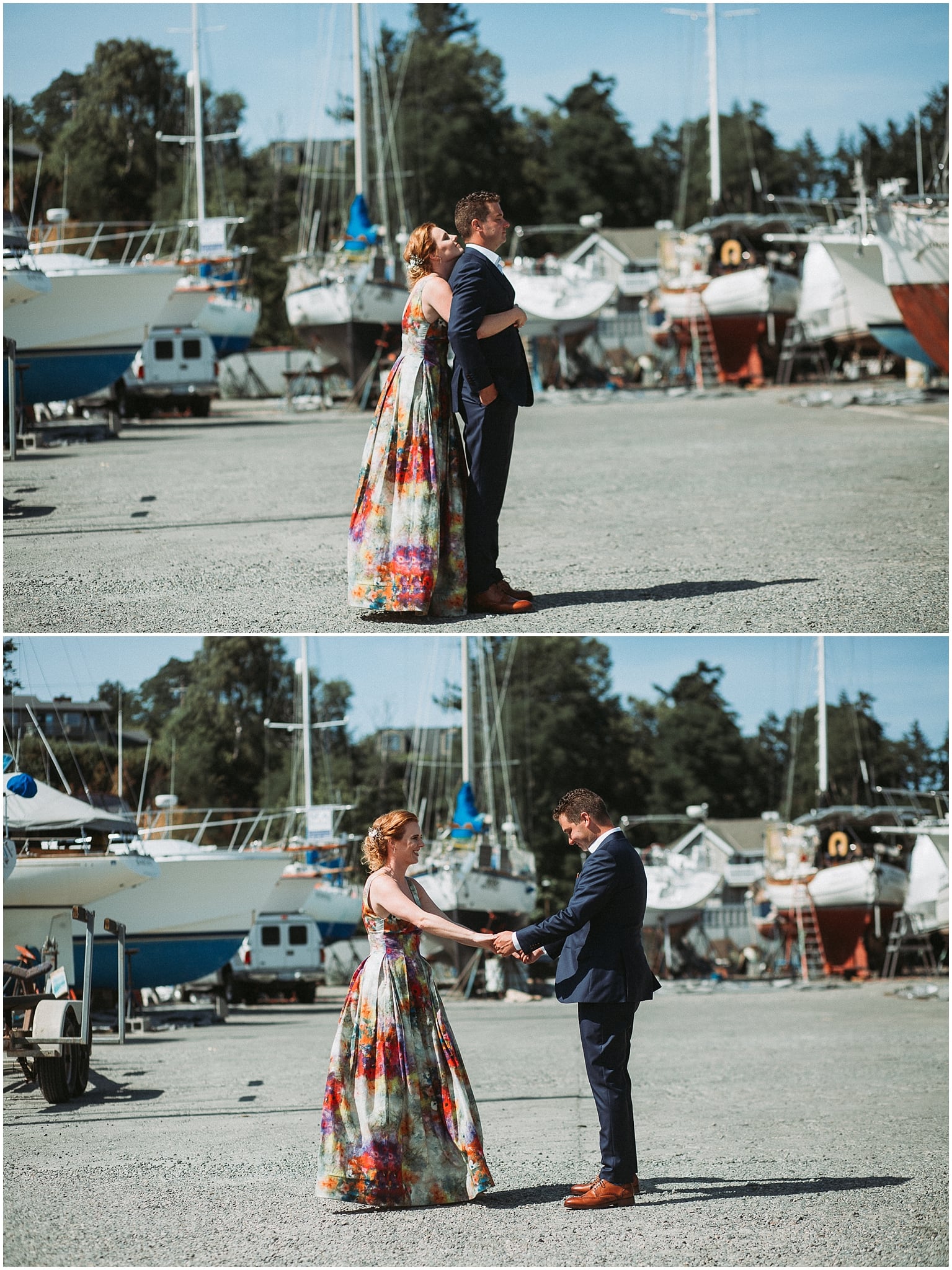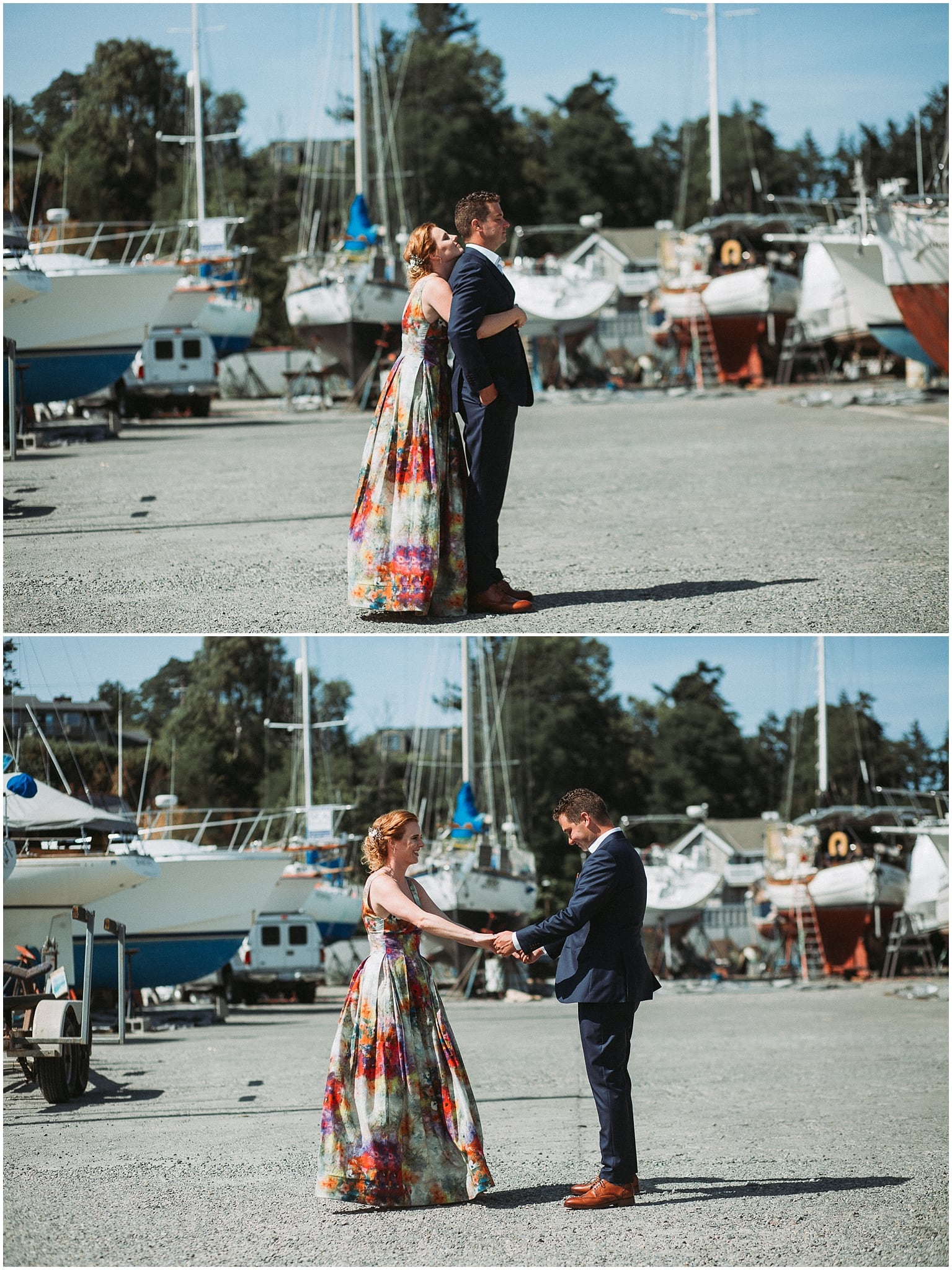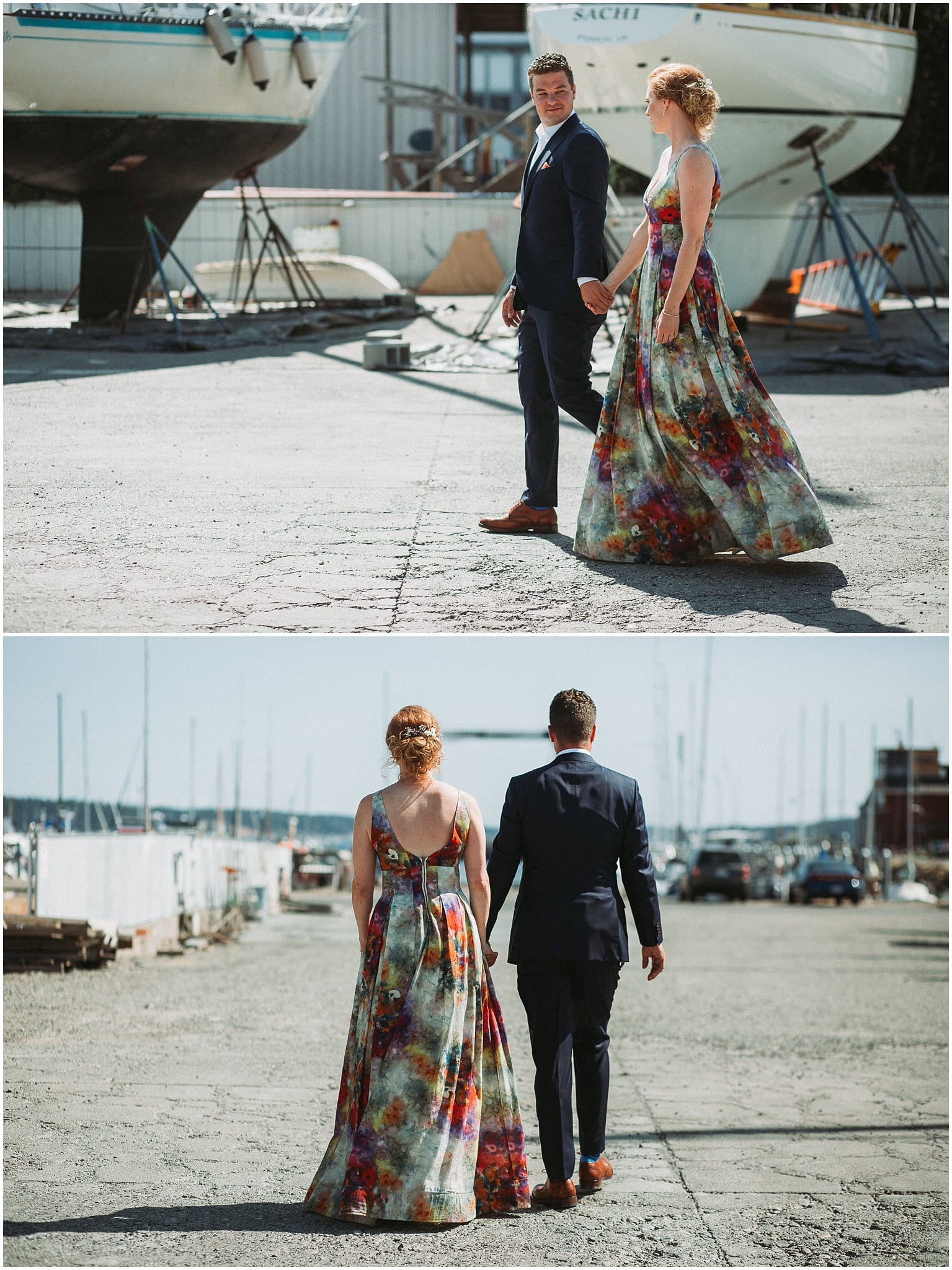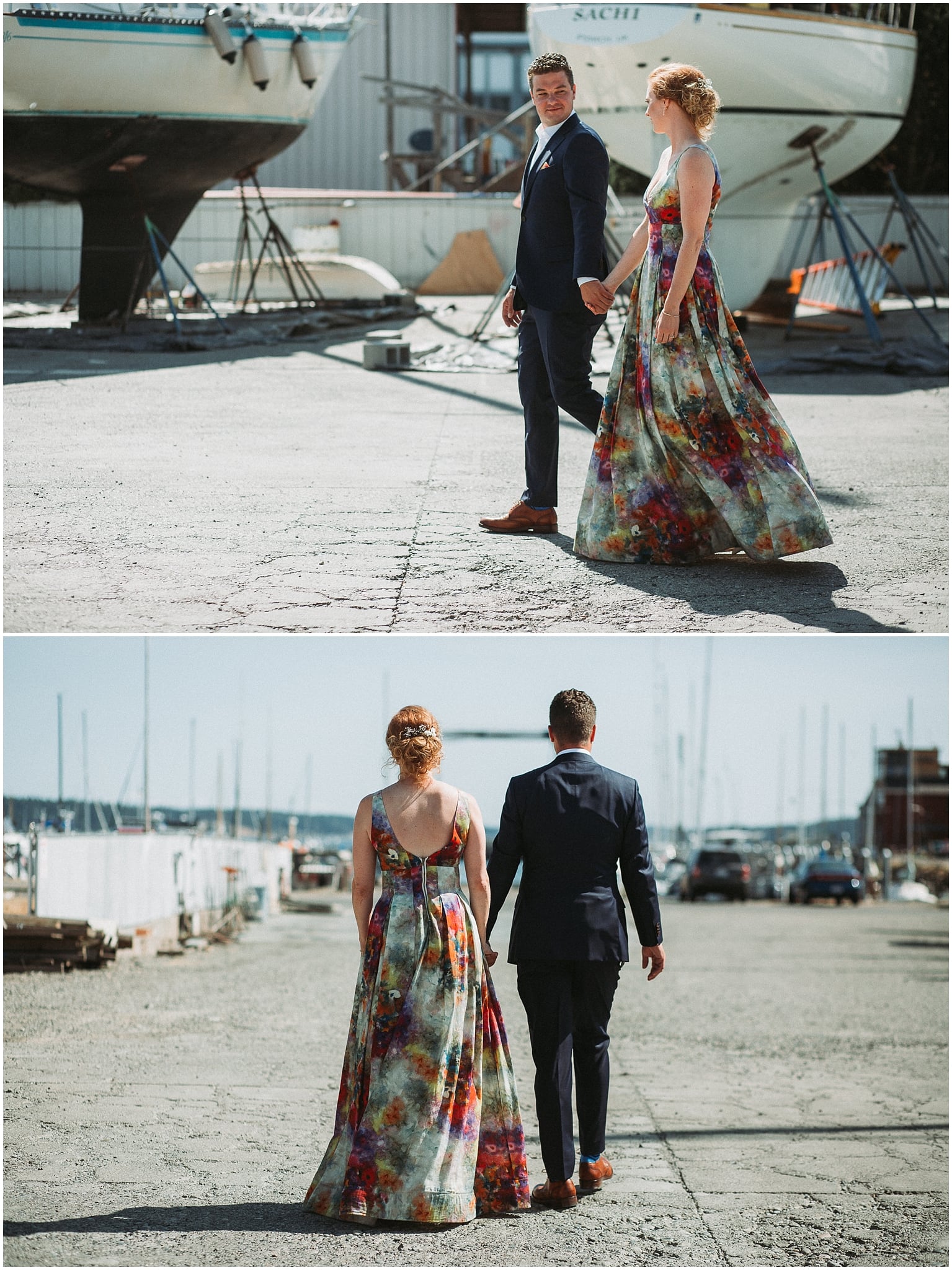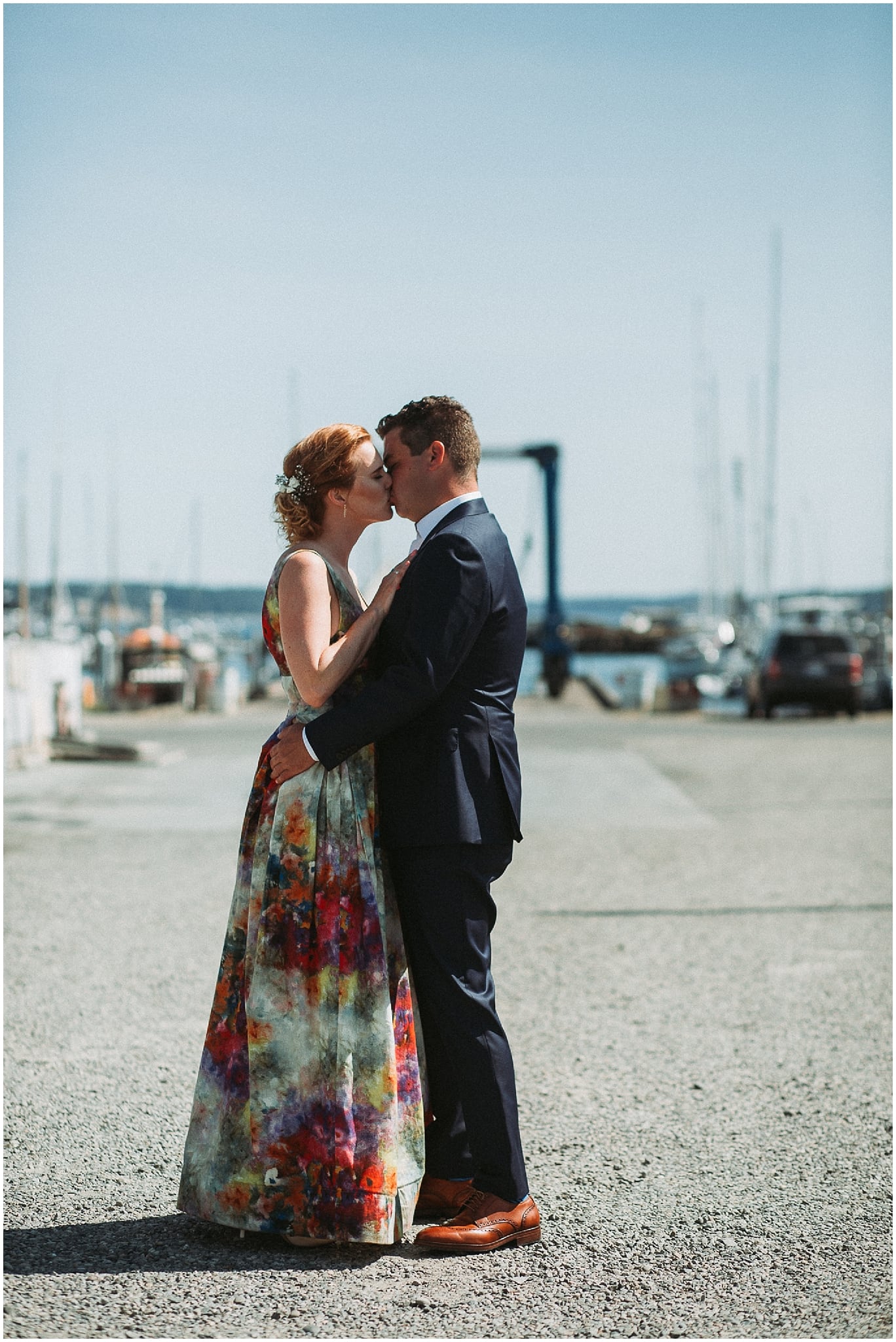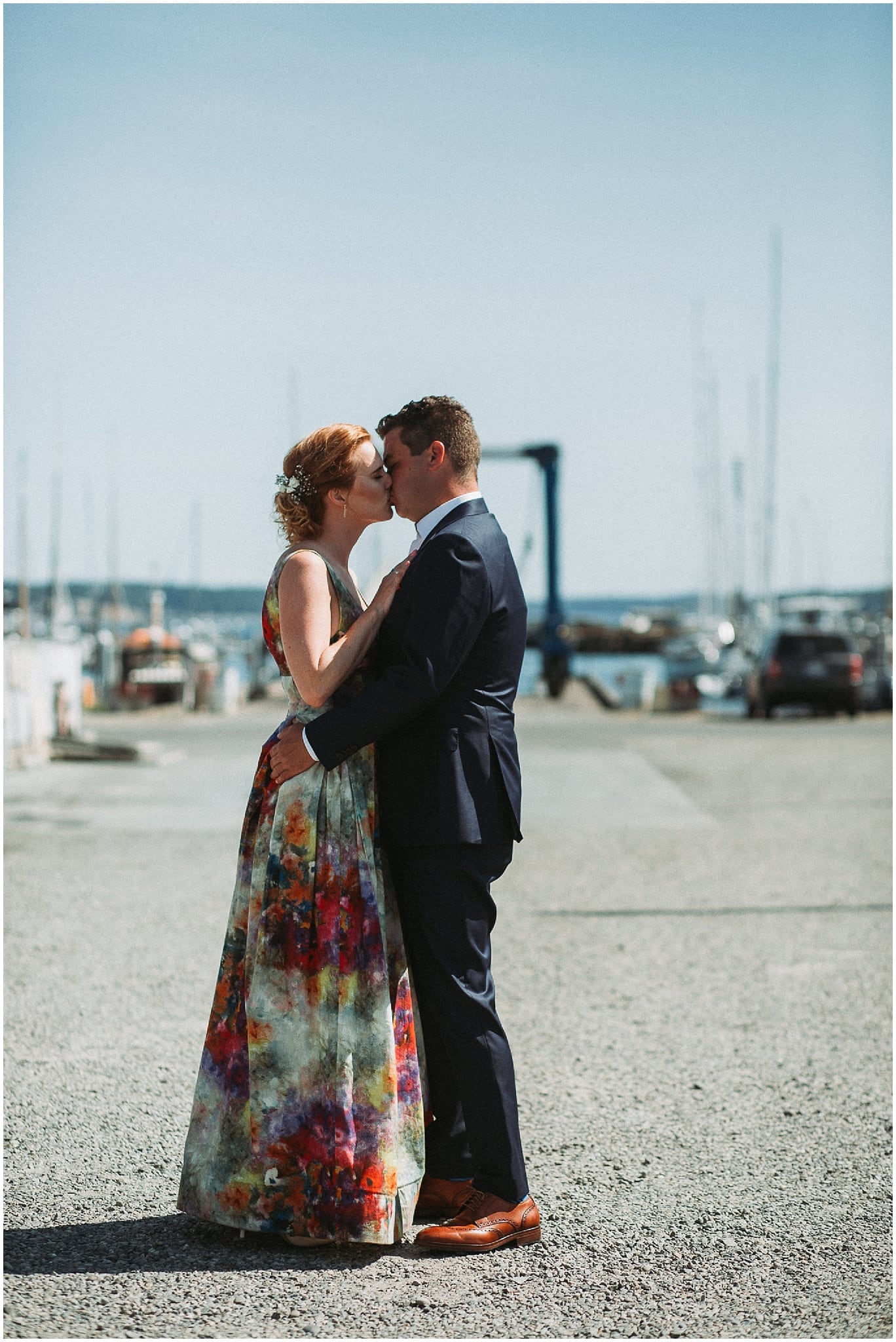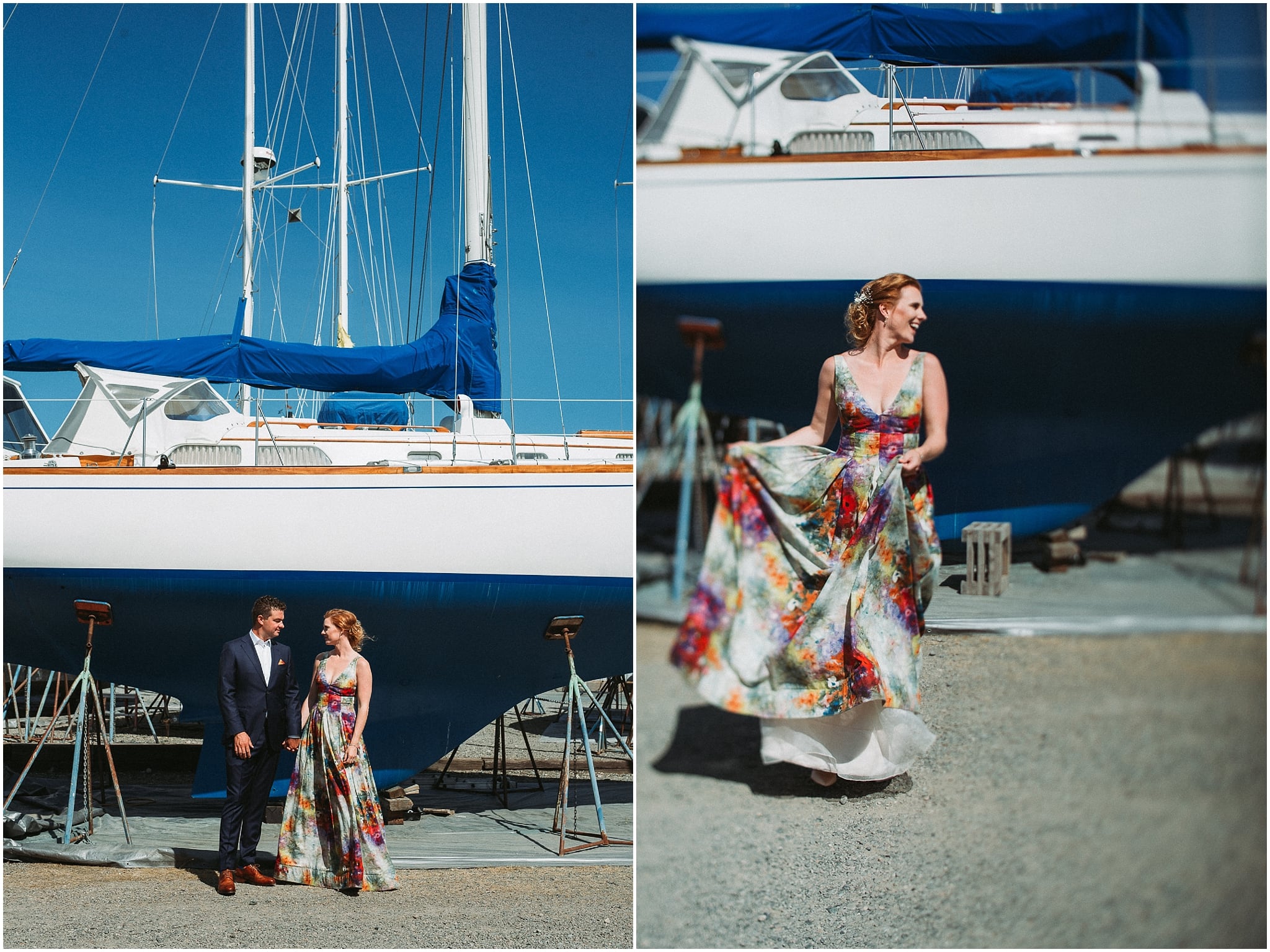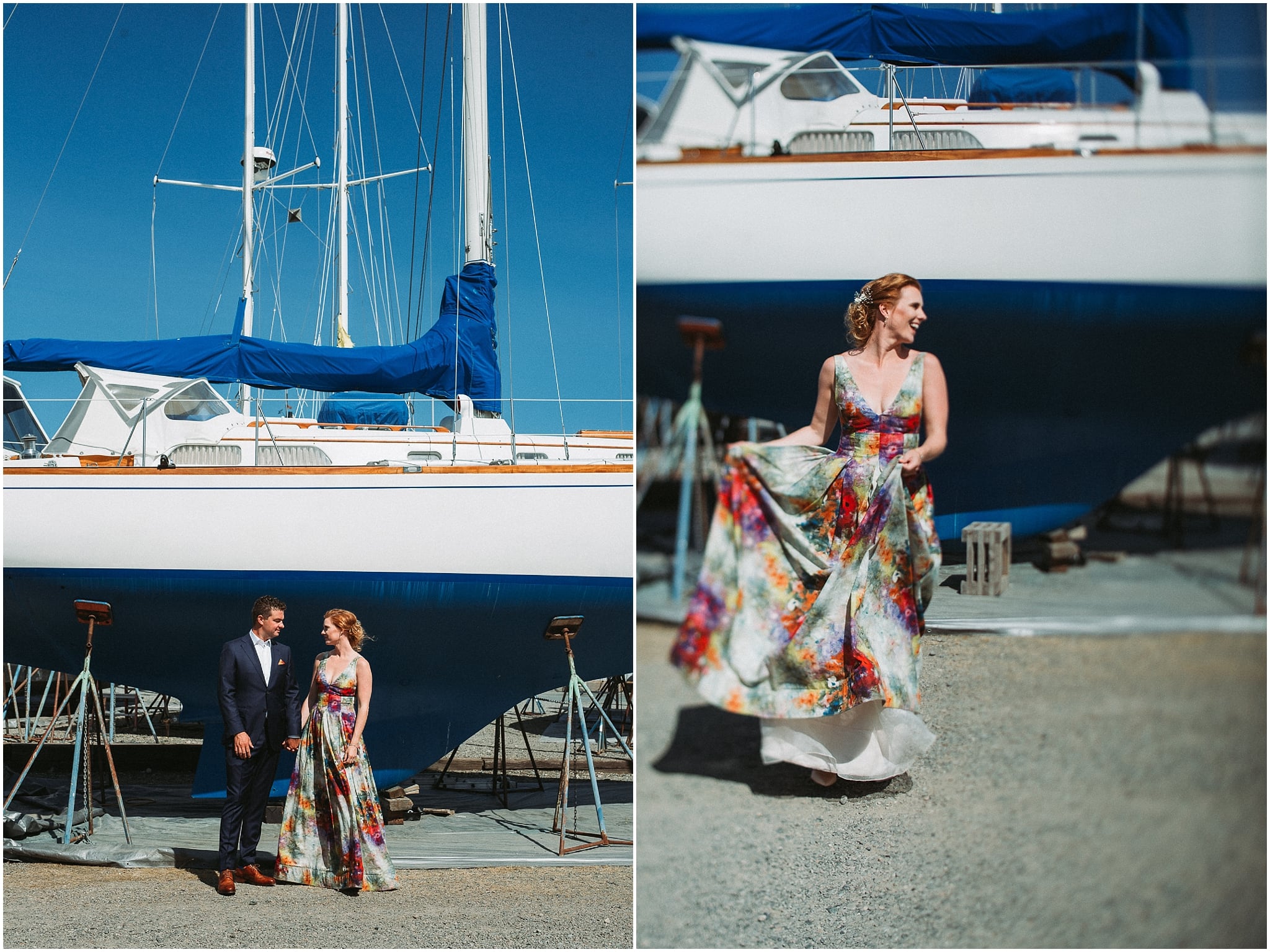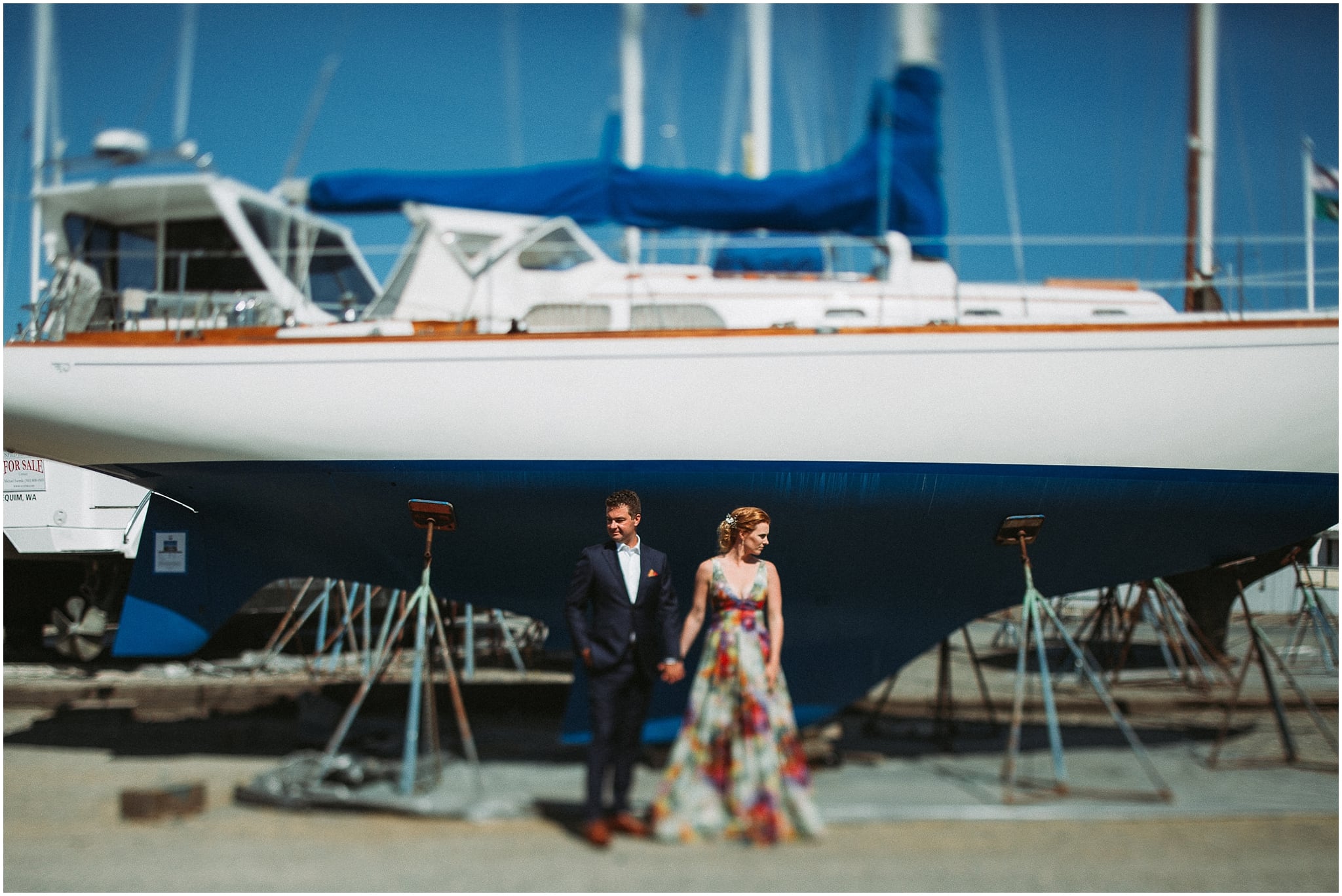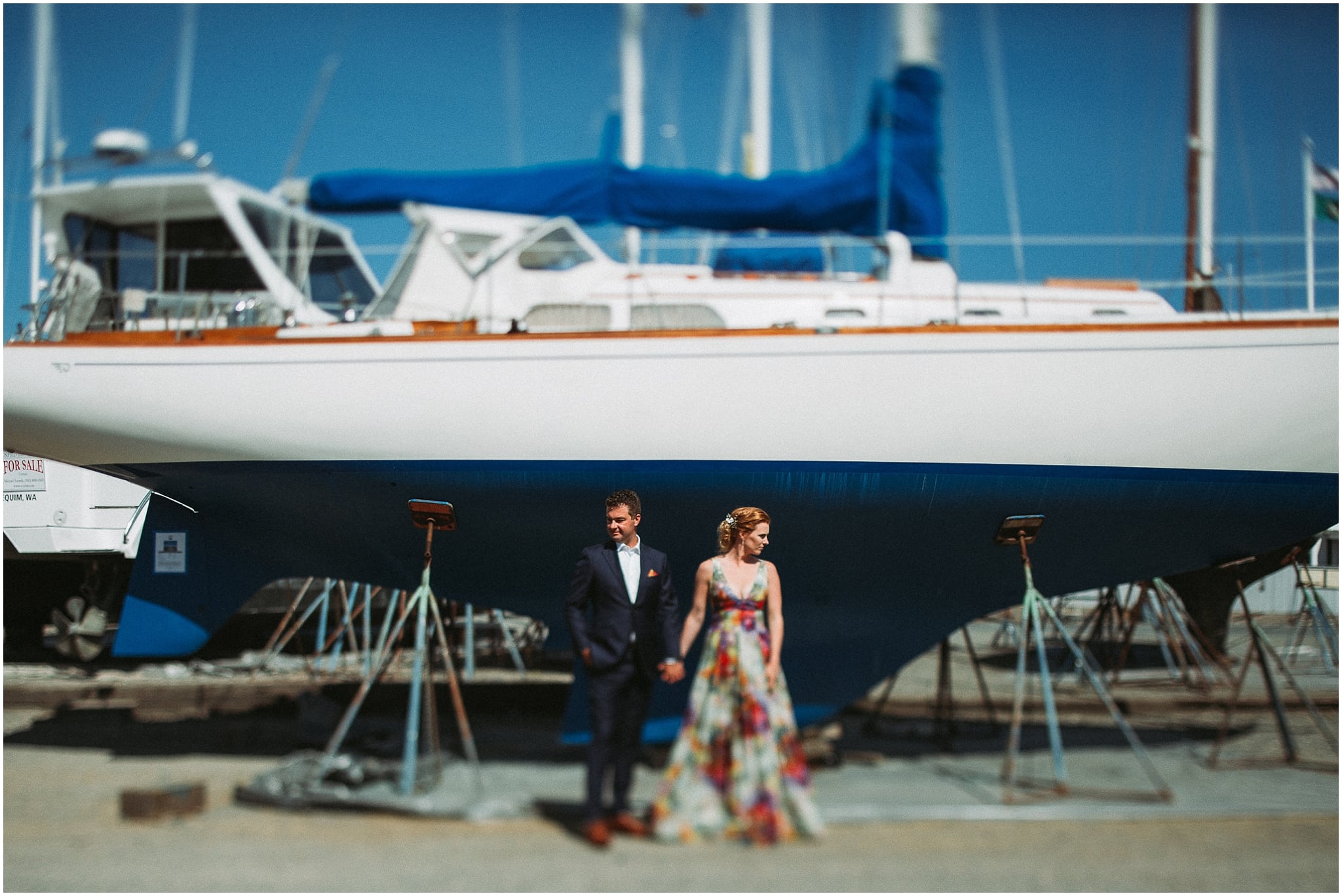 "we haven't been apart since"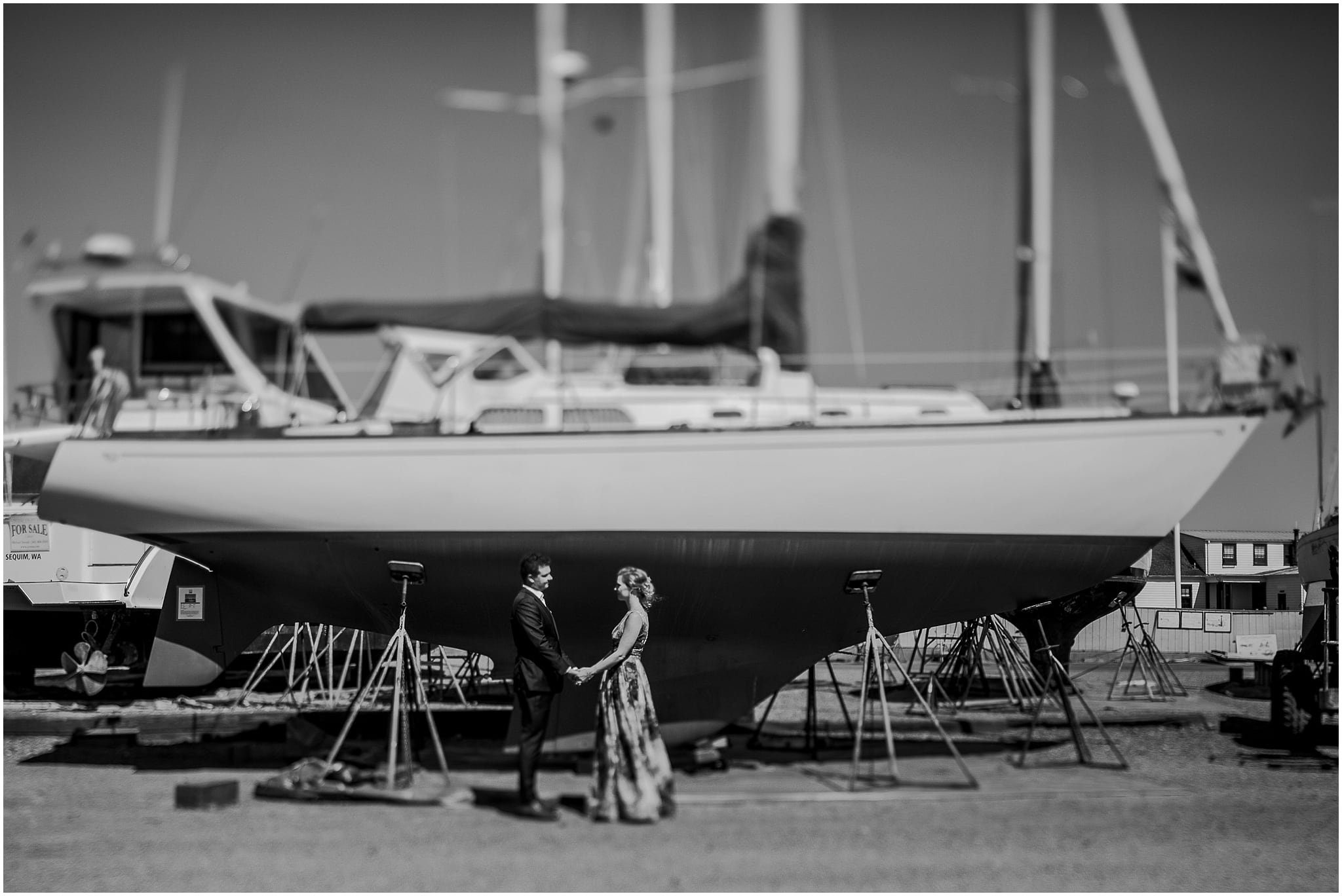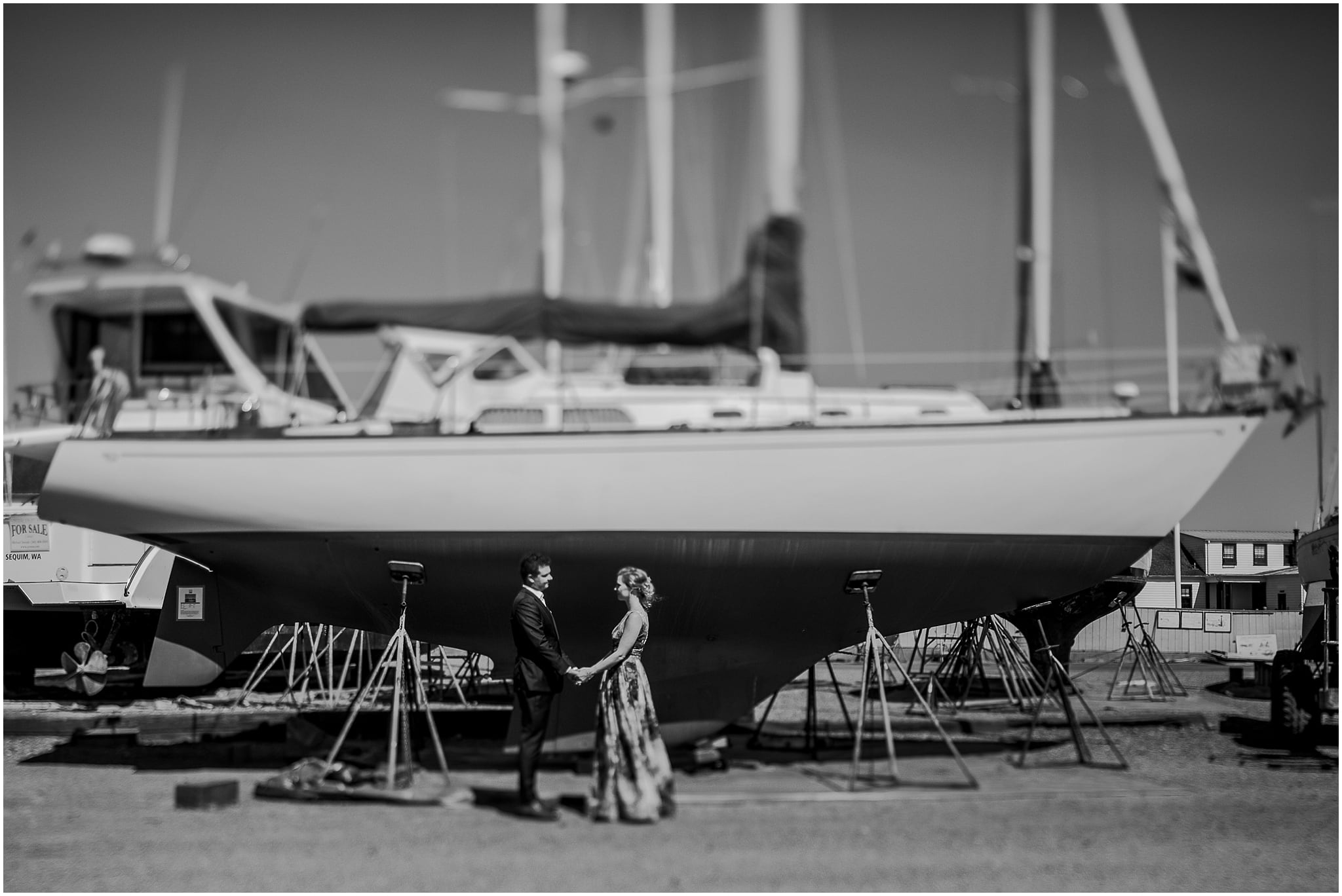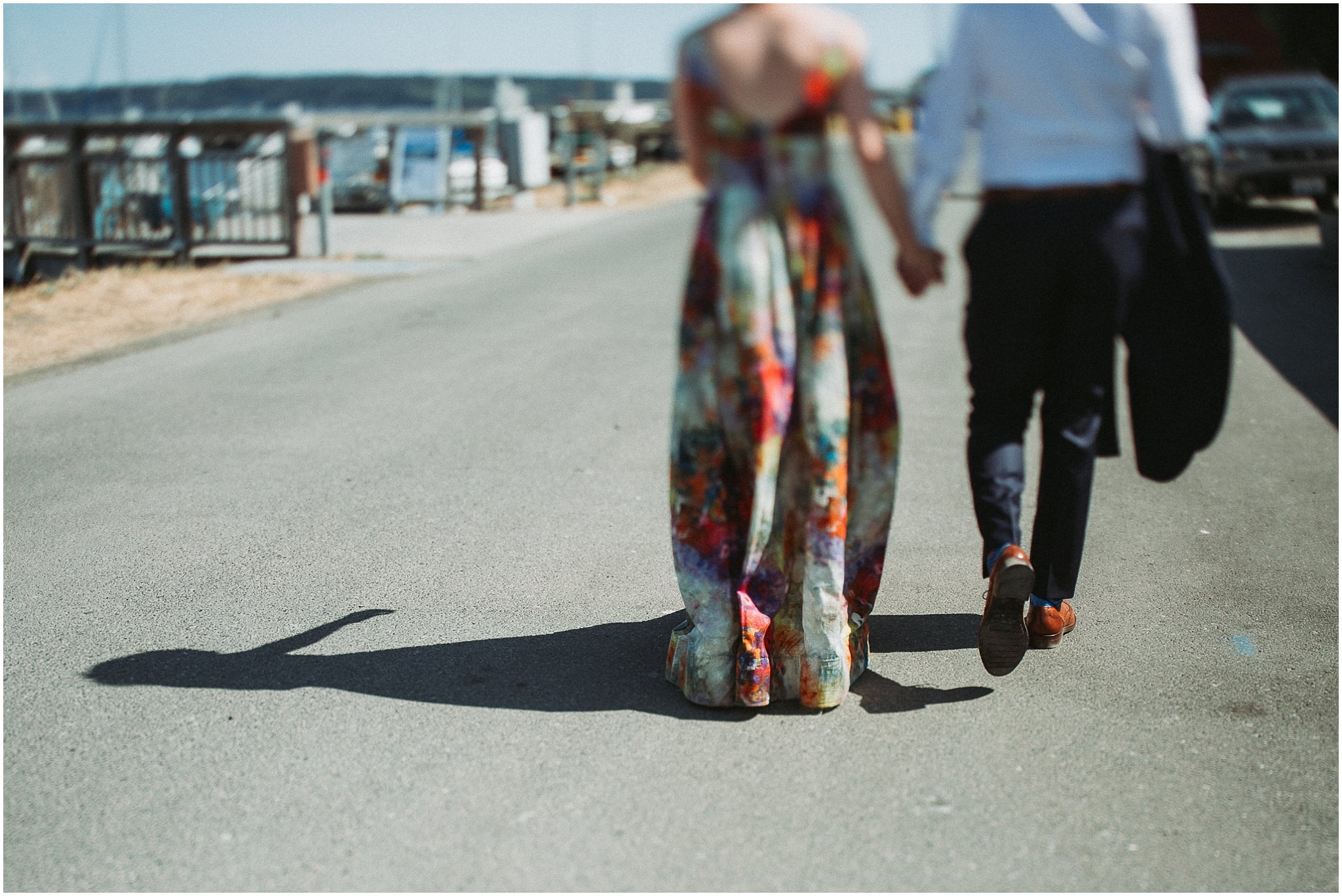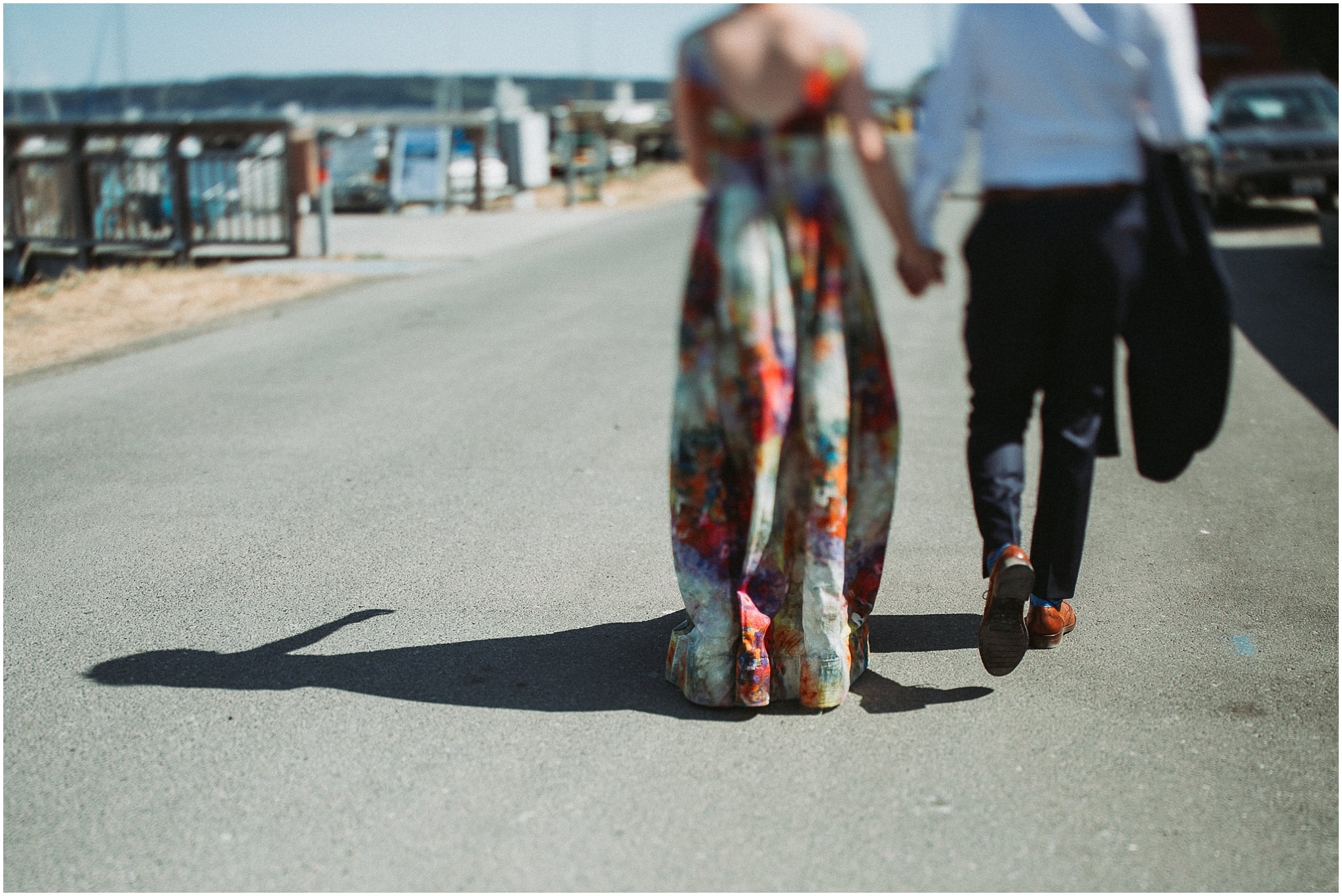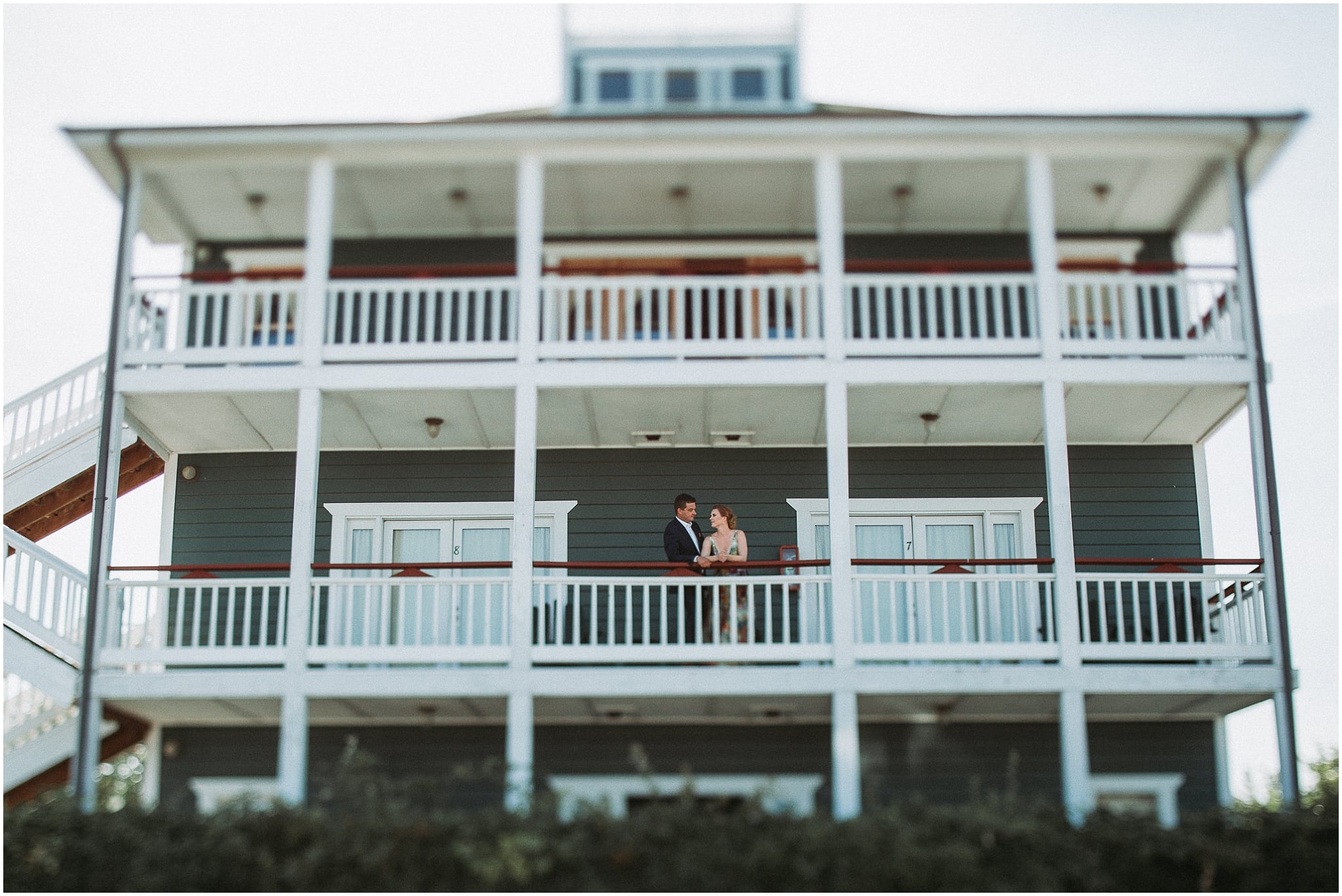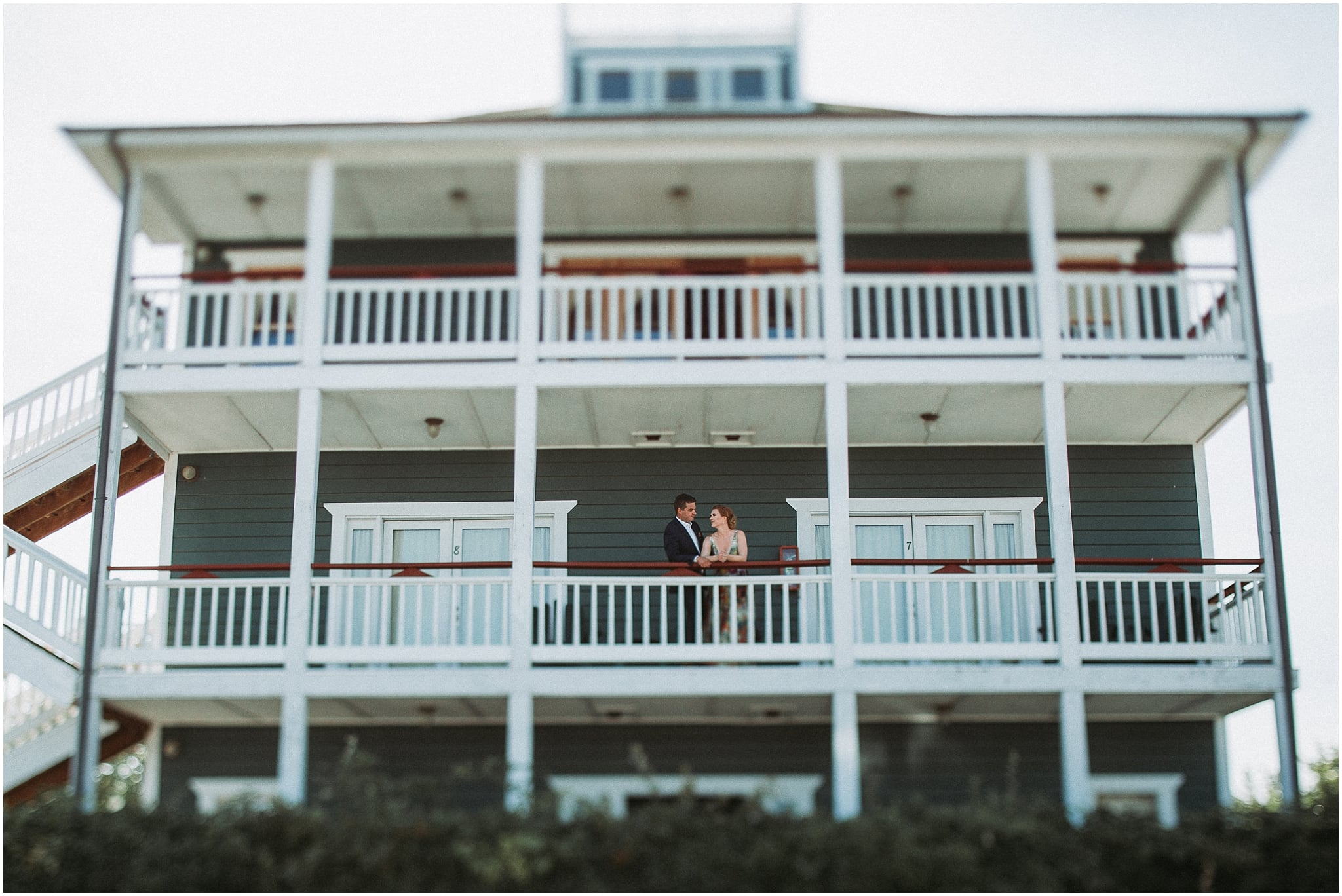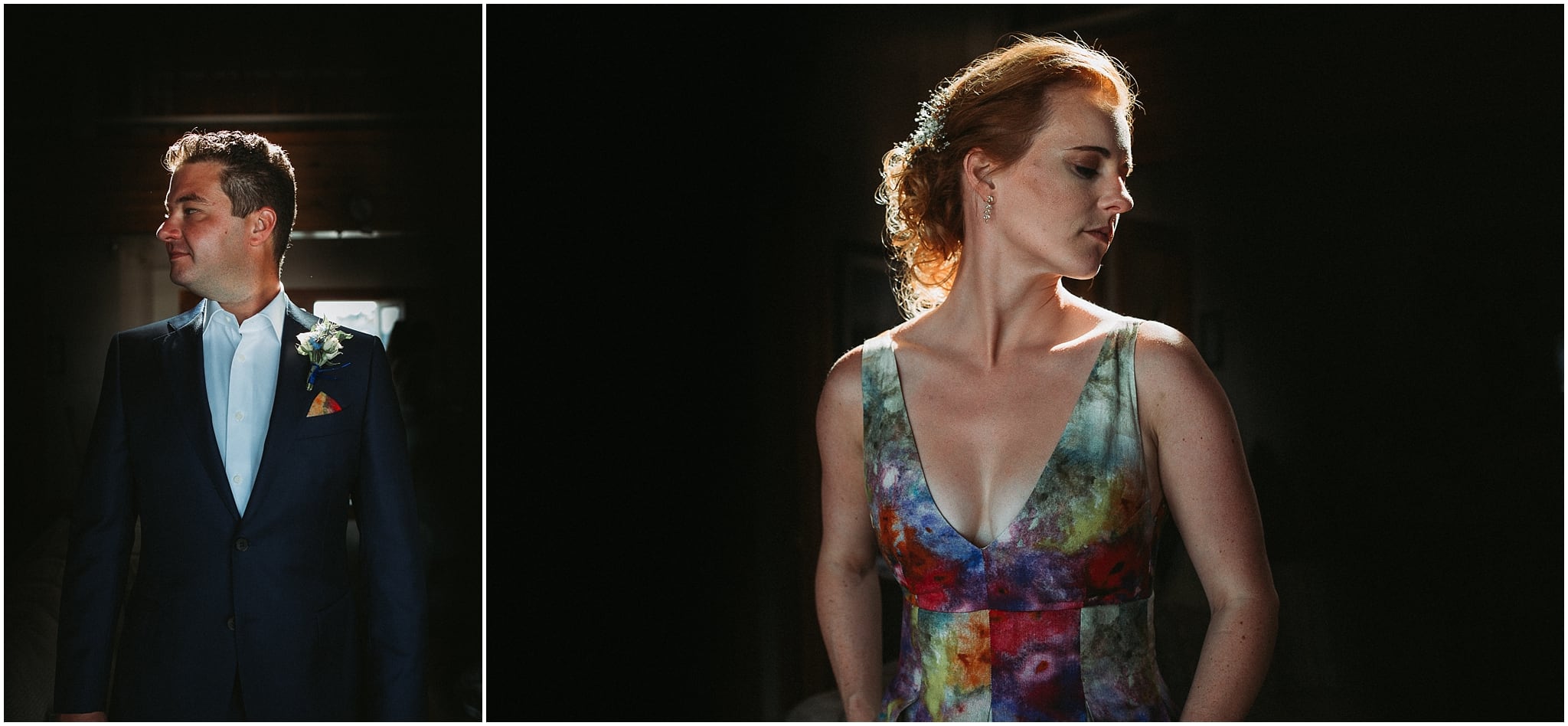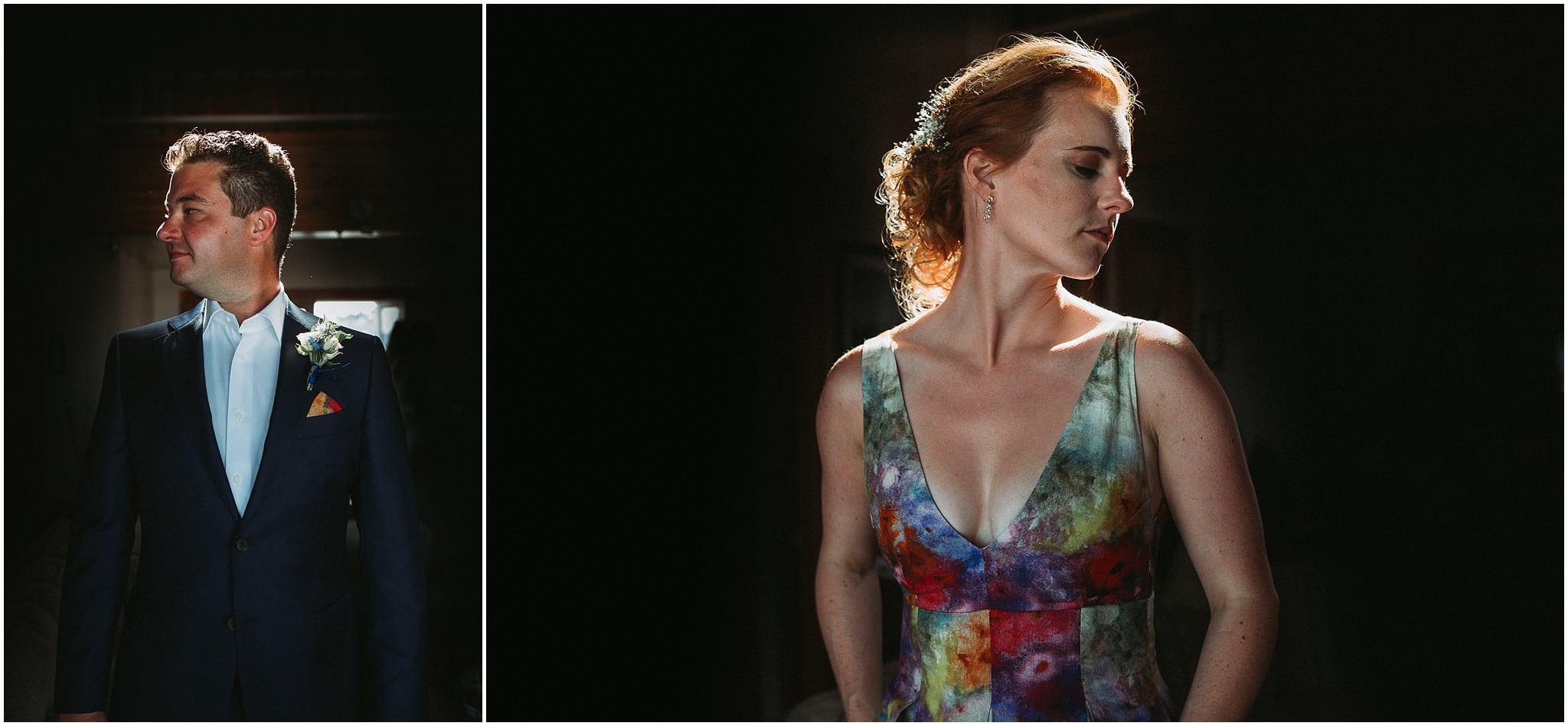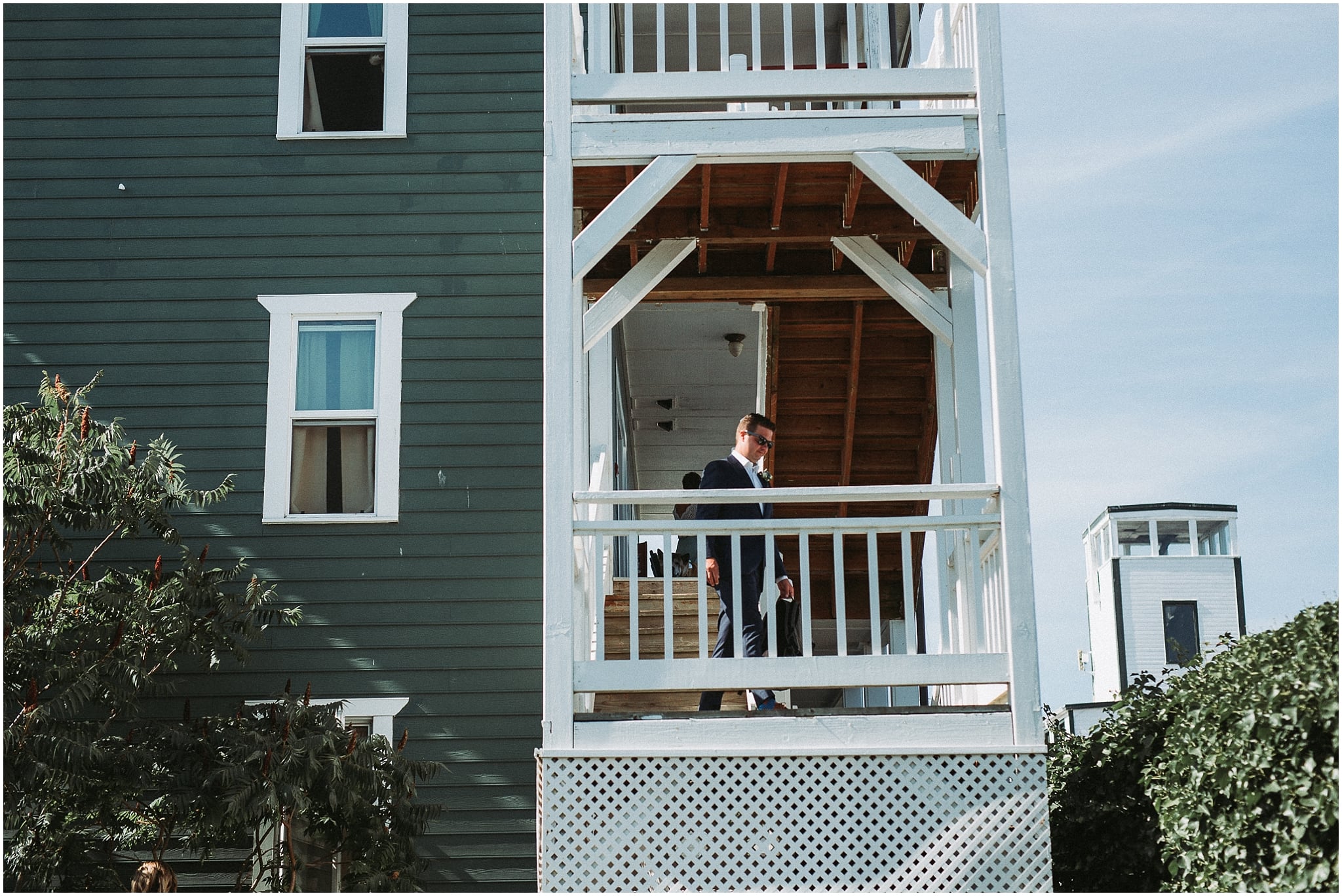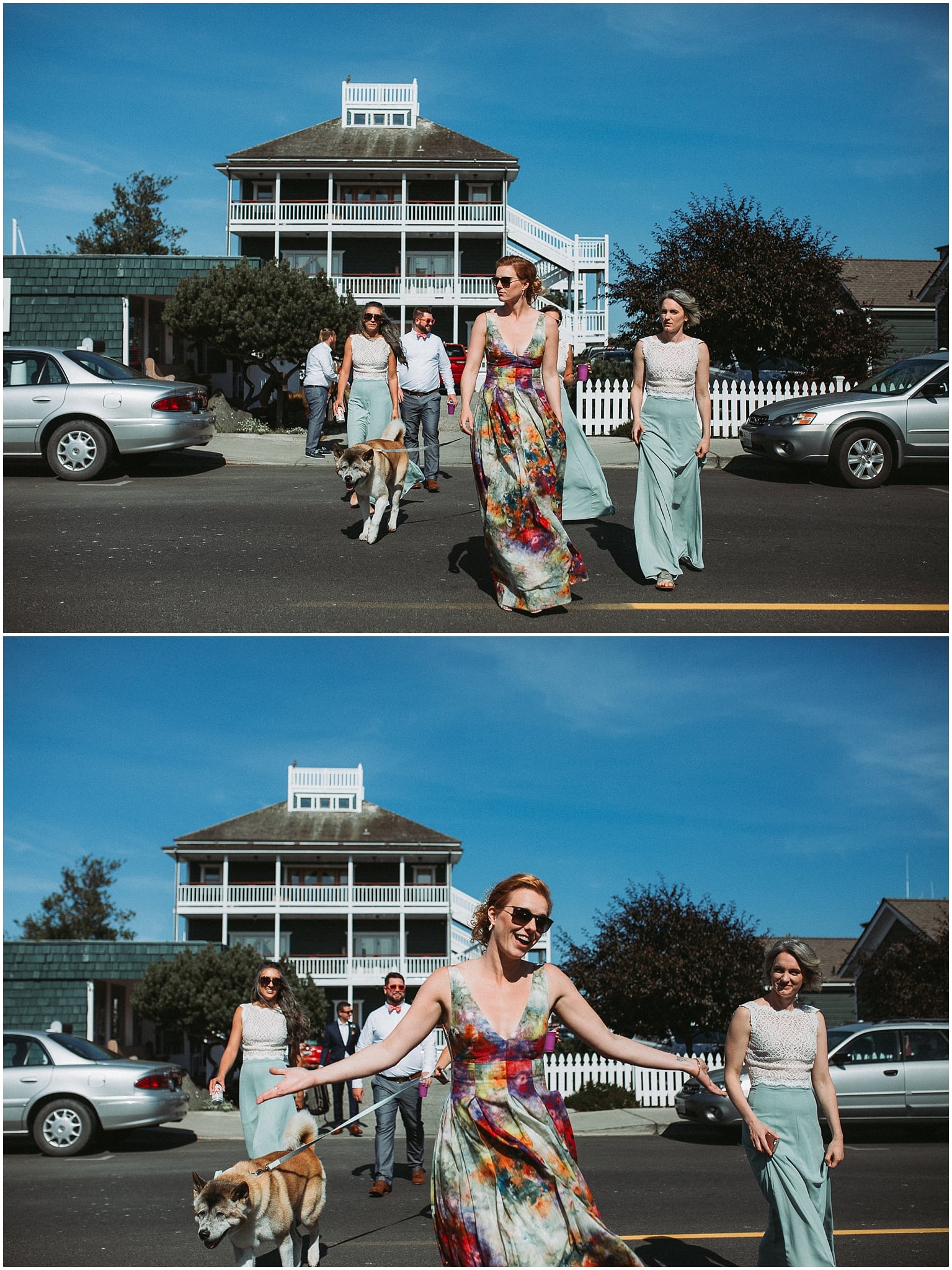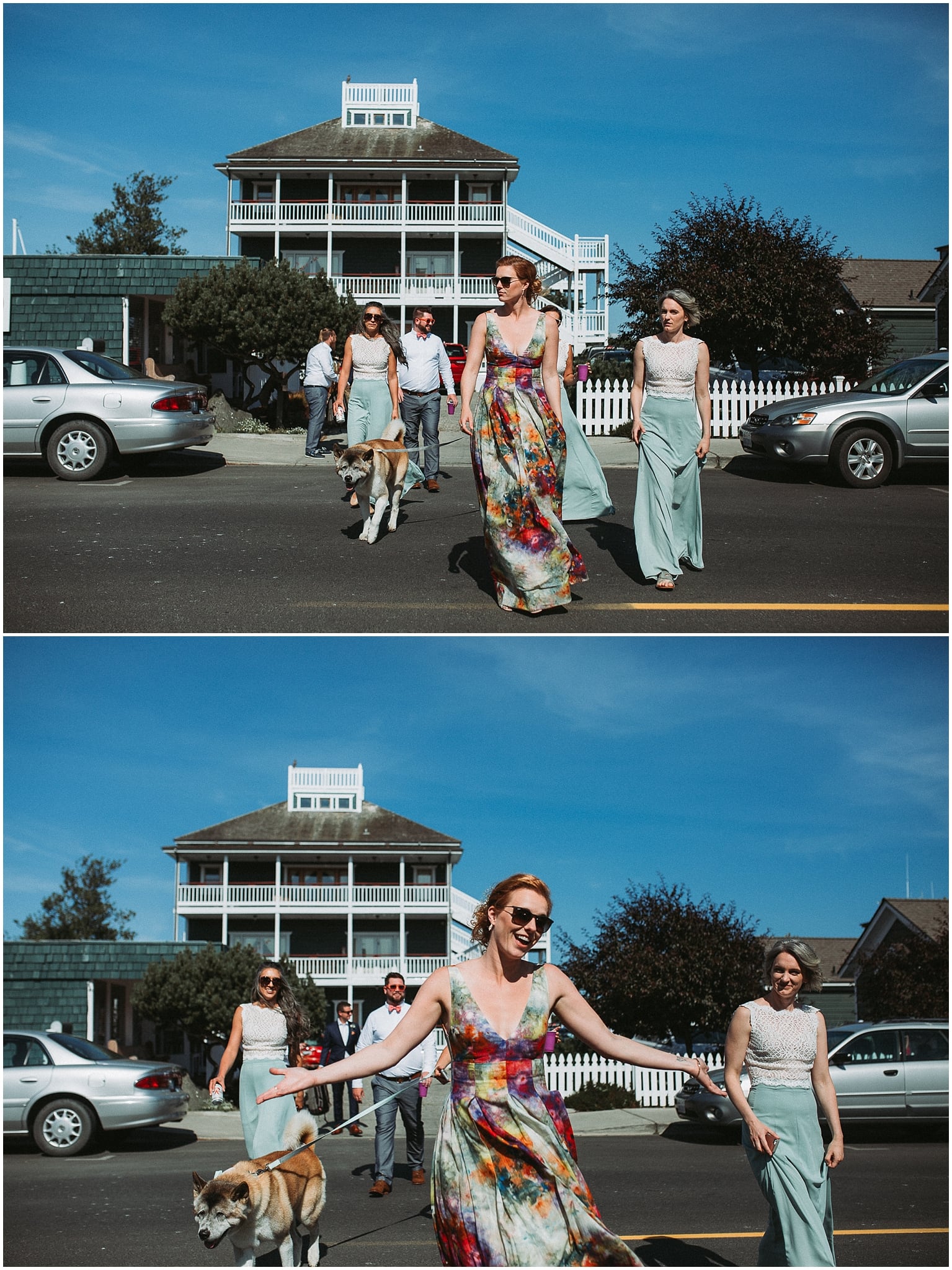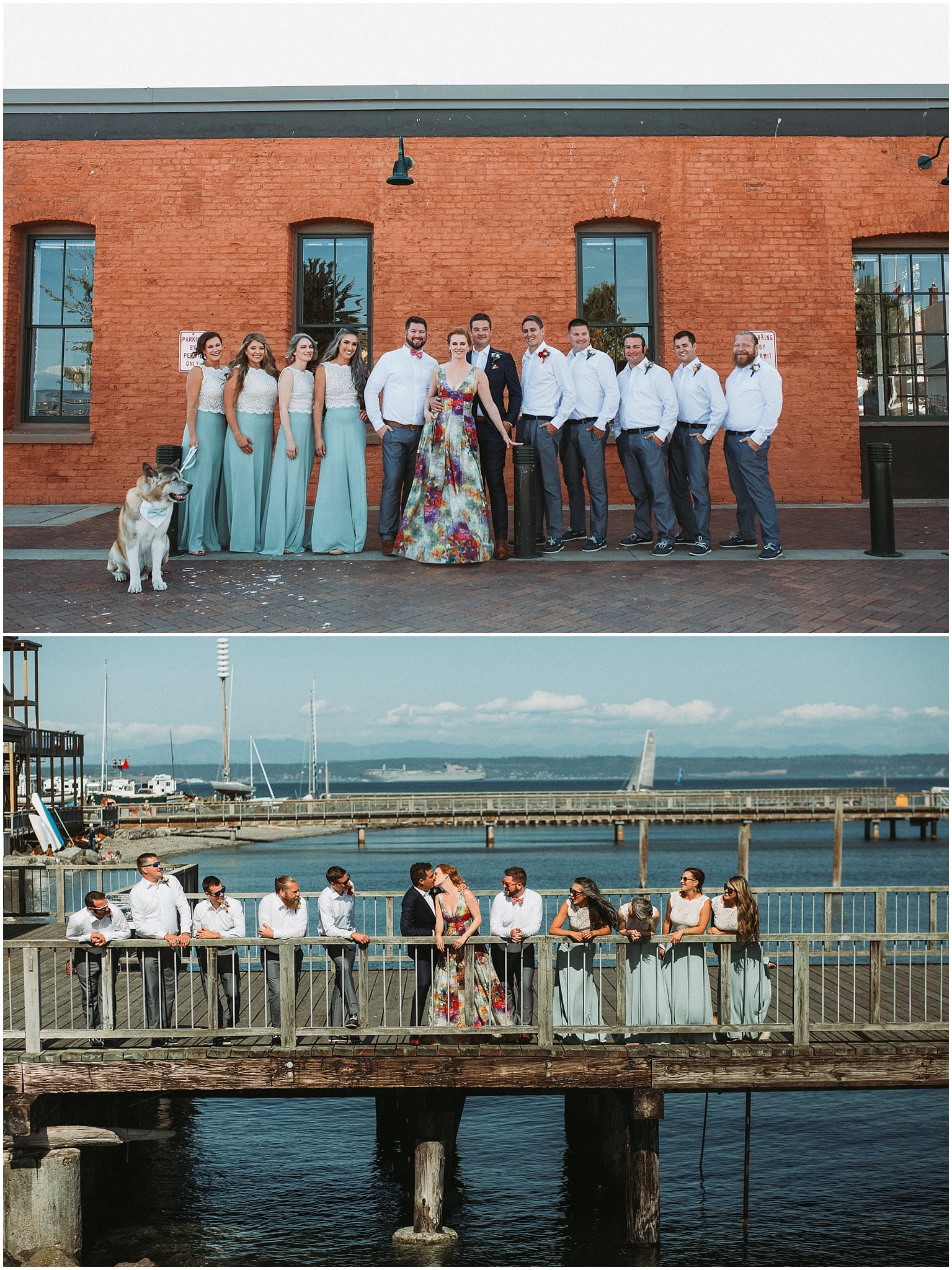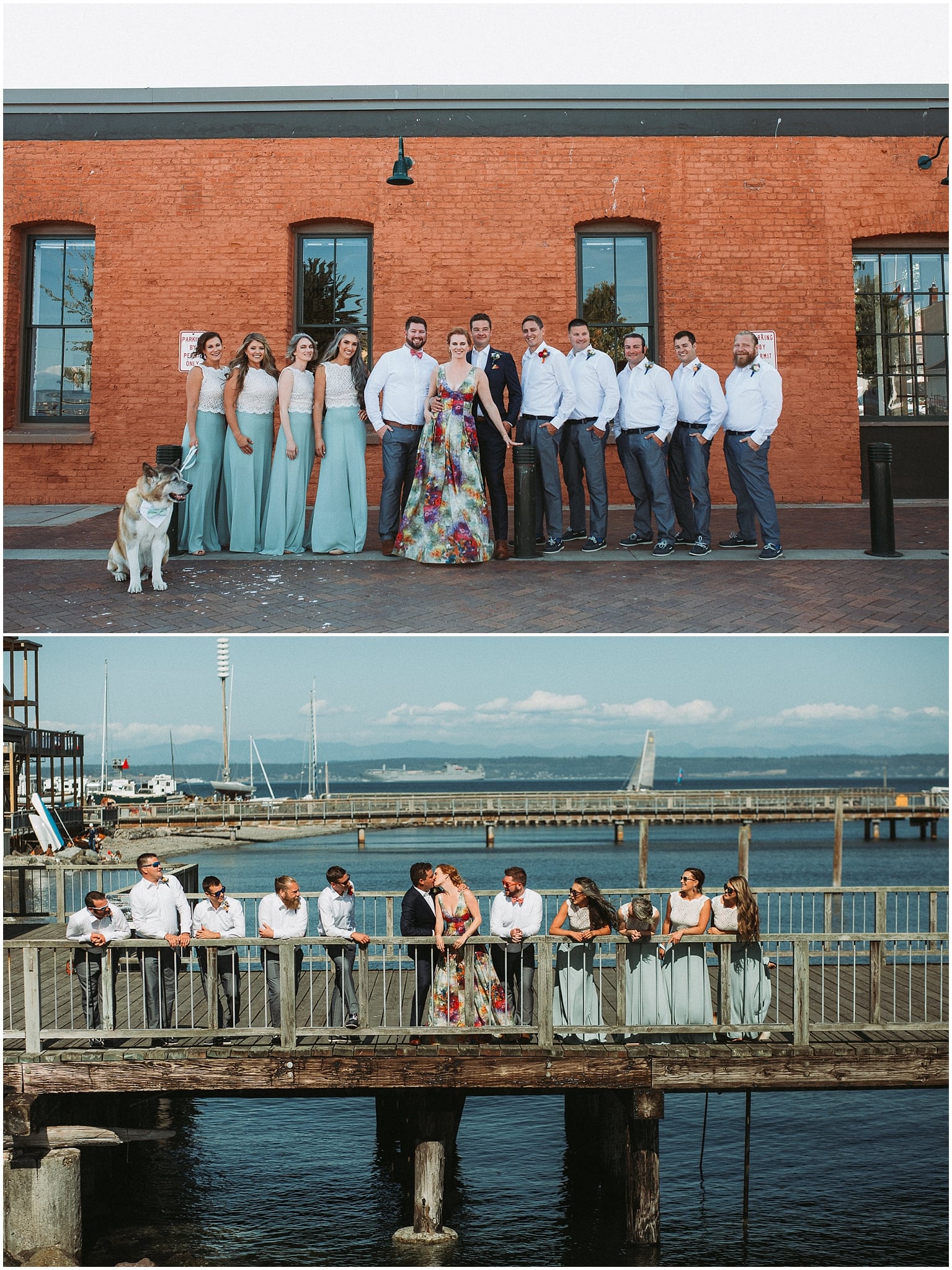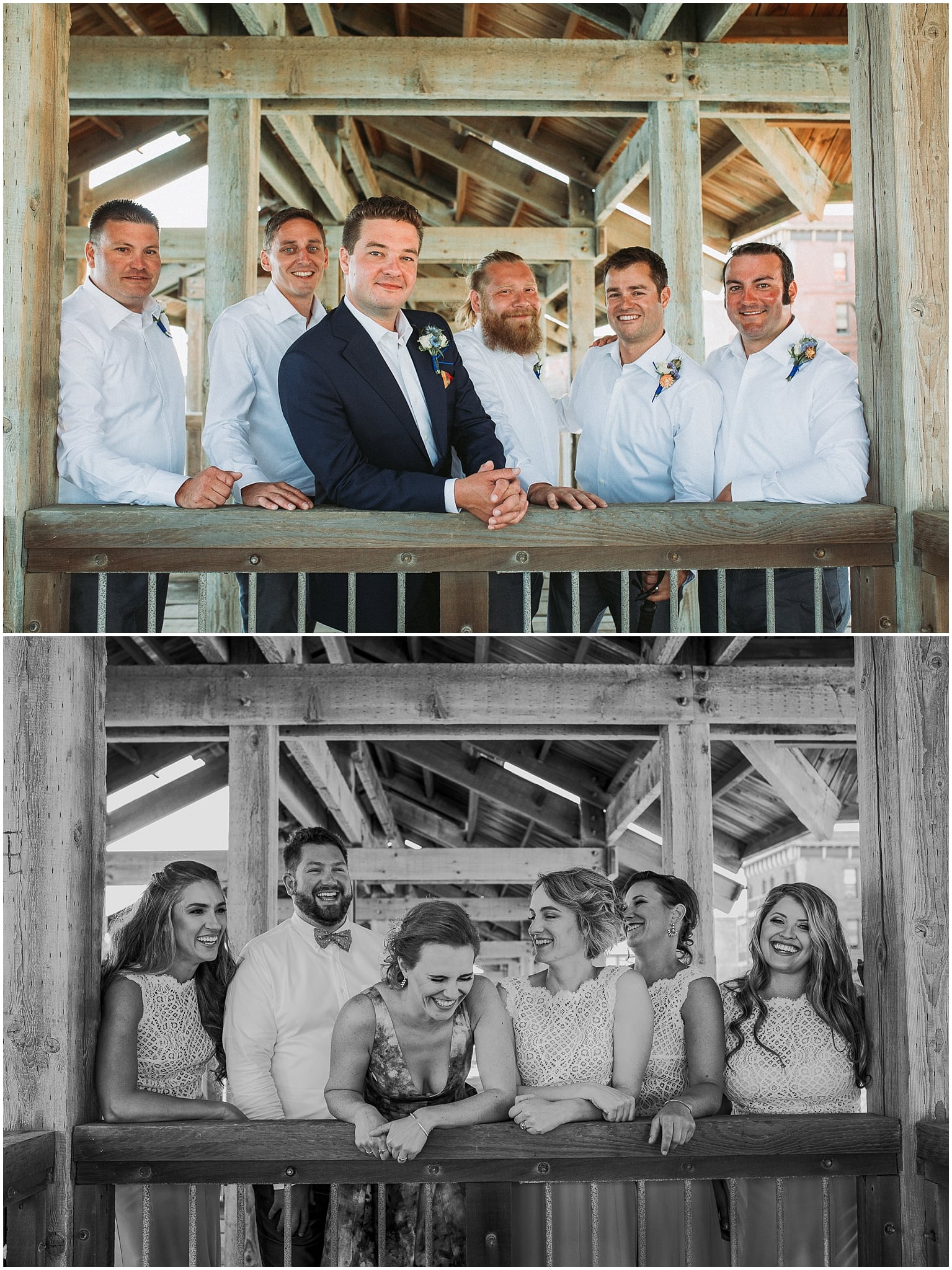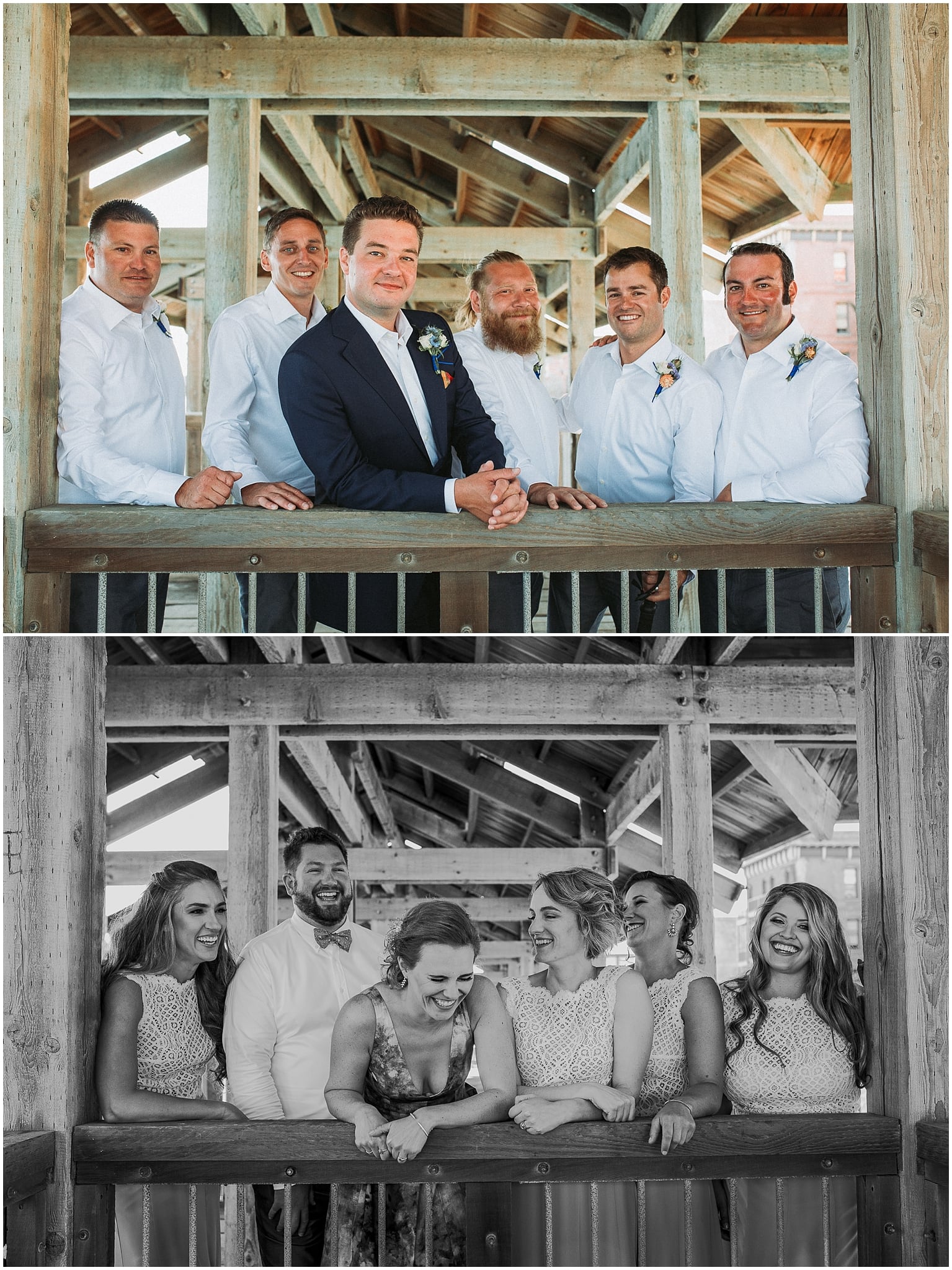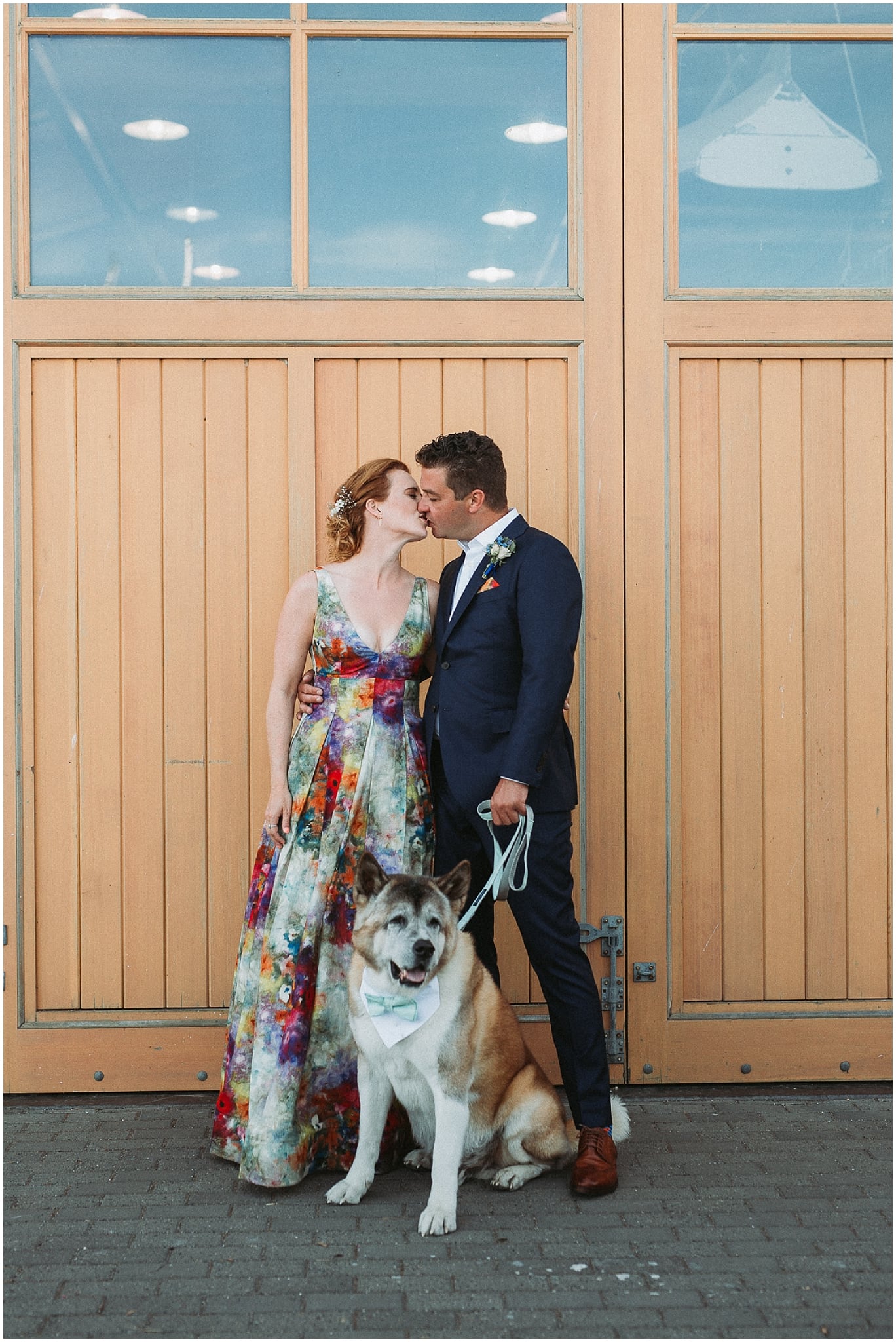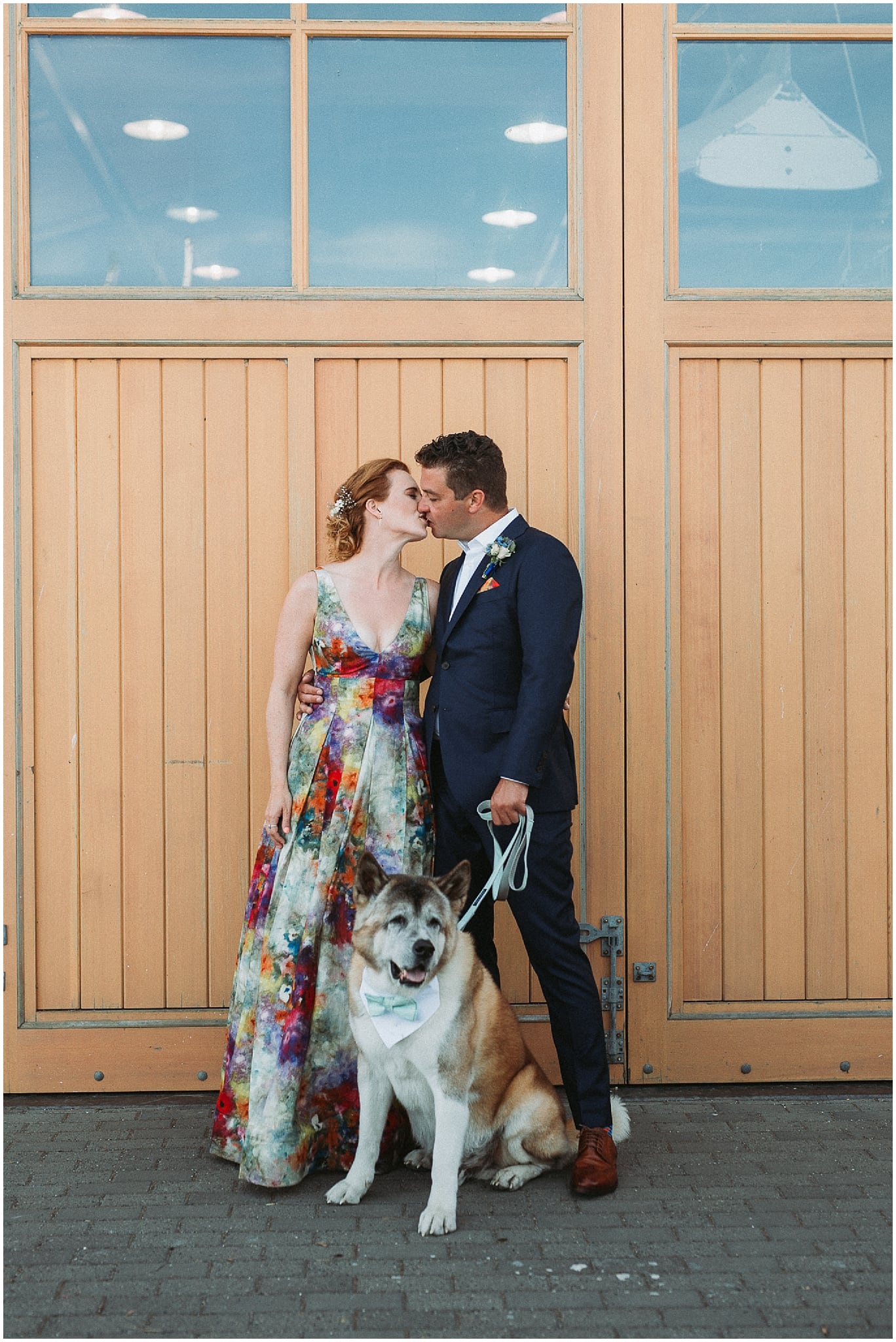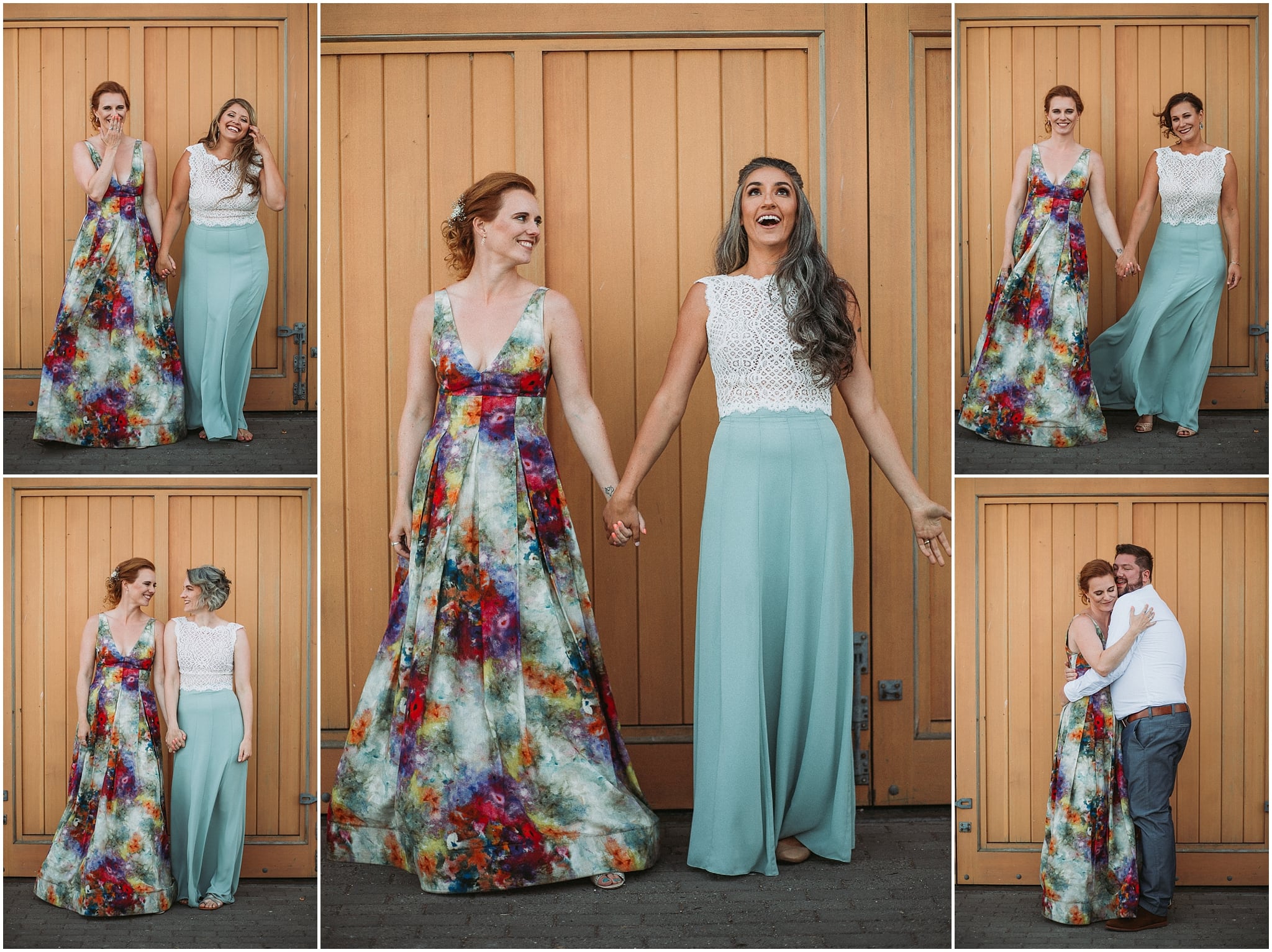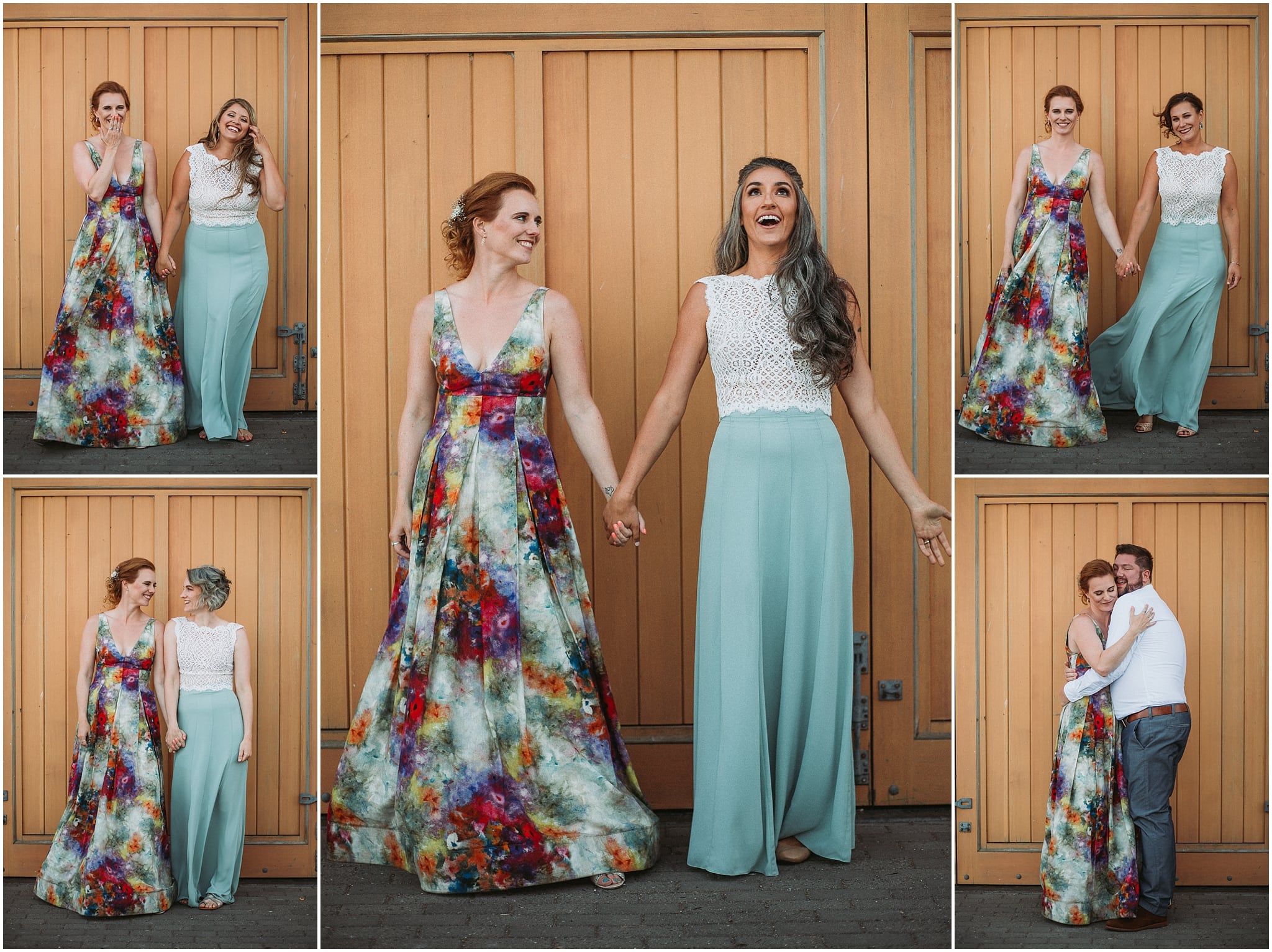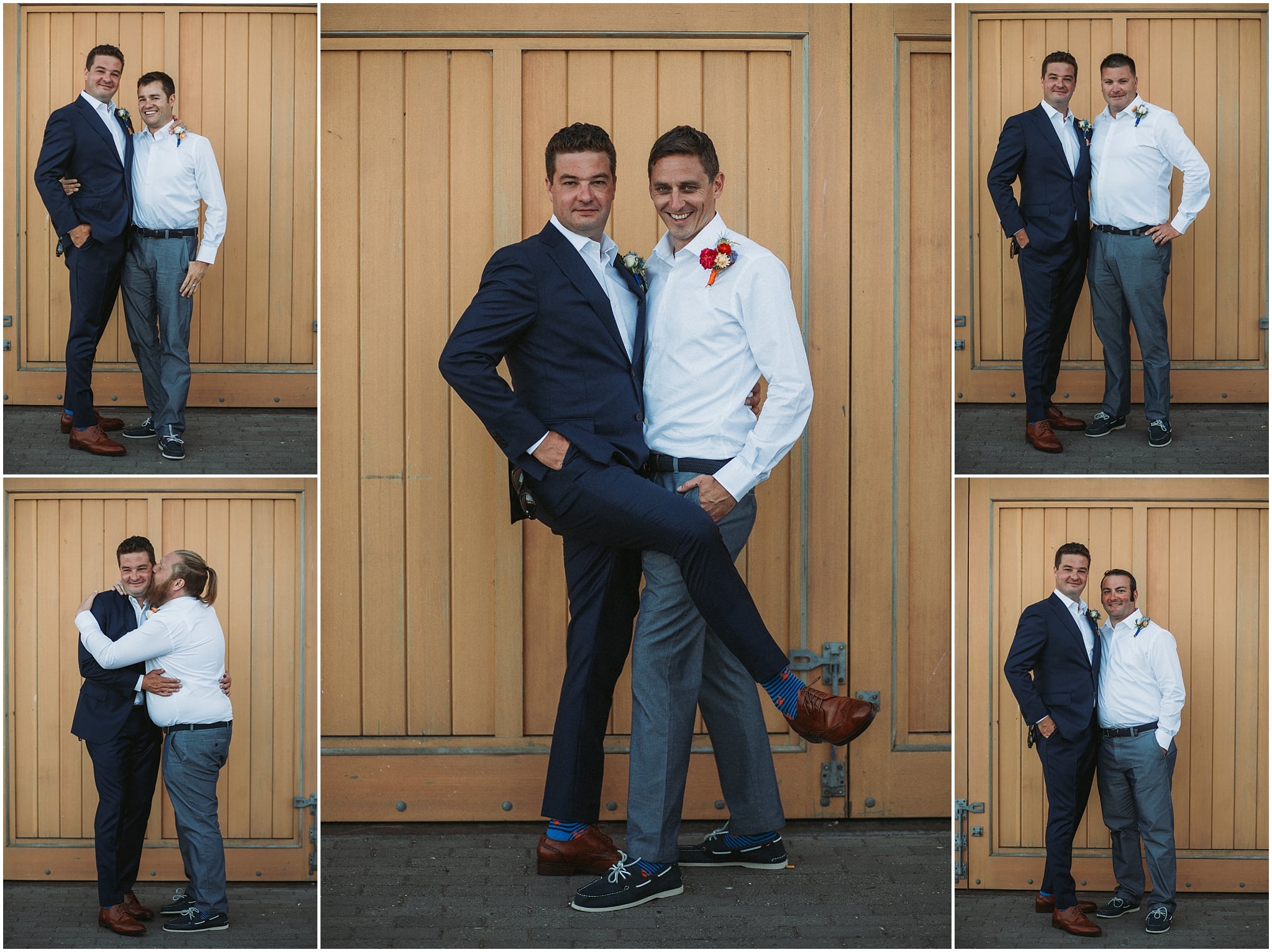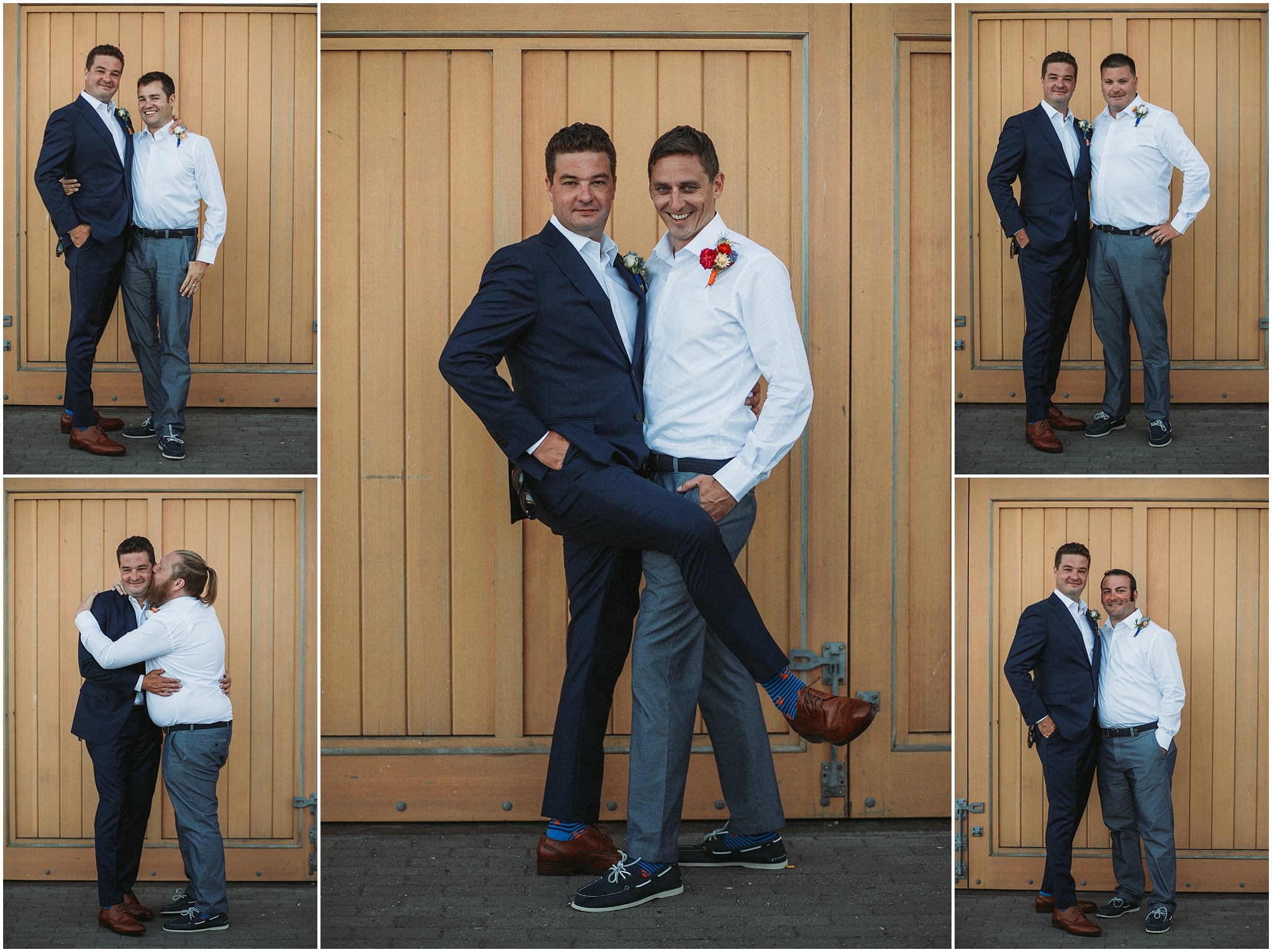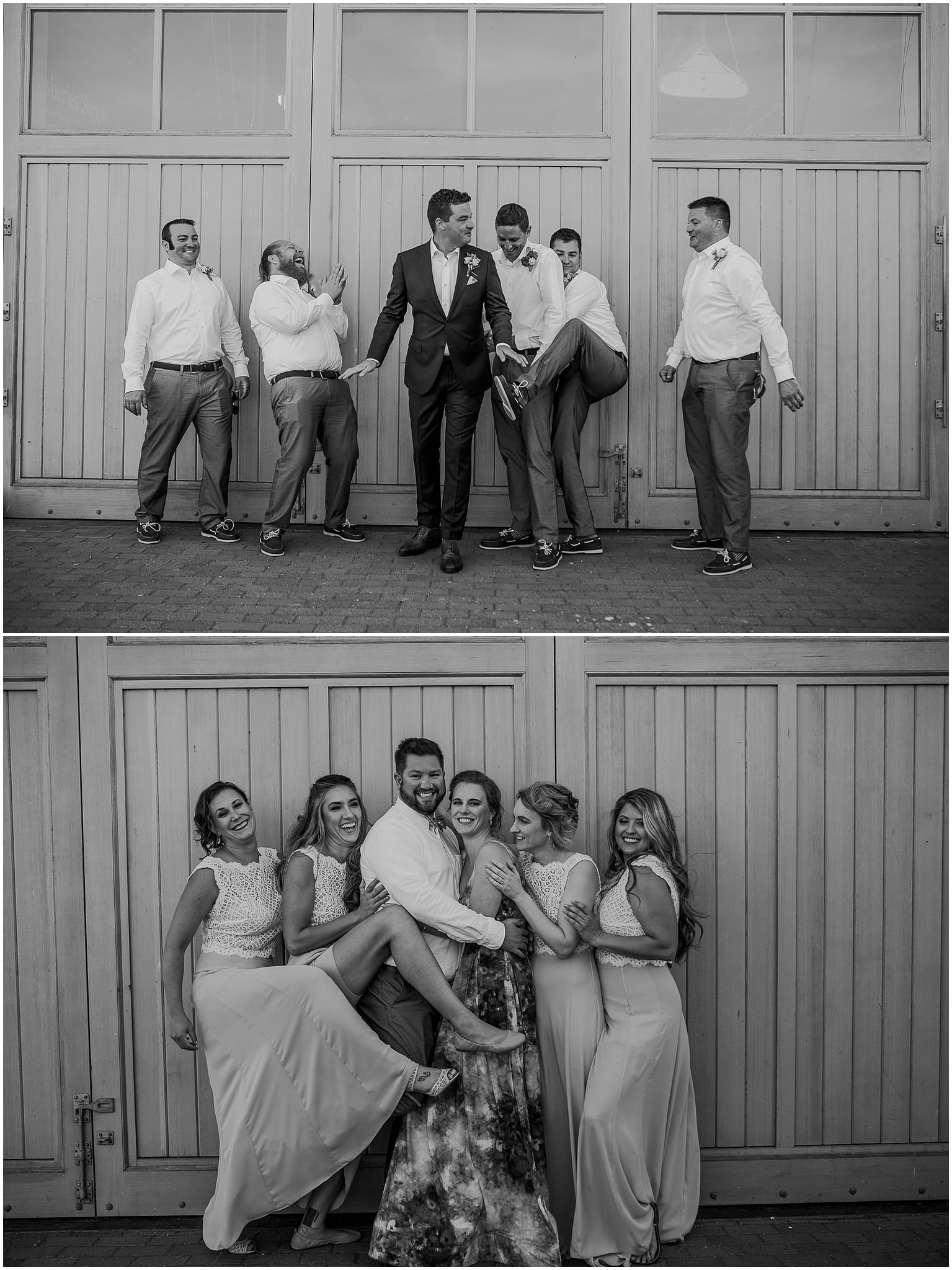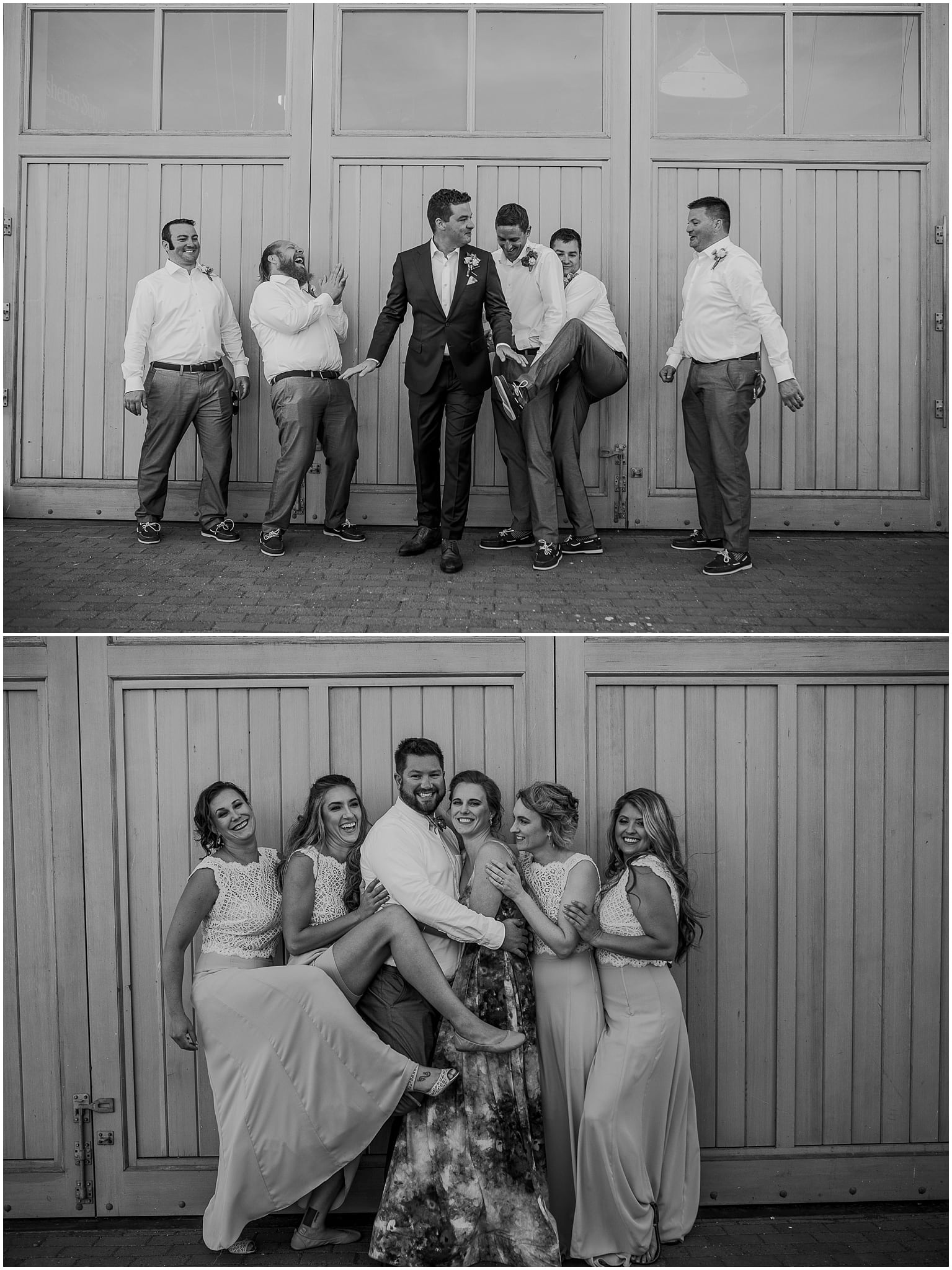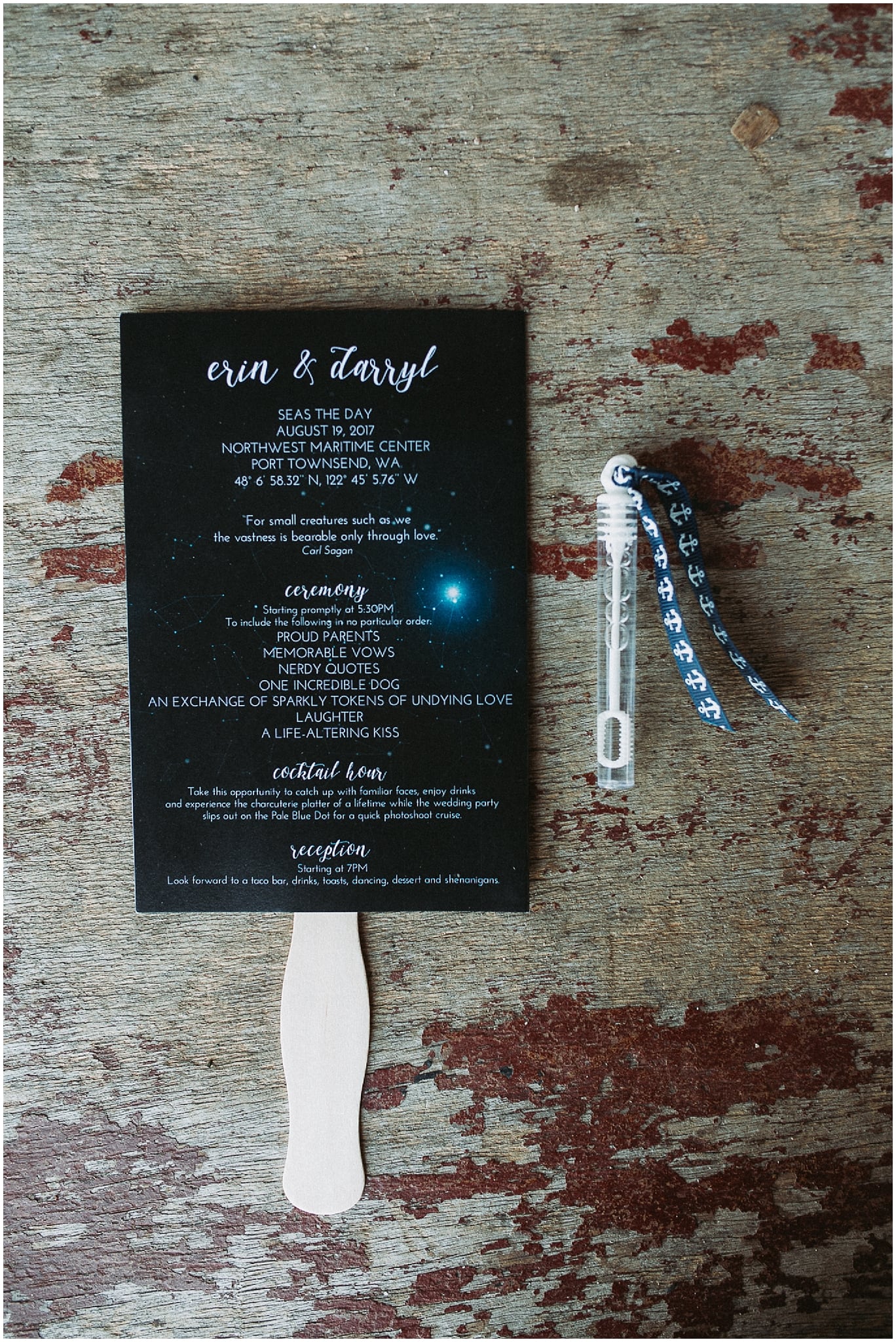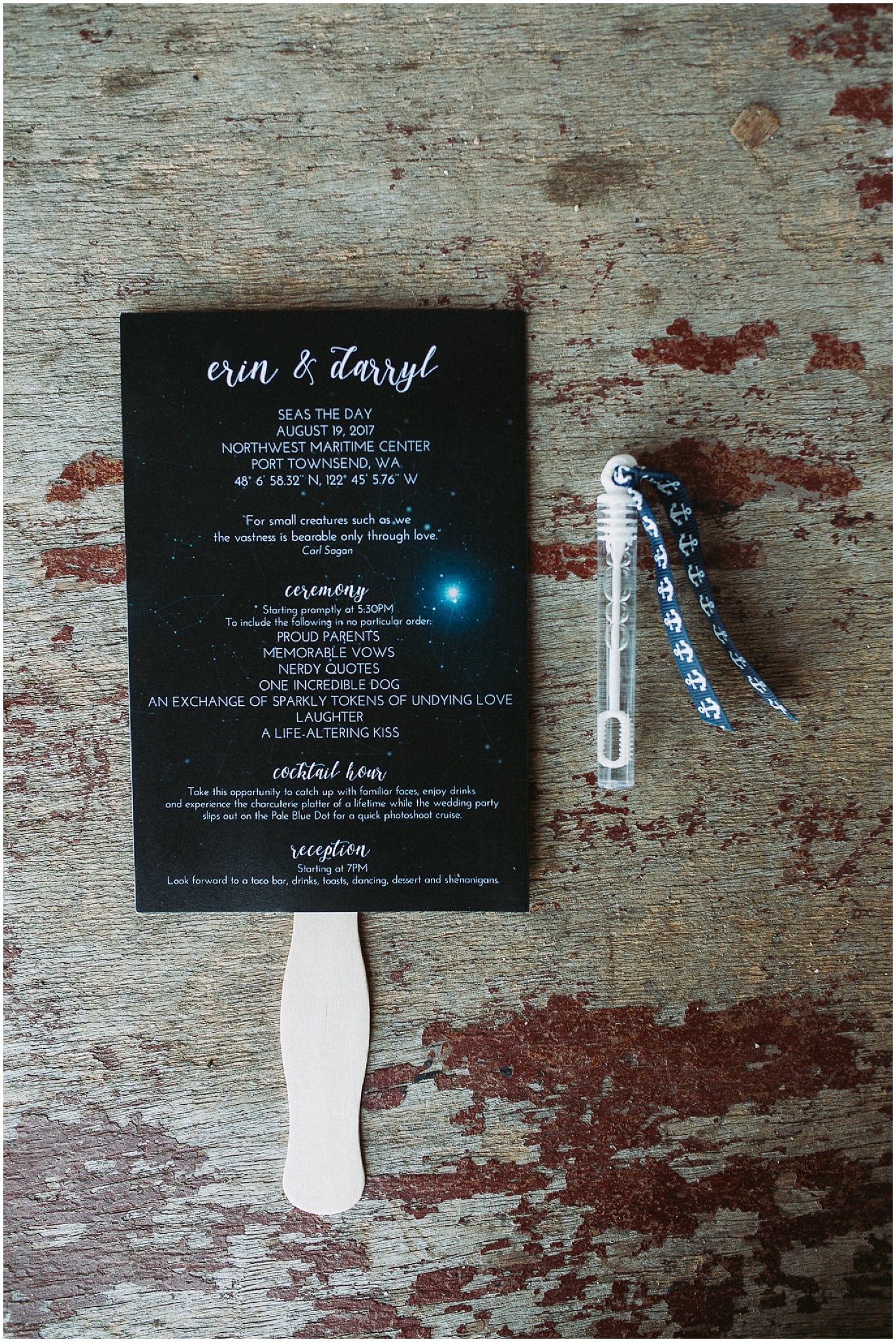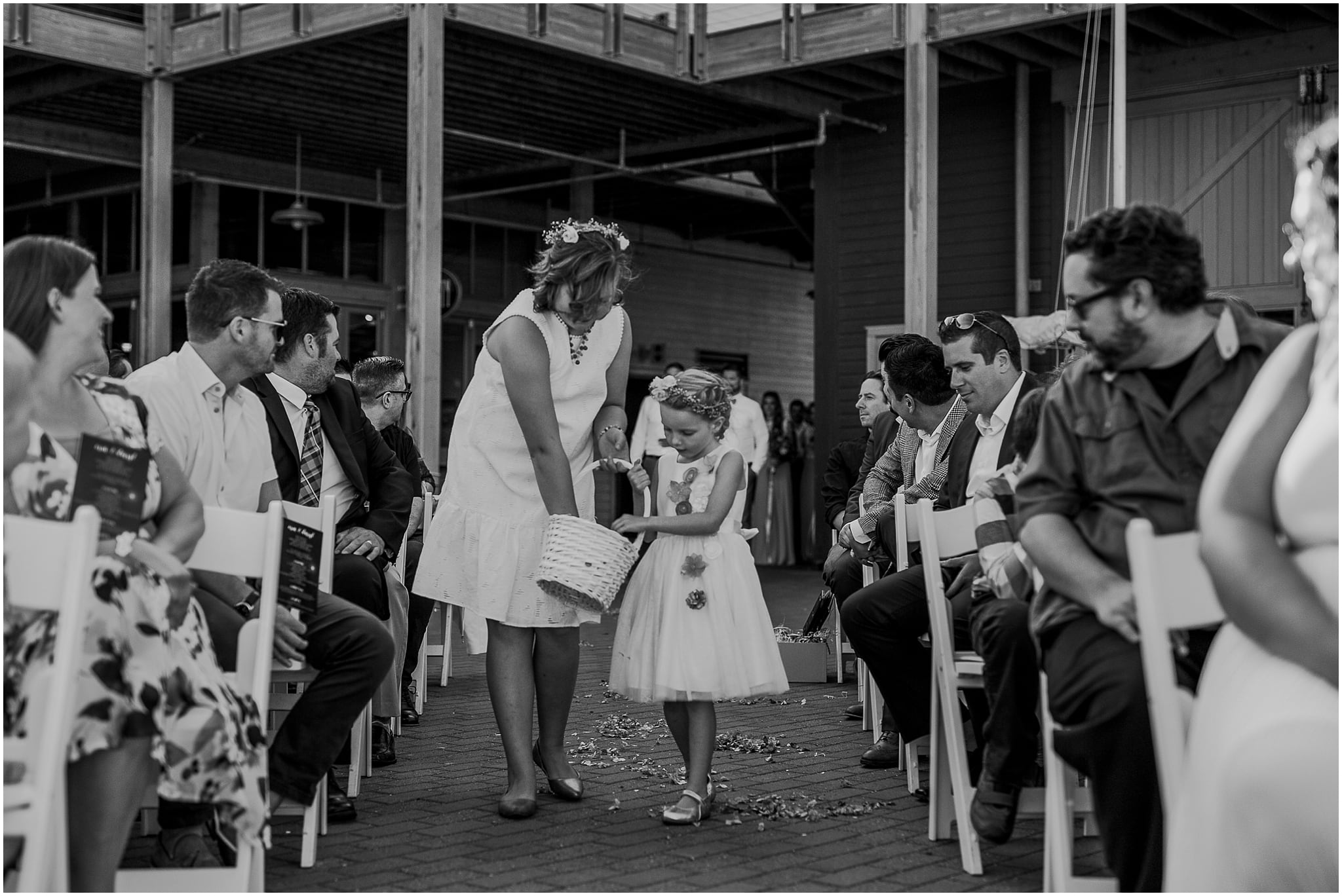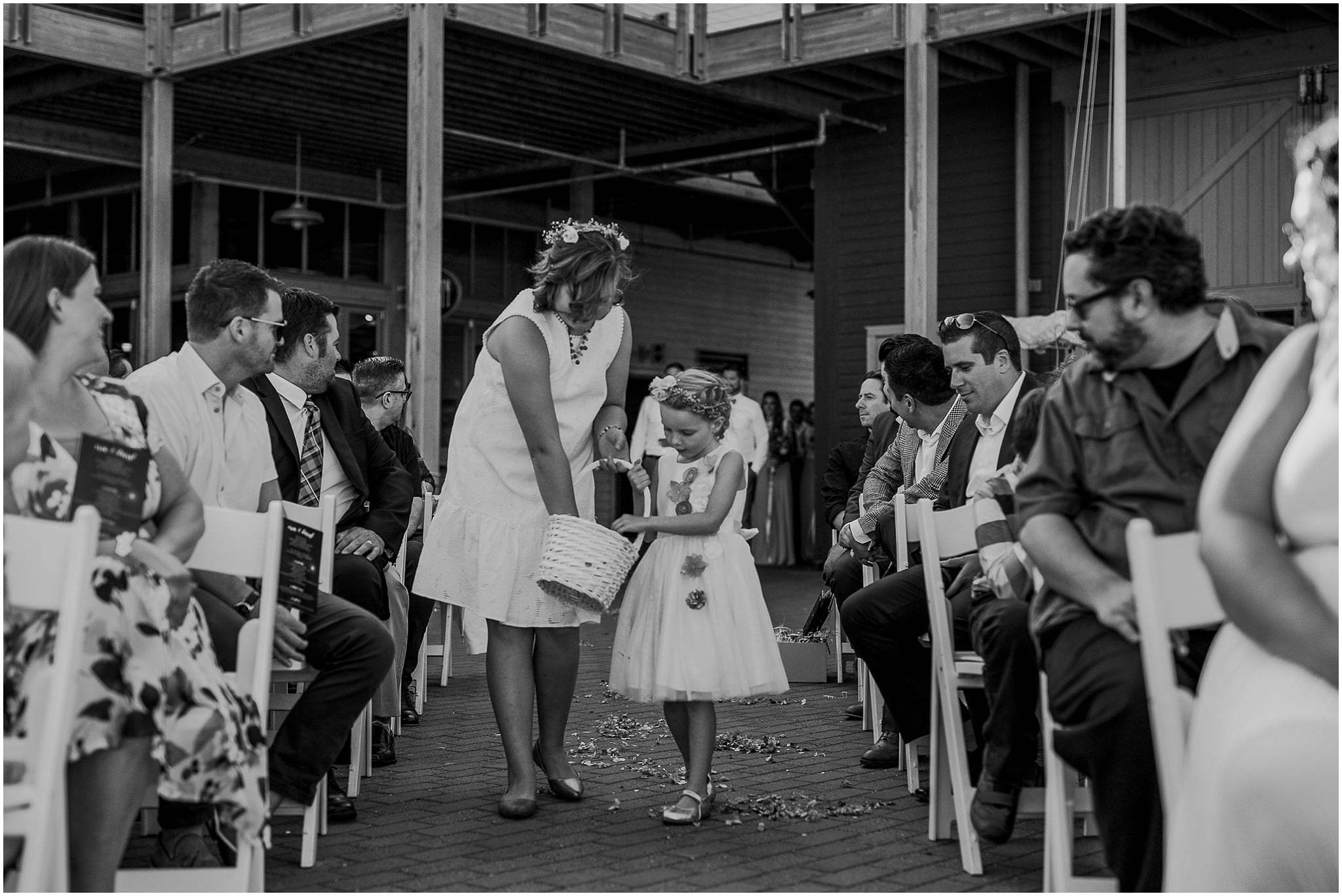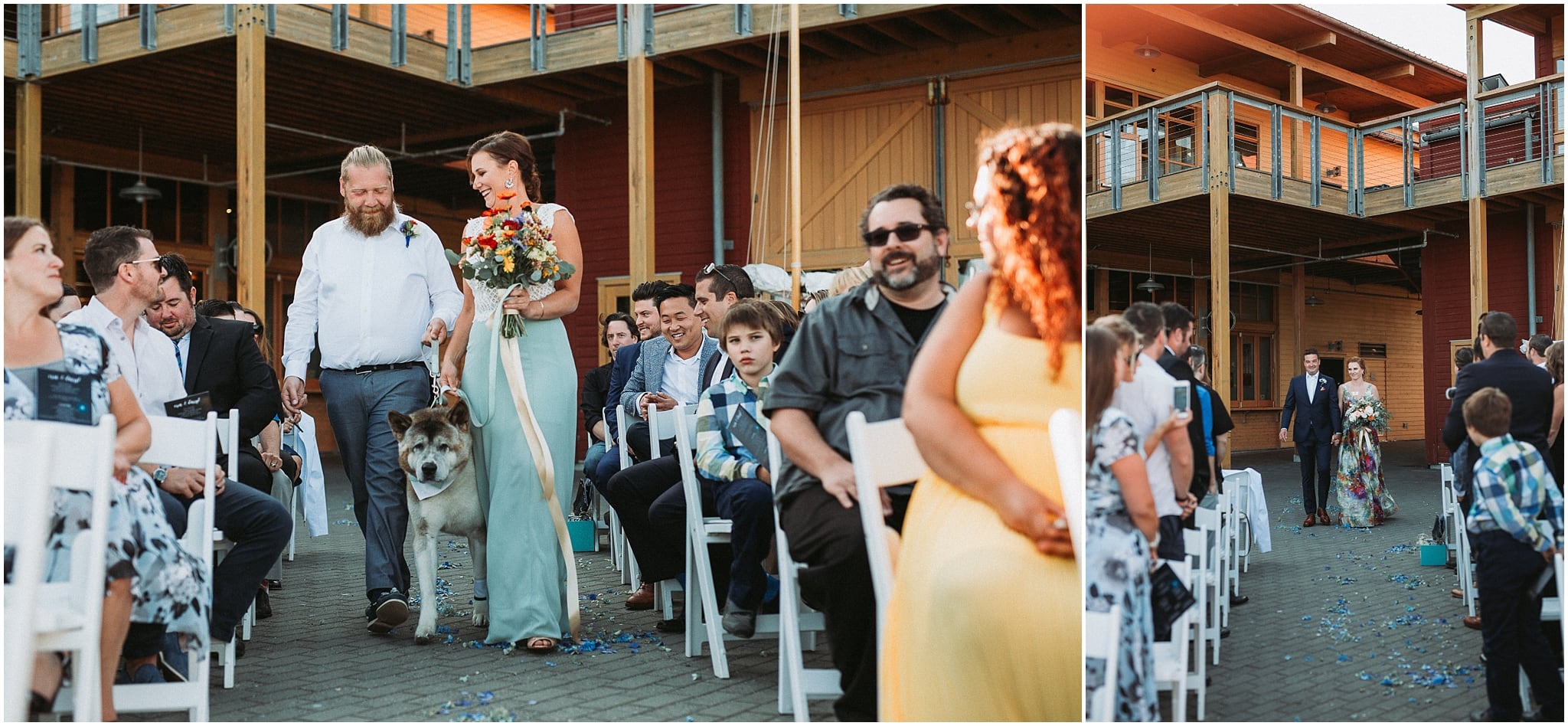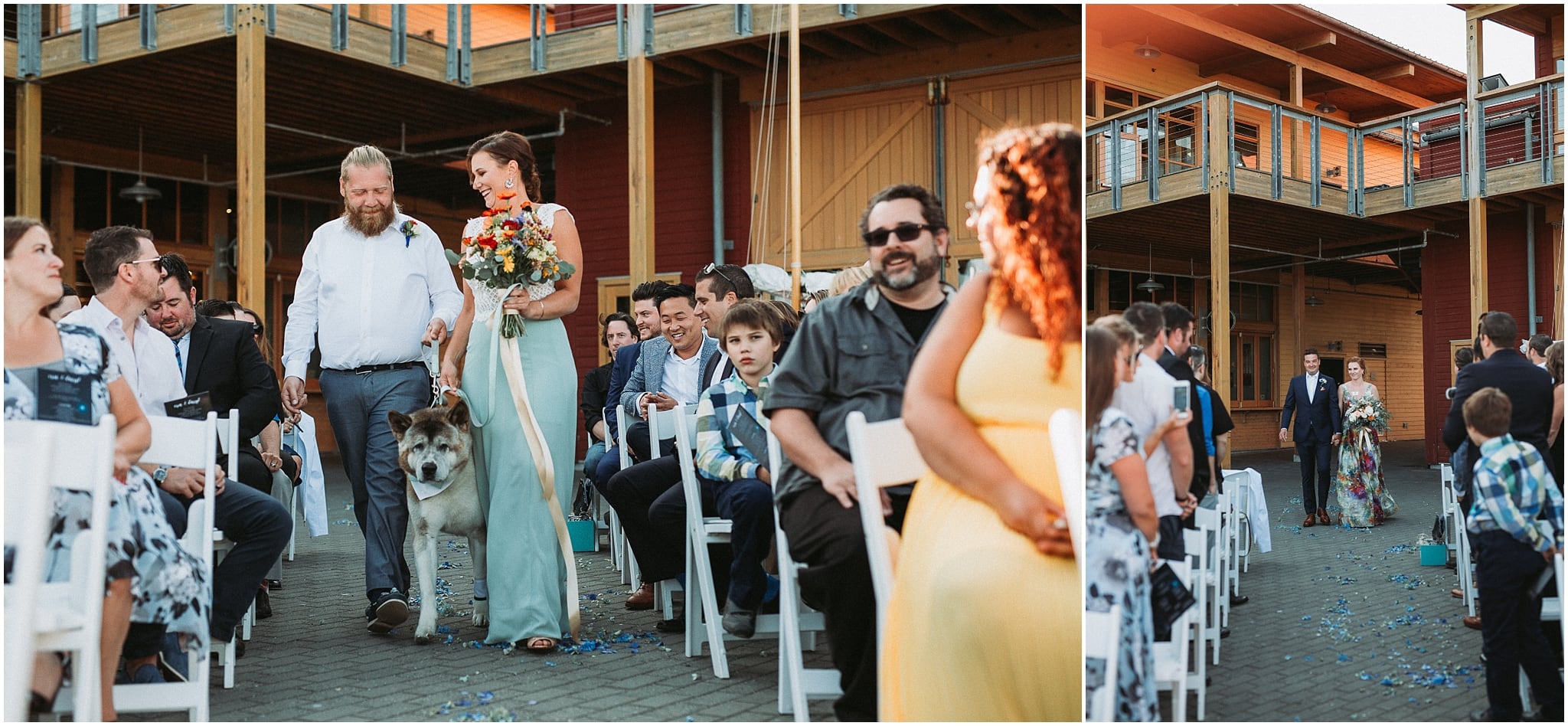 "we immediately fell in love with the venue"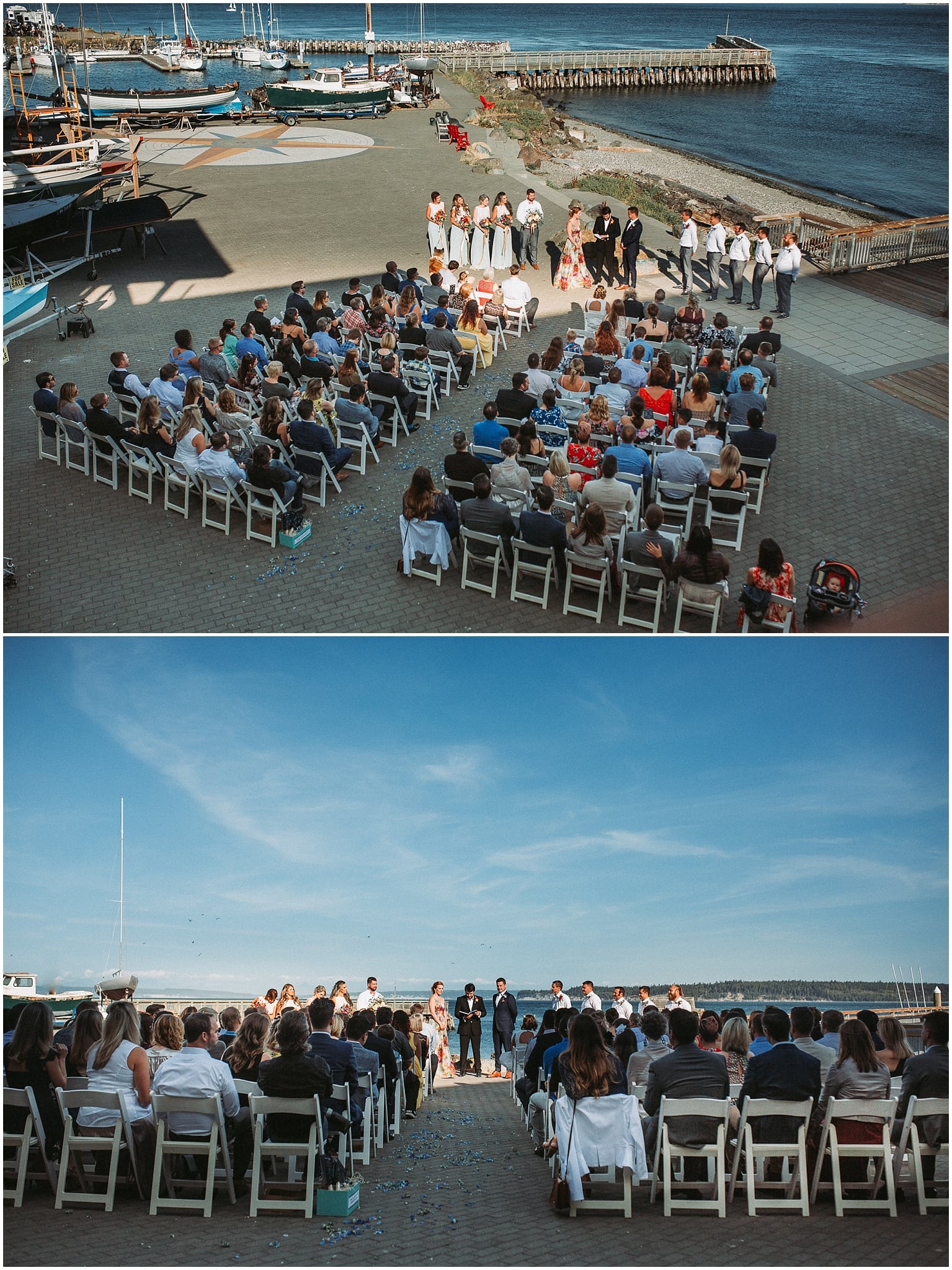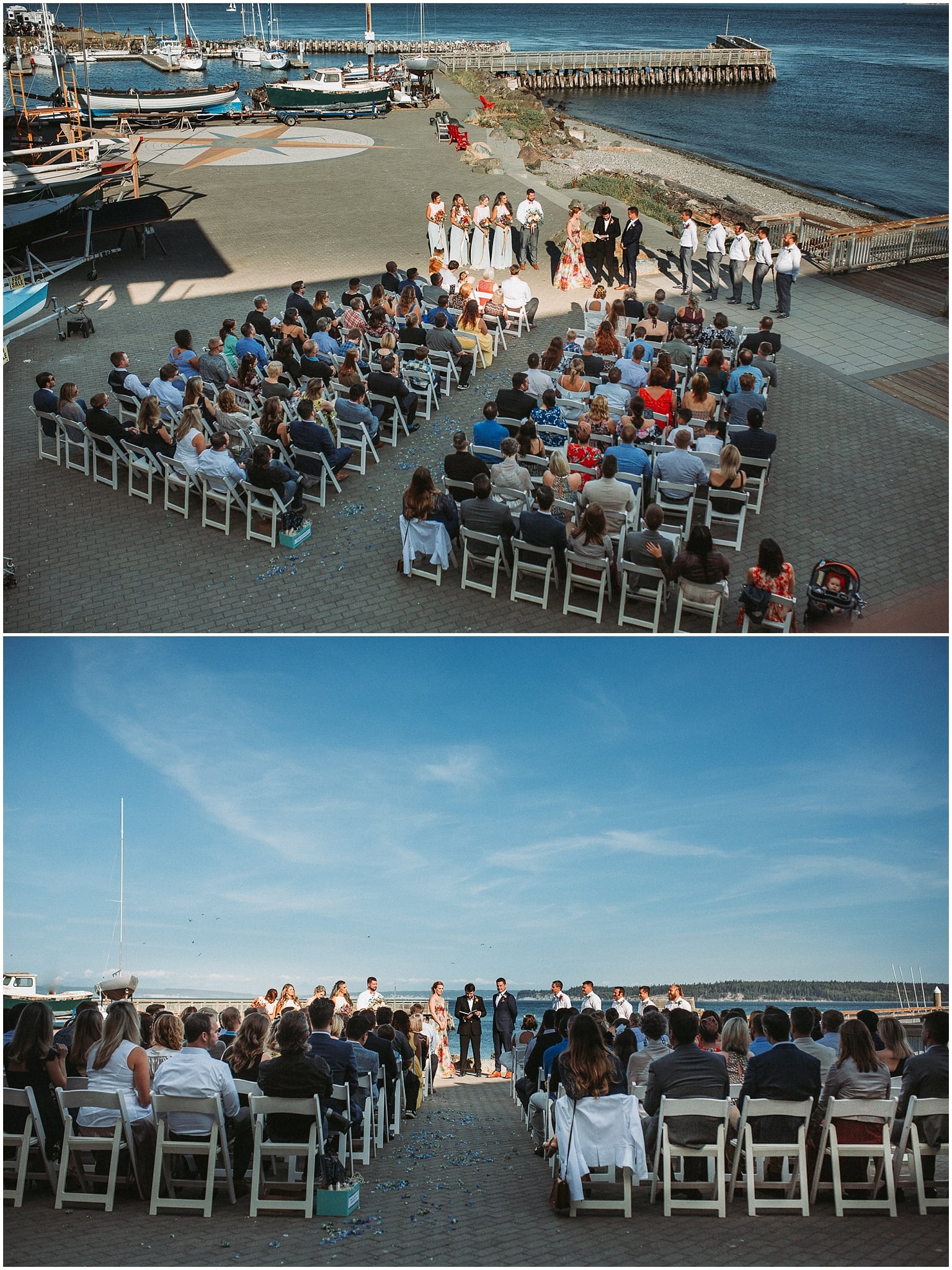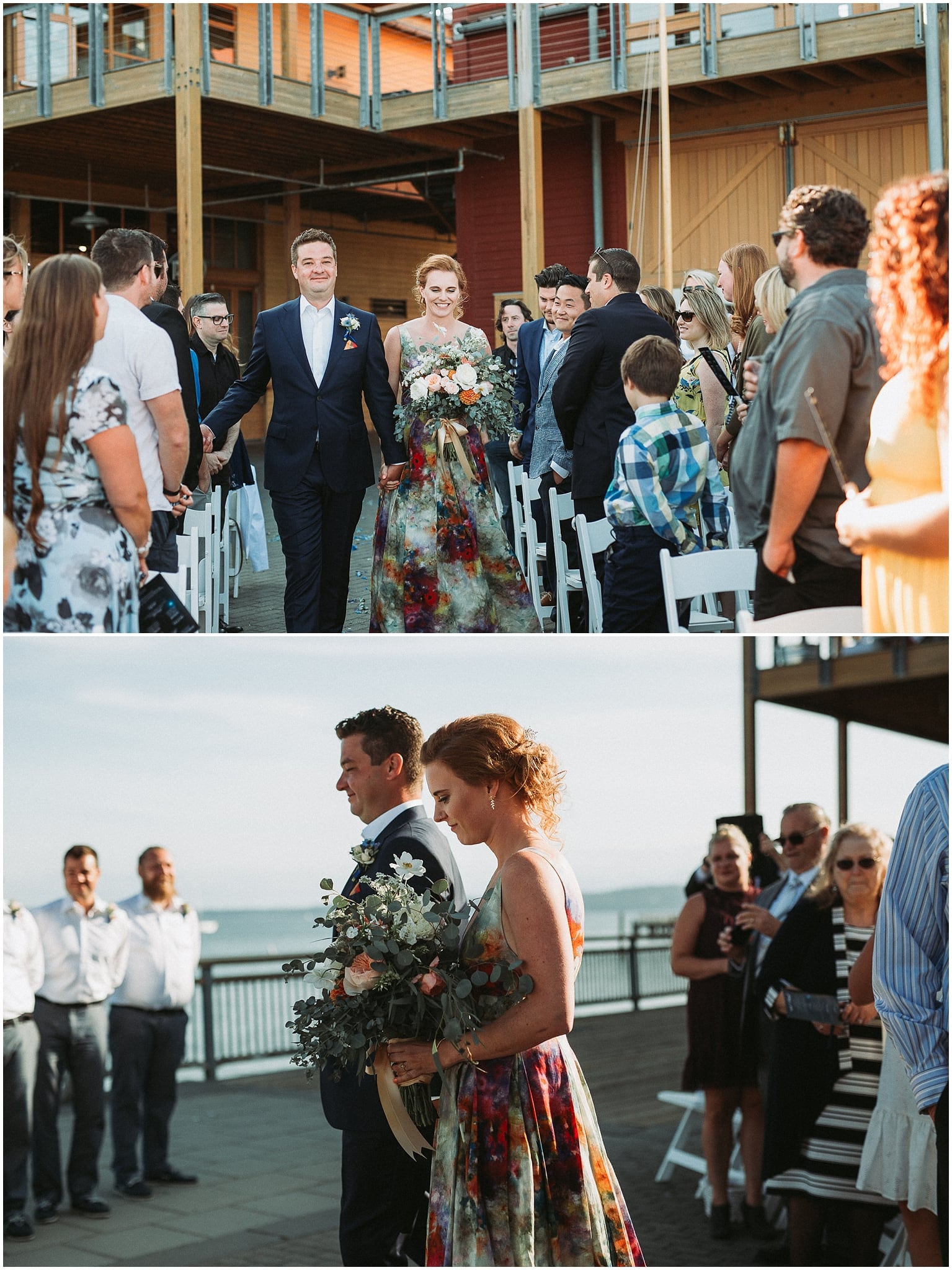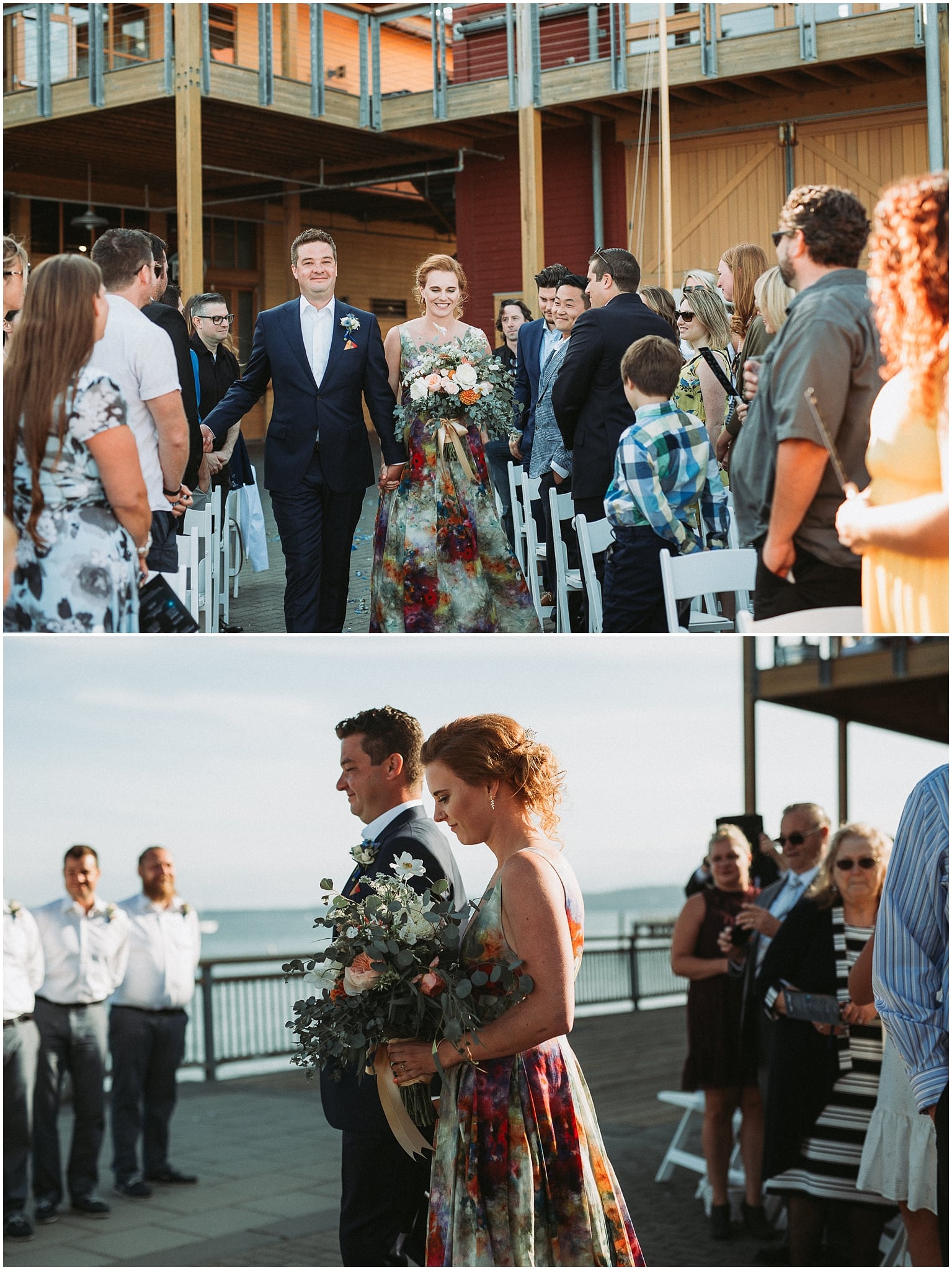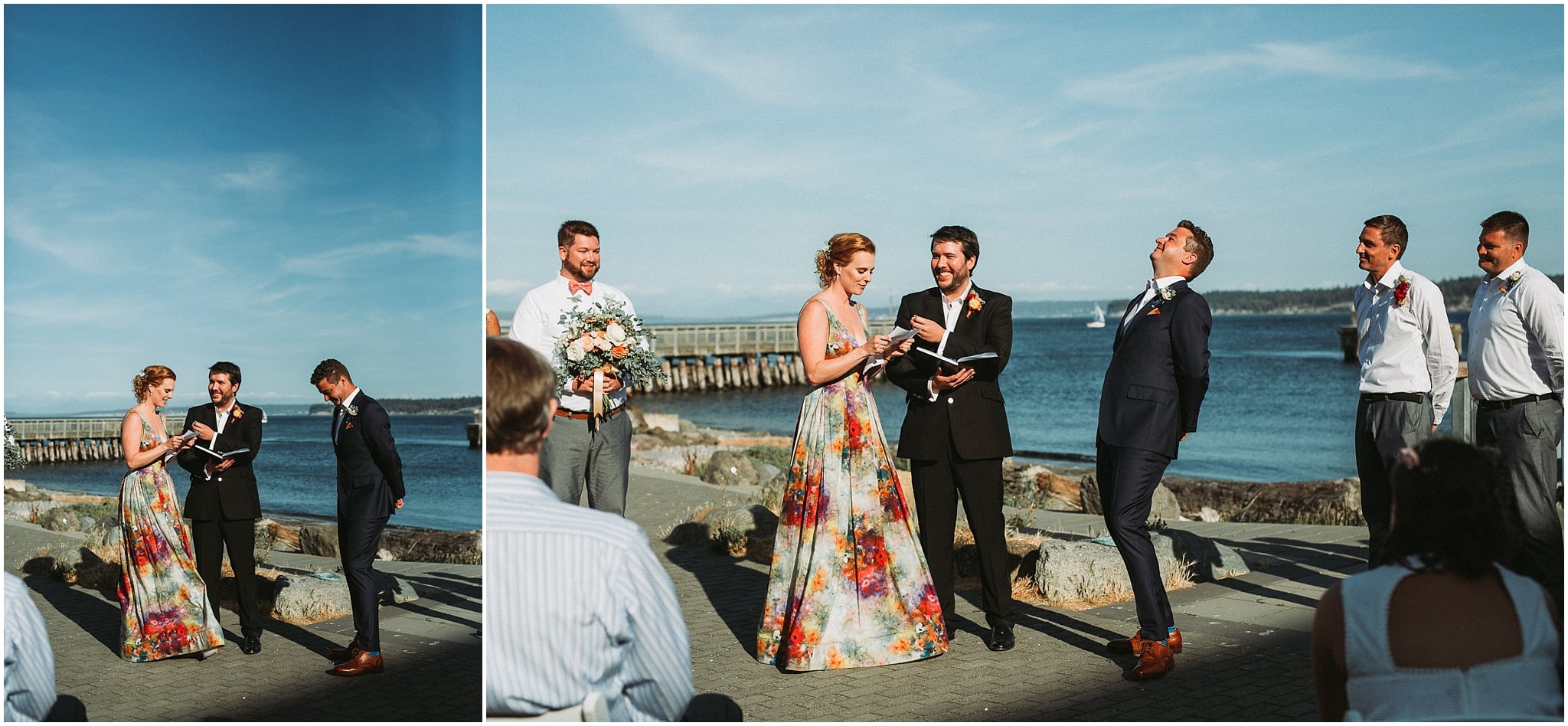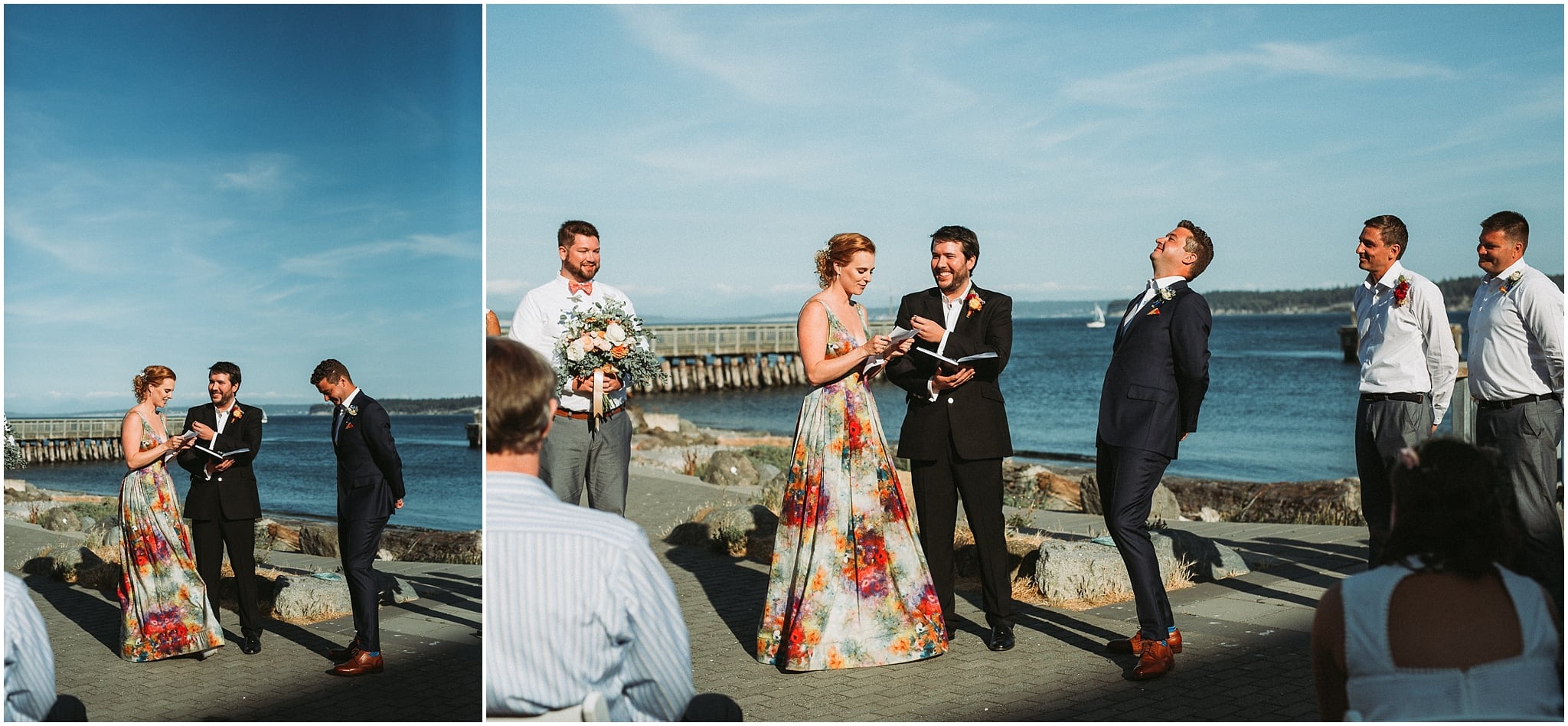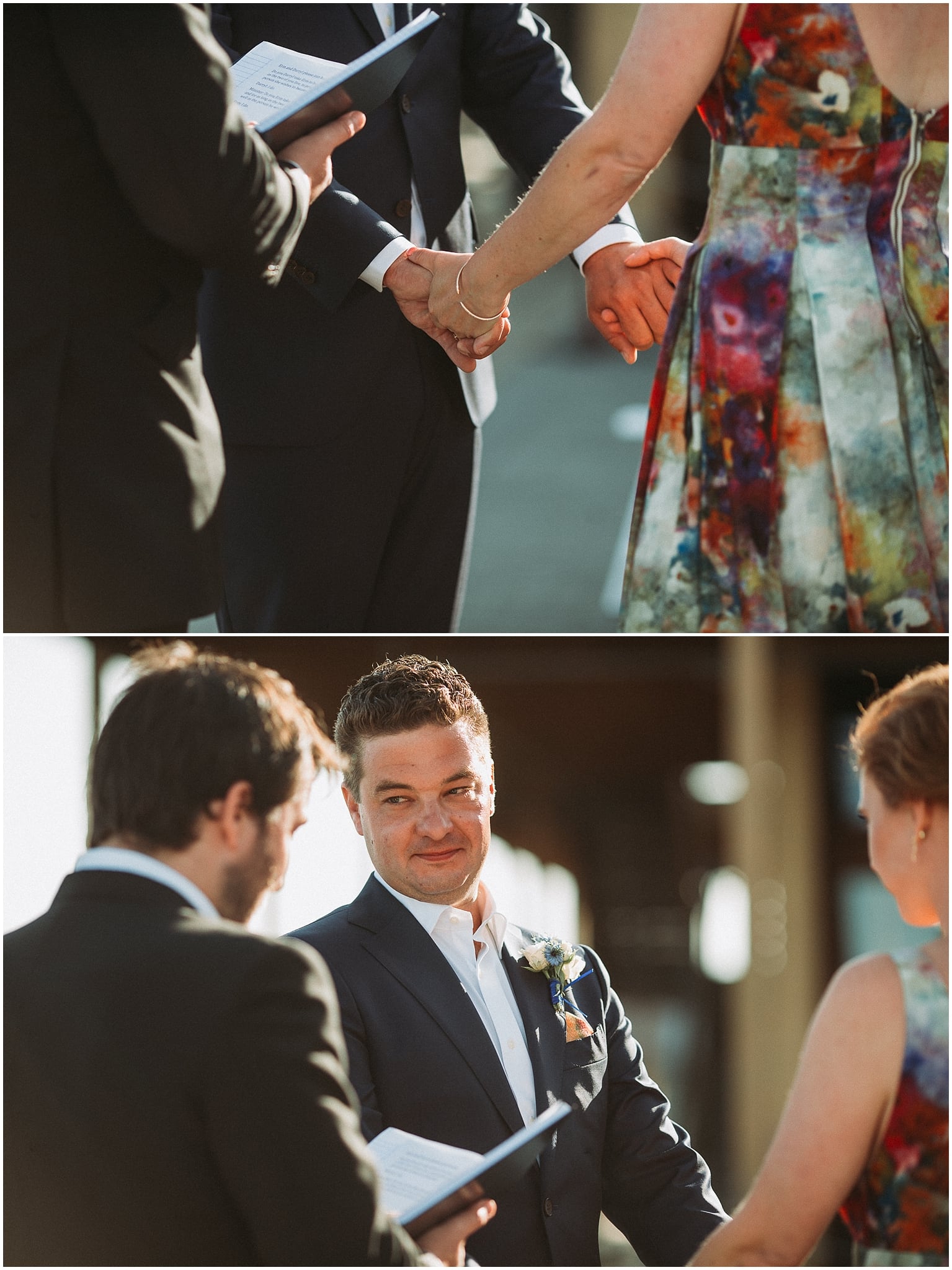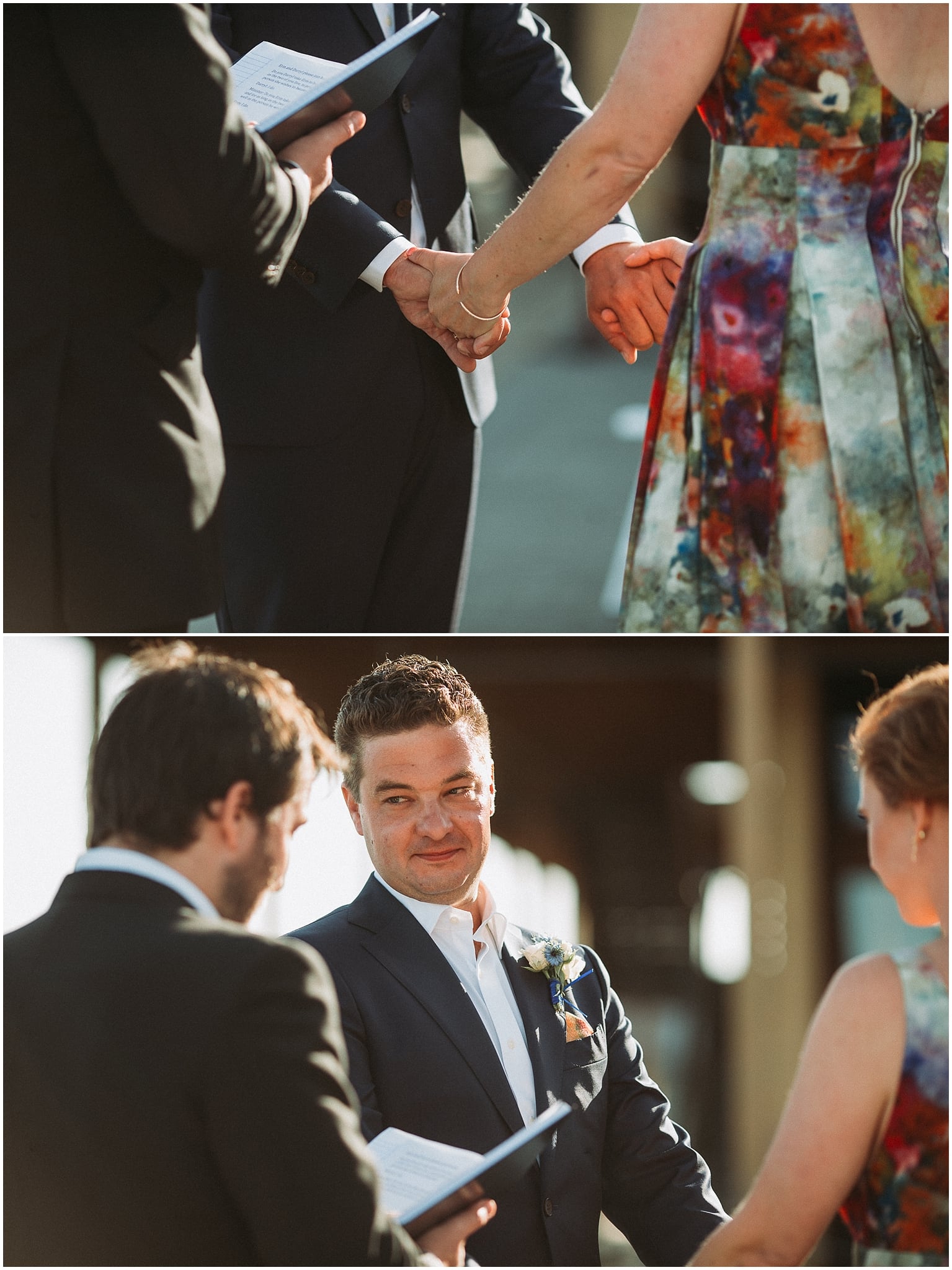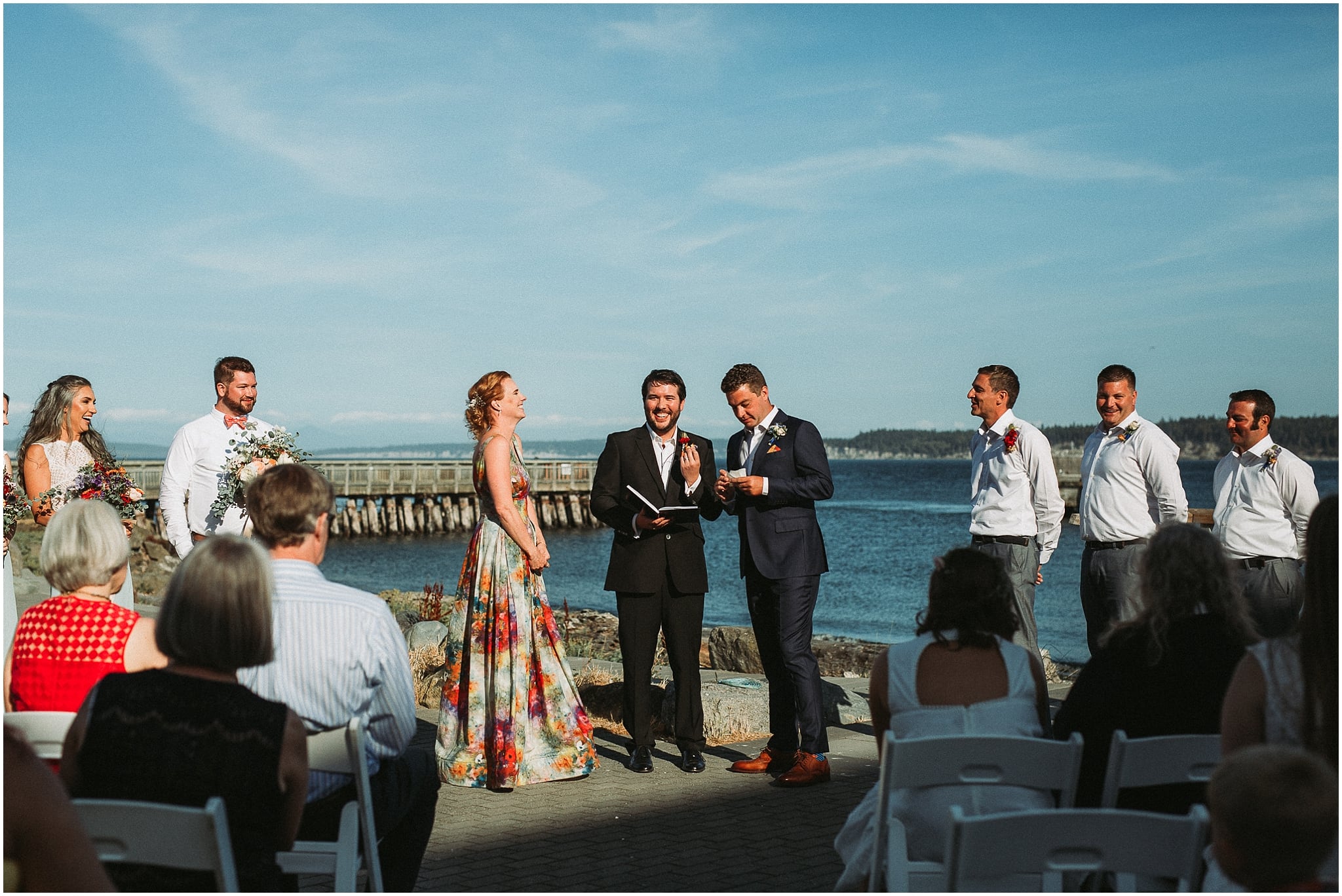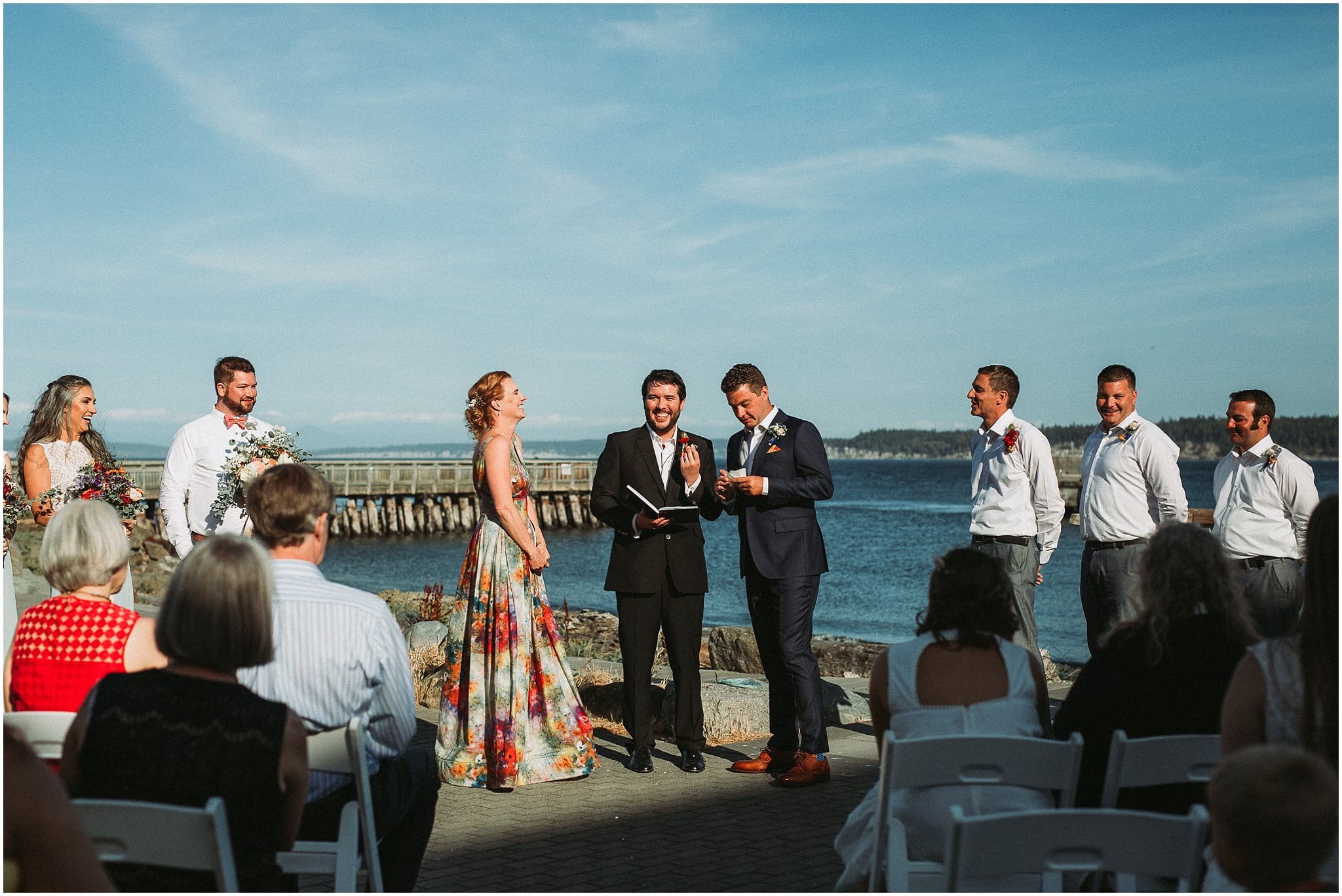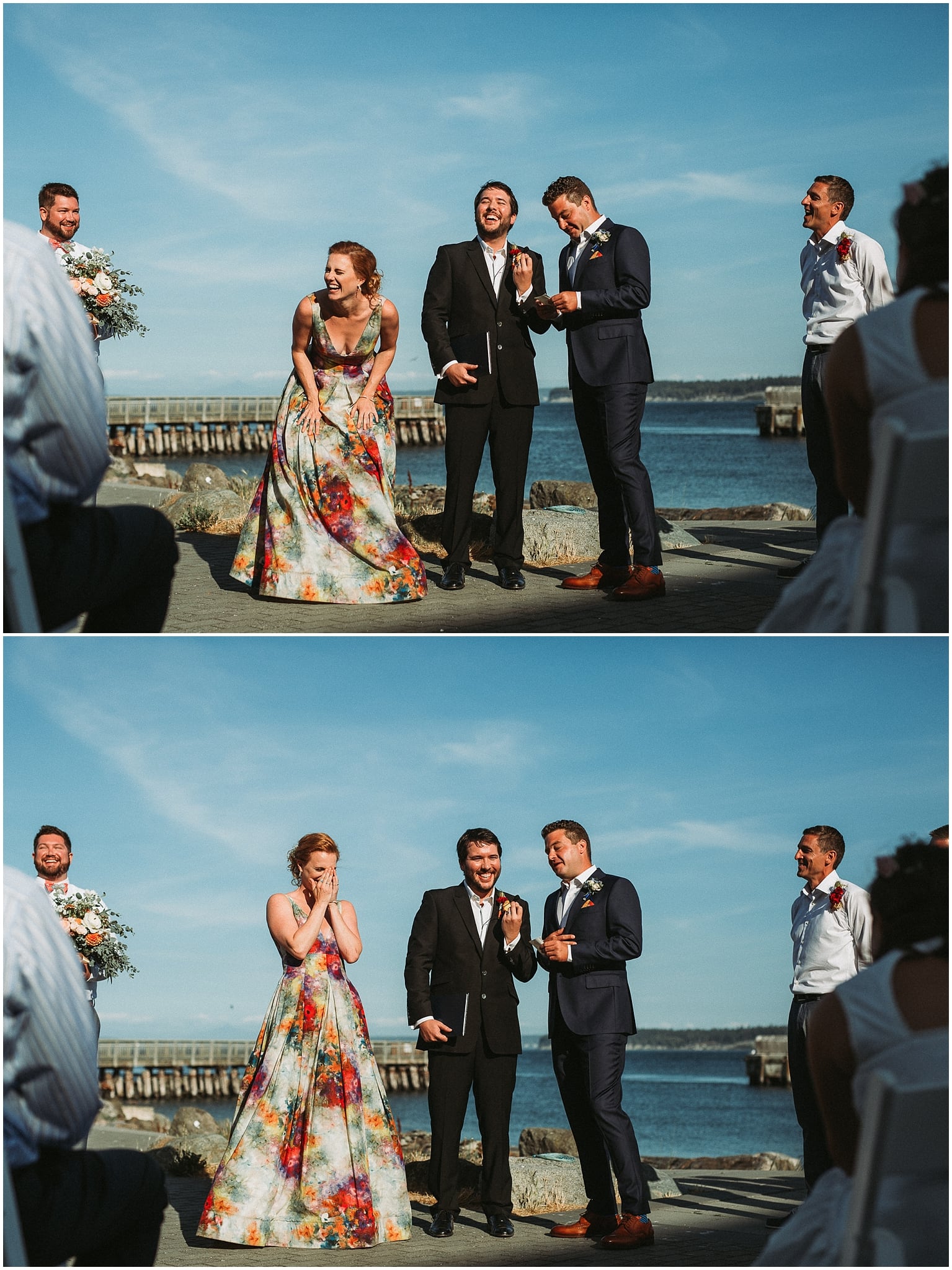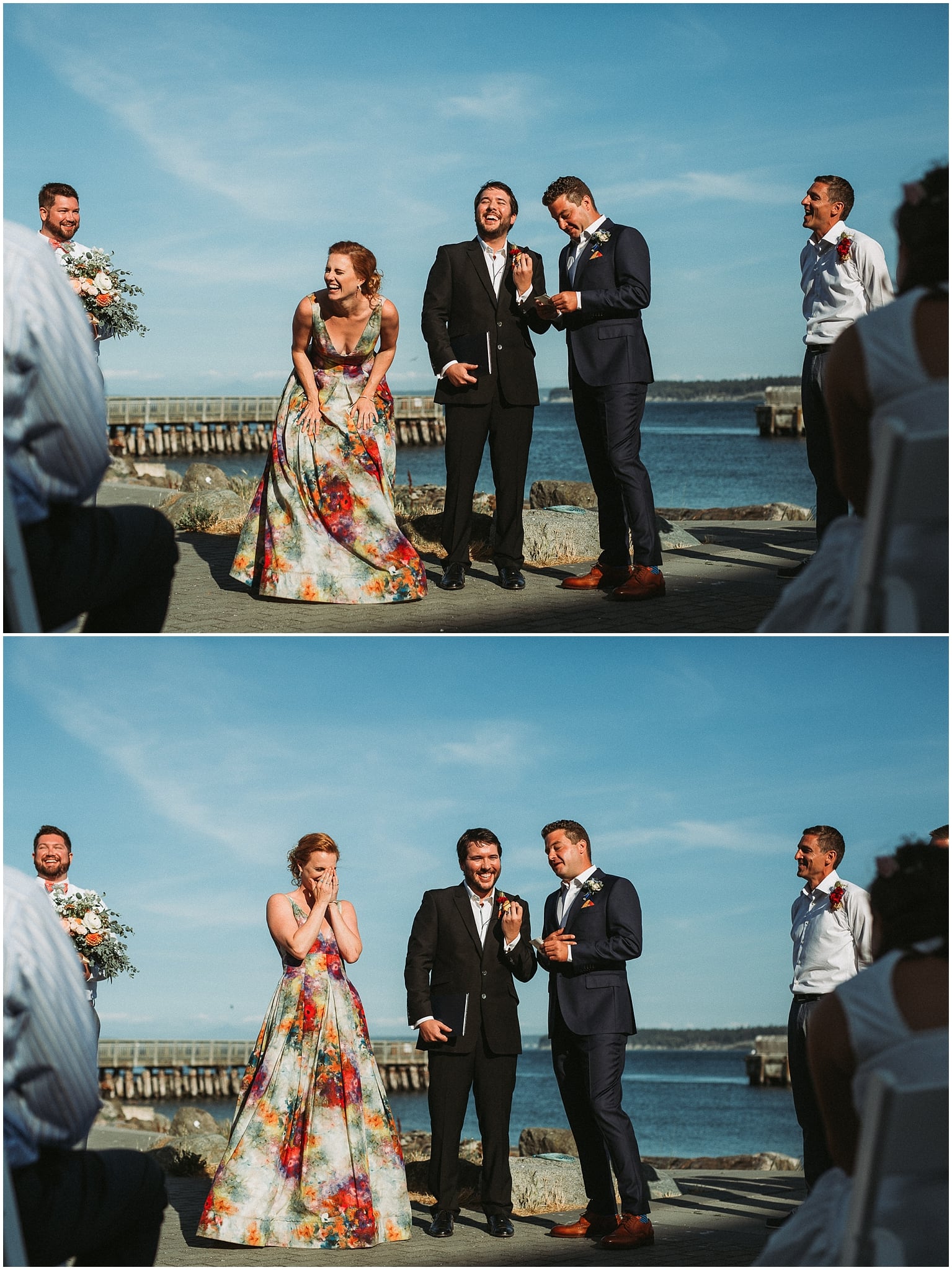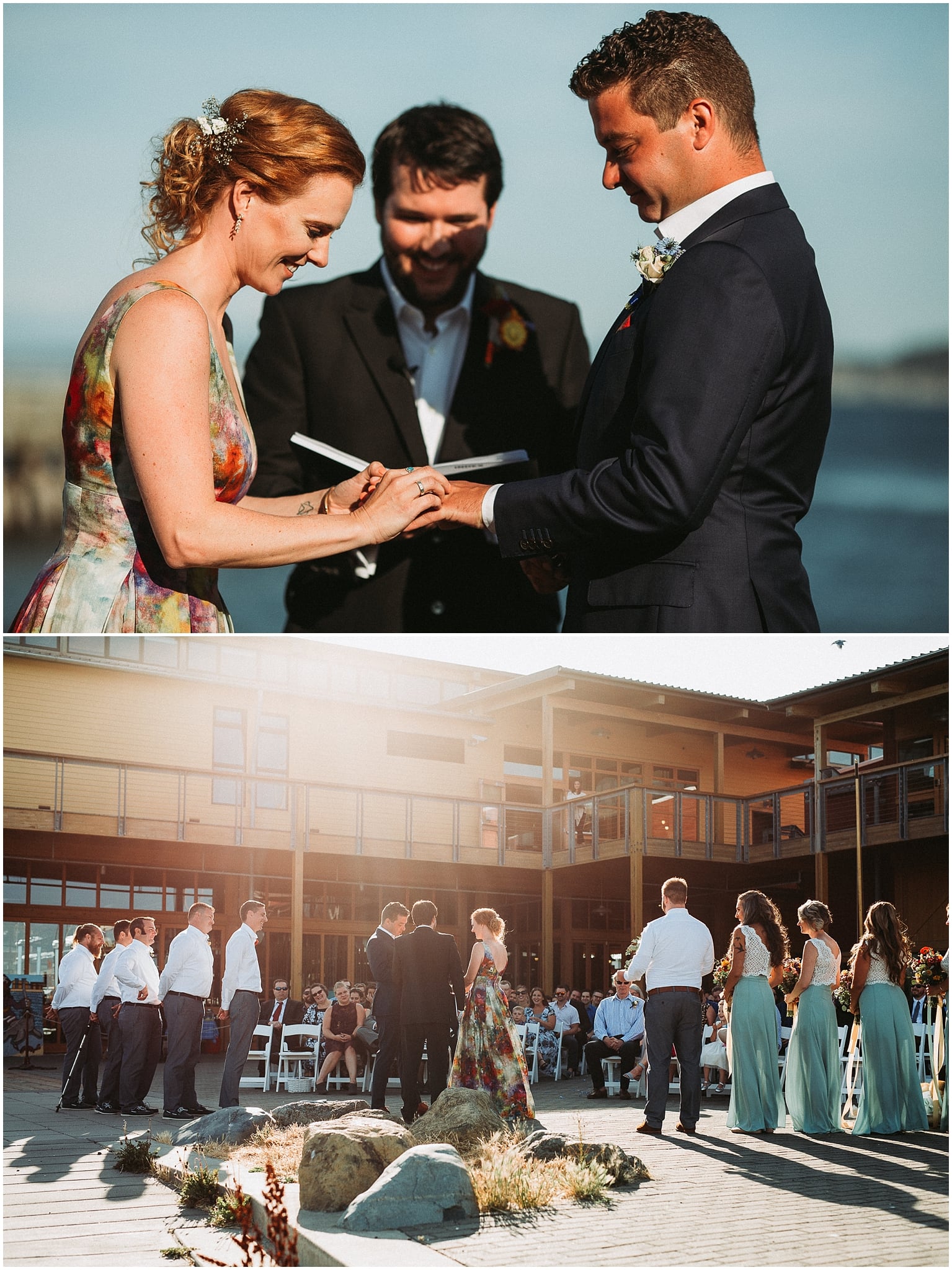 "my favorite part of the ceremony was probably the tying of the fisherman's knot"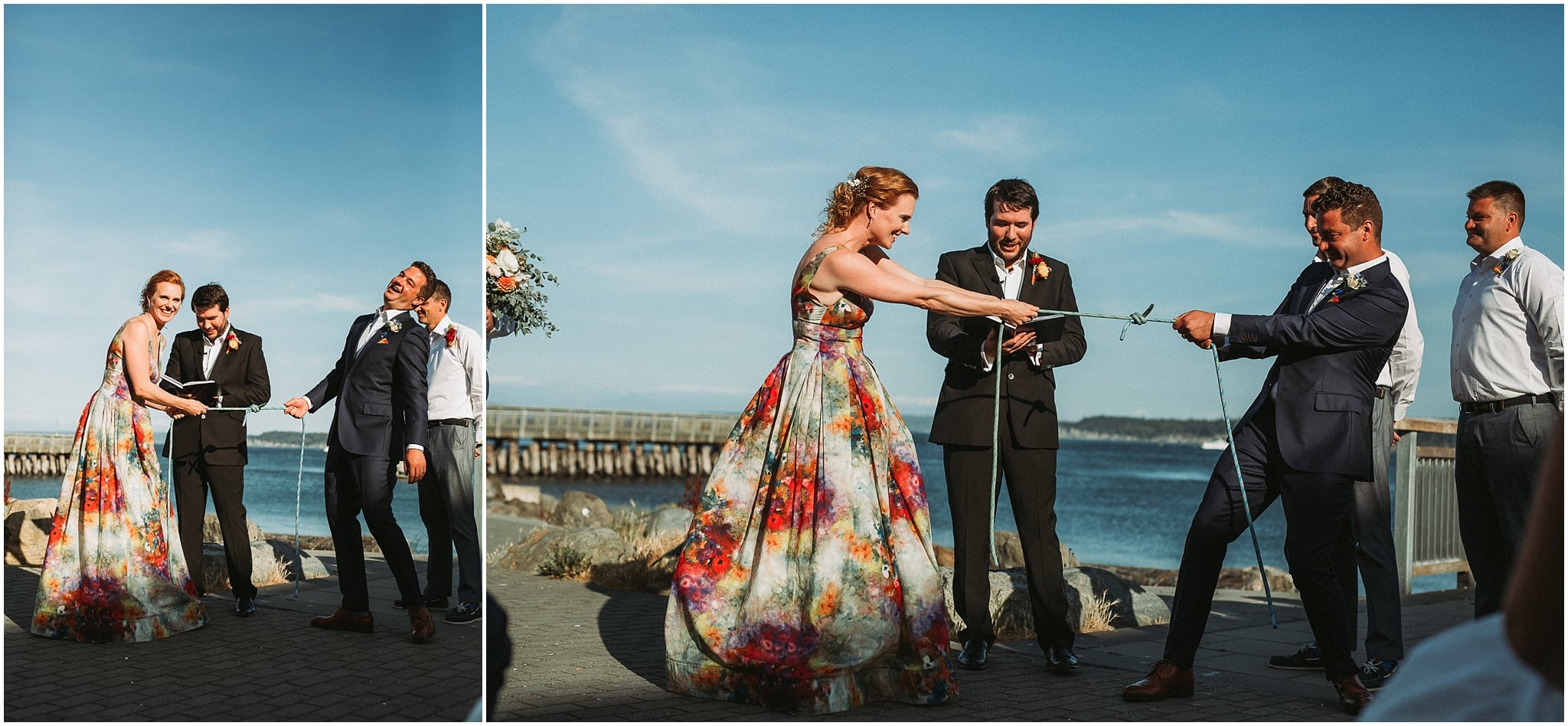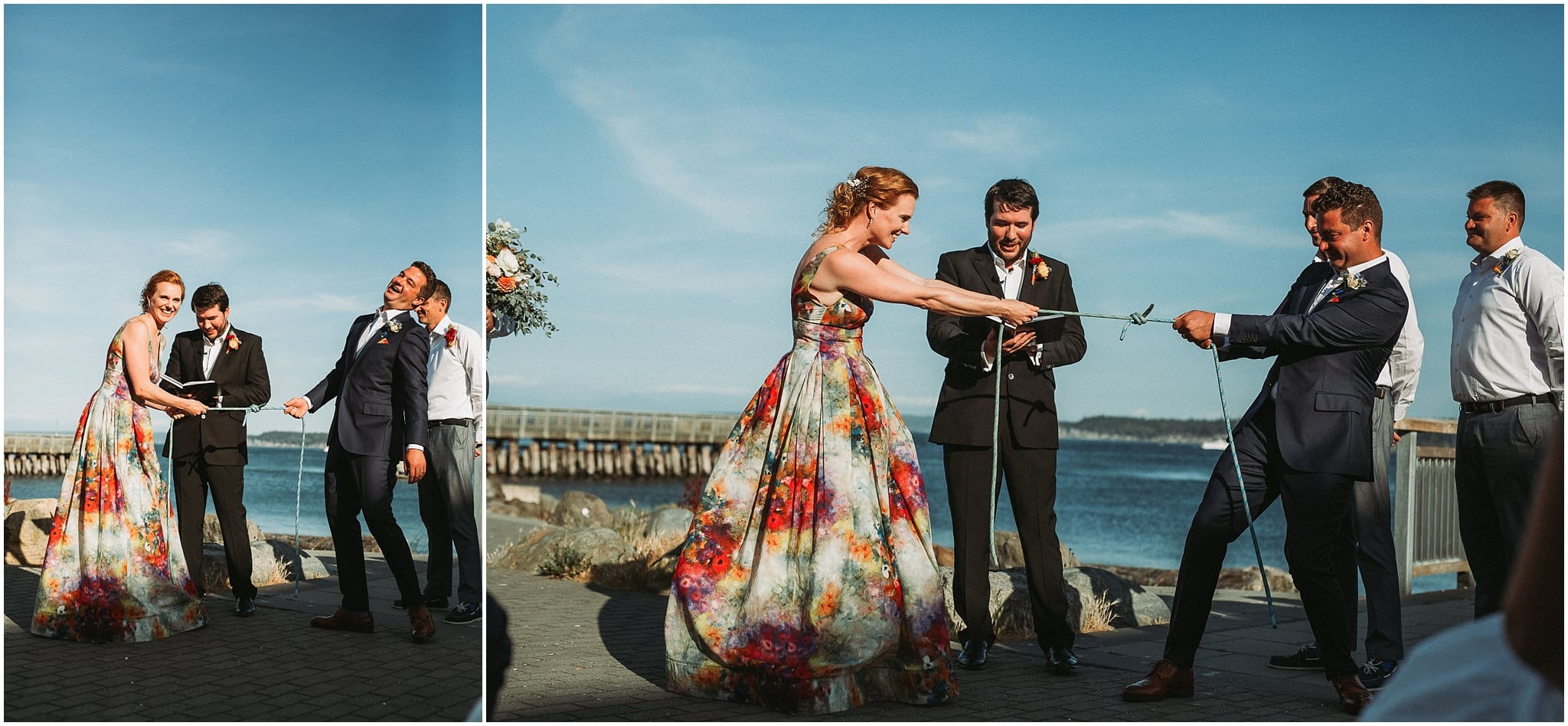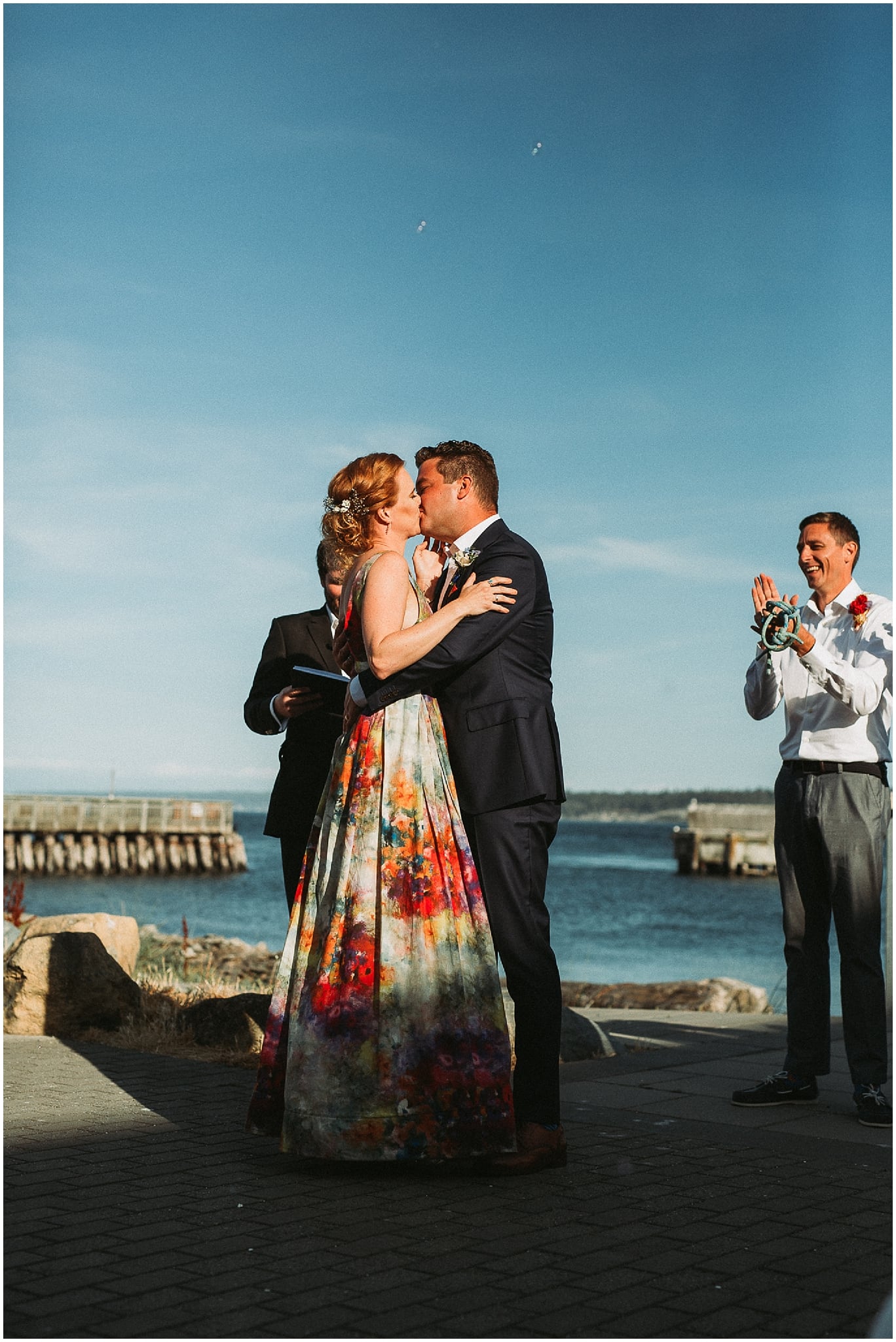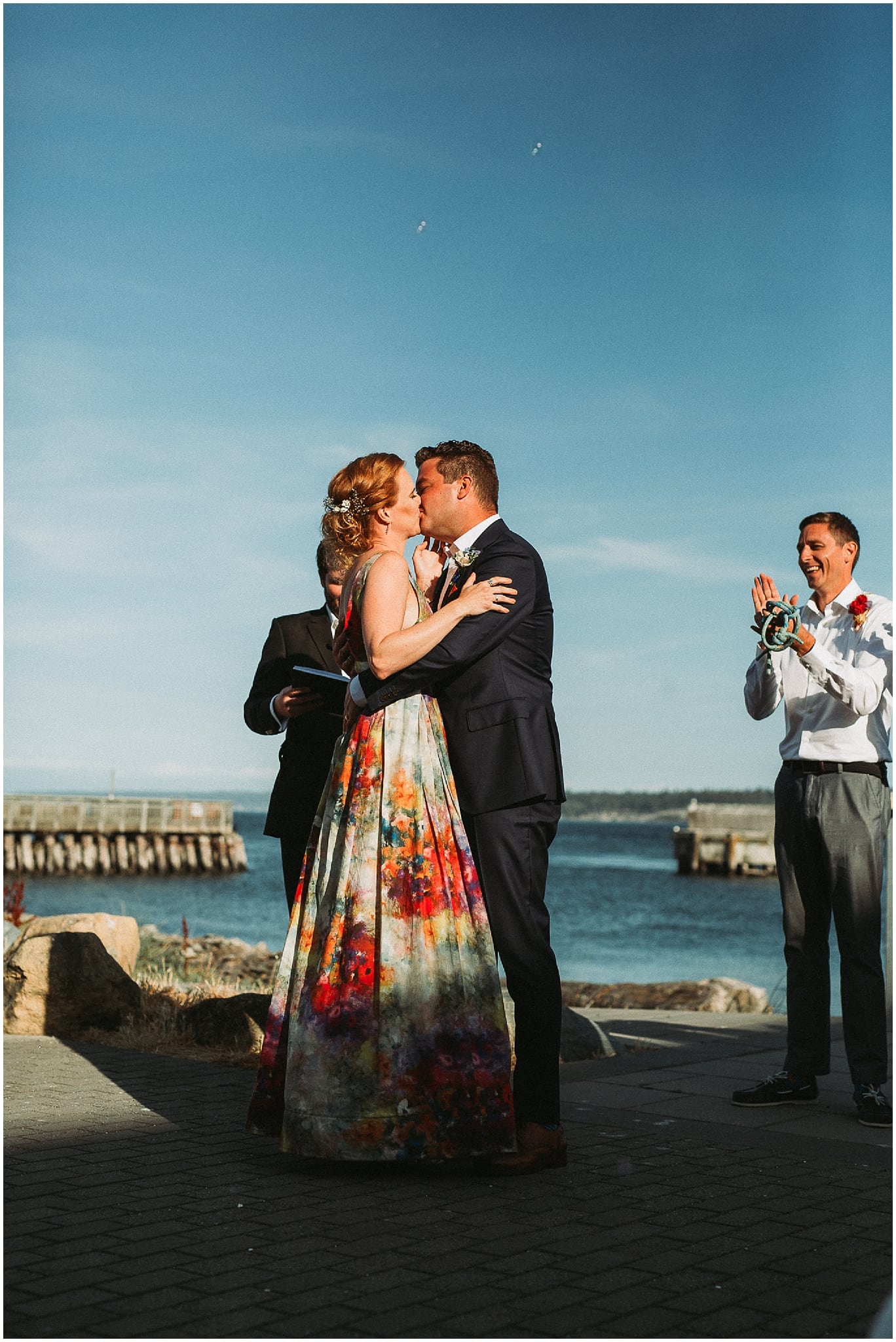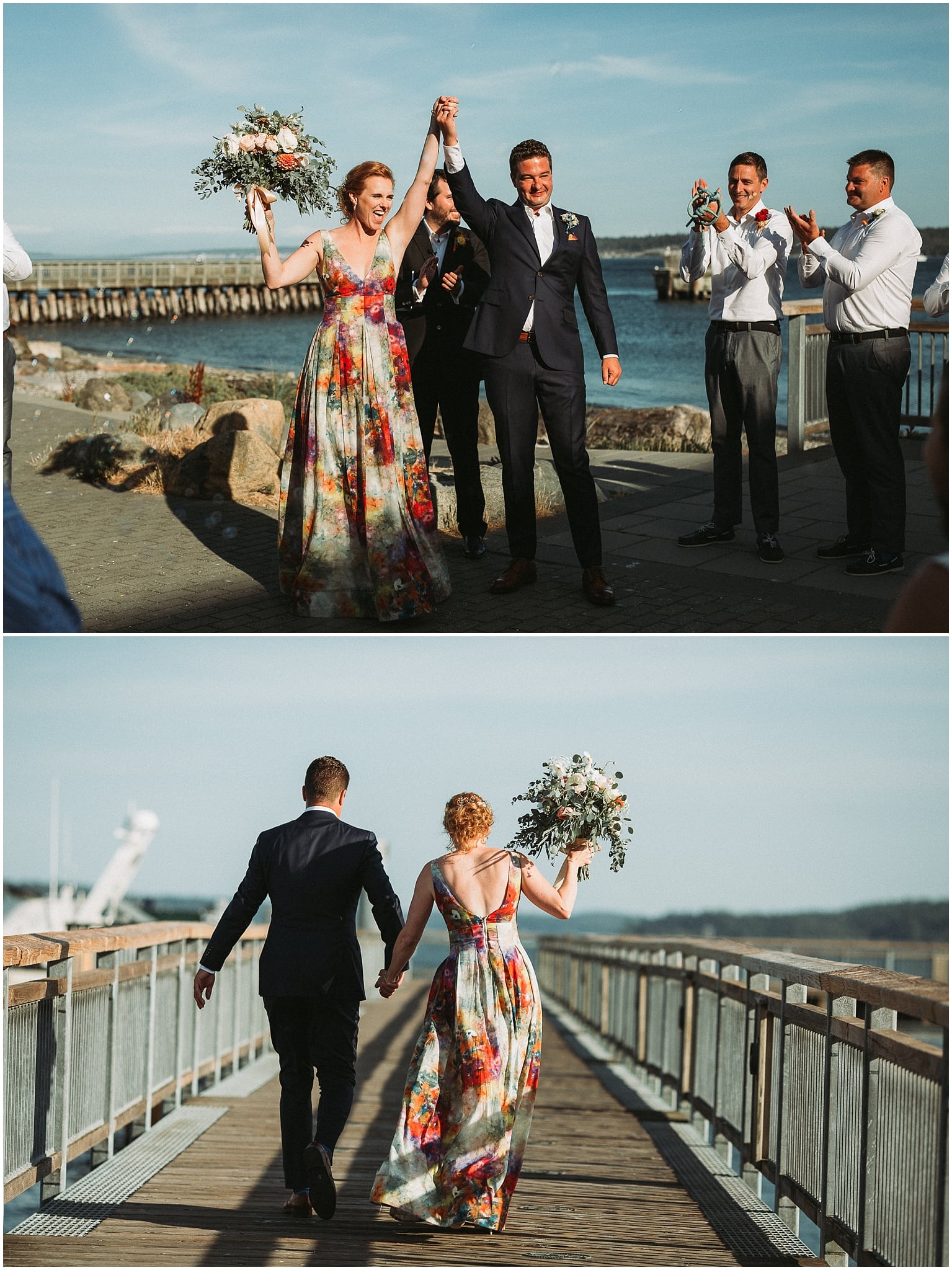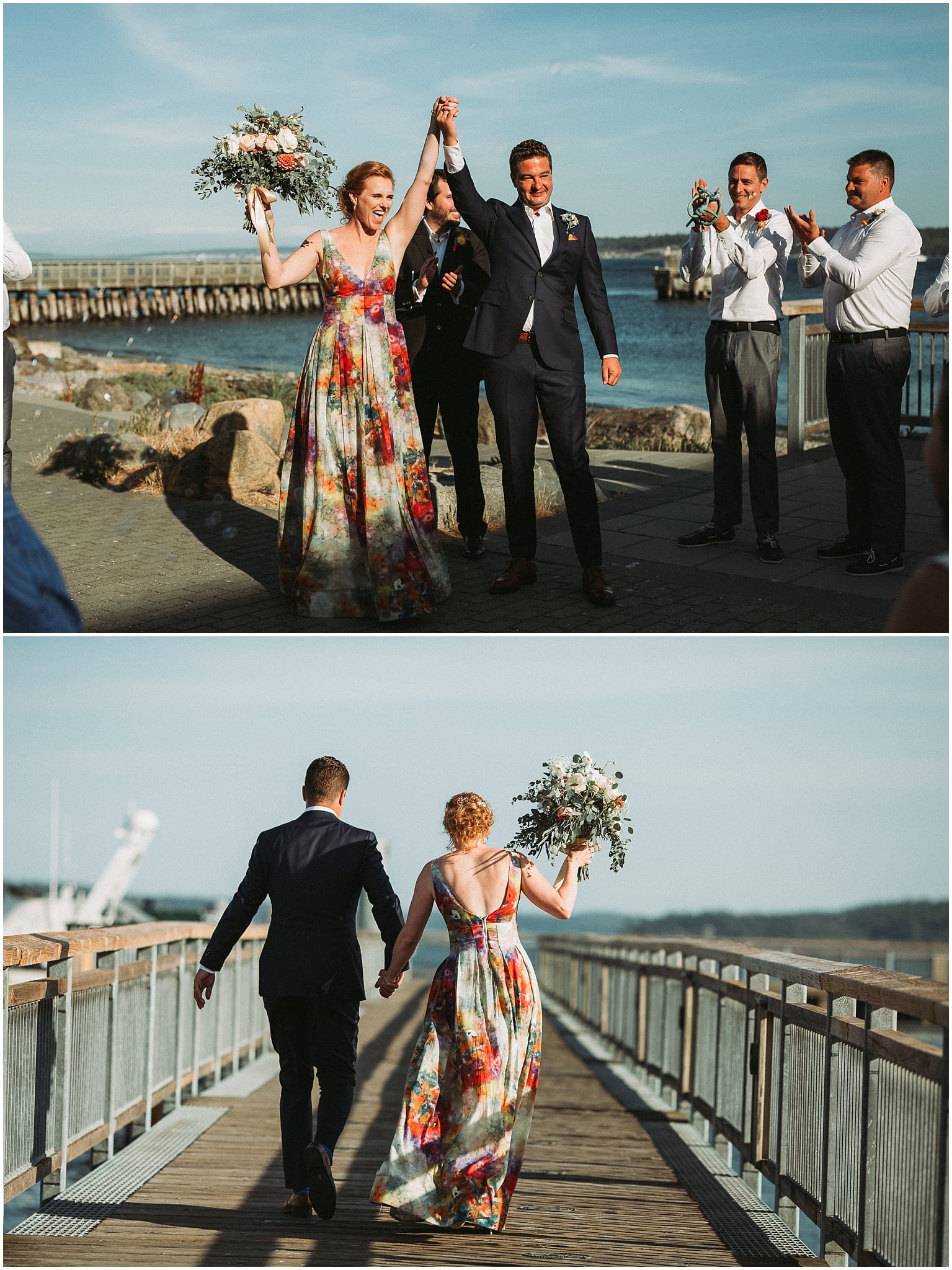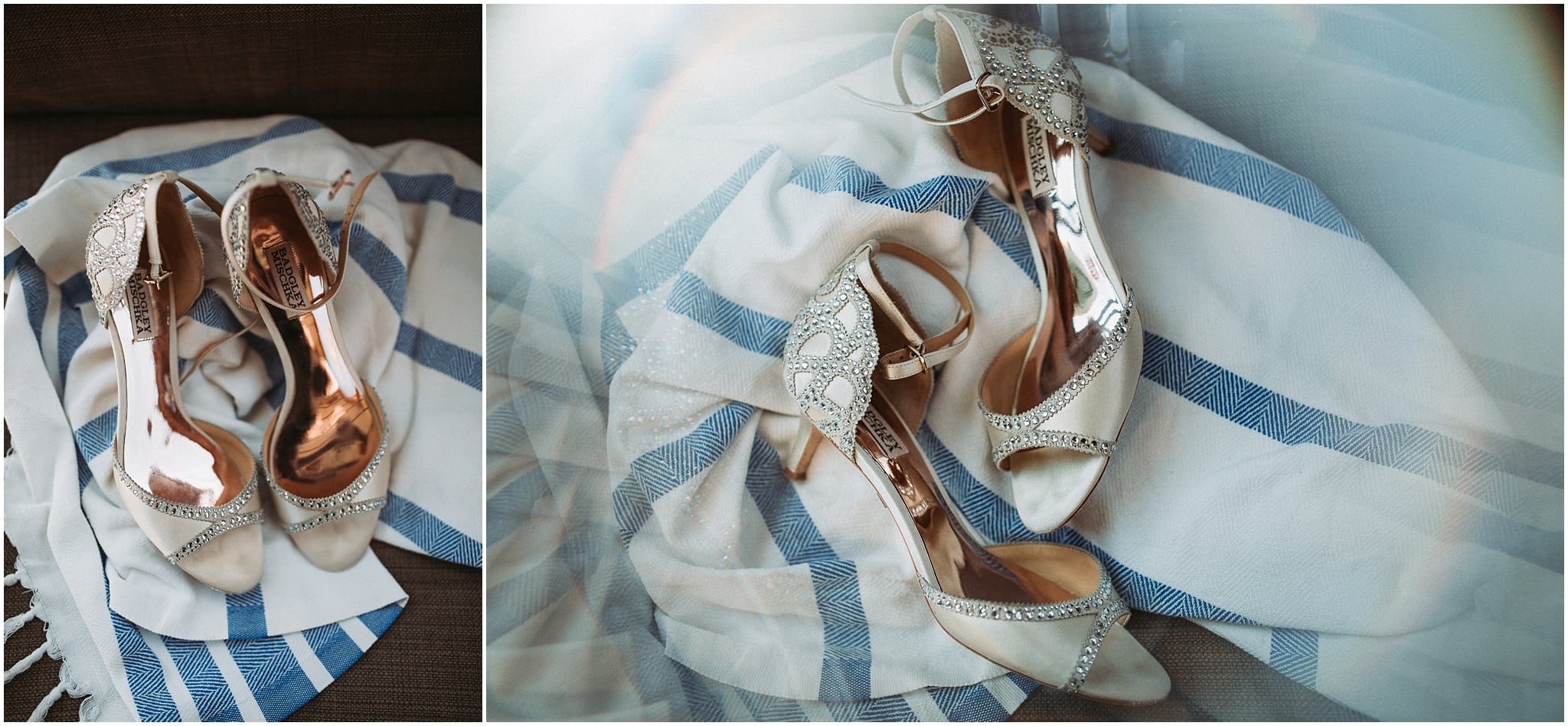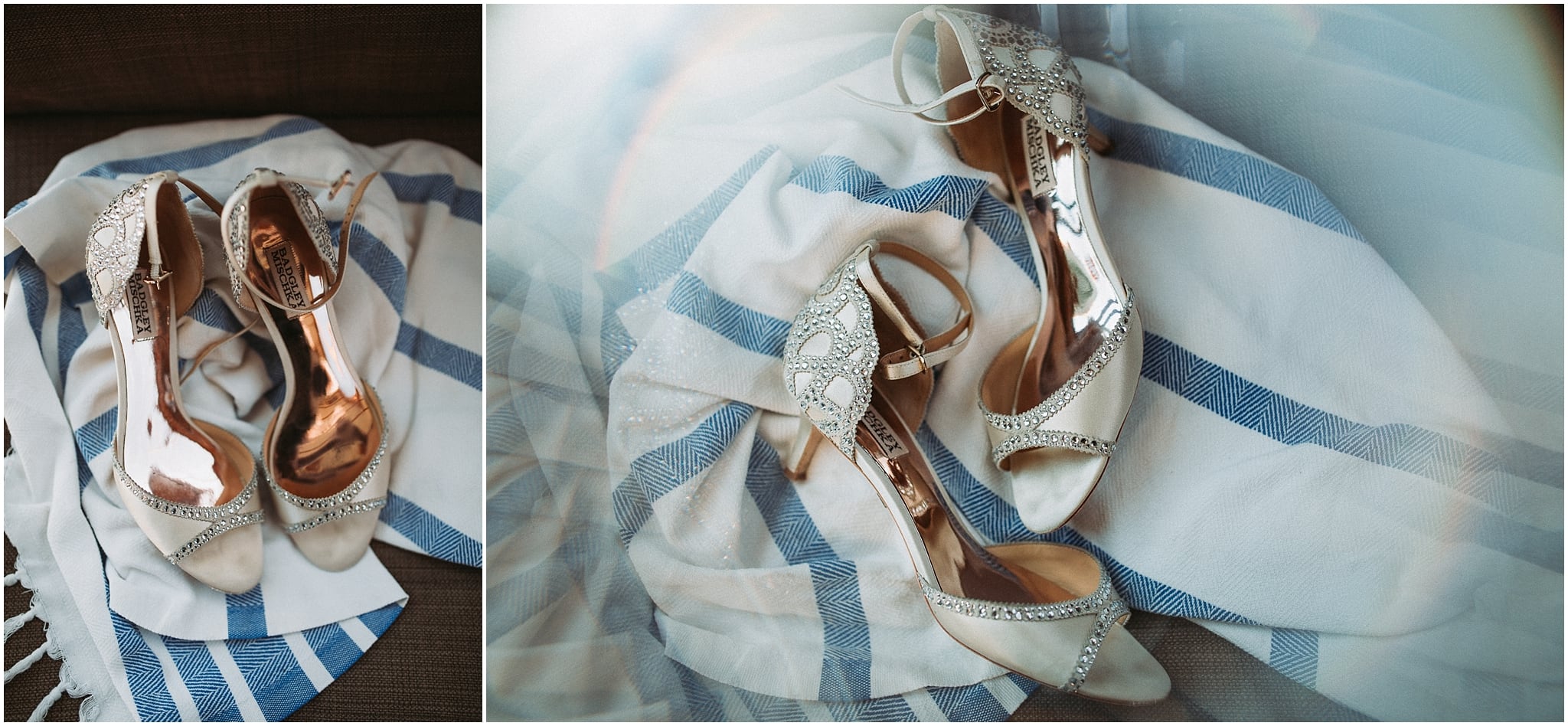 "Knowing they were made for each other by each other made it even more special when he put it on my finger to be his wife!"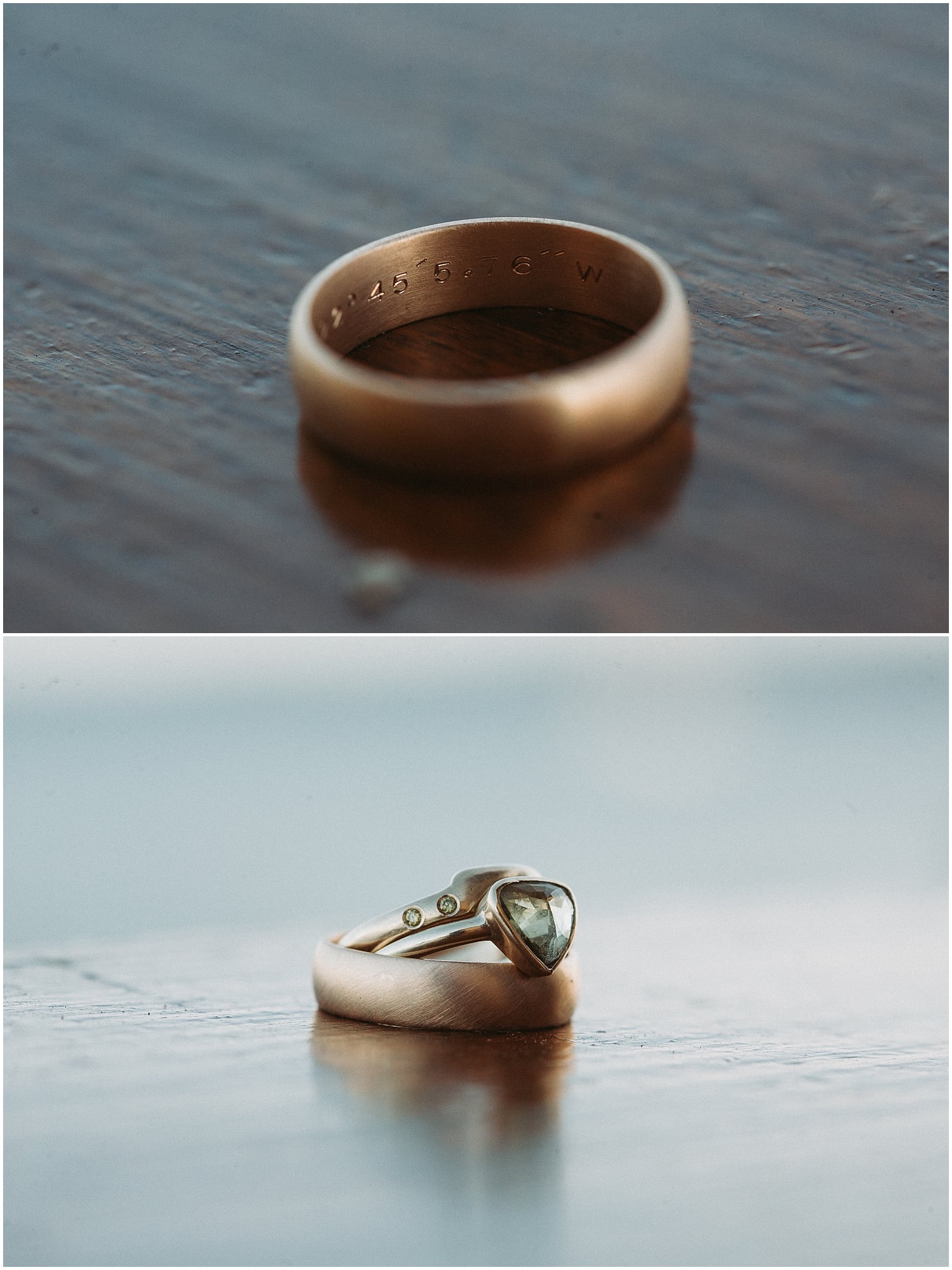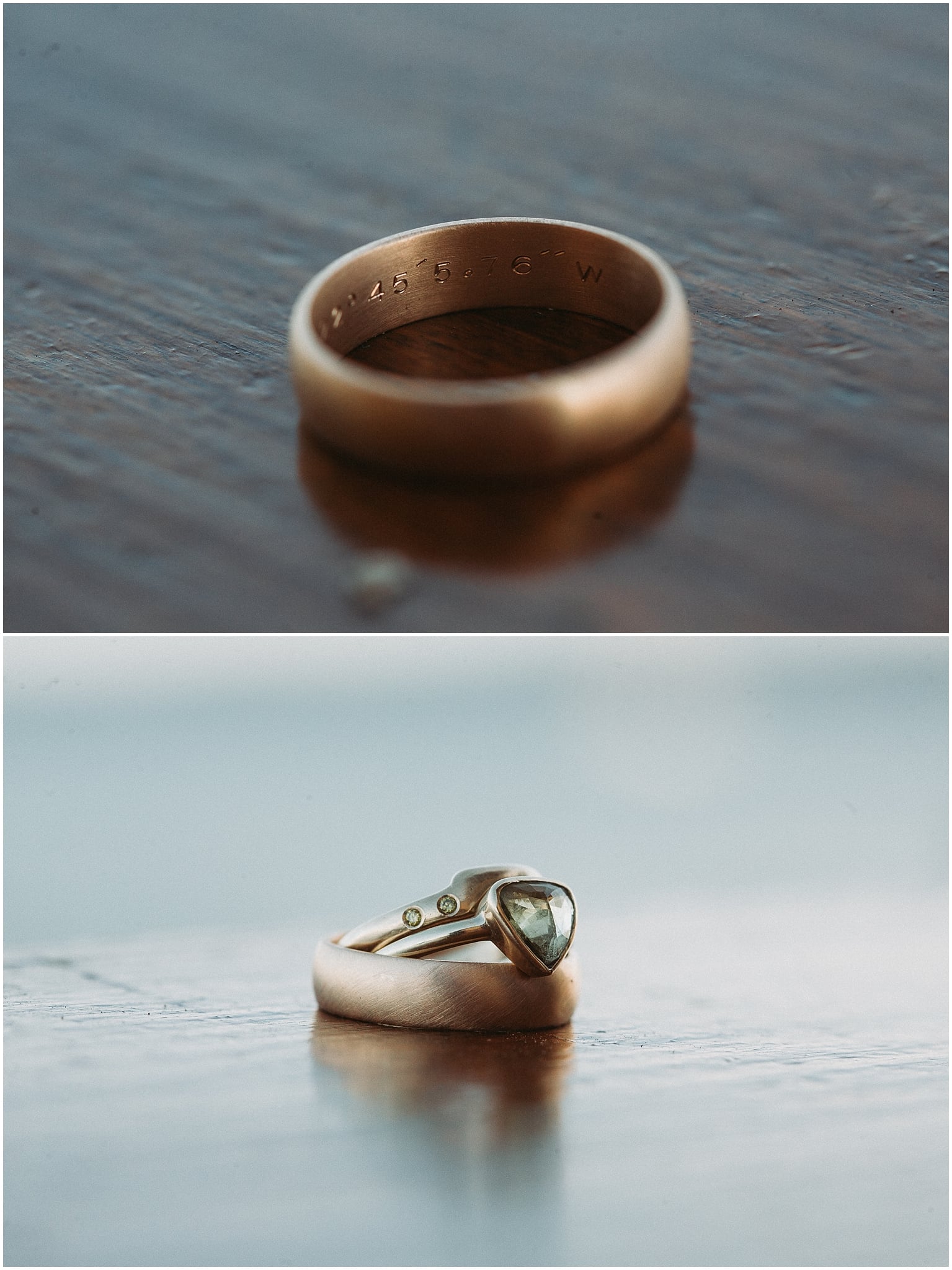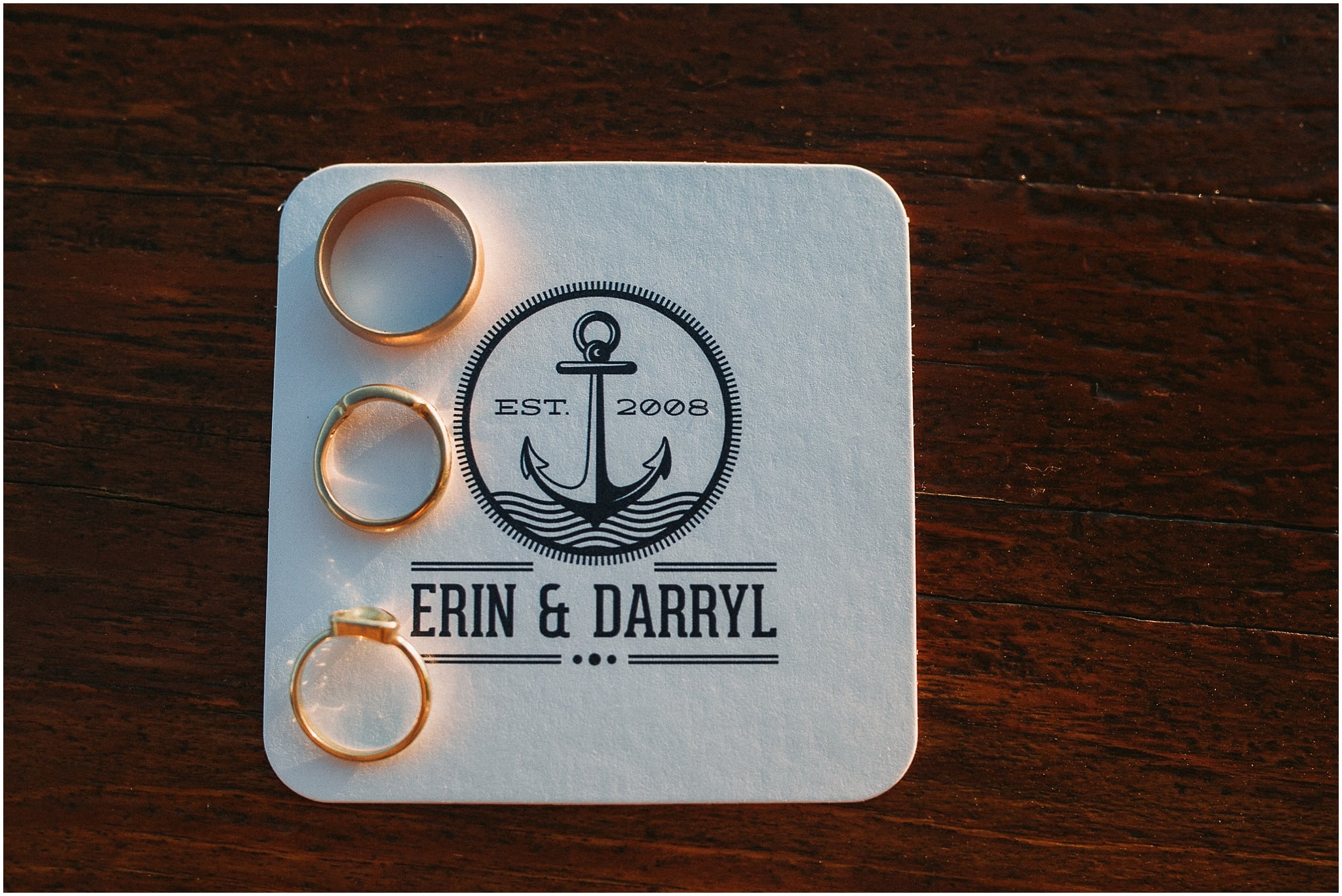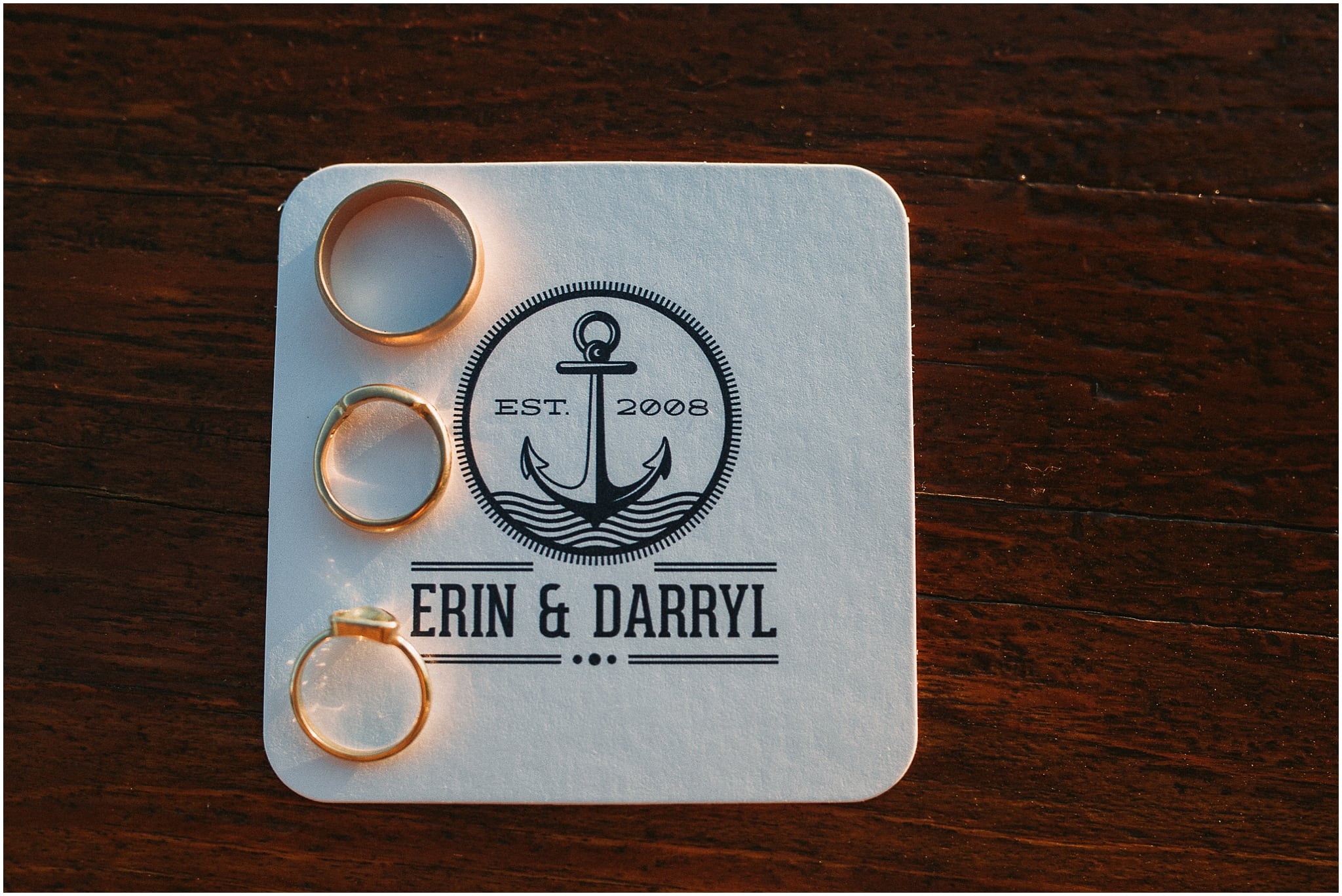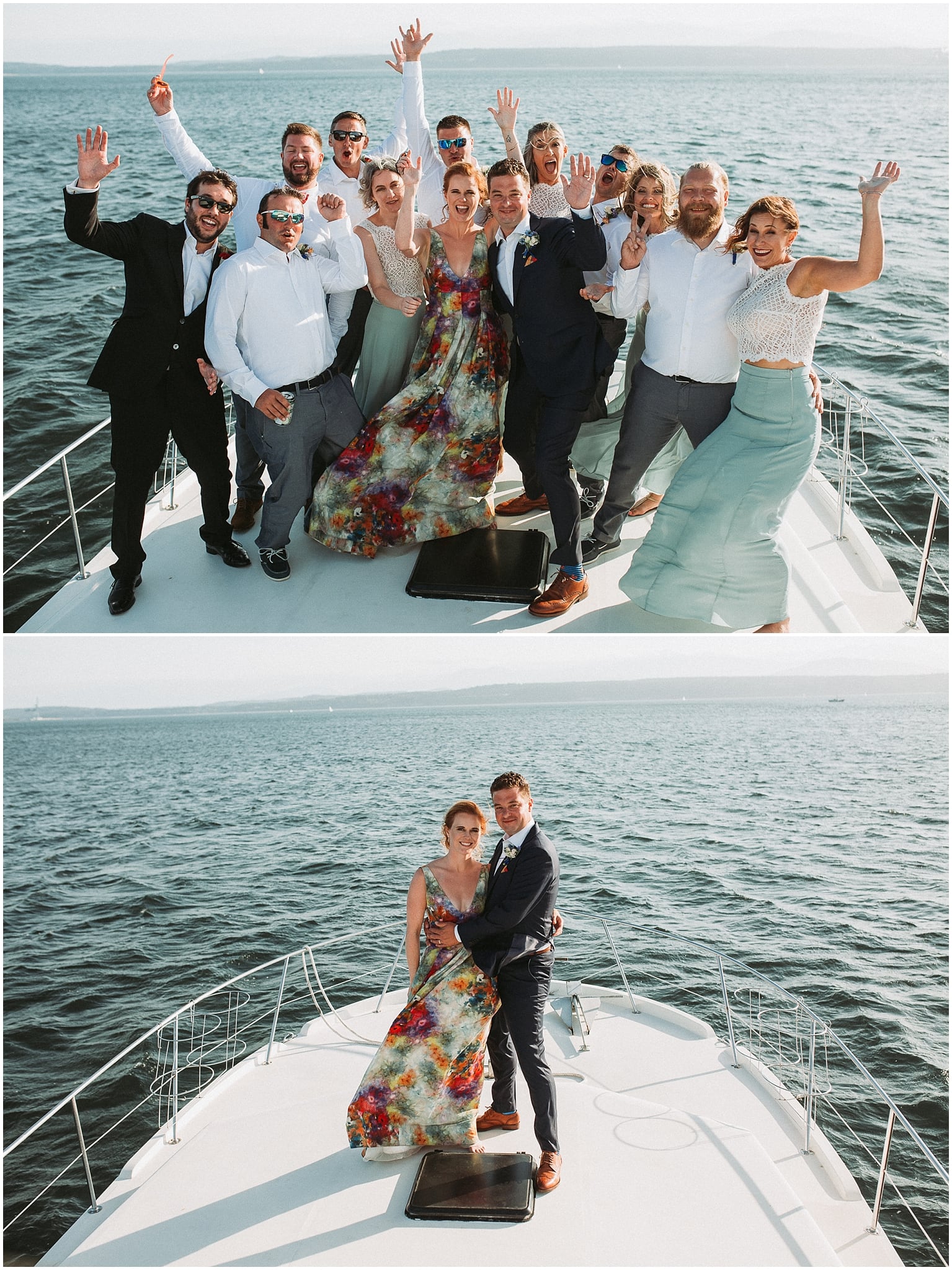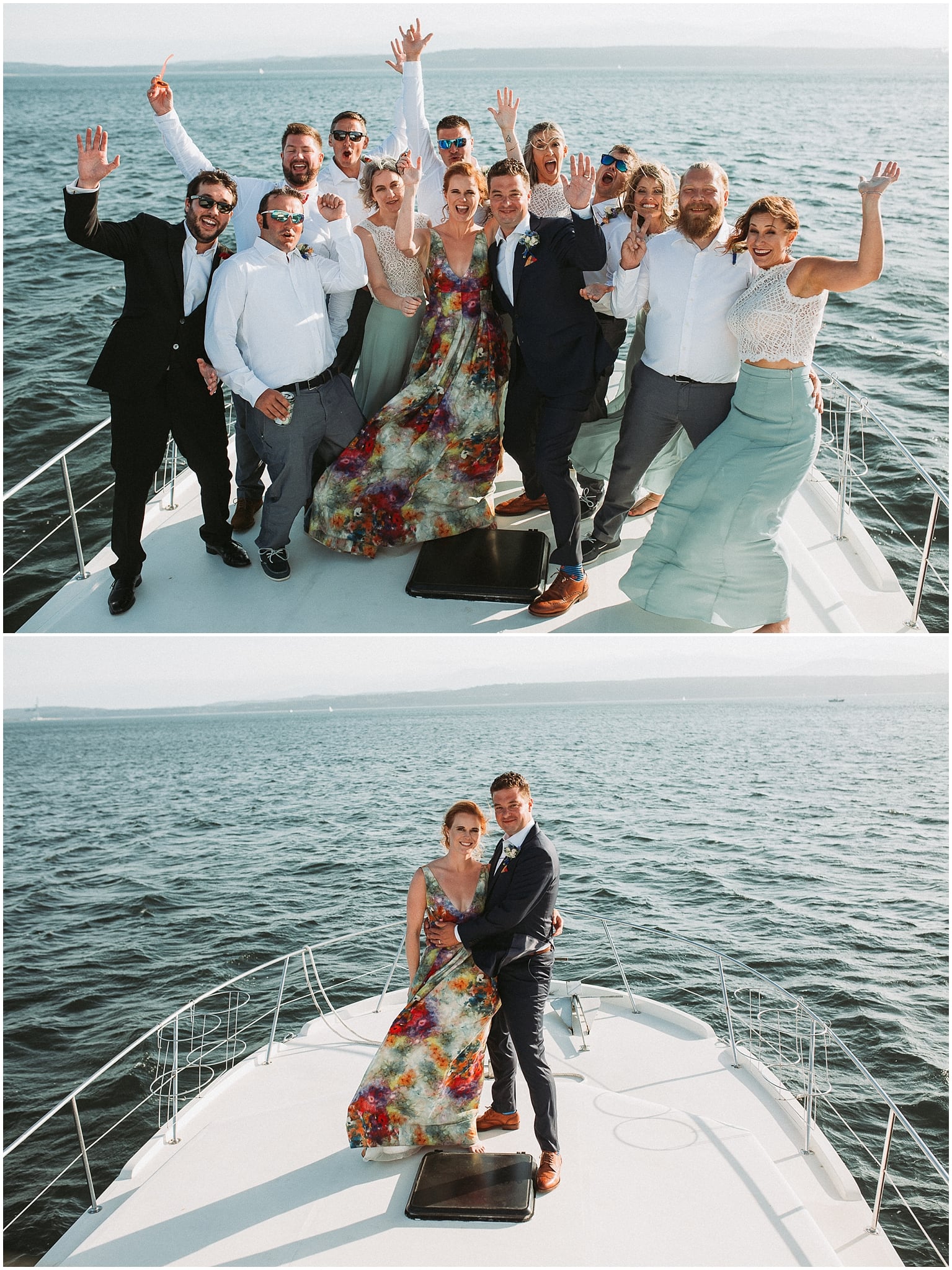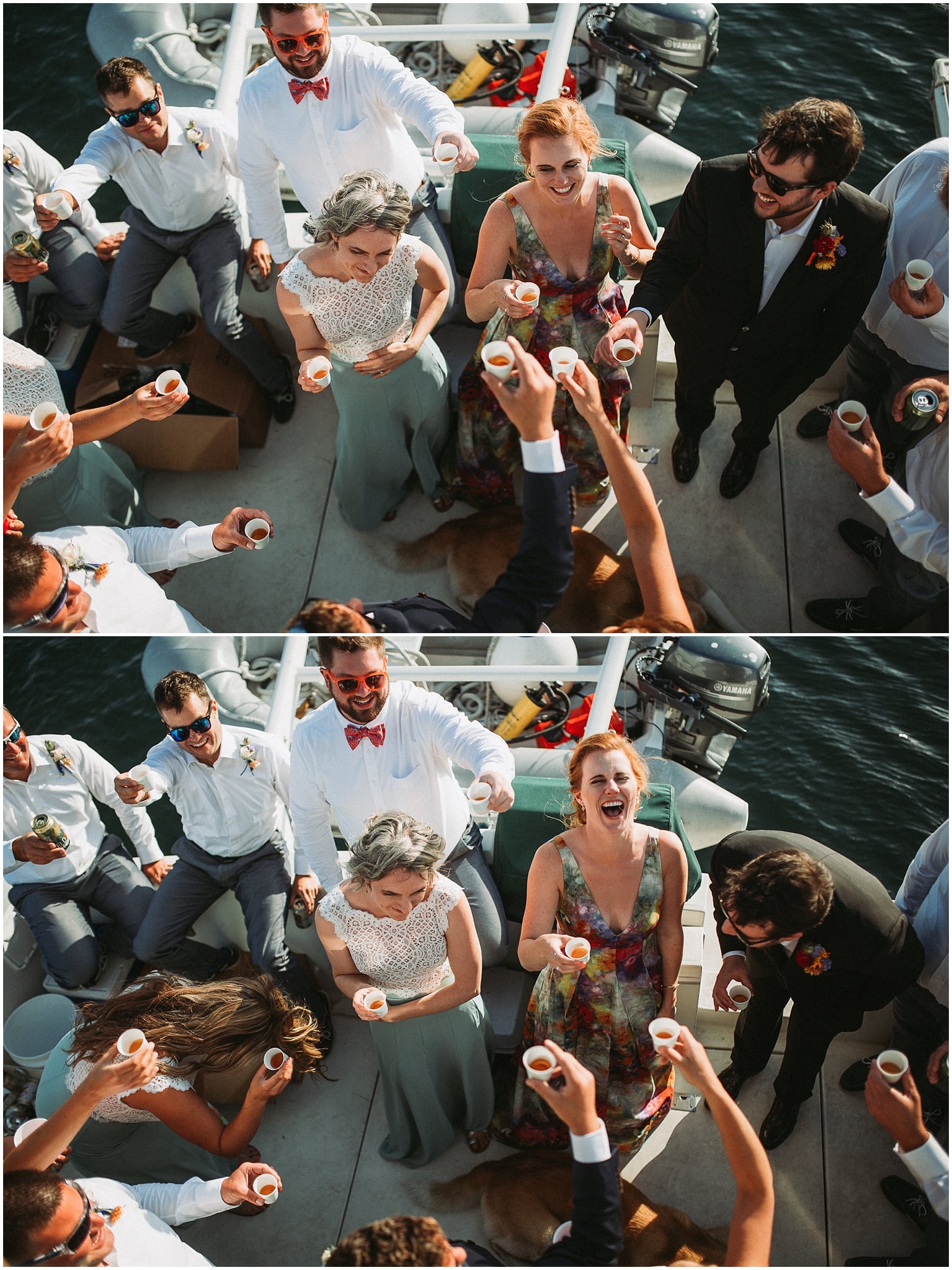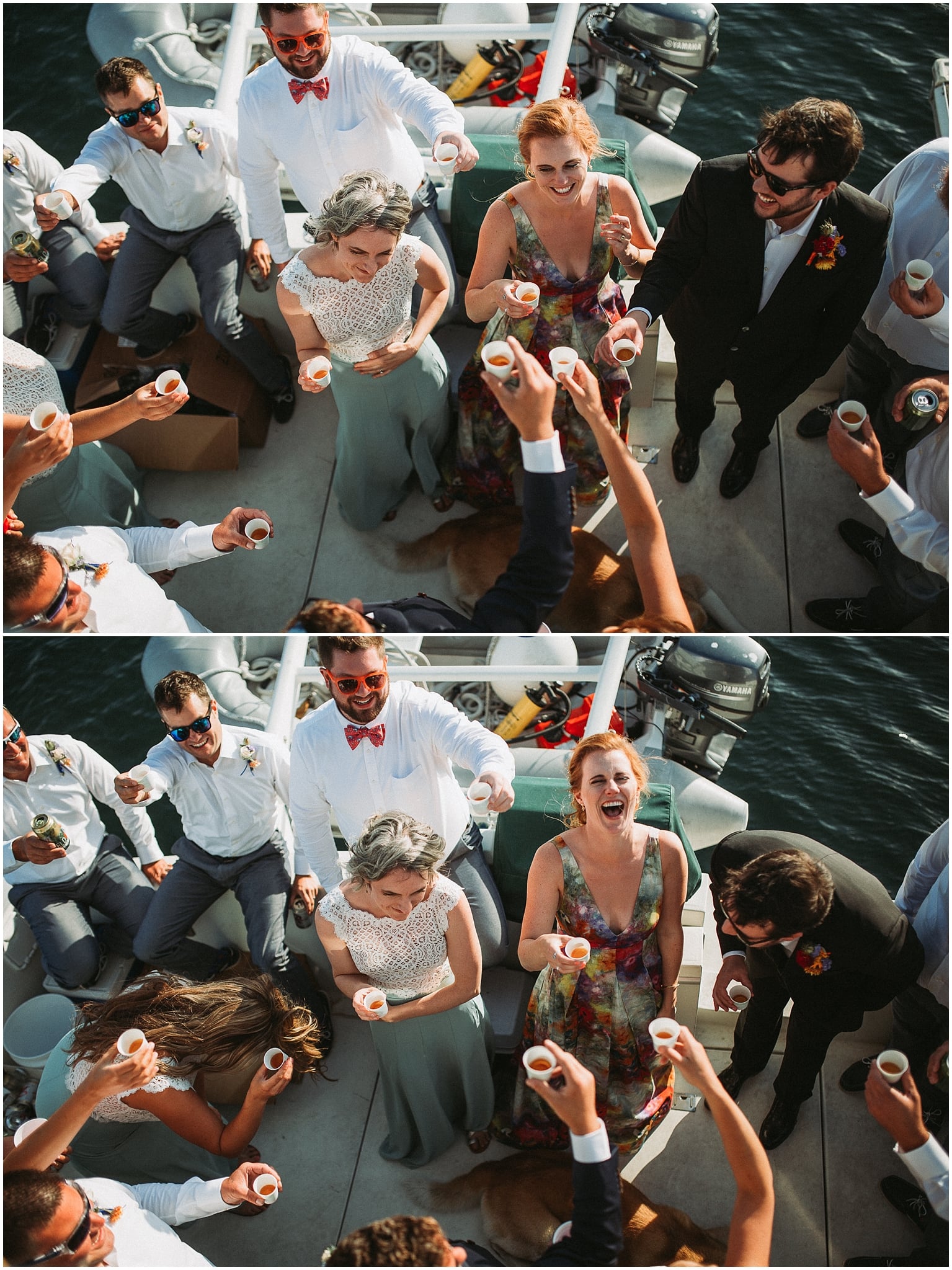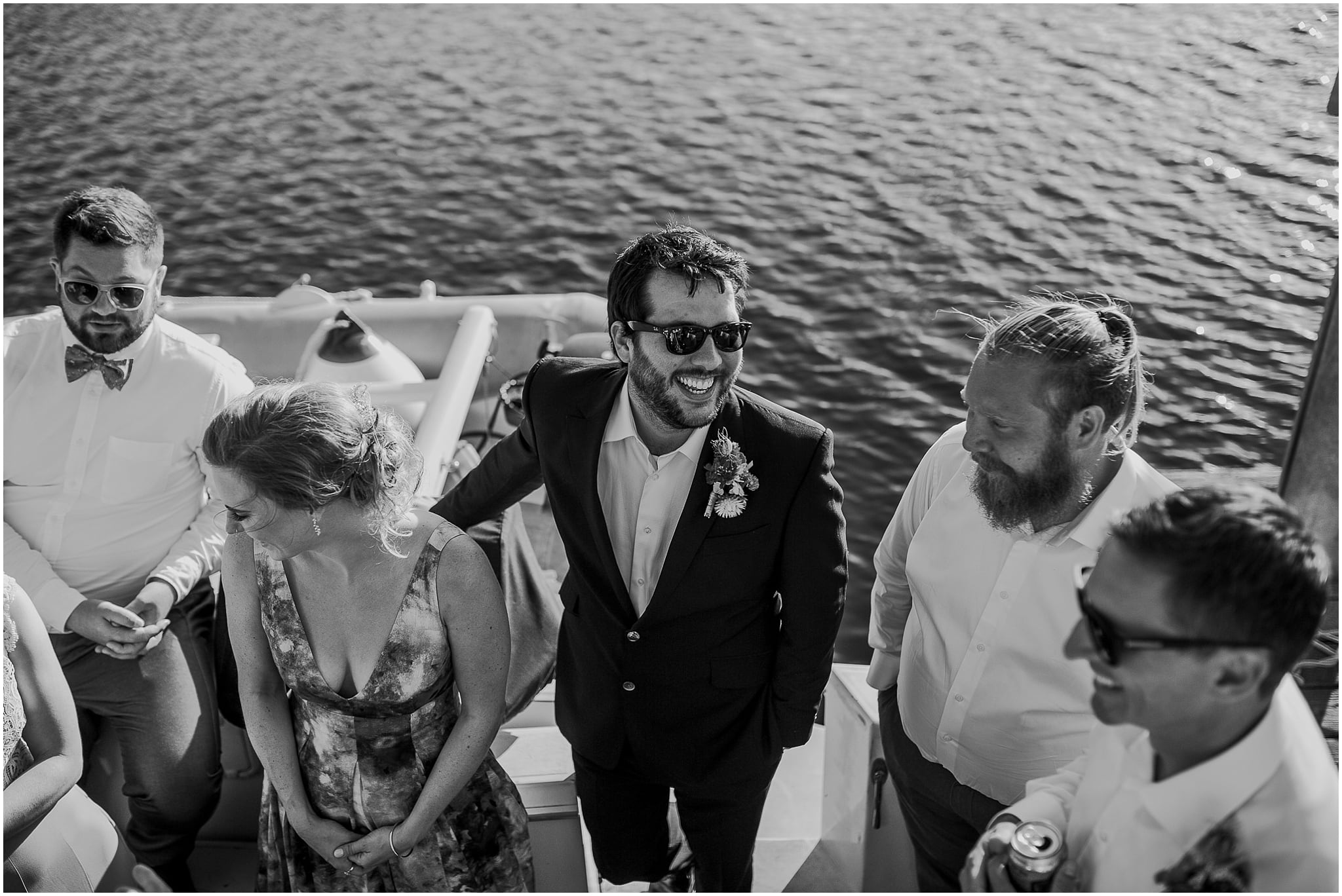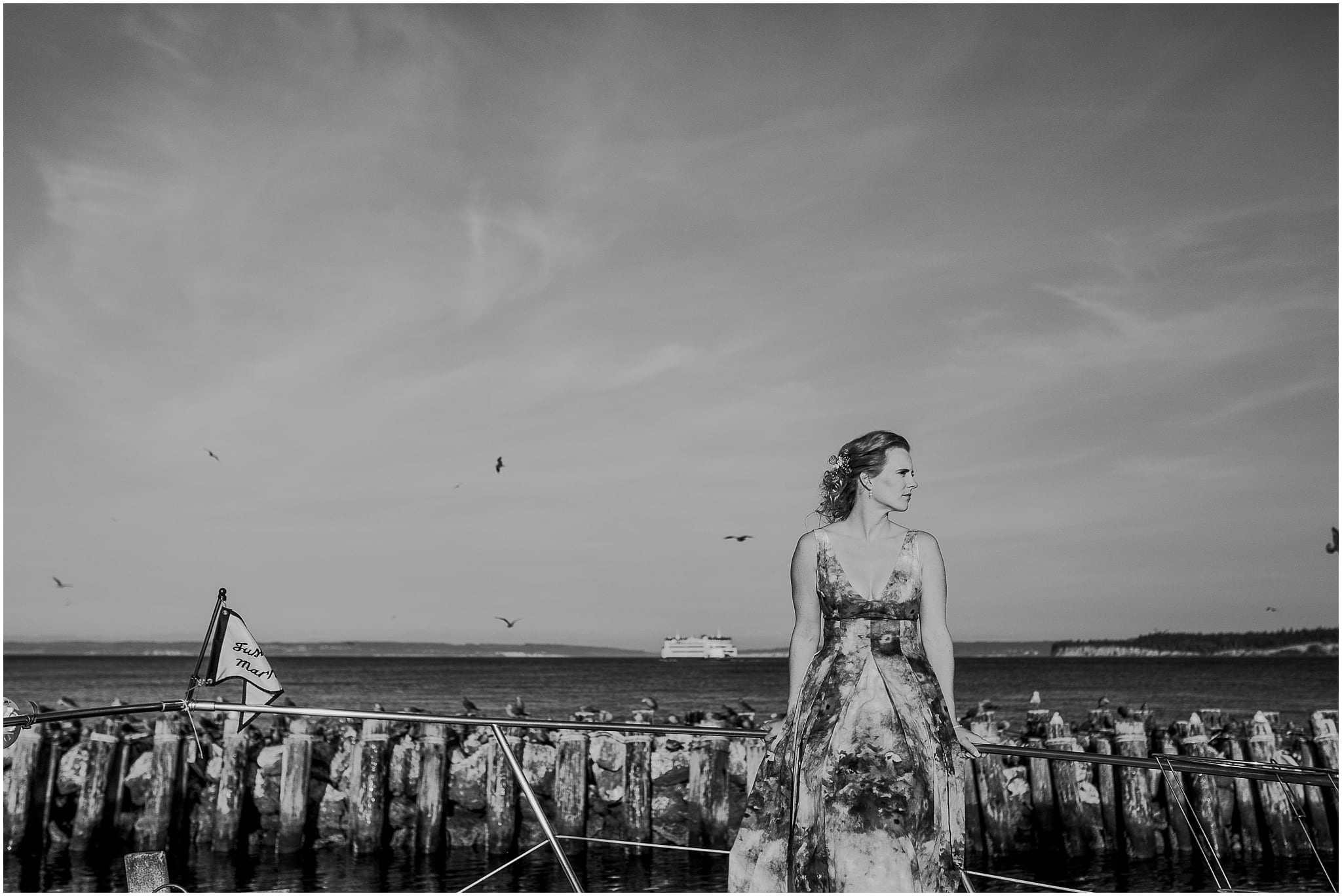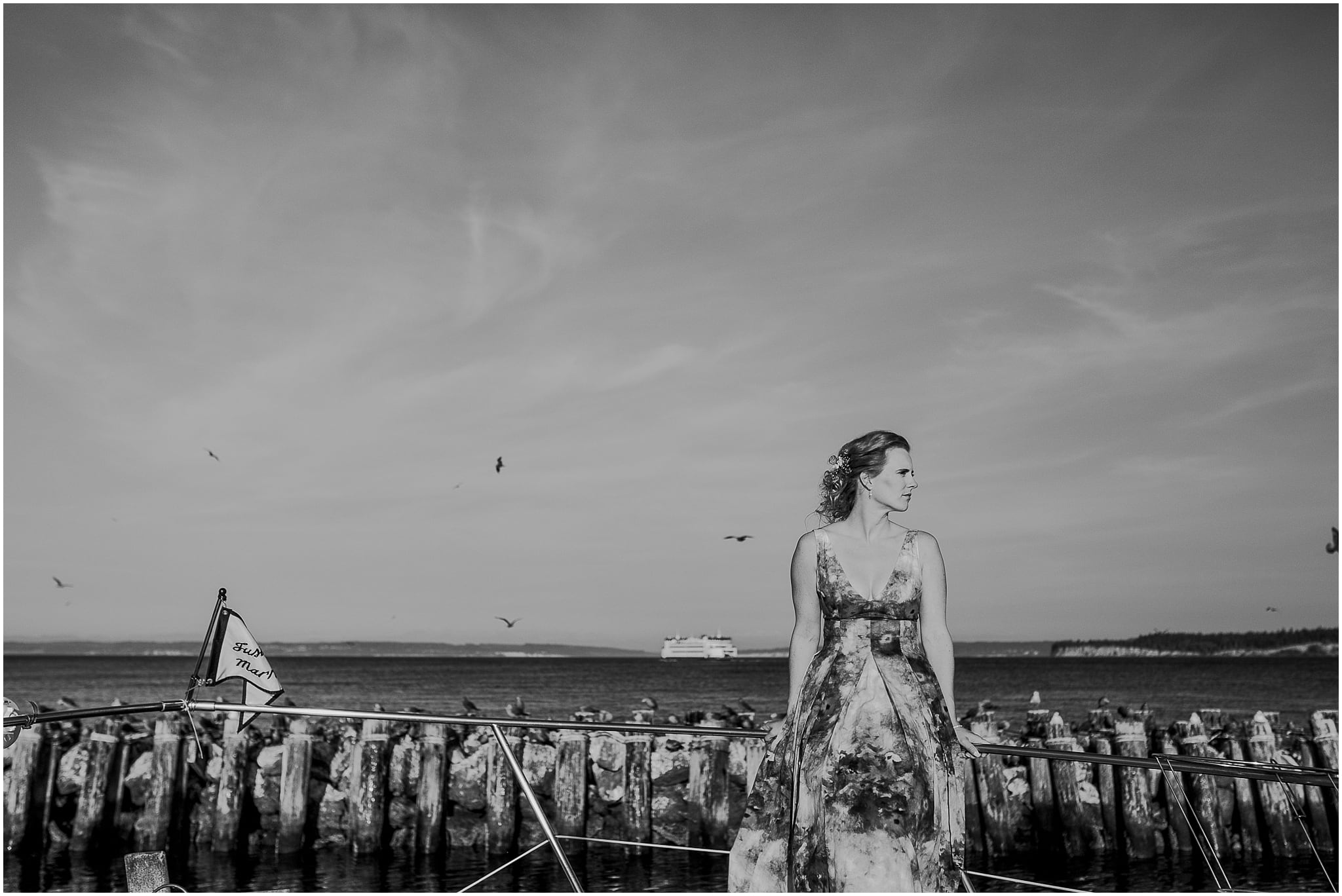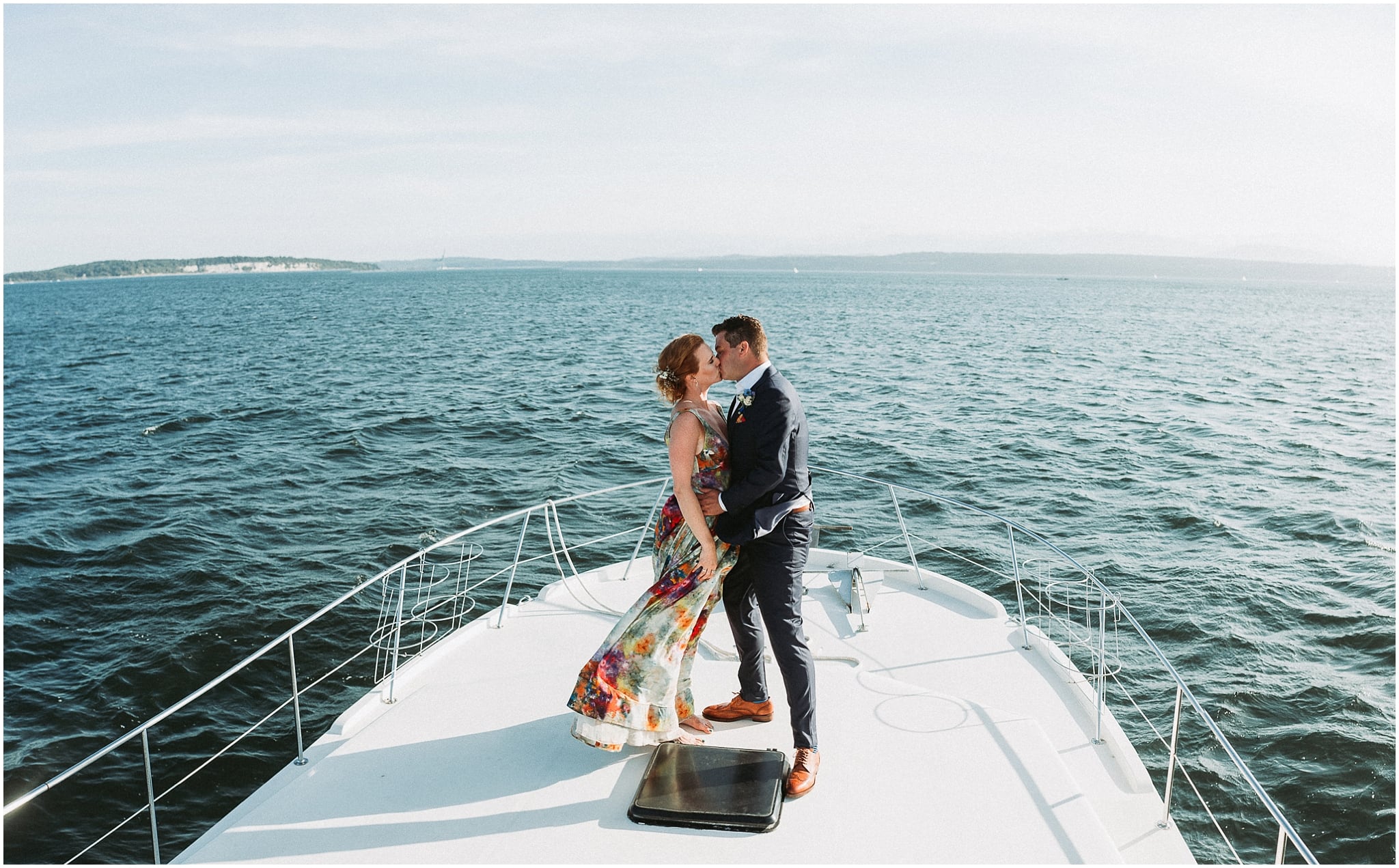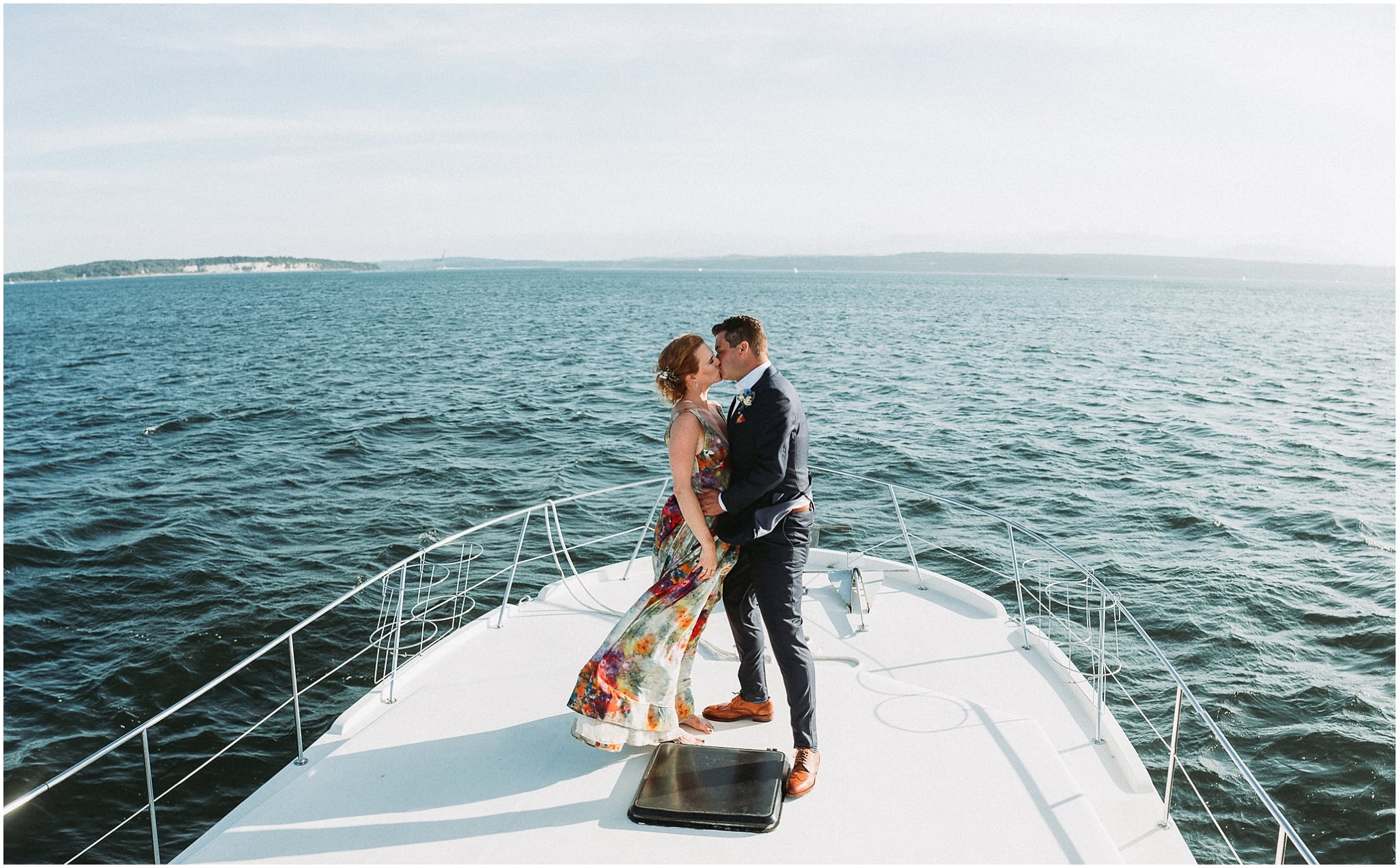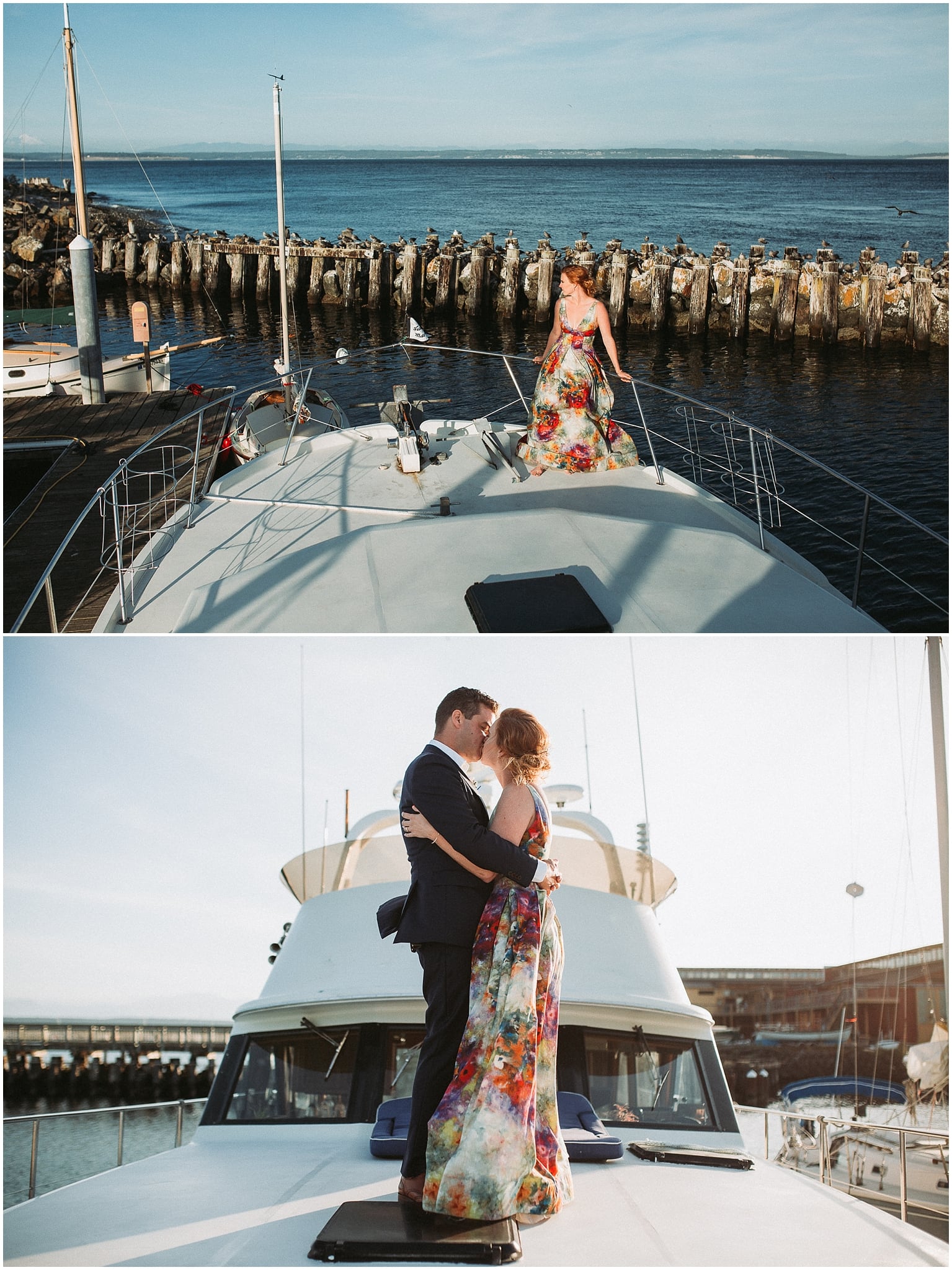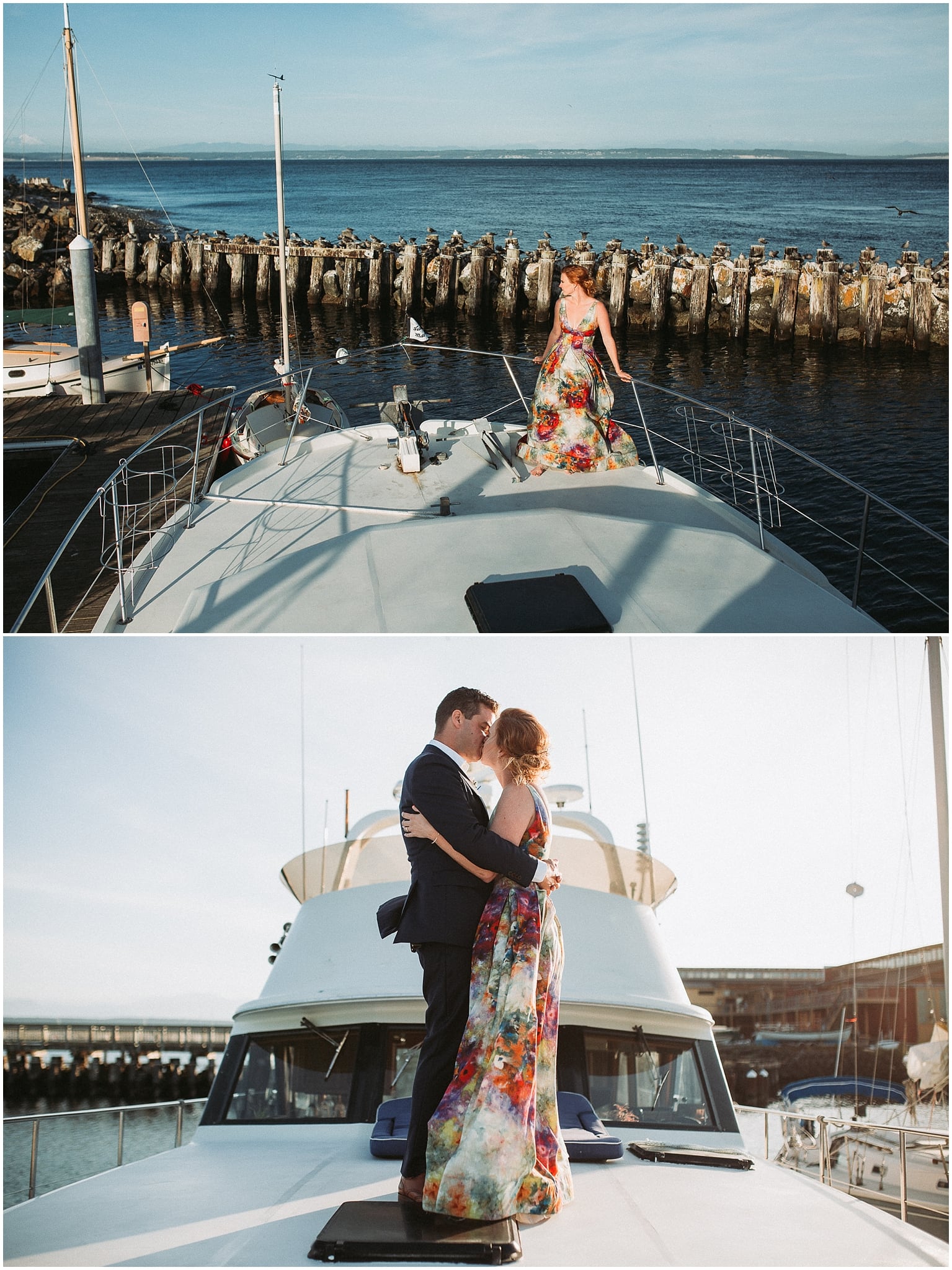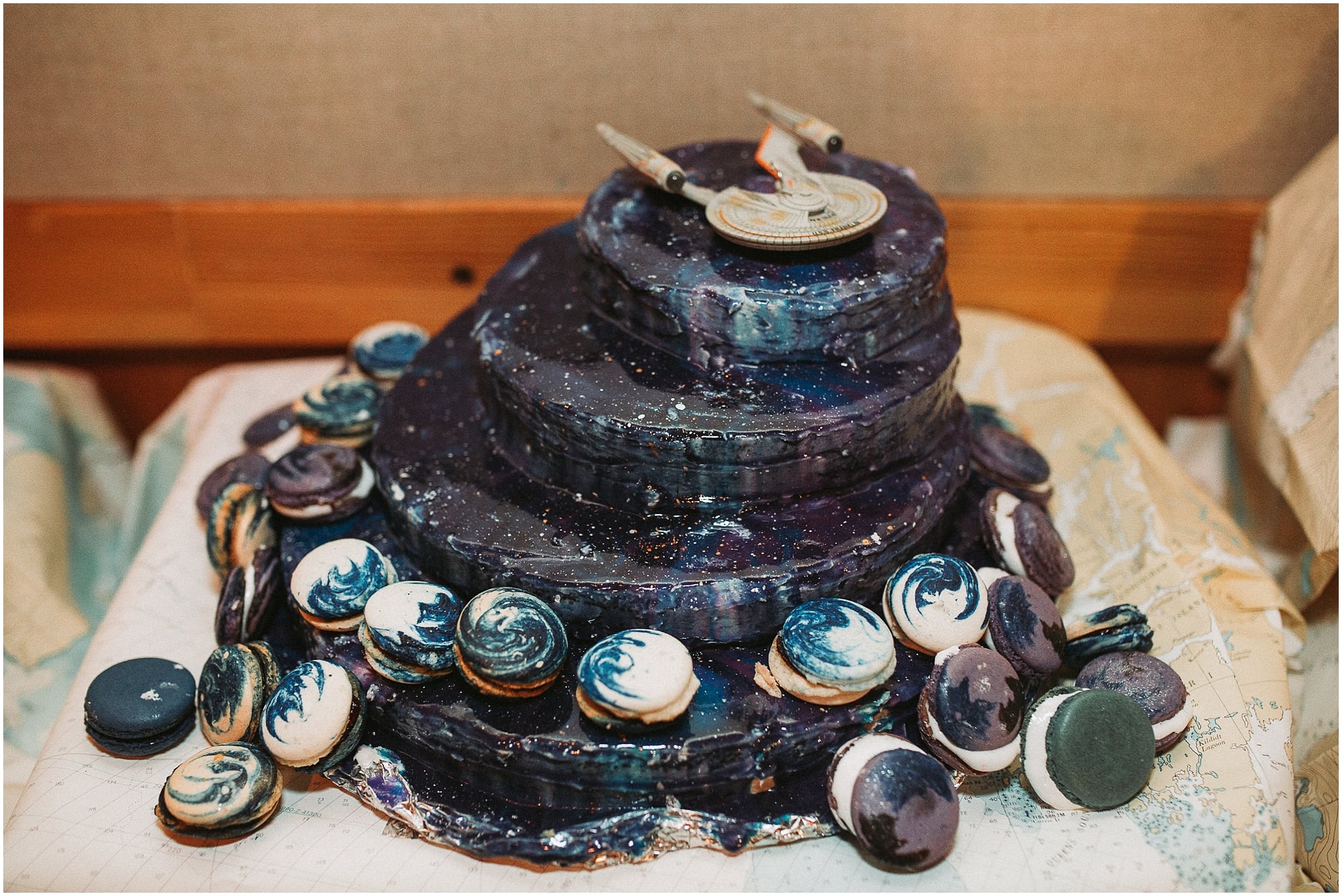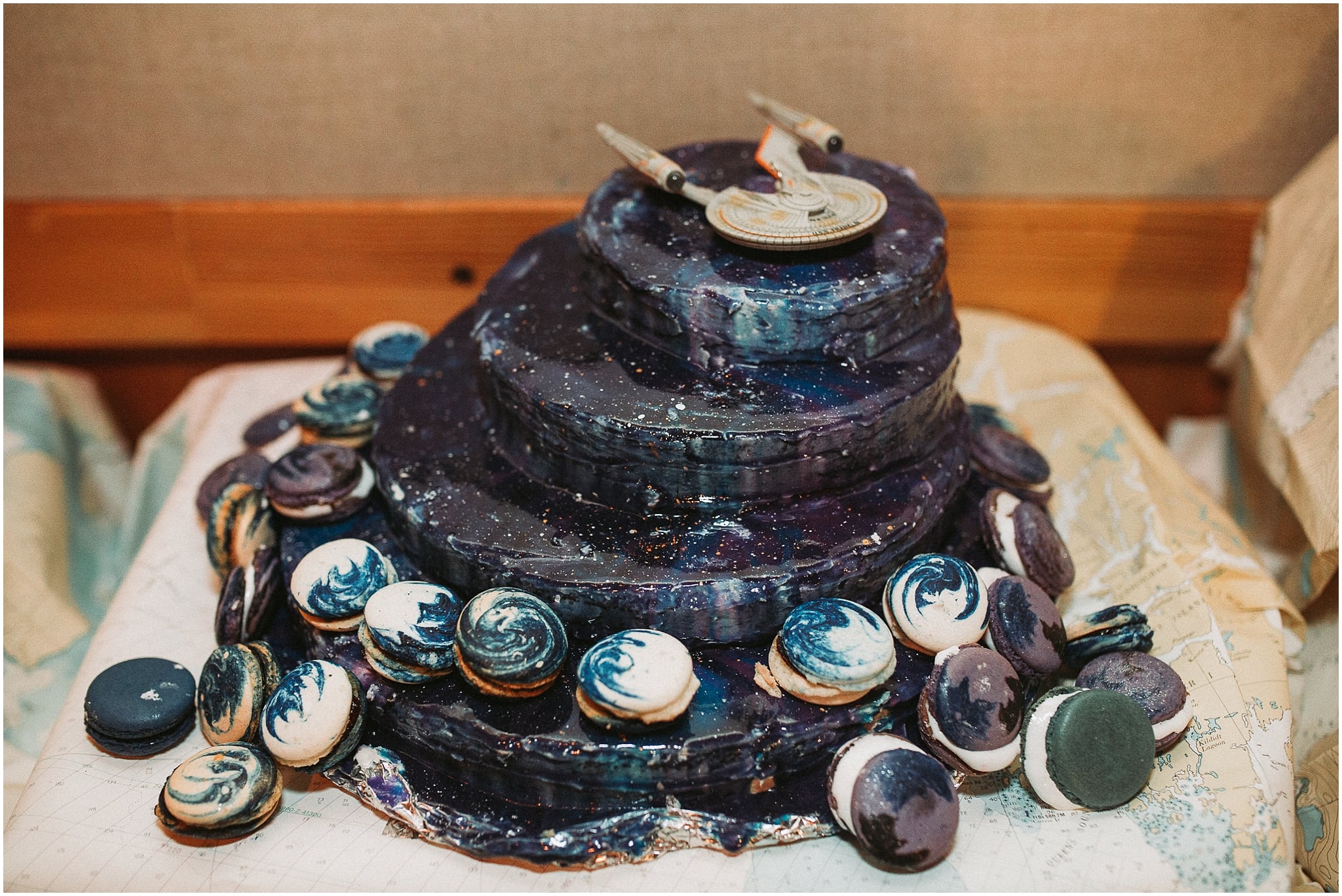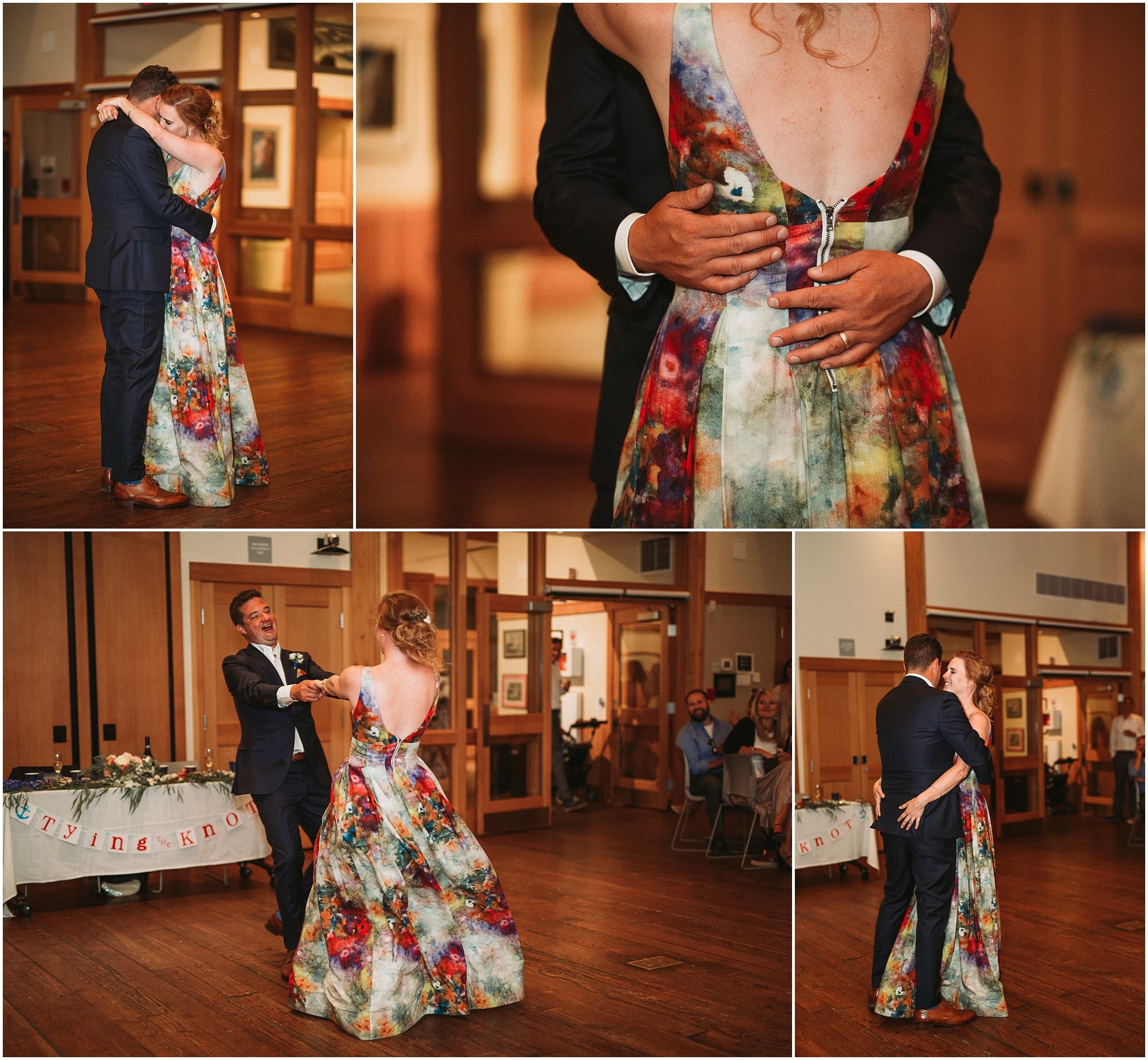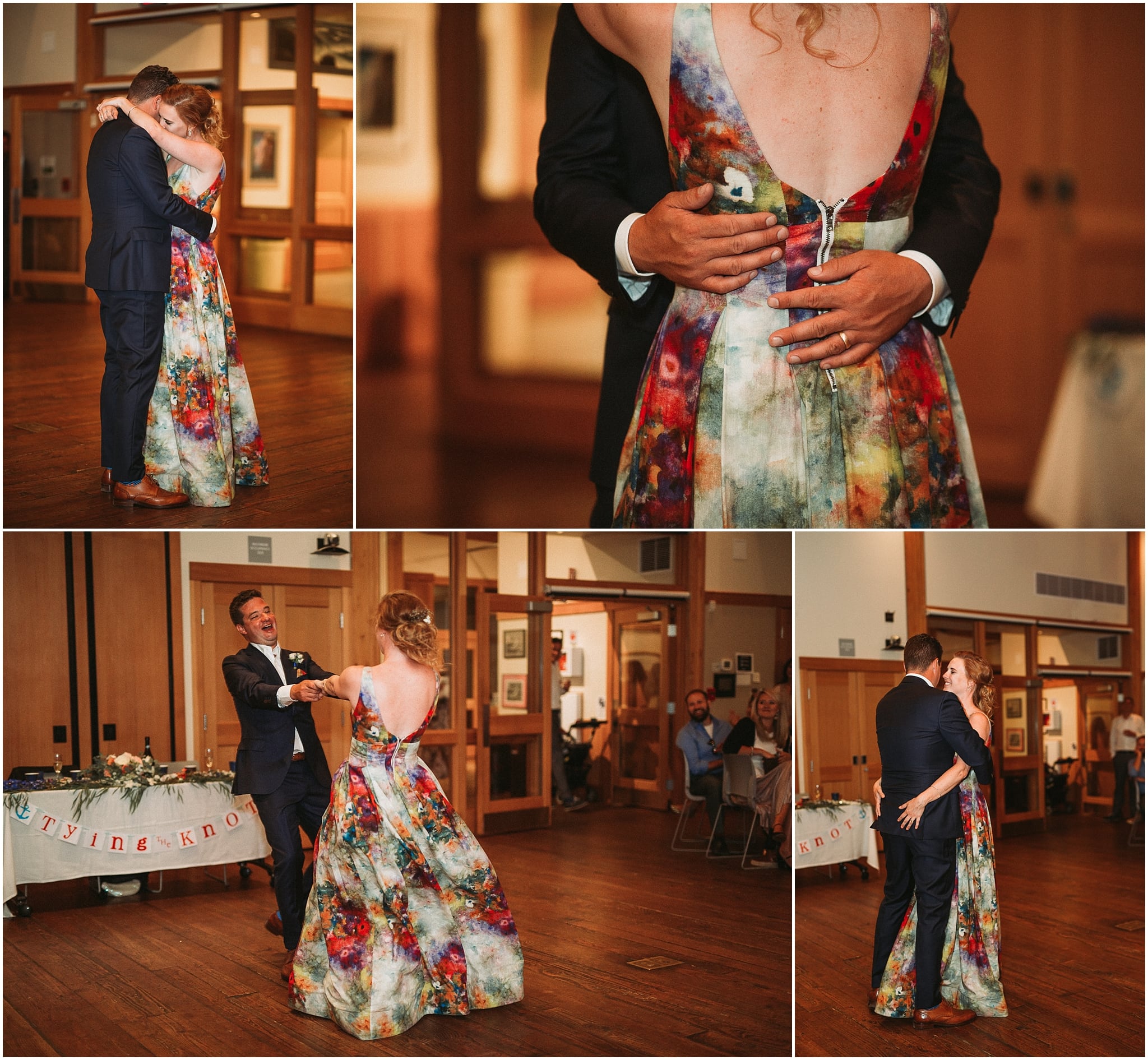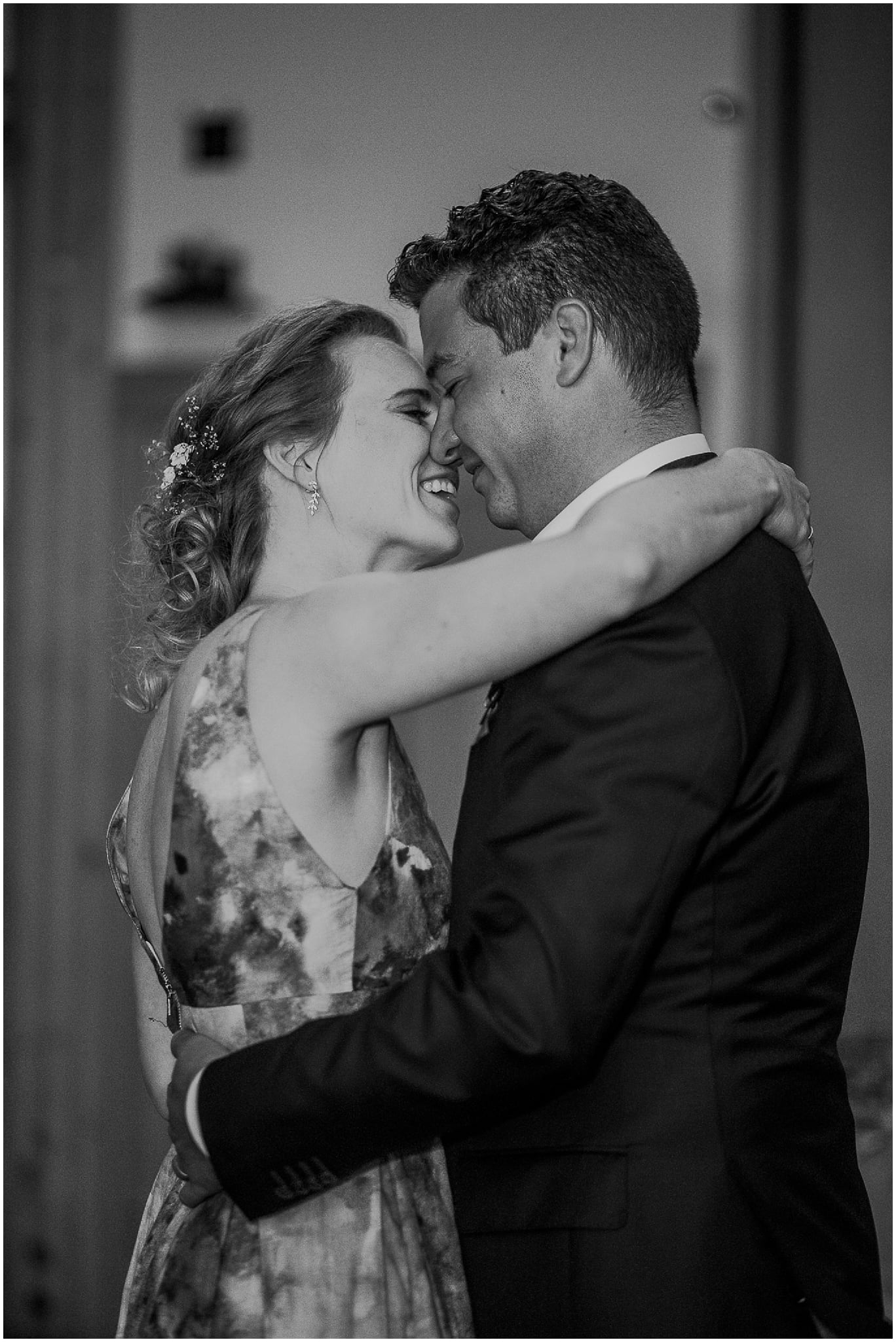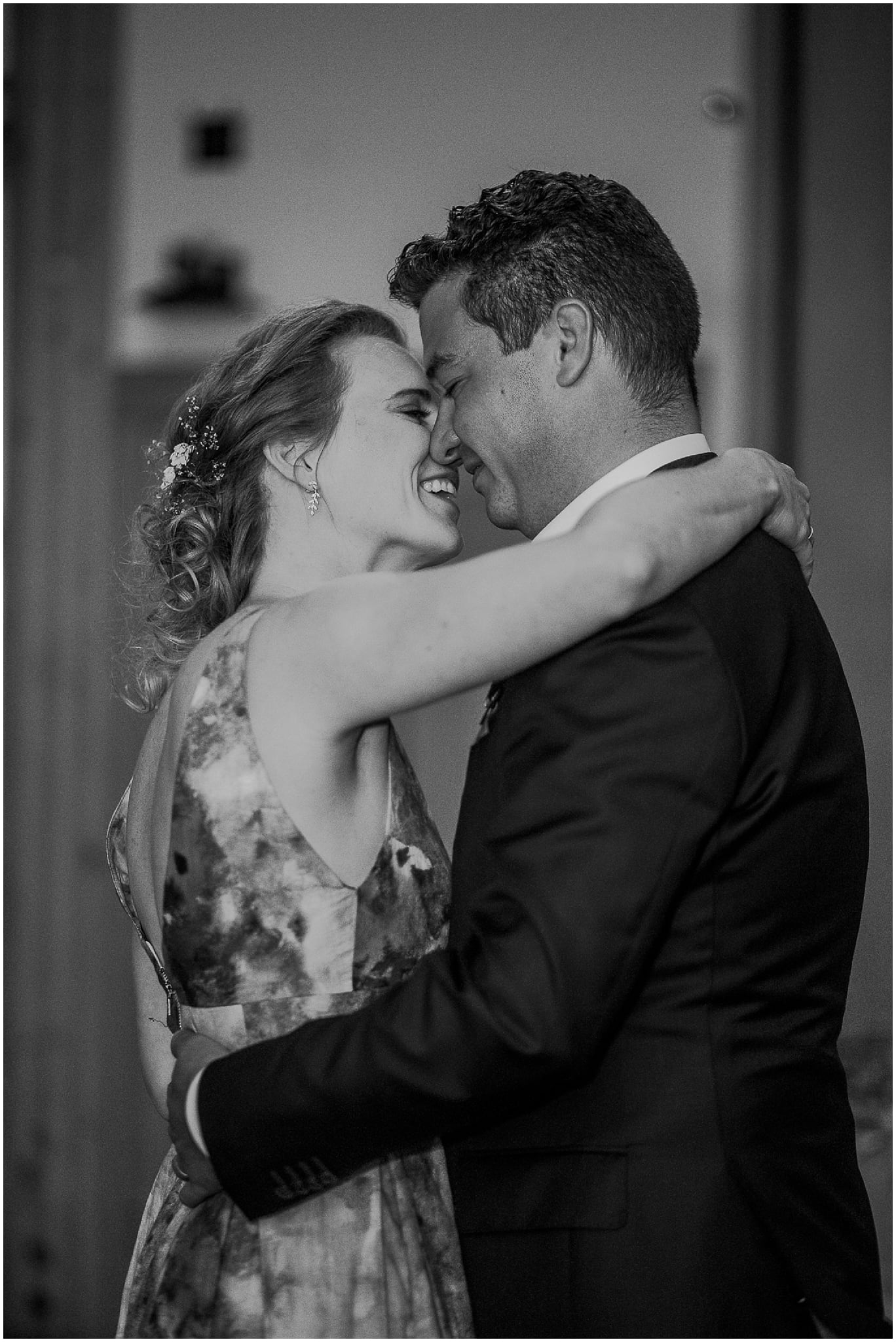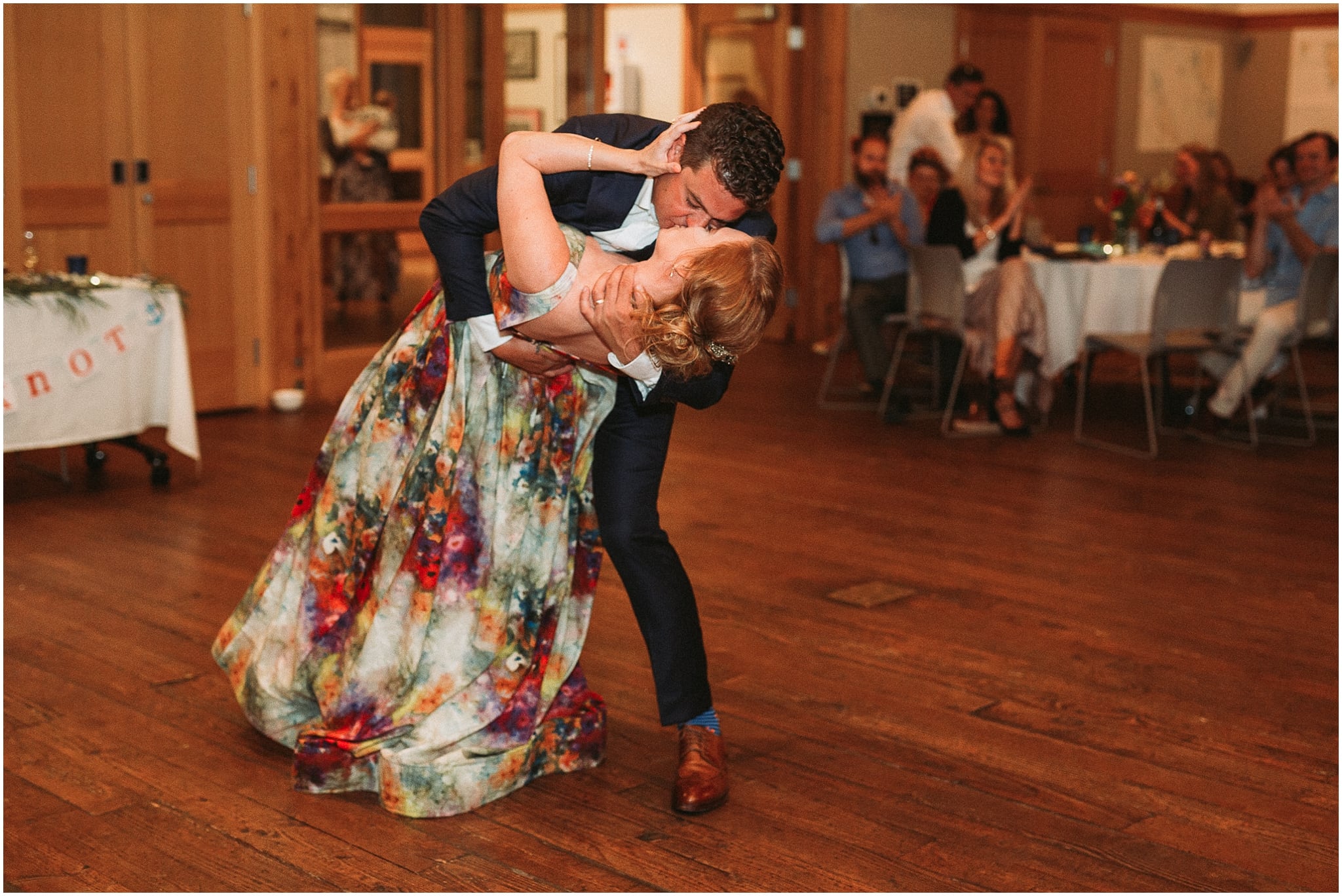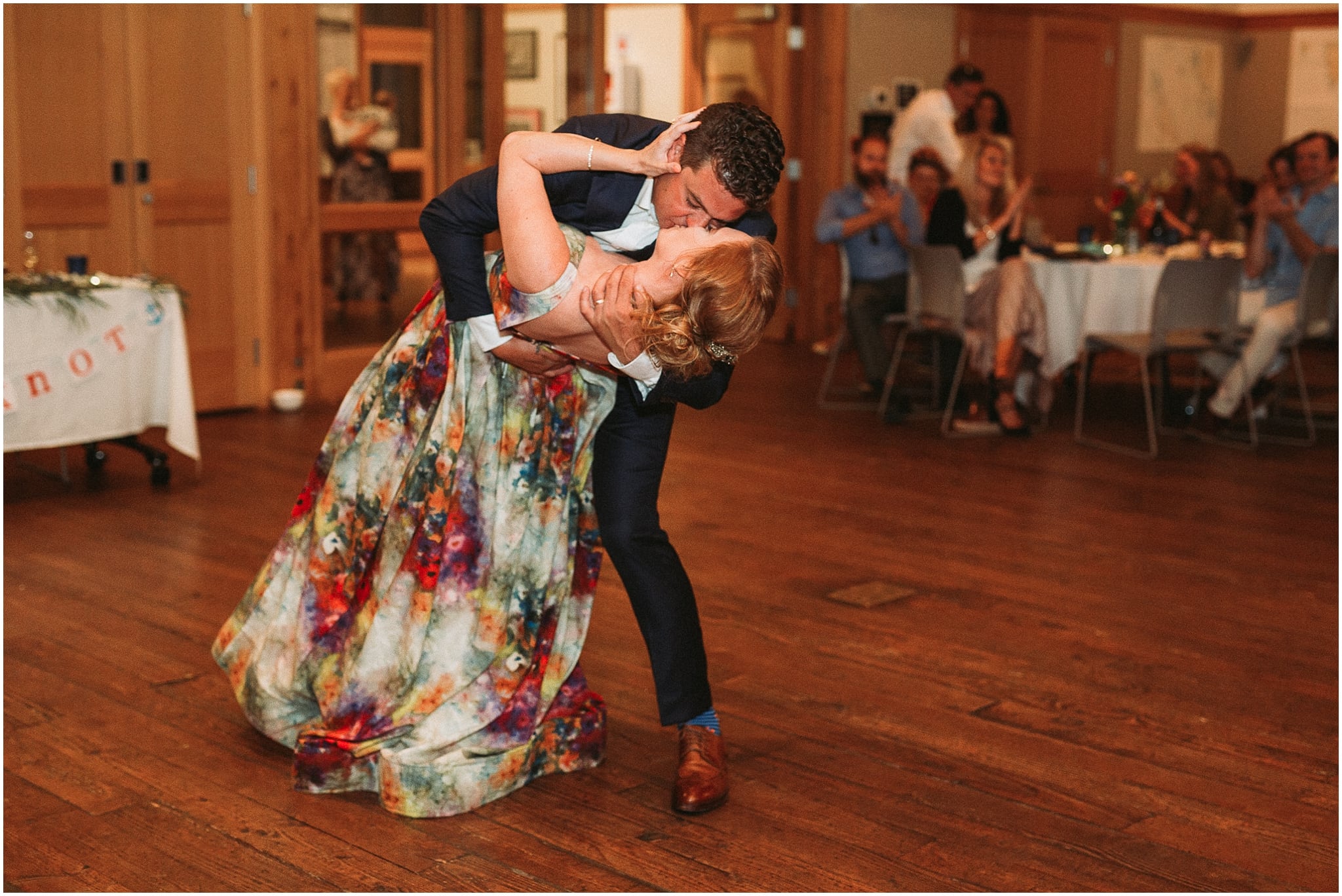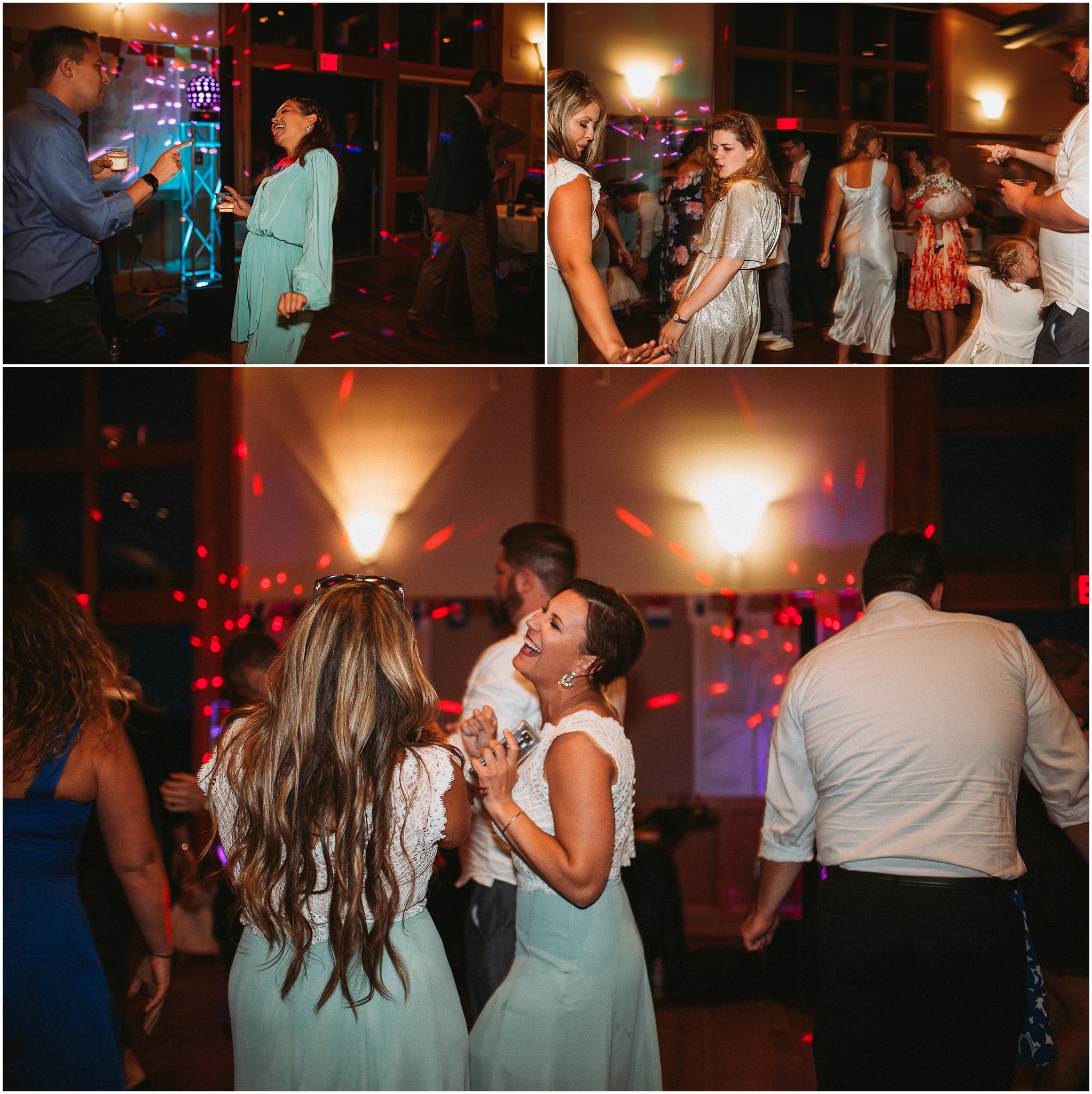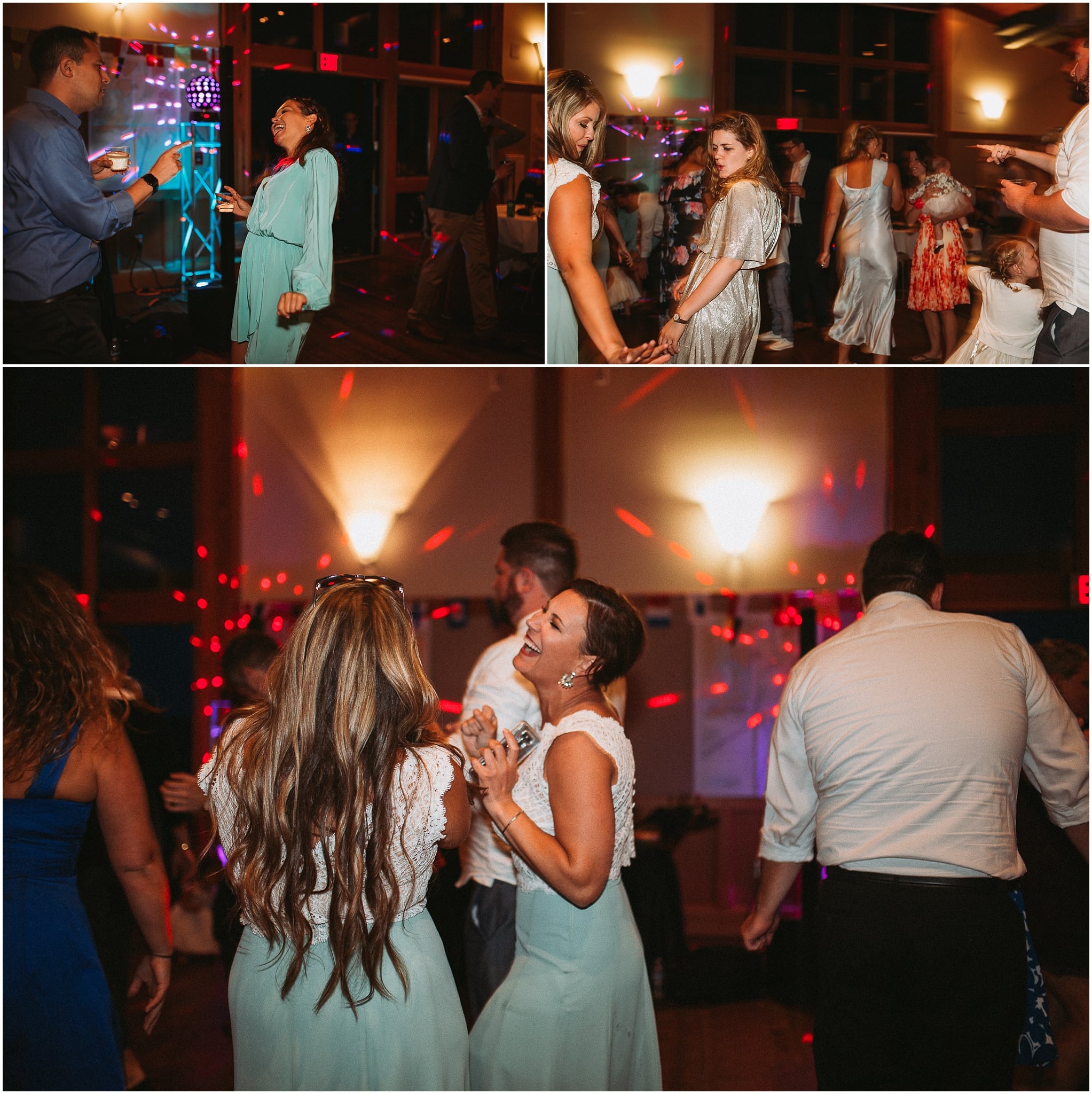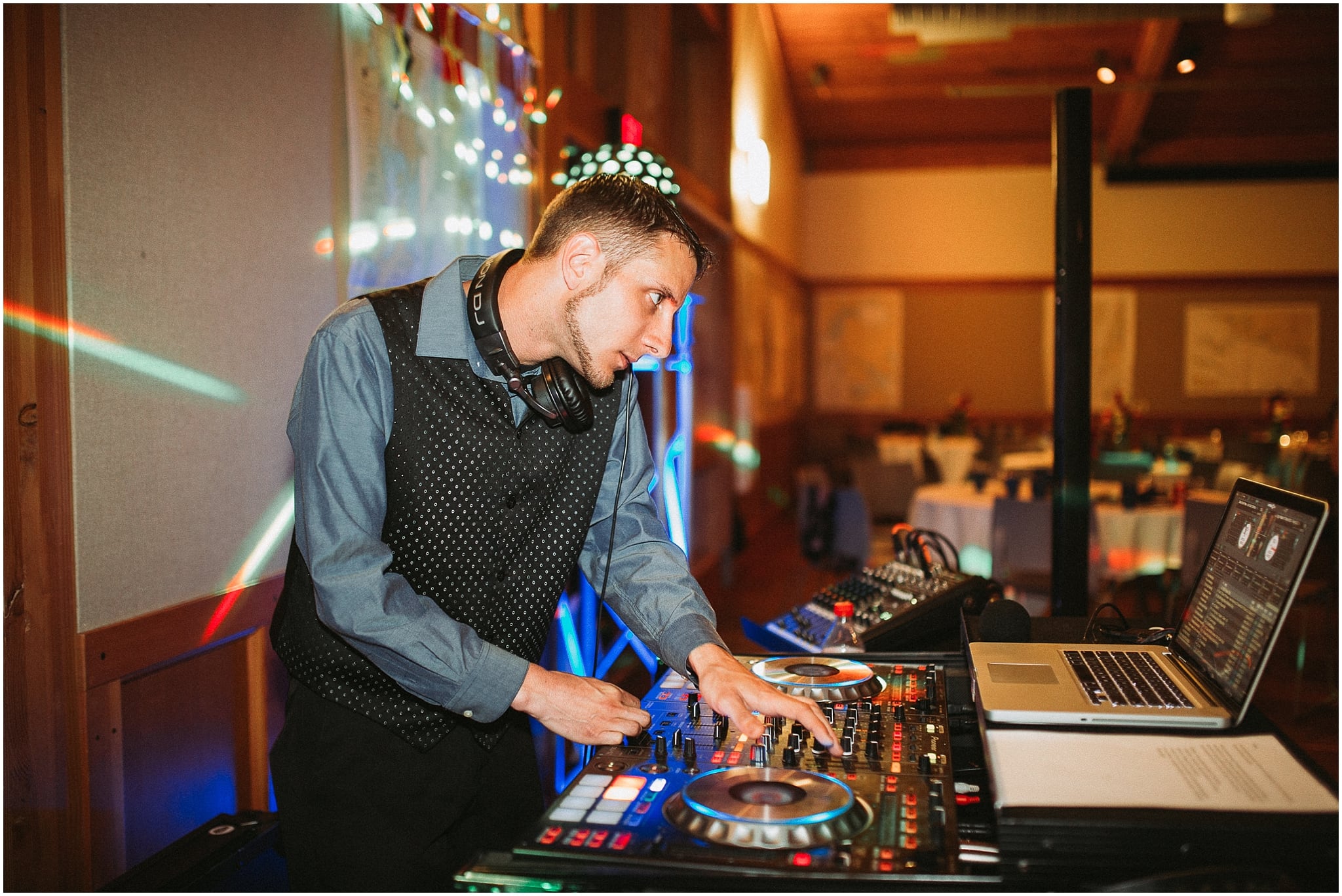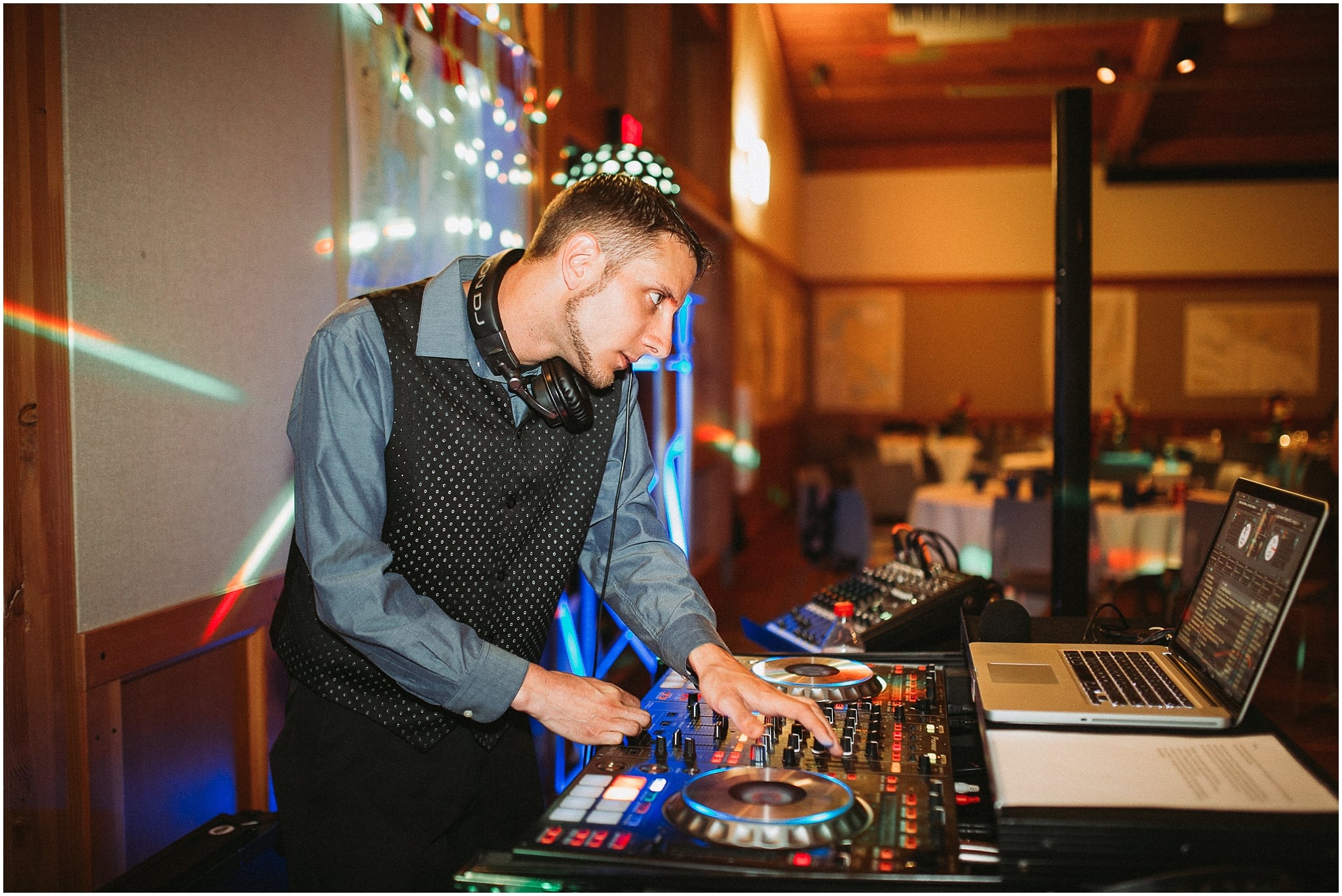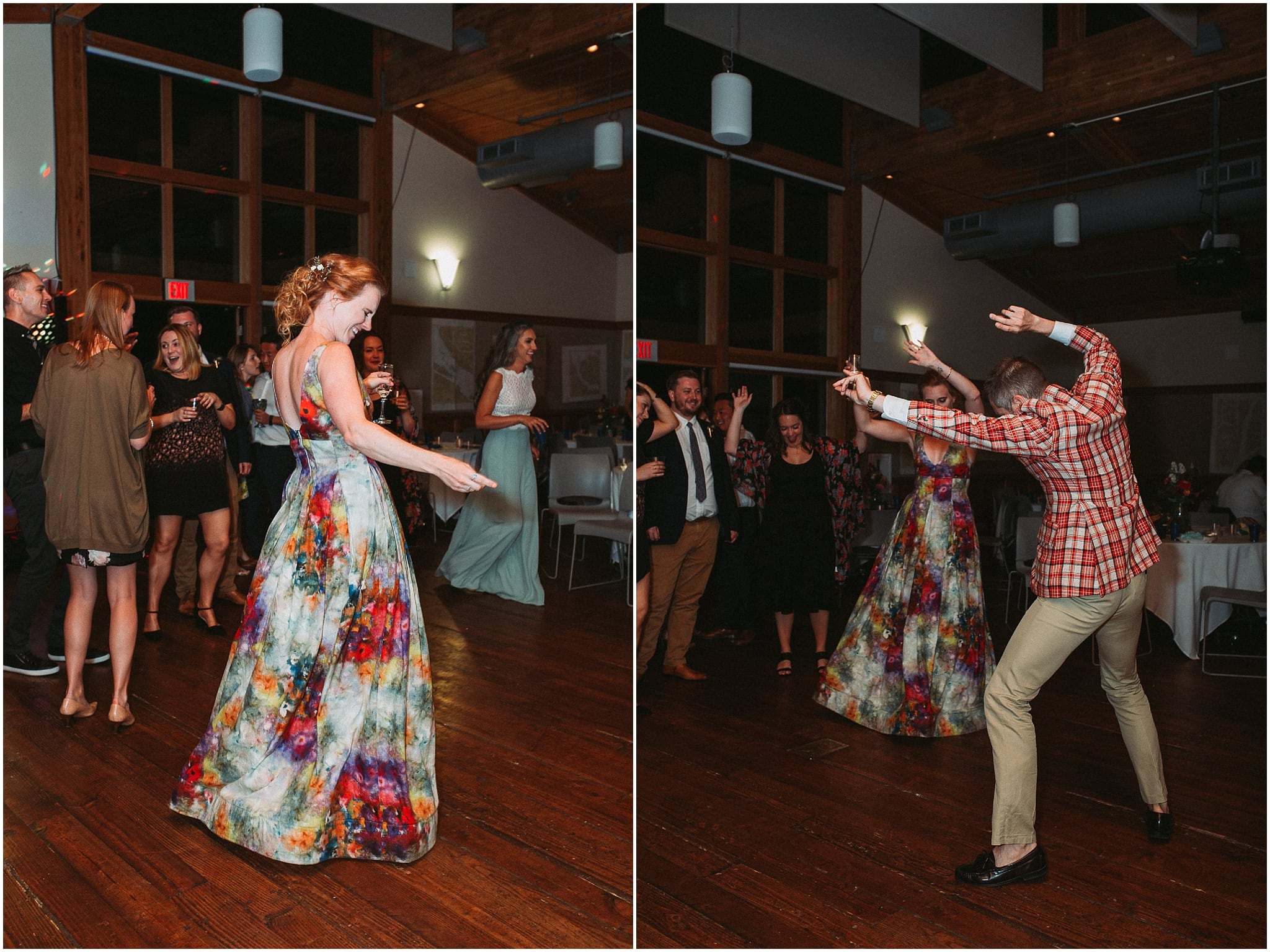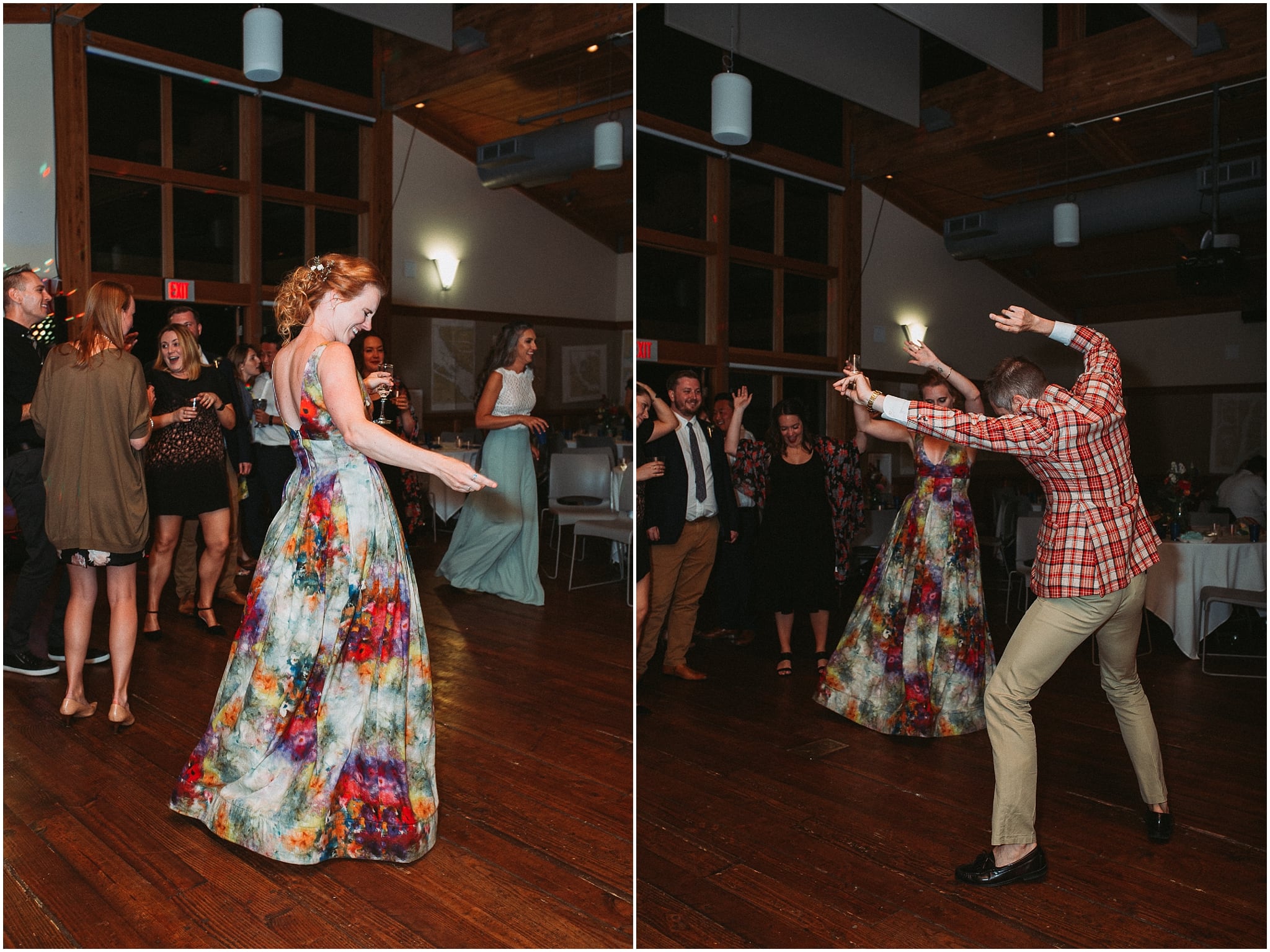 "The photos are incredibly gorgeous and really captured the energy and love that was a part of our wedding"