Incredible Helicopter Tour & Engagement Session in Alaska
This engagement session in Alaska was probably one of the most adventurous sessions I've done to date! From glaciers to helicopter rides, I felt so spoiled and it was such a pleasure to take photos for the most storybook-perfect couple ever!
Meet the Couple
Steven and Rachel grew up together in their Tennessee hometown. Rachel was the tag-along sister to her older brother and his best friend, Steven. As they got older, Steven and Rachel got to know each other on a deeper level and now they can't wait to spend the rest of their lives together!
The chemistry between Steven and Rachel is undeniable. They're the most gorgeous couple and couldn't stop smiling at each other the whole day! We told Steven that he looked like a cross between Chris Evans and Ryan Reynolds and he said he needed that ego boost. He really does look like them doesn't he?!
Steven works as a helicopter pilot in Alaska now – how cool is that?? – so Rachel met up with us in Alaska for this surreal and unforgettable engagement session. And yes, we took full advantage of having a pilot with us!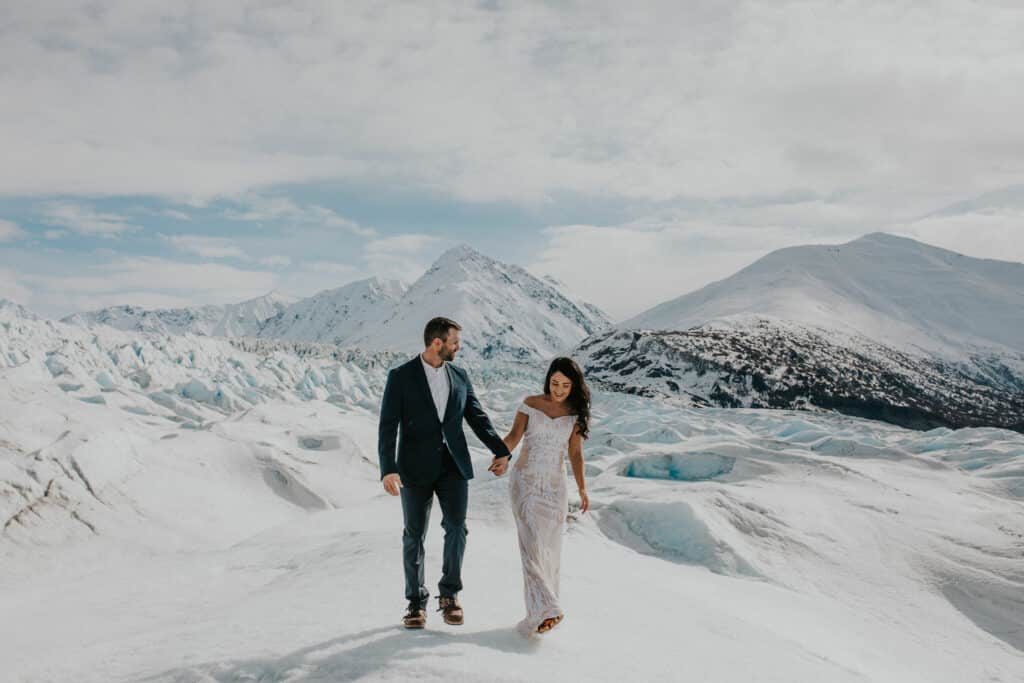 Helicopter Tour of Knik Glacier
We started the day at the Knik River Lodge where the helicopter tour's base is. I could not stop smiling when we took off (and for many hours after we landed)! The scenery flying over Alaska was just incredible, especially once we went over the Knik Glacier – it seriously looked like a painting. If you're thinking of an Alaskan elopement or engagement session, I highly recommend the helicopter tour route! Besides, I wouldn't mind getting the chance to do it again. This is easily one of my favorite places I've ever been to.
Since Steven told us we wouldn't need our big heavy coats and mittens, we went without and were so glad we did! Because of the way the sun reflects off the snow, it was in the mid 50's the whole time we were up on the glacier! All we needed were some crampons to keep our footing and we were good to go.
We got some amazing photos featuring the helicopter, the glacier, and even this really cool frozen pond that was almost turquoise! I could have stayed up on that glacier all day, but eventually it was time to head to our next destination so we reluctantly headed back to the lodge.
Matanuska River Park
Without the glacier effect keeping us warm, we bundled back up in our coats and gear before heading to Matanuska River Park in the Palmer, Alaska area. Rachel braved the cold and changed into a more flowy tulle dress for these photos. This spot had some really unique logs on the Matanuska river shore. With the mountains in the background, it gave us the perfect Pacific Northwest vibes! It's amazing how a completely different – but no less stunning – location was just a helicopter ride away. The diversity of the Alaskan landscape is awe-inspiring!
Eklutna Trailrace on the Knik River
After a quick lunch at Subway to beat the hangries, we left town and went to a beautiful spot on the Knik River called the Eklutna Trailrace. Rachel swapped into a moody green dress for this final destination and even added a gorgeous floral crown. She looked like a nature goddess, and it was the perfect dark contrast to the bright white snow.
Eklutna Lake
For our last location of the day we went to Eklutna Lake. Since the lake was thoroughly frozen over, we walked out on it for some killer shots that are only possible in Alaska. We were wrapping things up with some Dirty Dancing recreation attempts (marginally successful) when golden hour hit. We couldn't resist staying a bit longer to get some closeups with the warm, glowy lighting!
See You Soon, Alaska!
Parting ways was definitely sweet sorrow, because we know we'll be back! Jesse and I wanted to live up there for part of the year, it was just so amazing. Alaska has taken a piece of us and we will be back!
Want to help give us an excuse? Book an elopement or engagement session with us in Alaska and we'll meet you there!