Alyssa & Matt – Ruby Beach Adventure Session
Goodbye Texas, Hello Ruby Beach!
An Engagement session on the beautiful Olympic Peninsula, Ruby Beach
Alyssa & Matt are about as sweet as you can get. They made the trek all the way here from Houston. But since her mom works for the airlines they got here for basically free! Cool huh? Since they decided to do their session up here they were very open to my suggestion as to where to go. Unfortunately, at the time Hurricane Ridge was being covered in beautiful snow and the road was closed. So instead we decided to head out to the ocean. If you have never been to Ruby Beach you are missing out!
Ruby beach is situated almost as far left and up as you can get in beautiful Washington state.  The drive is completely worth it.
You have to see the amount of drift wood there.  I don't think I have ever seen so many logs crammed together in one place.  It really gives you perspective that all of those logs had to come from somewhere but all ended up here.  Pretty powerful stuff.  Anyways…
The sea stacks are beautiful. The tide was so far out we could go to all of them too.  Sometimes here, the situation is perfect where you can actually see the reflections in that beautiful glass like water shimmering on top of that perfect sand.  The Olympic peninsula is truly a place for lovers and a place to find peace.
Come follow along we our little excursion out west..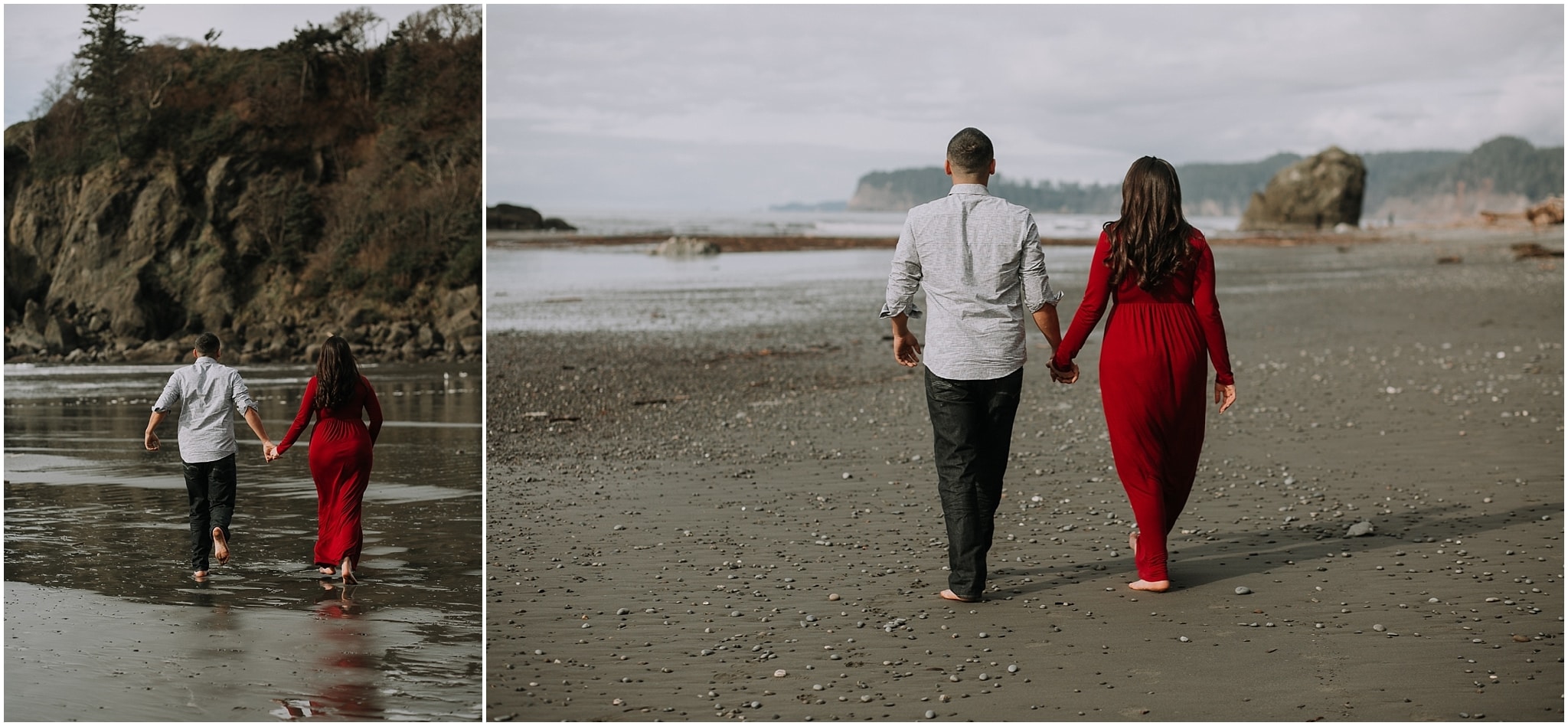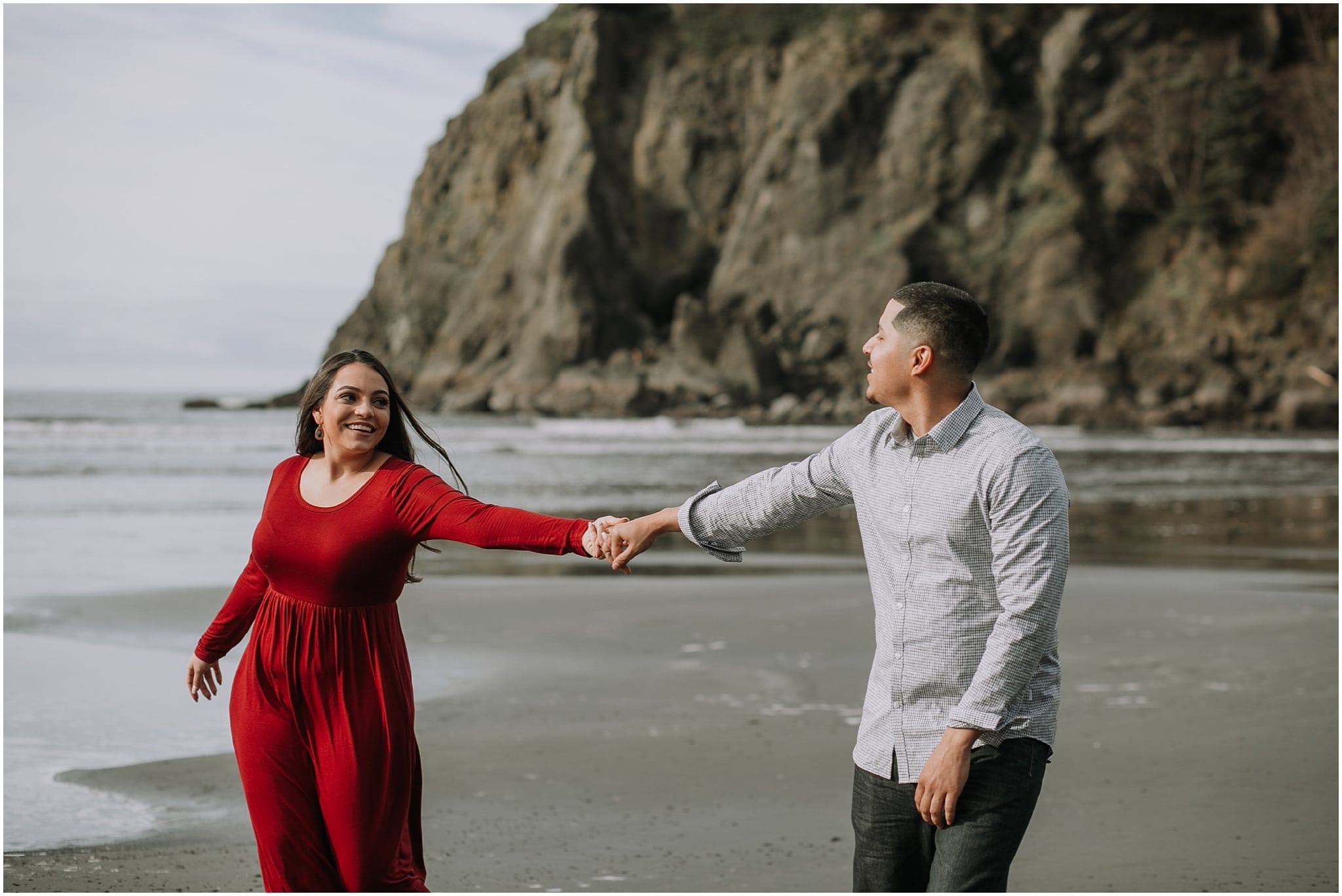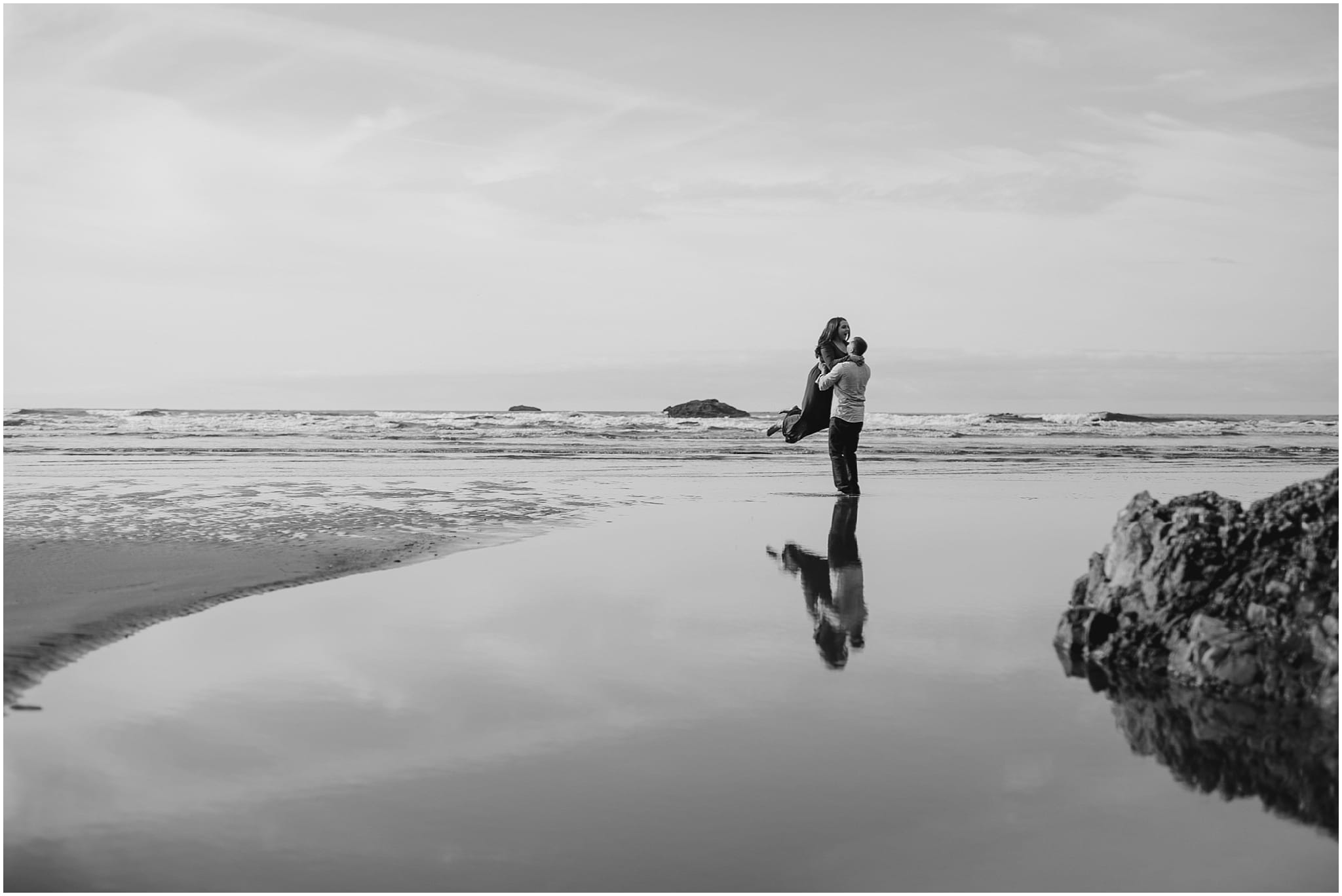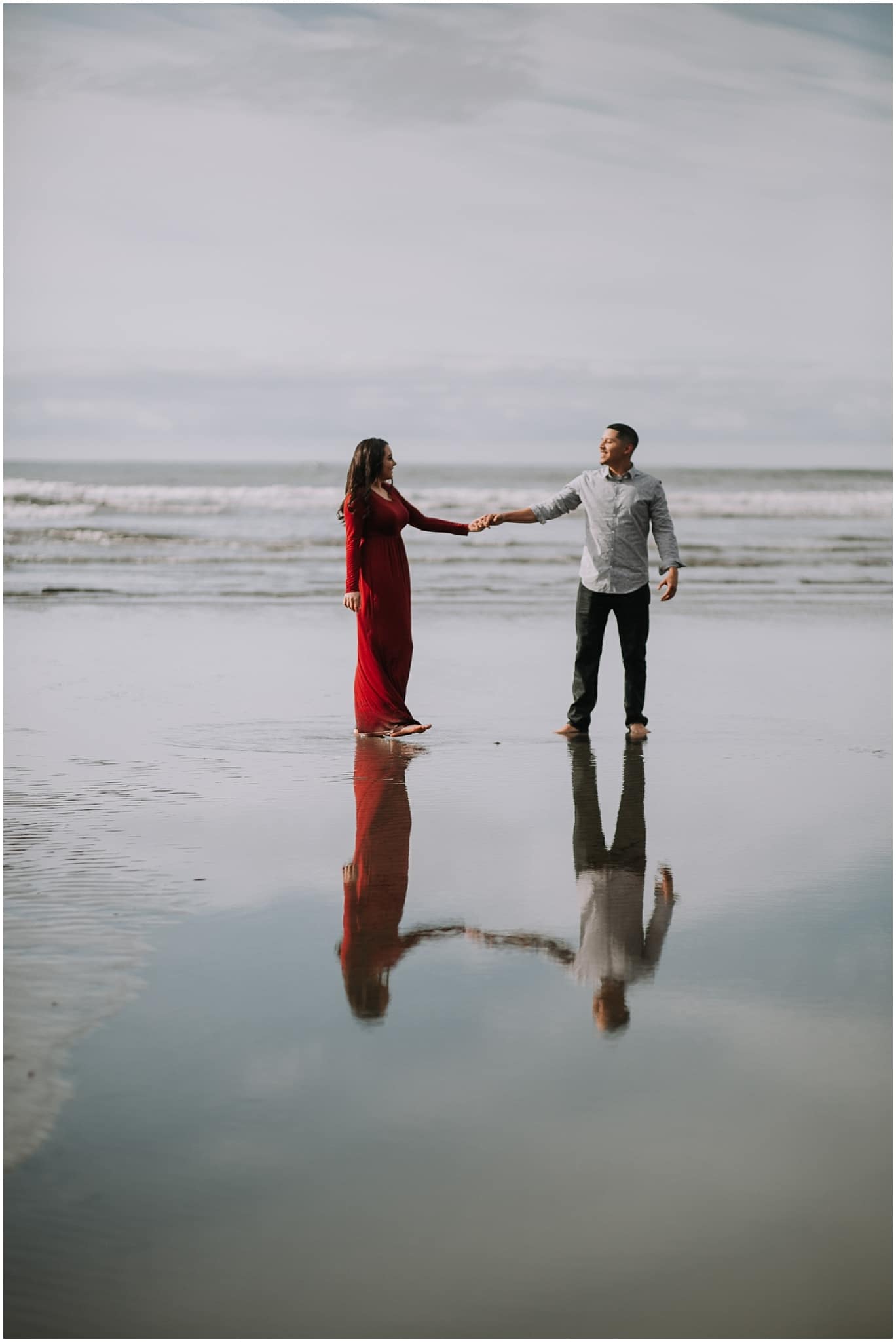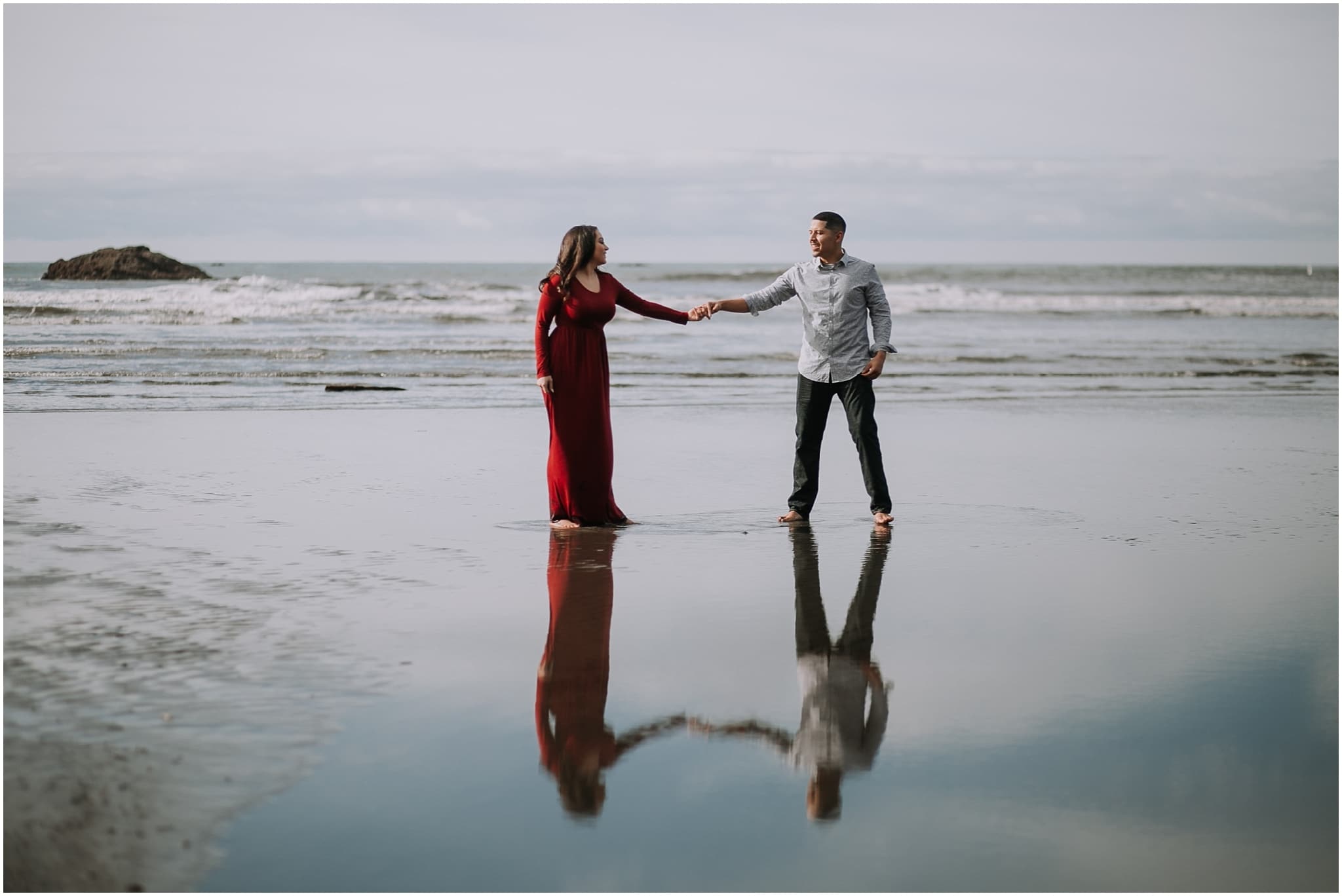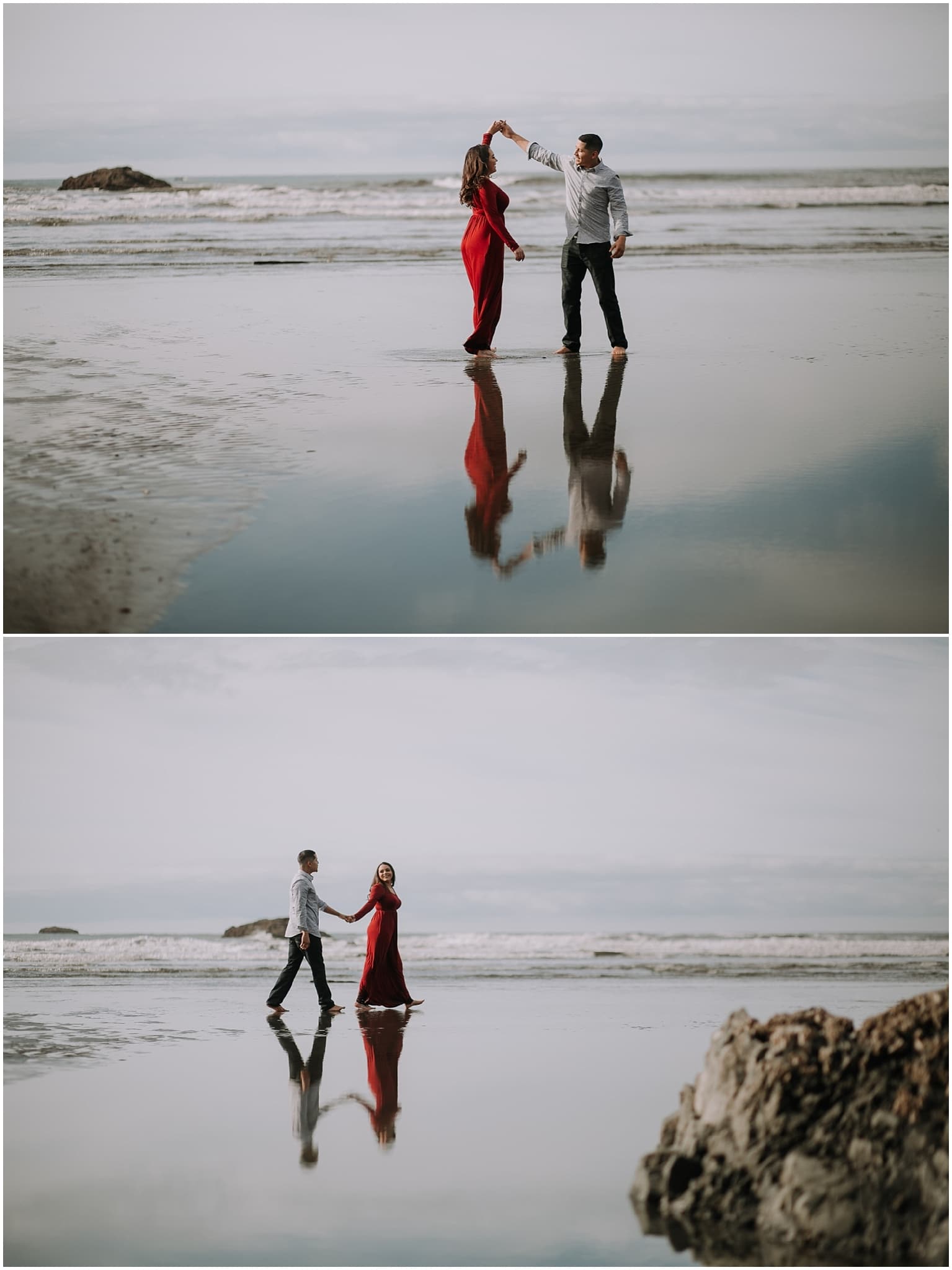 Since it is so rare for them to go to the beach, Alyssa wanted to do something she hasn't done in years. She wanted to write their initials out on the beach and of course, put an adorable heart around it. Sometimes it's the small things that are the most adorable and sweet. So of course I had to photograph it for them.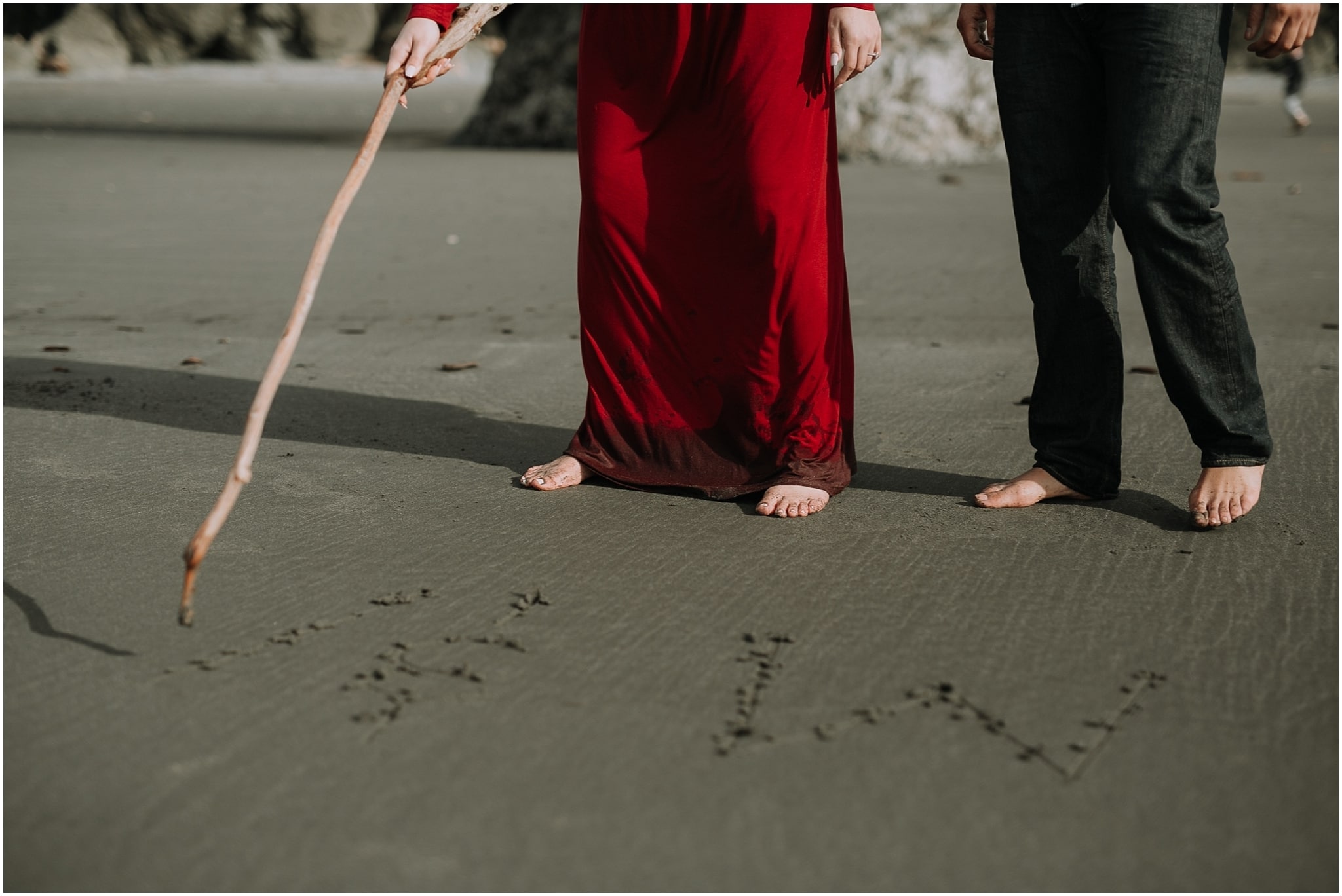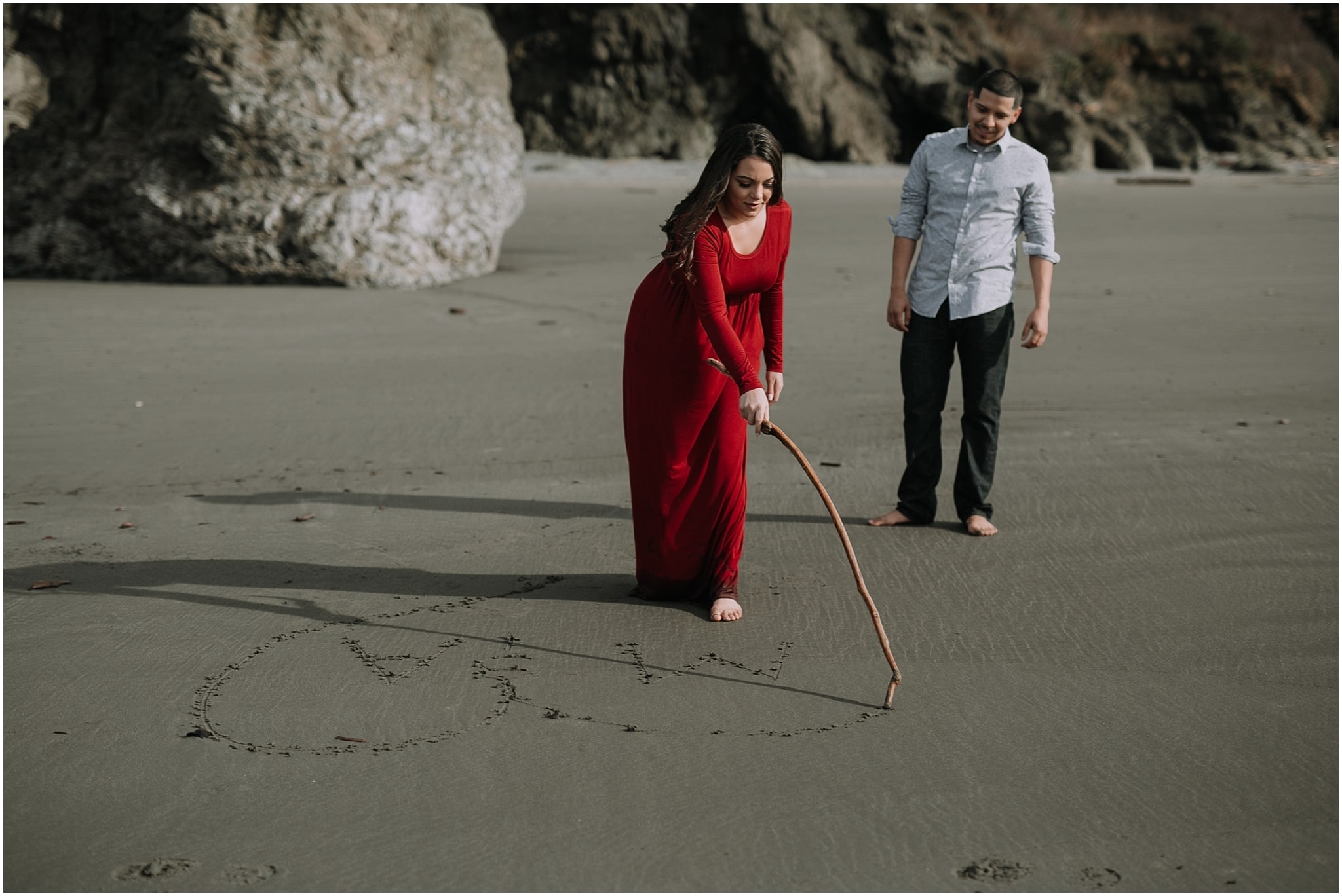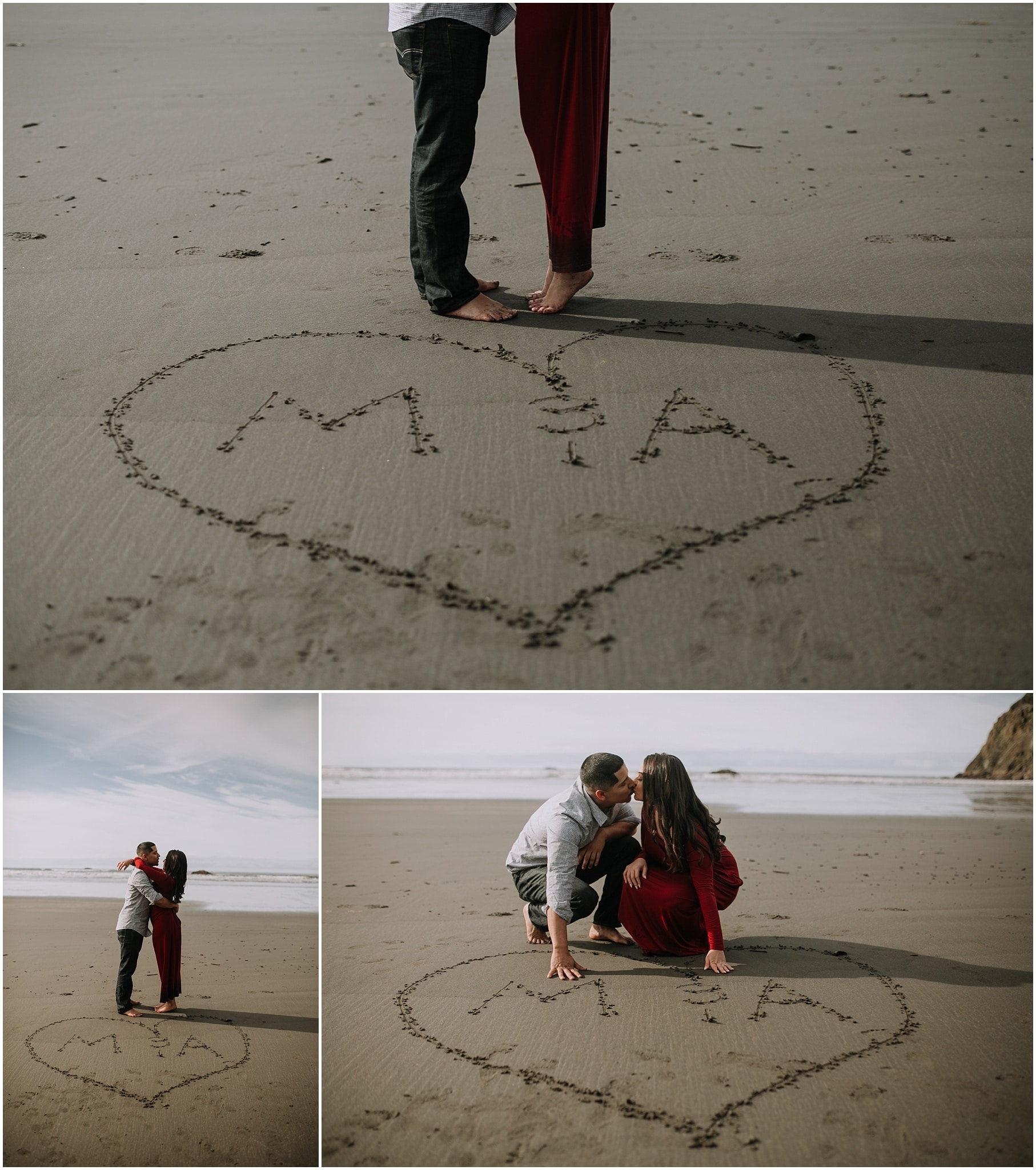 It's very normal to see driftwood on the beach. It's even normal to see a full tree on the beach here, but on it's side. It is not however that often that you see a dead tree, up right, on the beach! So you know I had to use it! It's so funky, and unique, and whimsical. I love that Alyssa wore red. She POPS against the muted tones of the rock and sand. I couldn't be happier with these photos with the tree!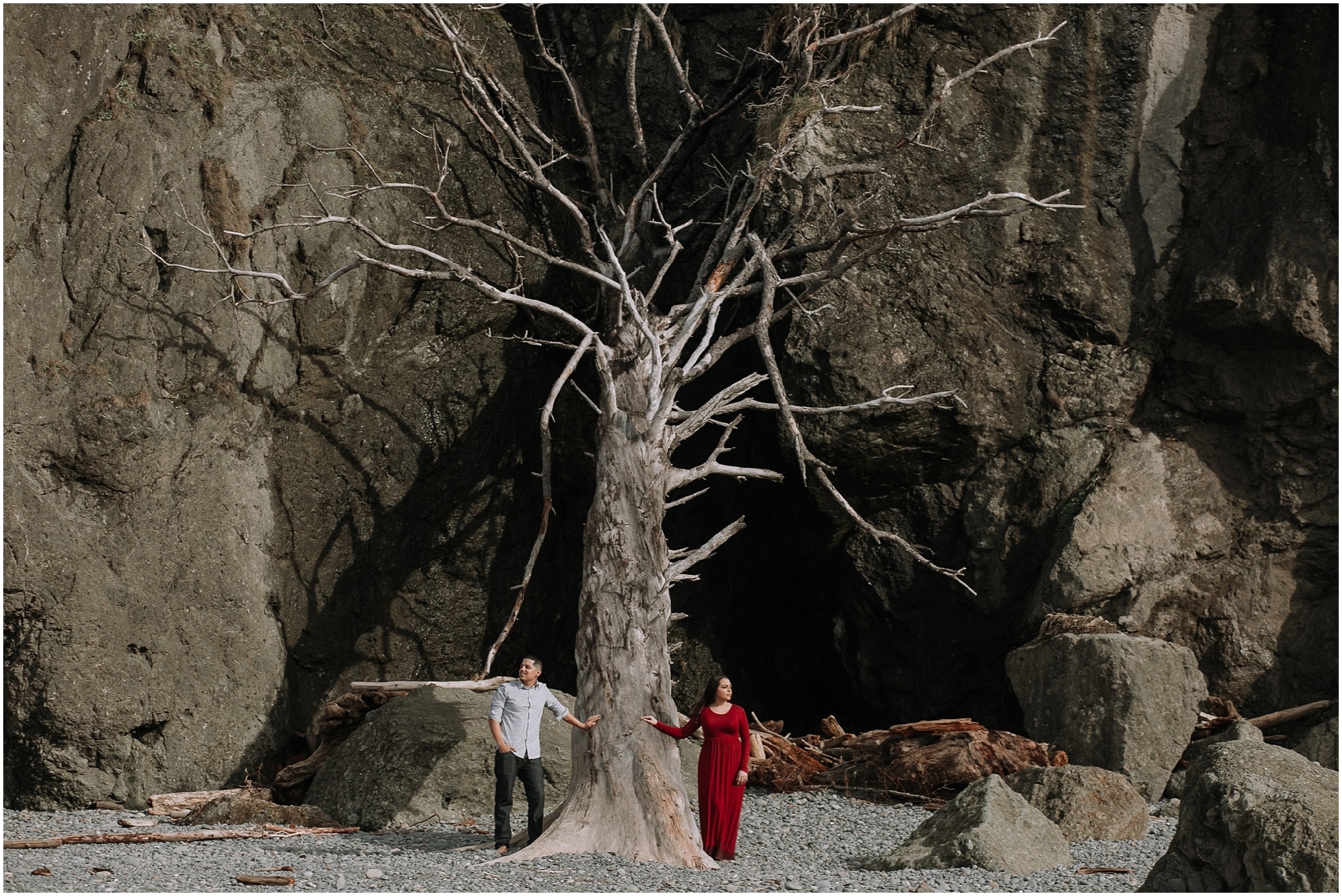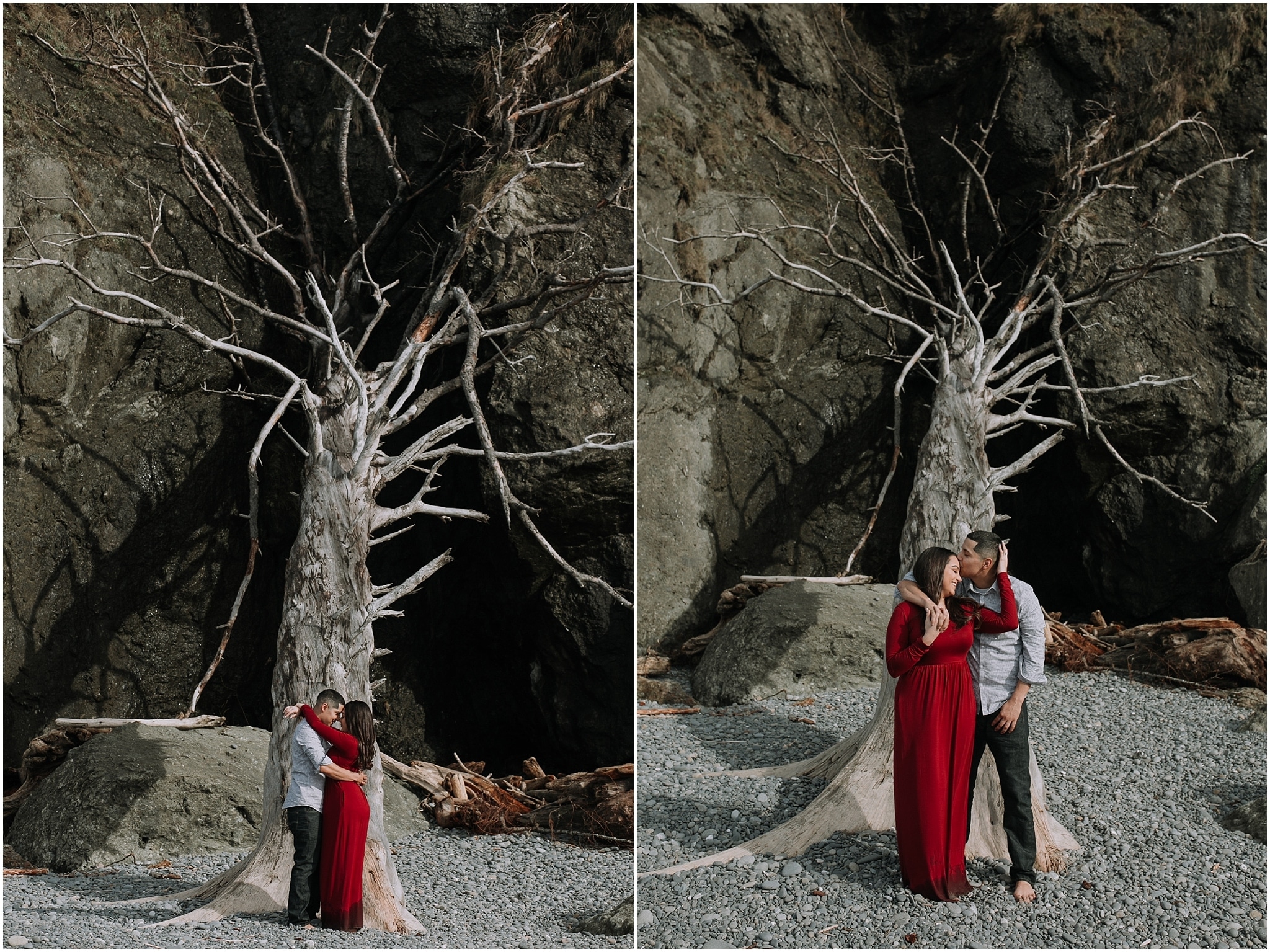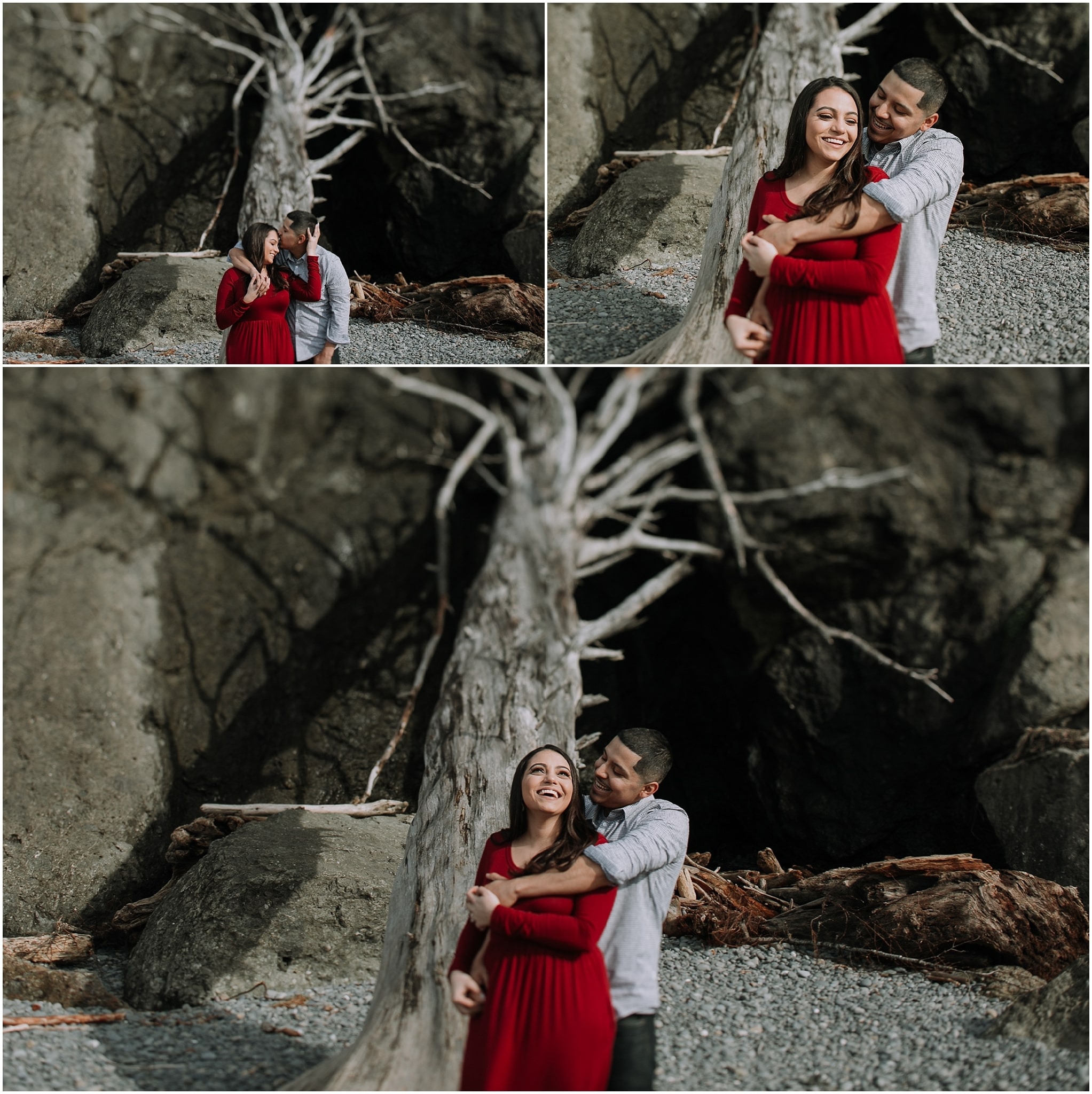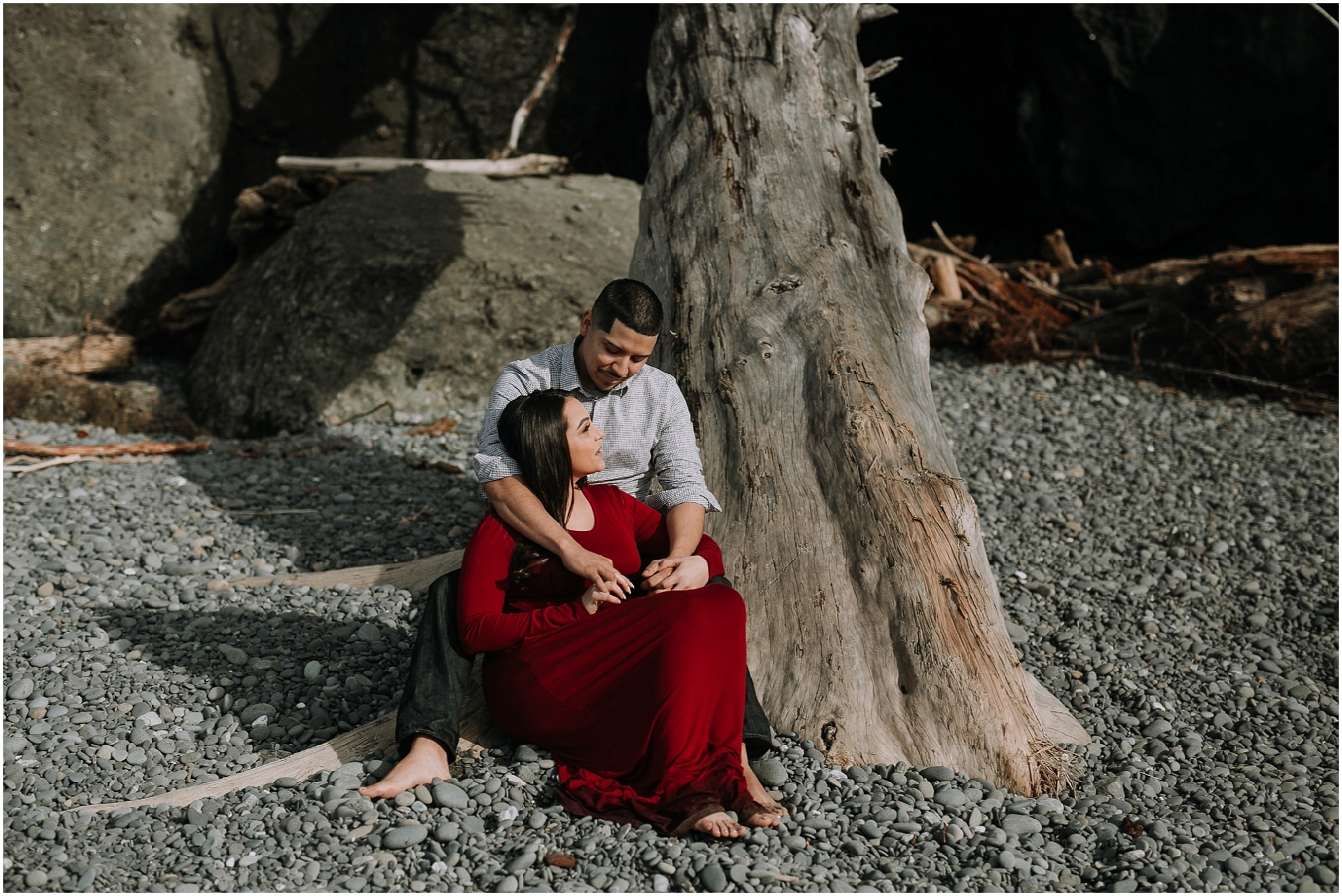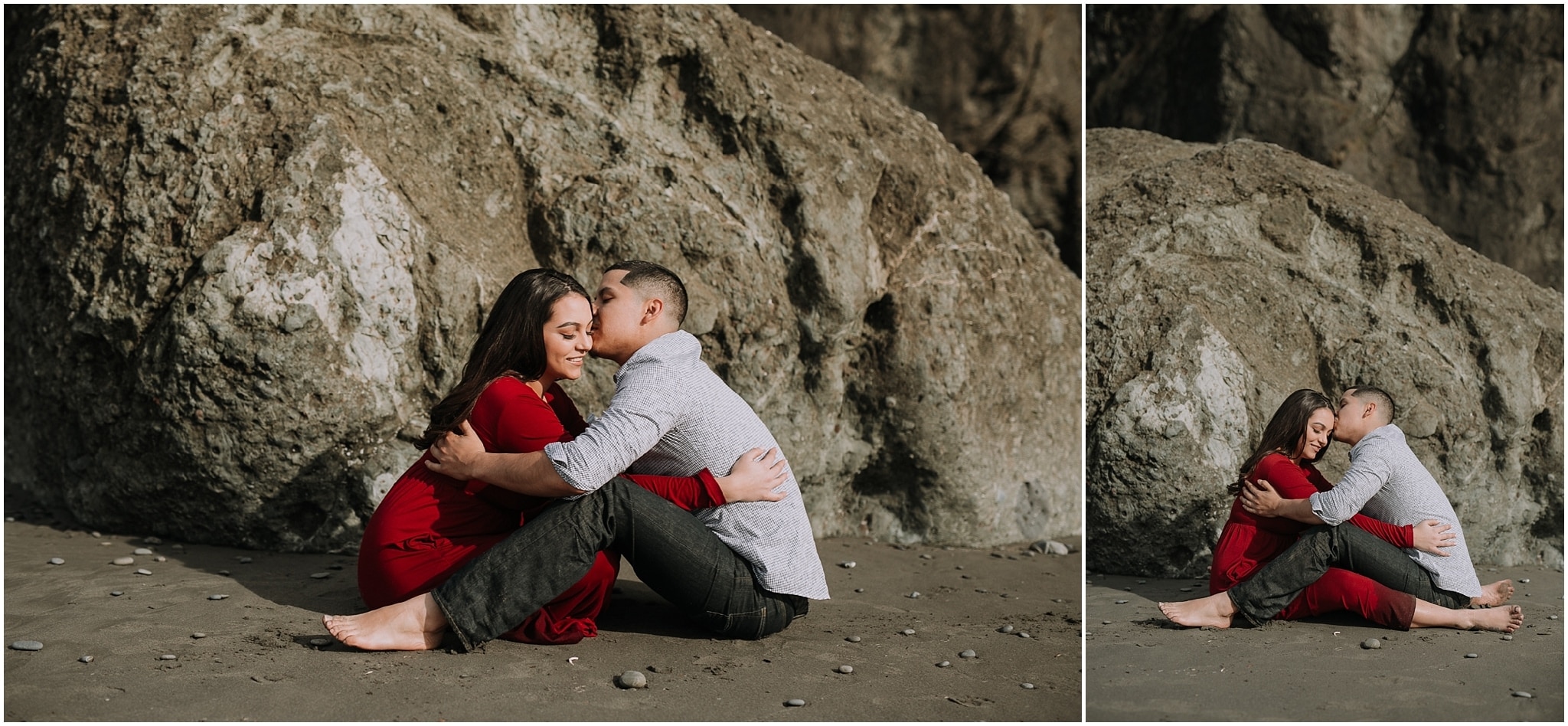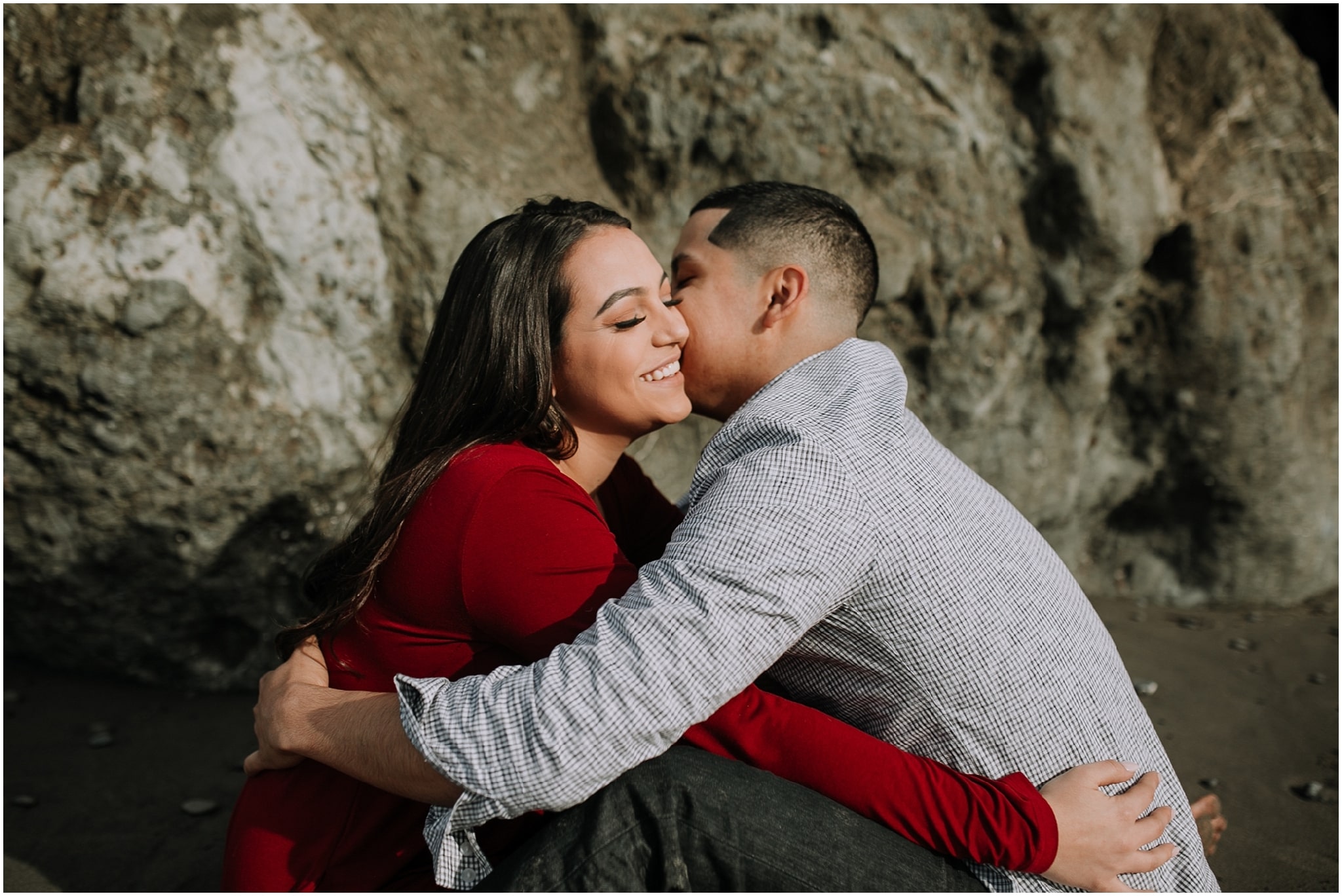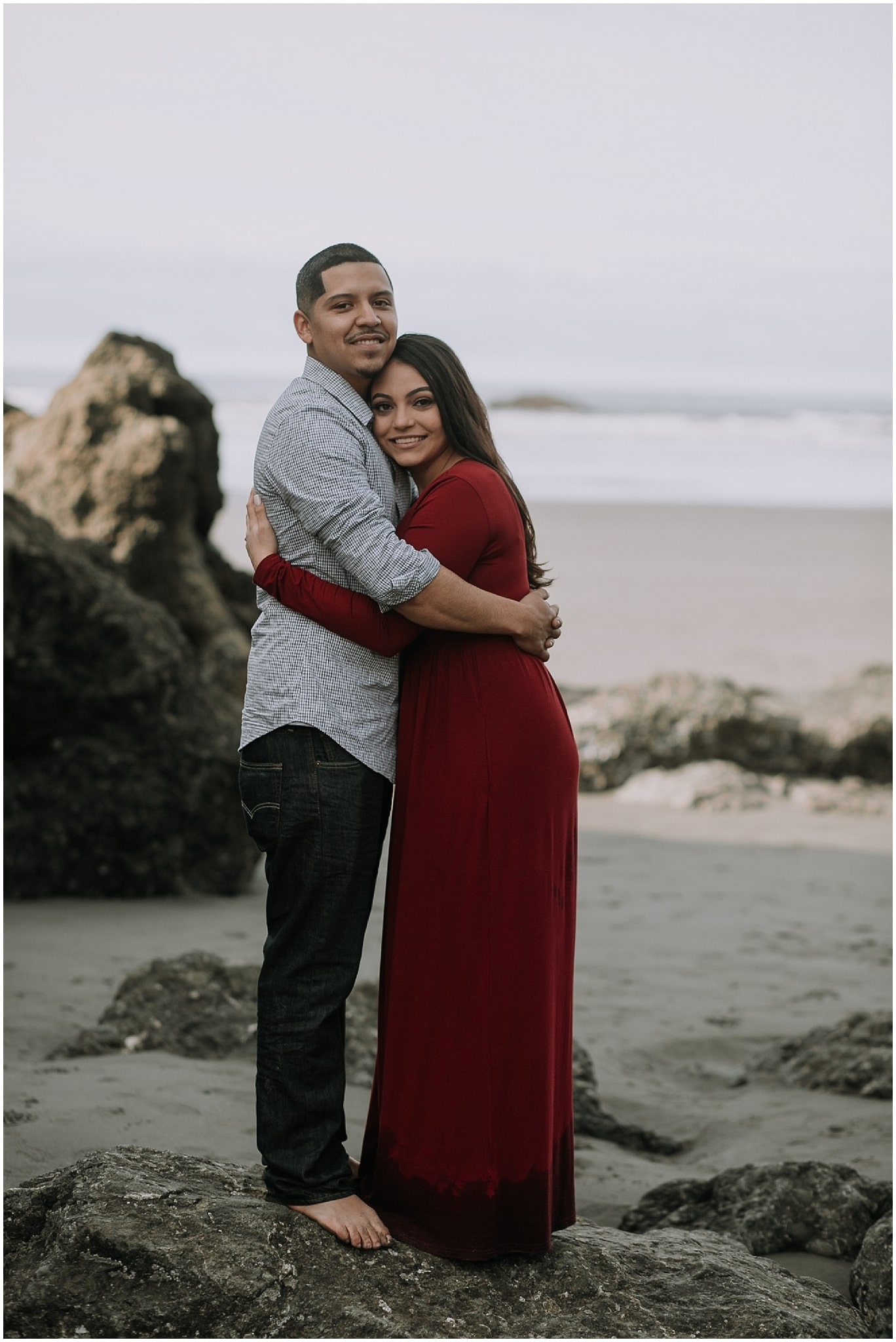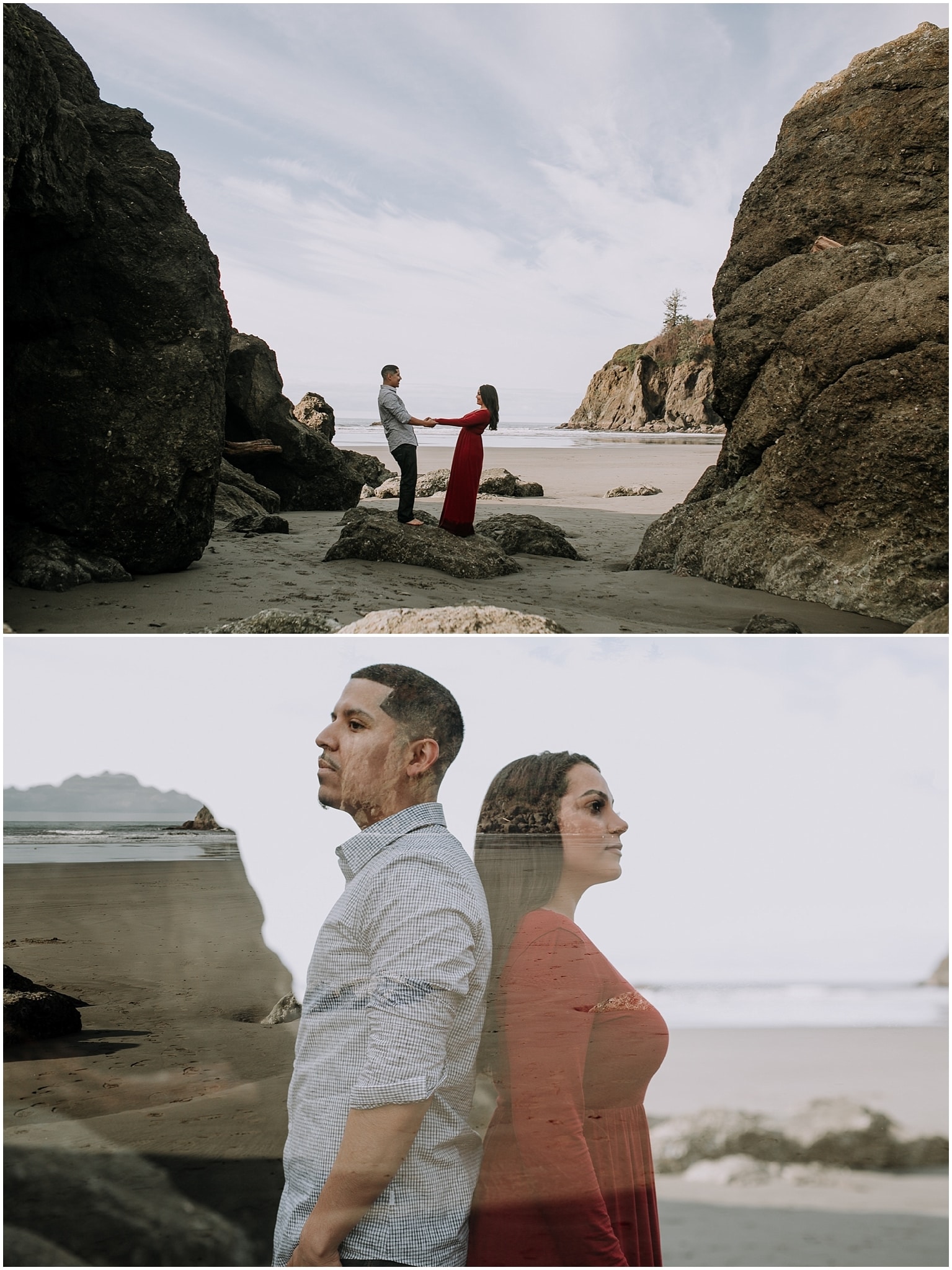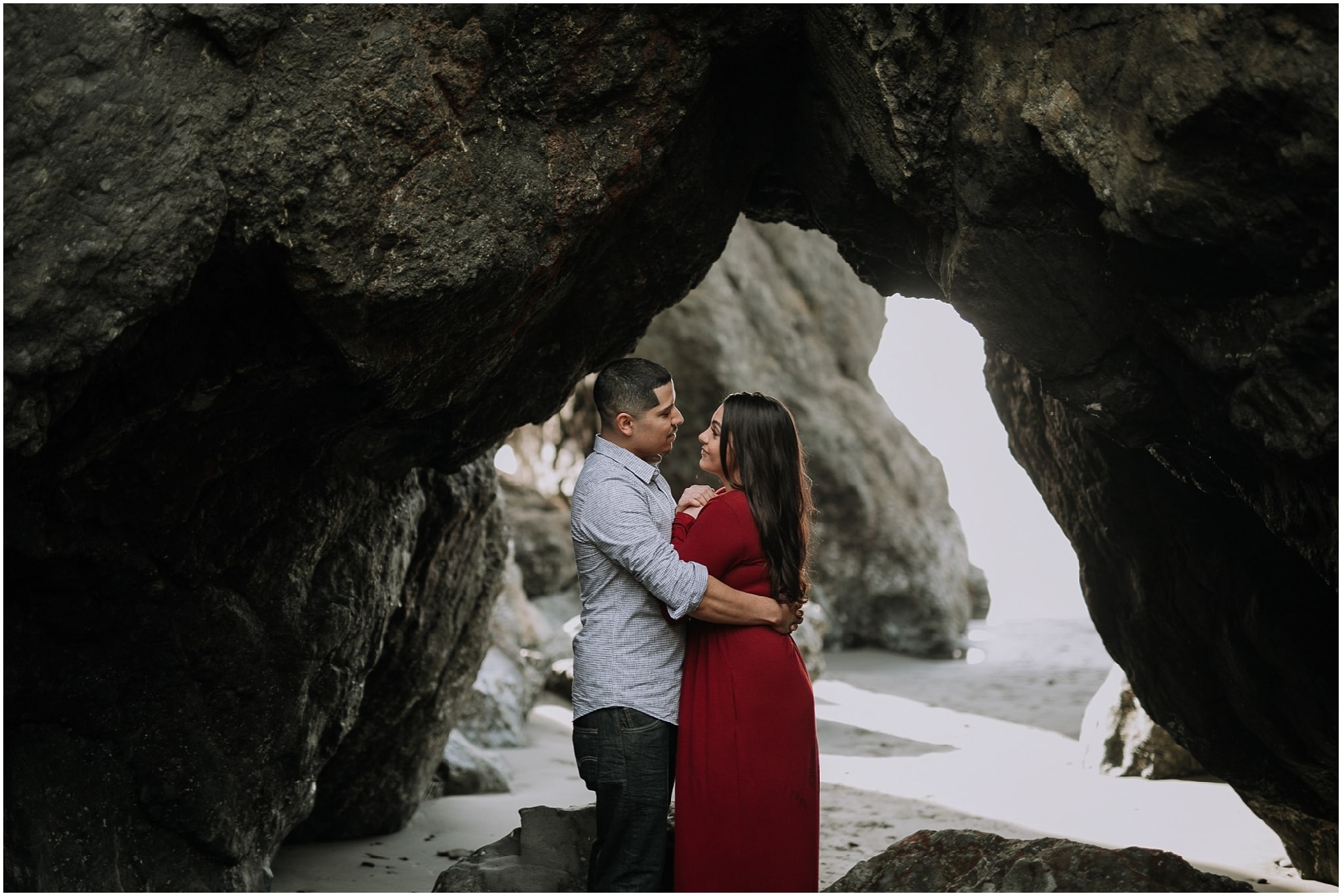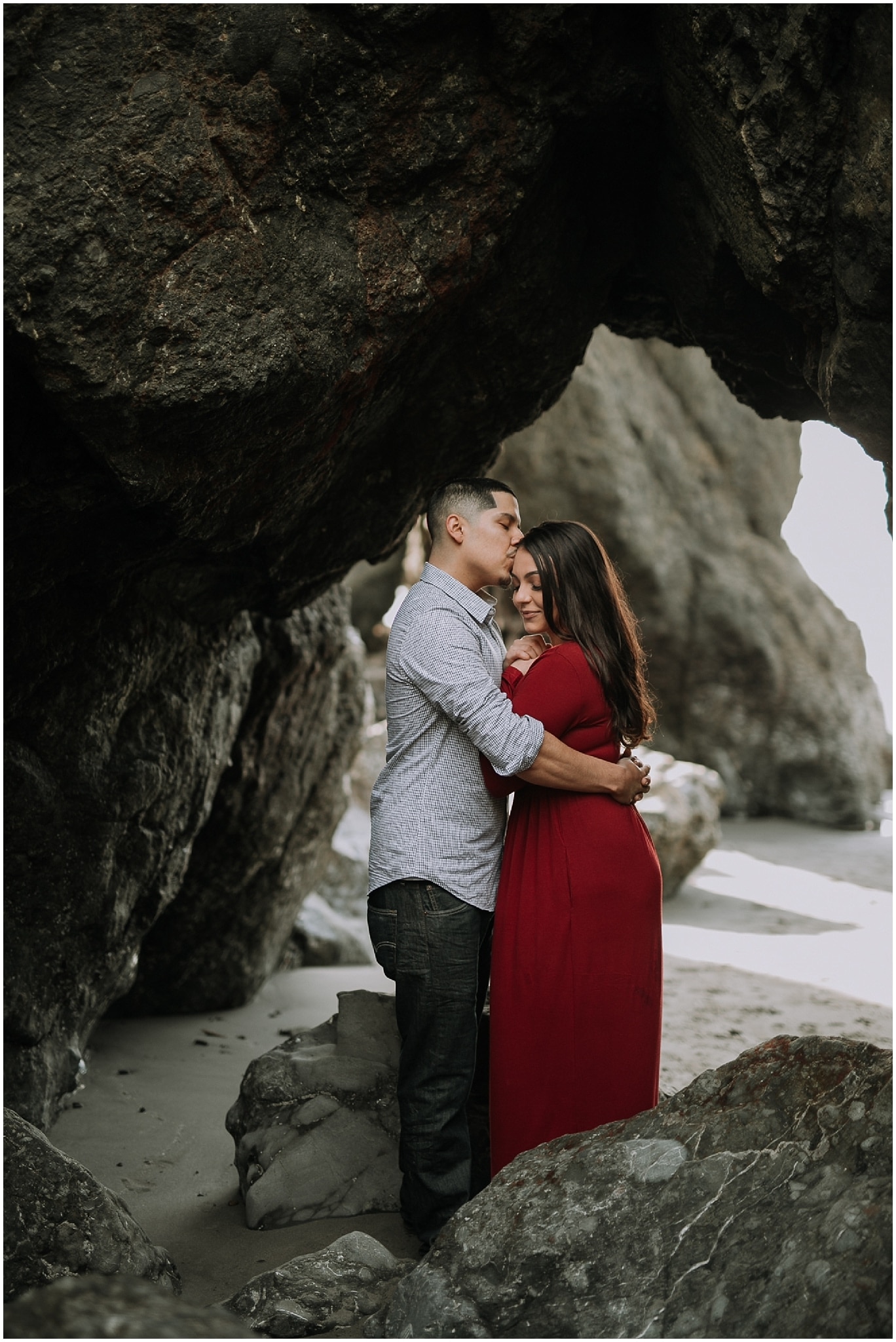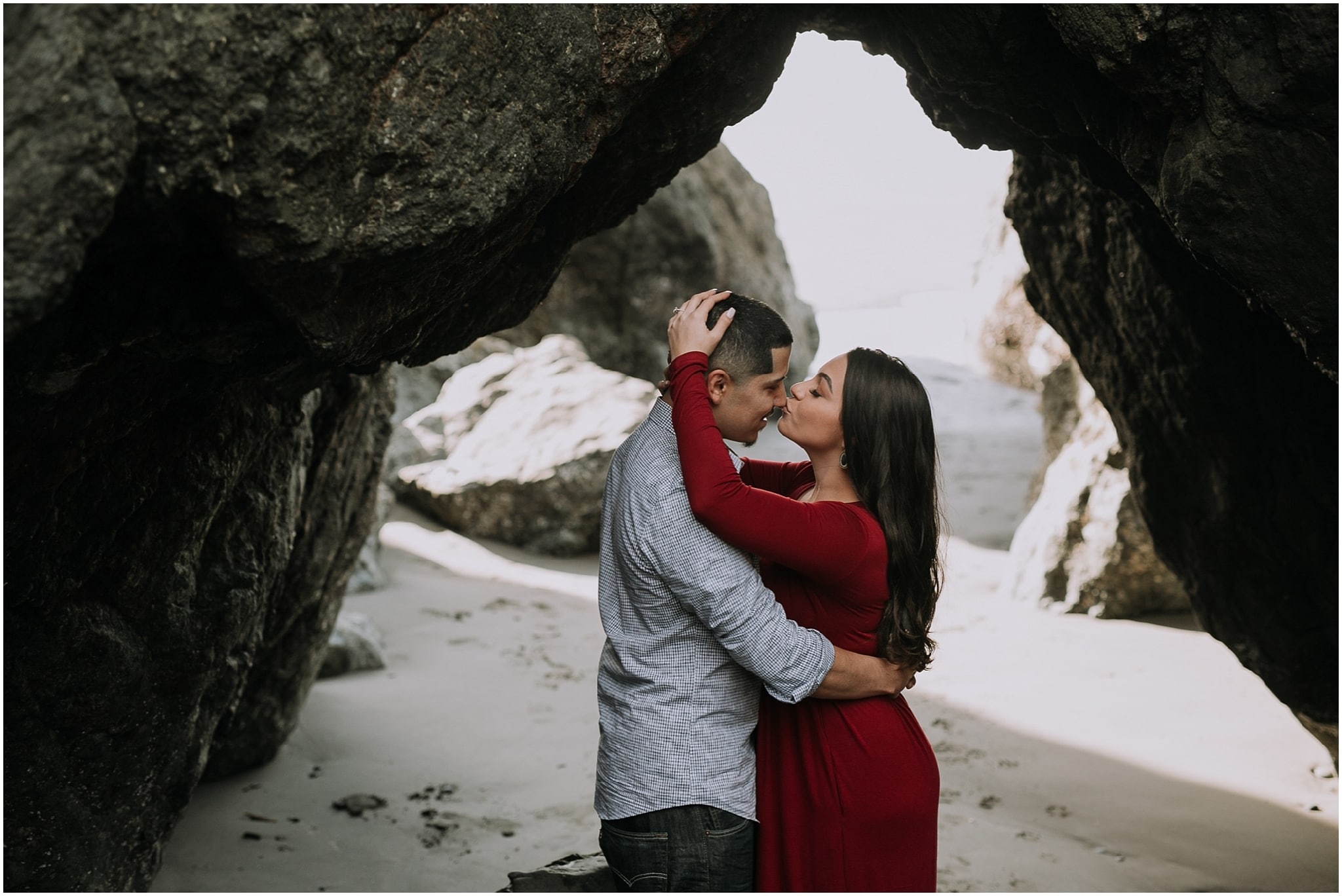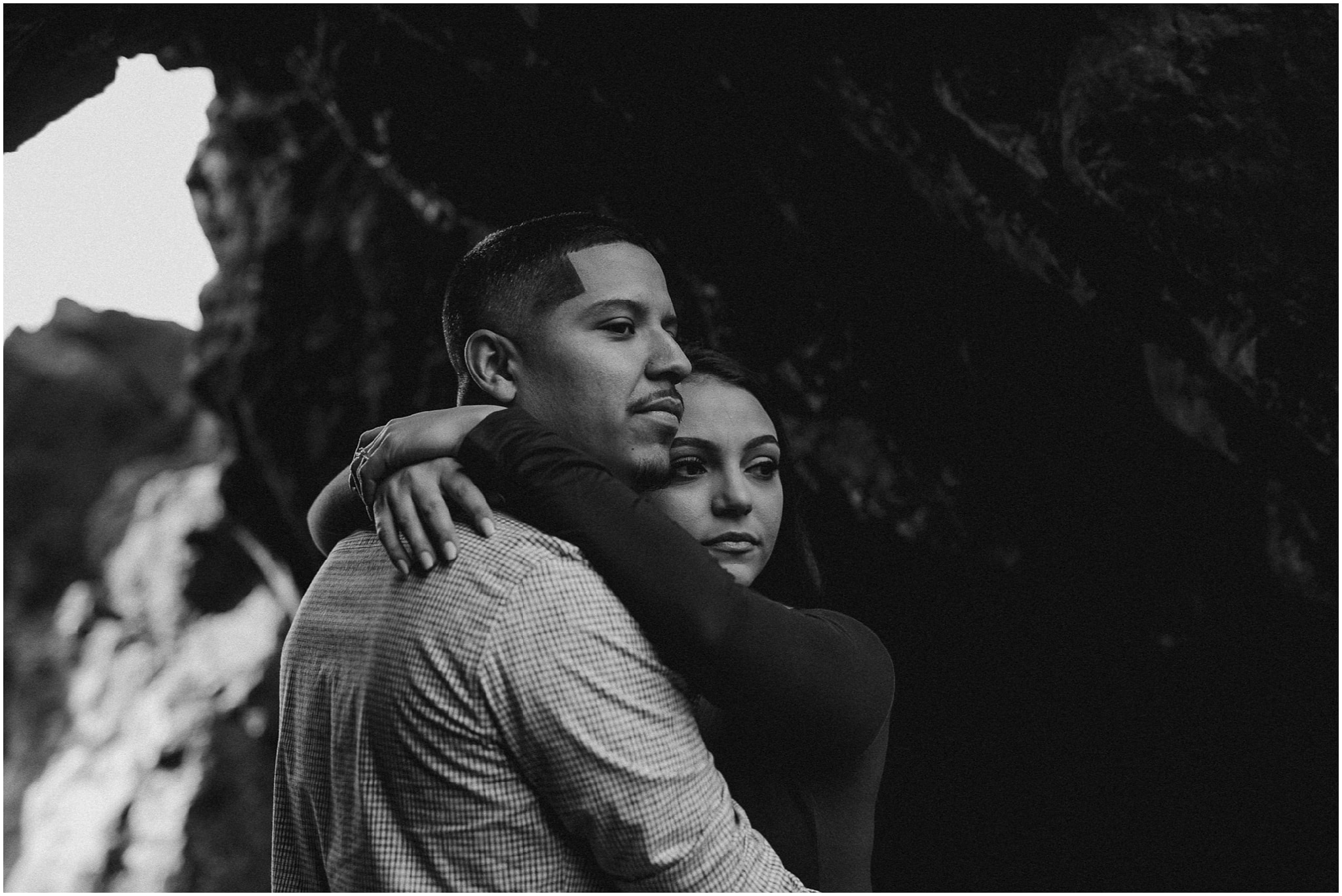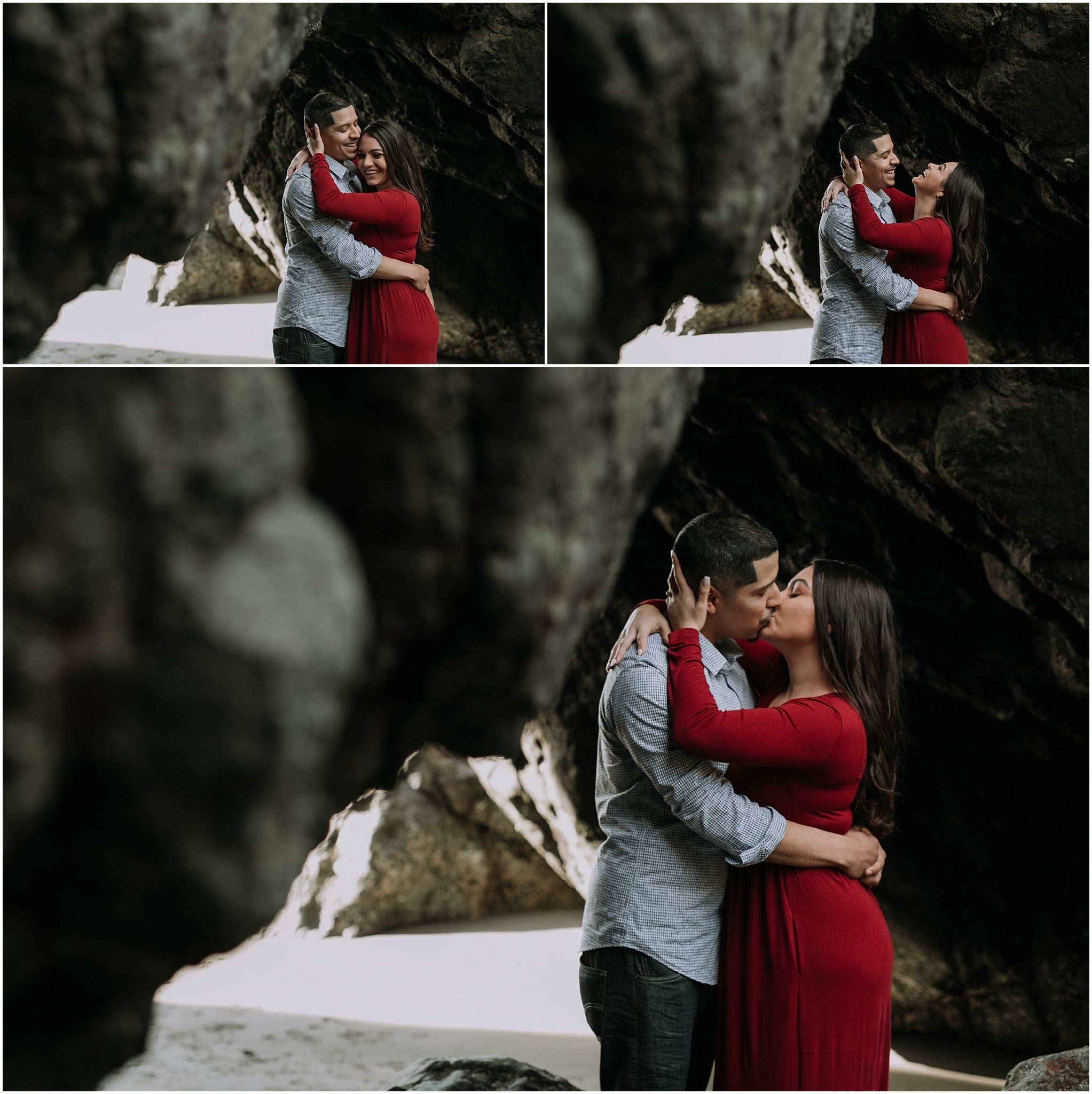 I always bring music for my clients during their sessions. It keeps things light, and playful and helps keep the awkward moments away. I guess the music was so good Alyssa and Matt just were taken by the rhythm that they had to do a little ditty. Right there in the sunlight on the sand.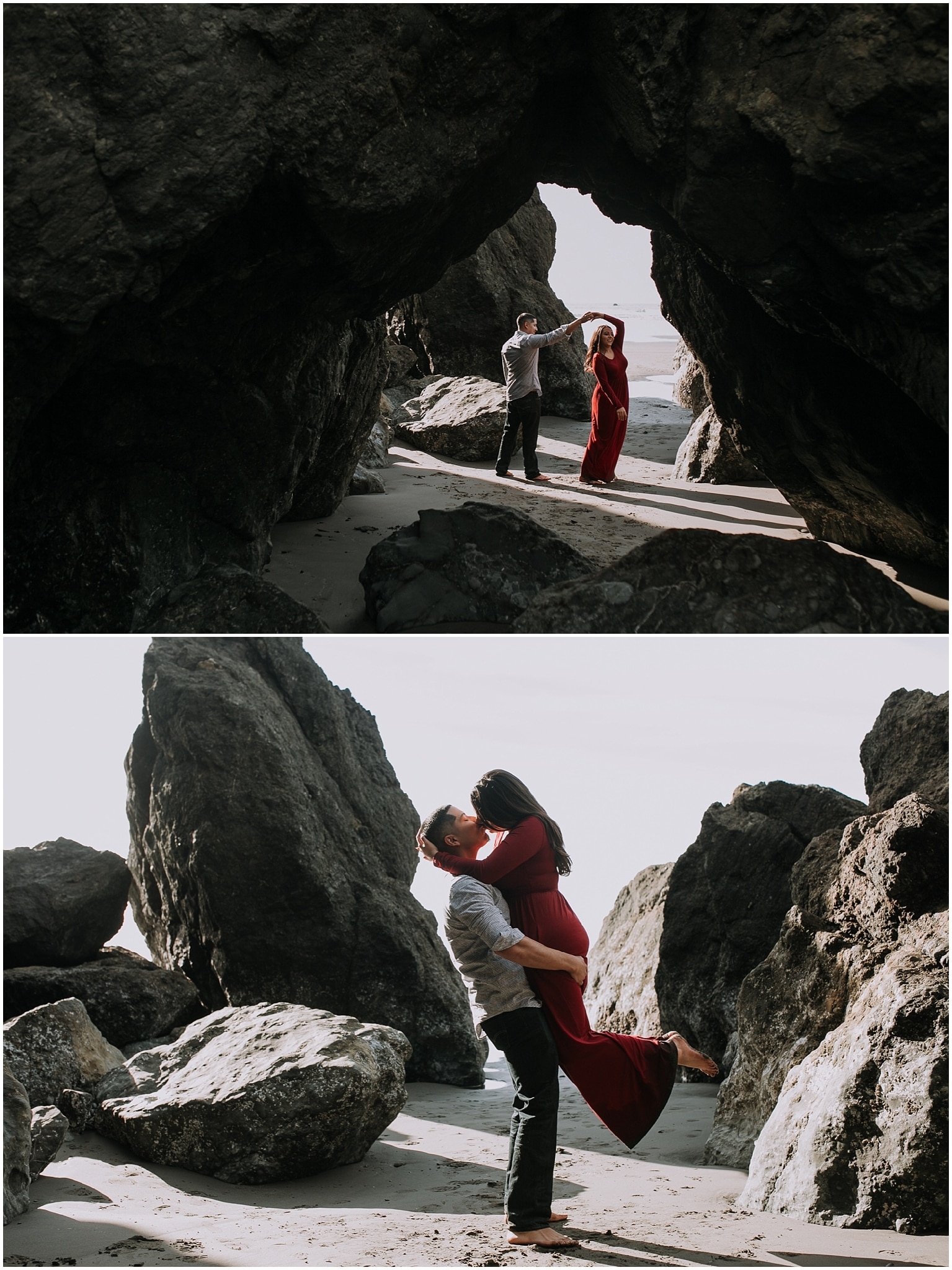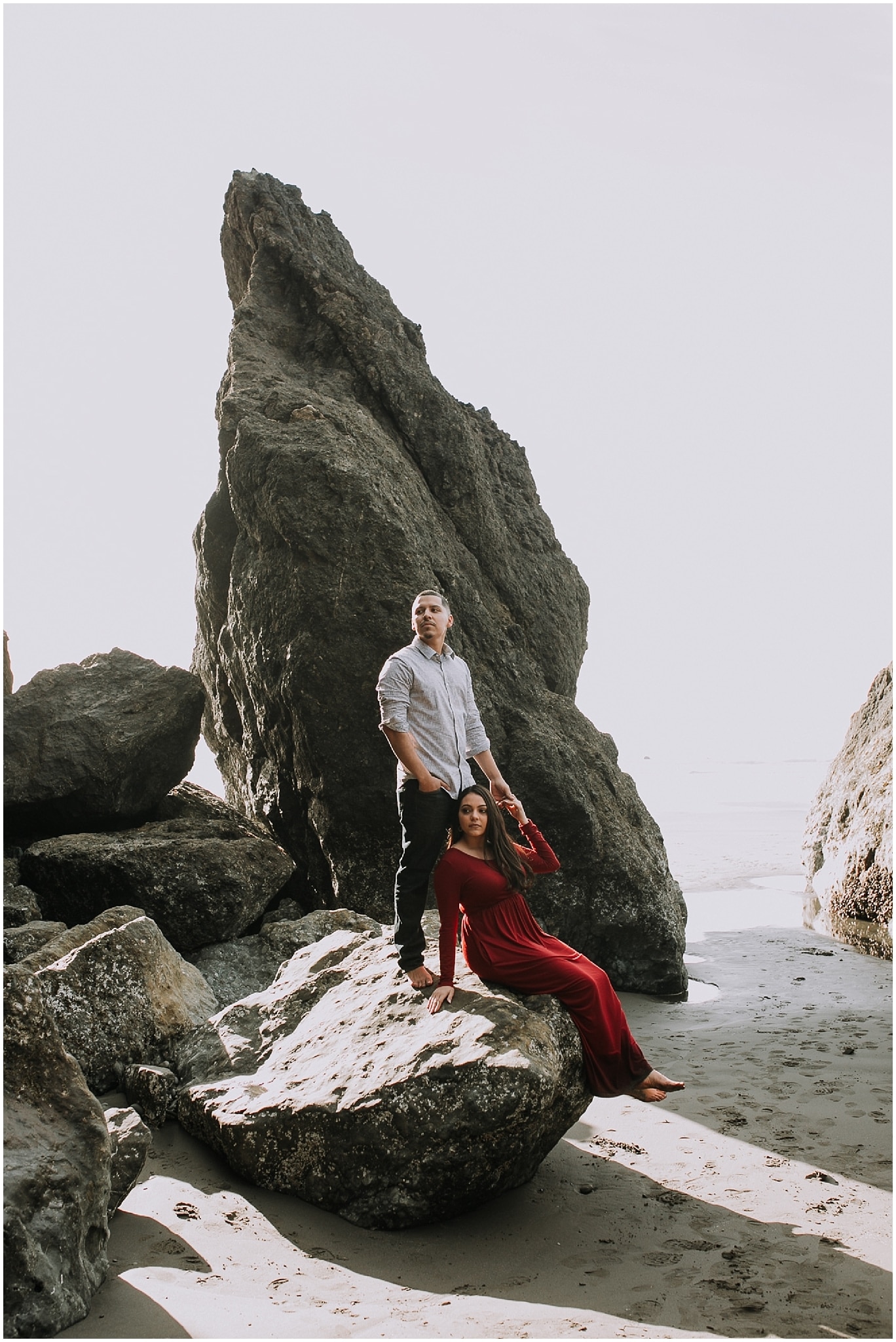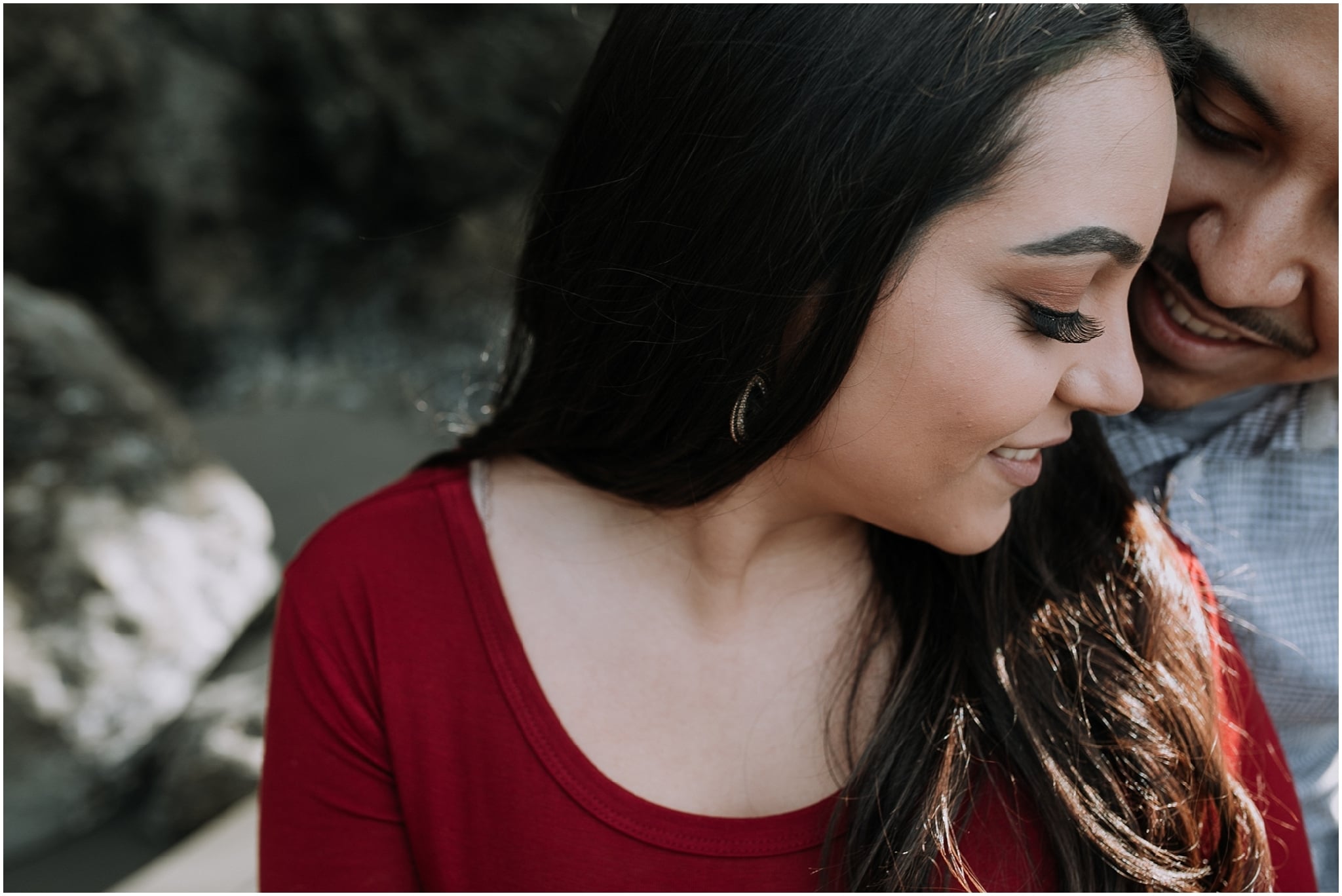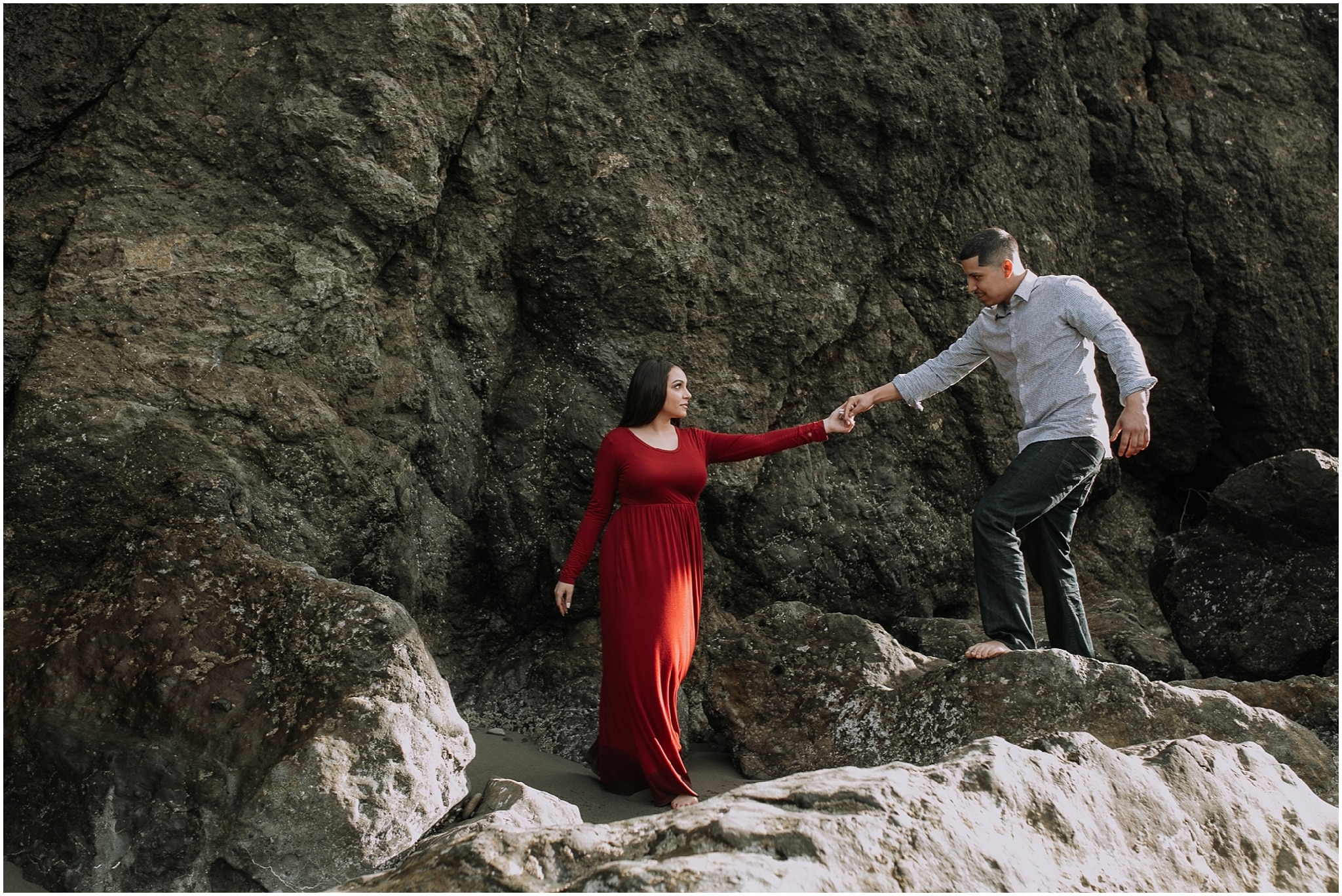 You might be looking at this photo wondering what exactly is going on here. It's a double exposure! If you look closely, you can see Alyssa and Matt in the blank space.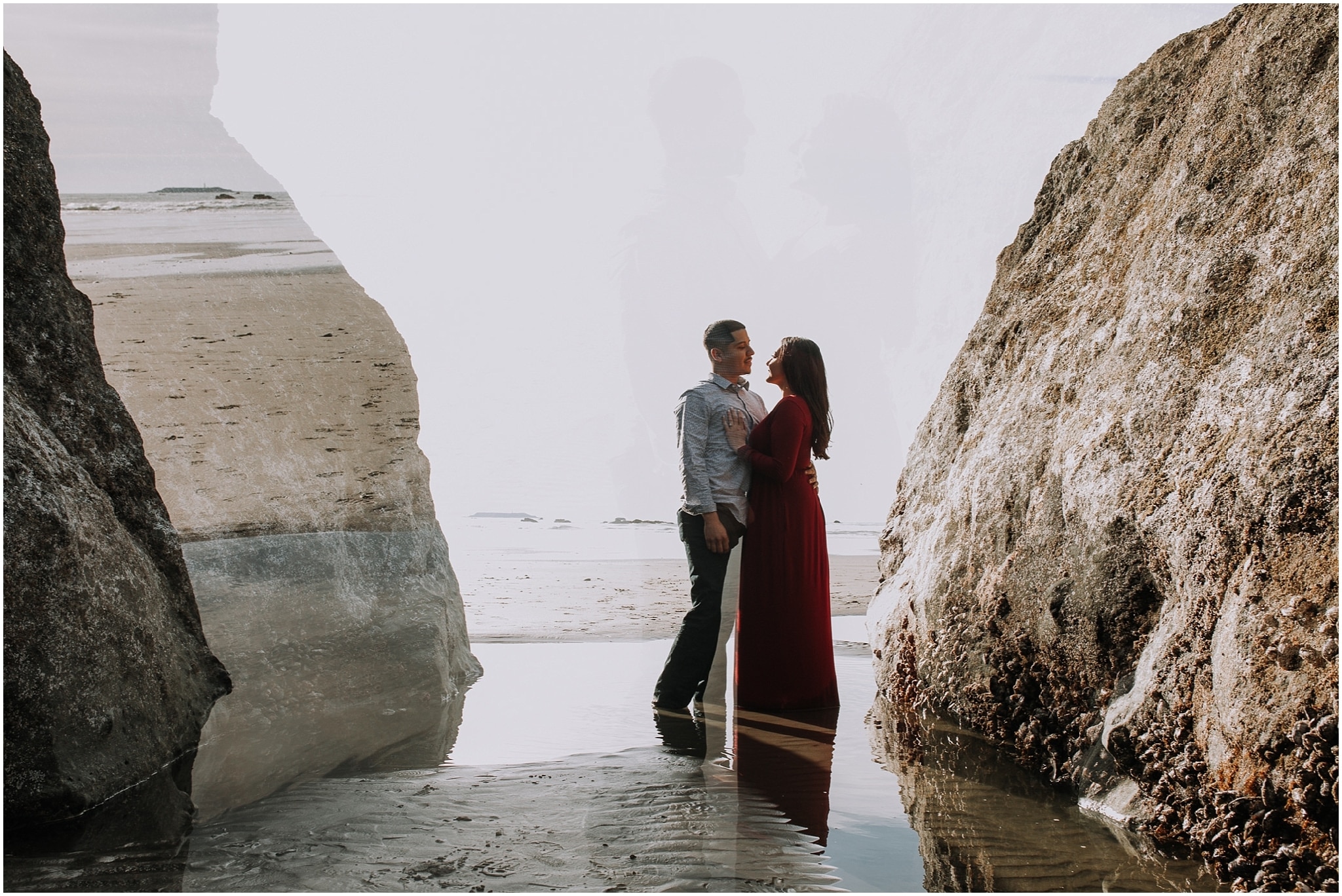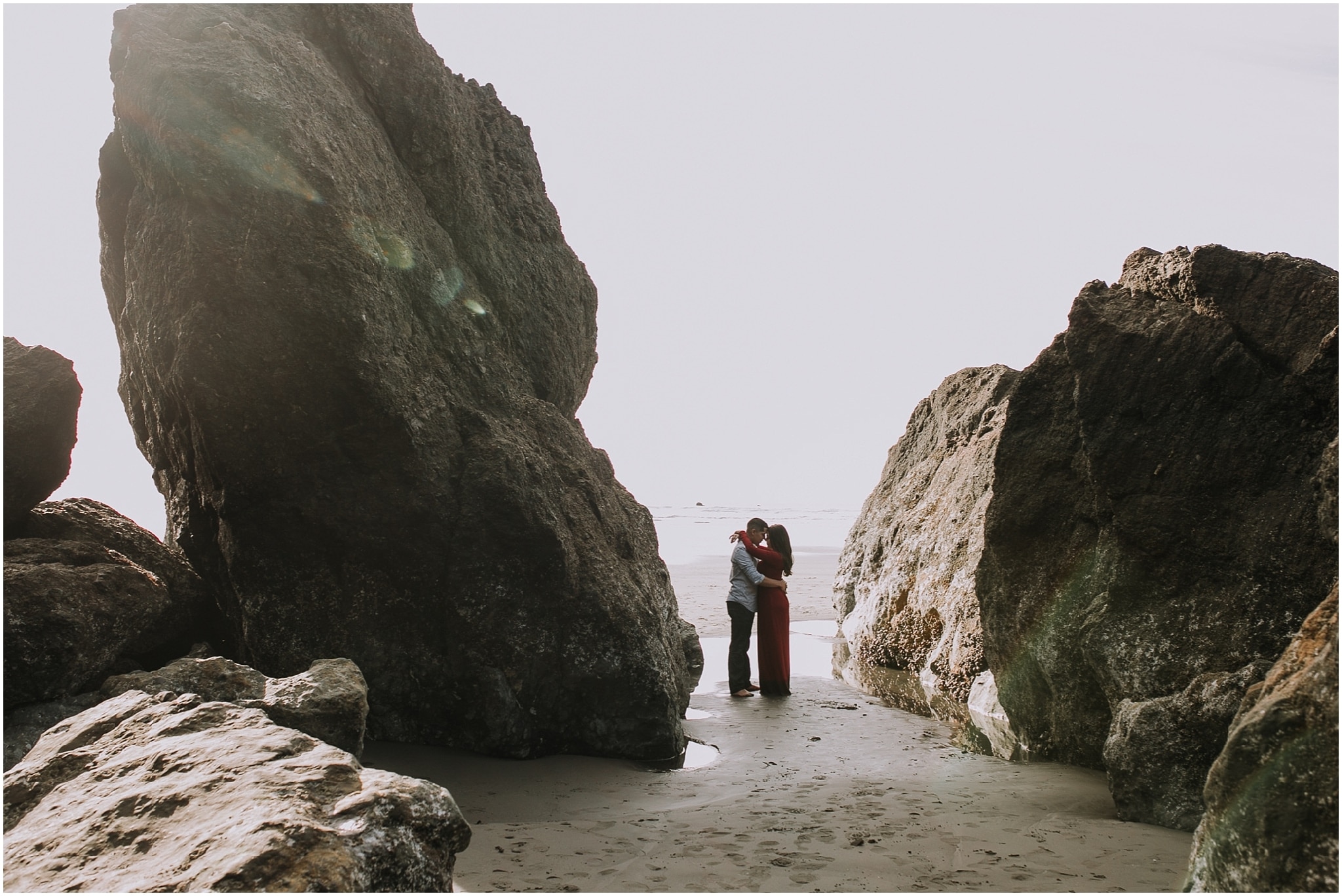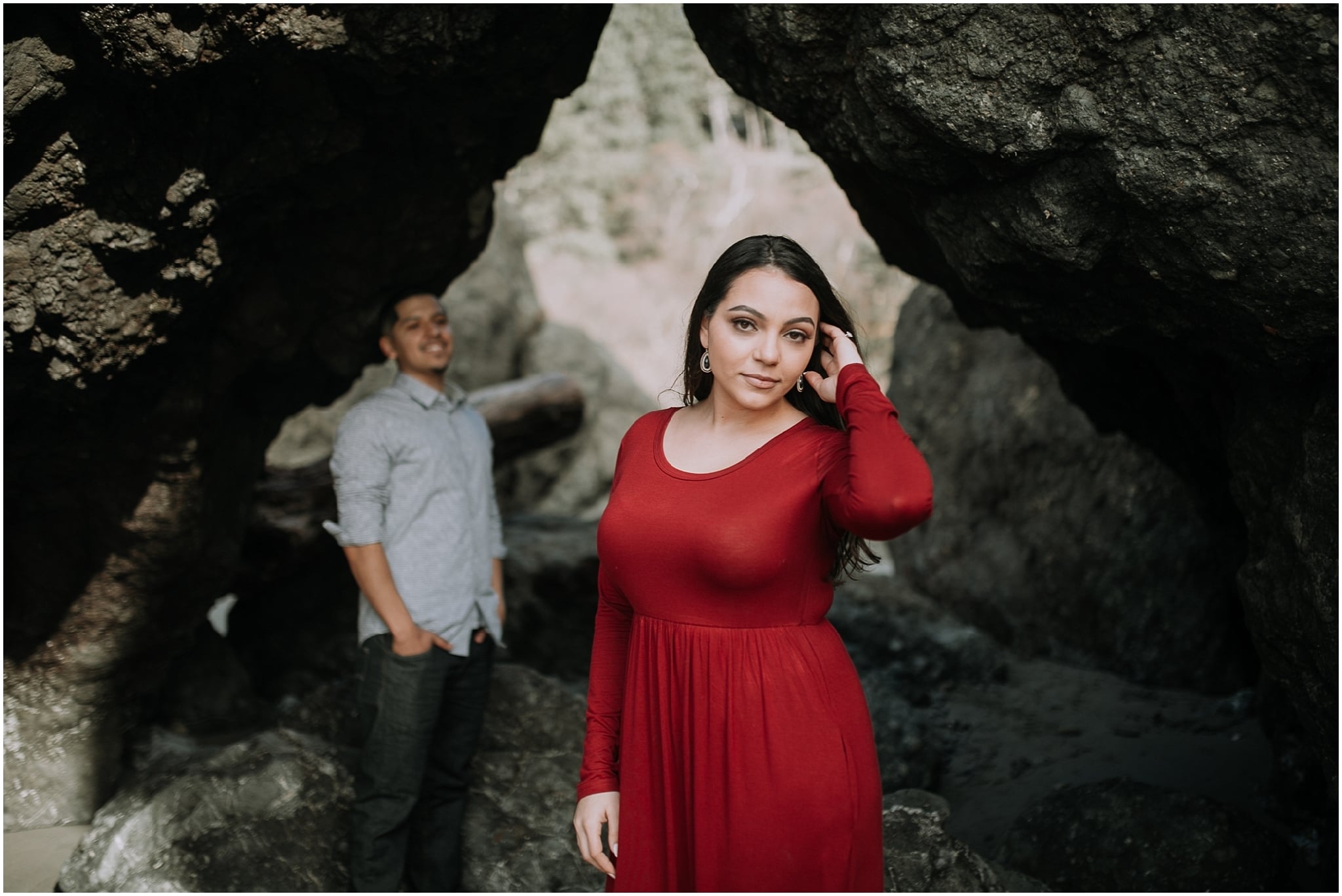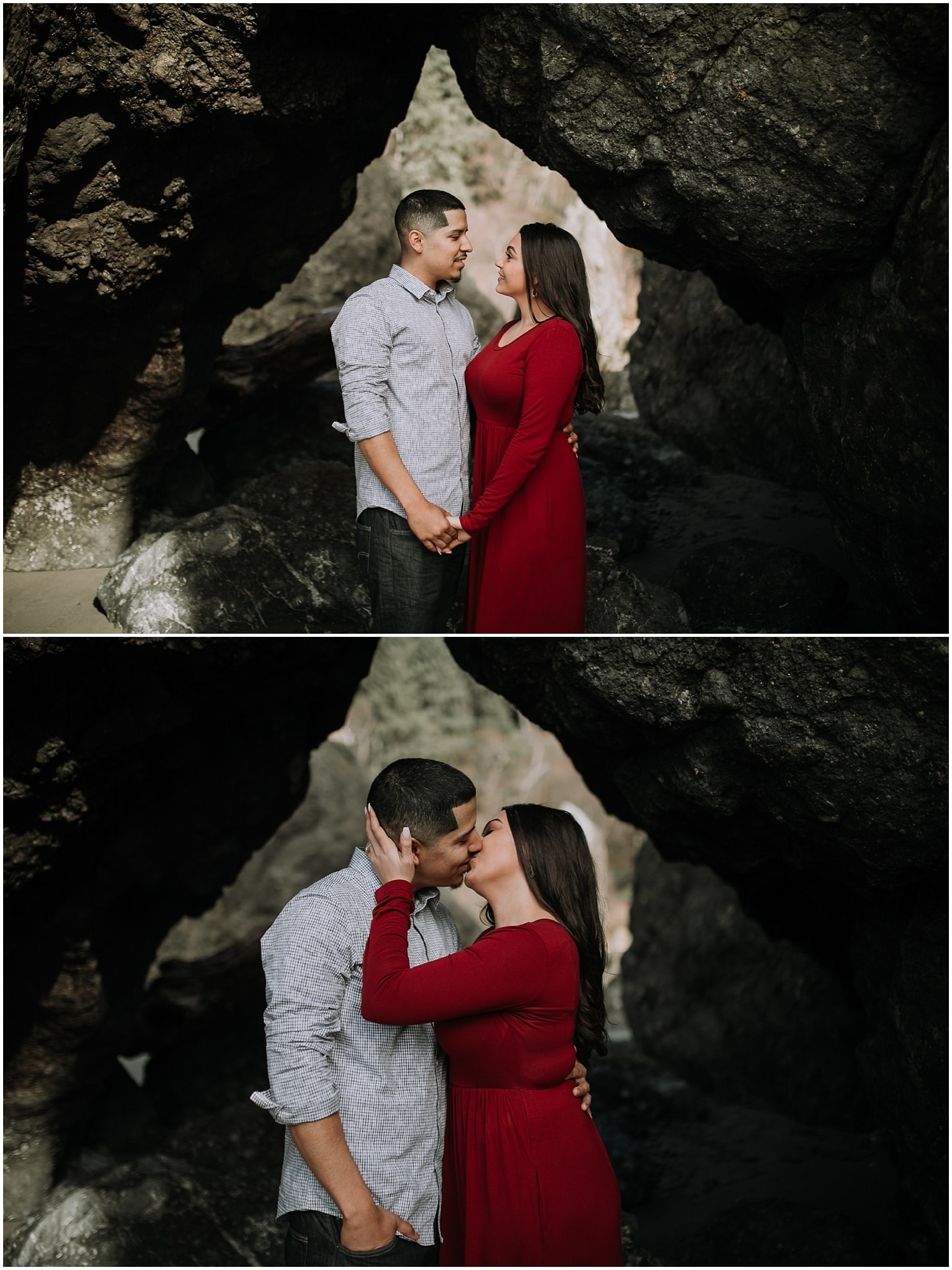 There is NO denying that Alyssa is a very beautiful woman. But when she put on that deep pink dress, all bets are off! Matt, you are one lucky man! She is absolutely captivating!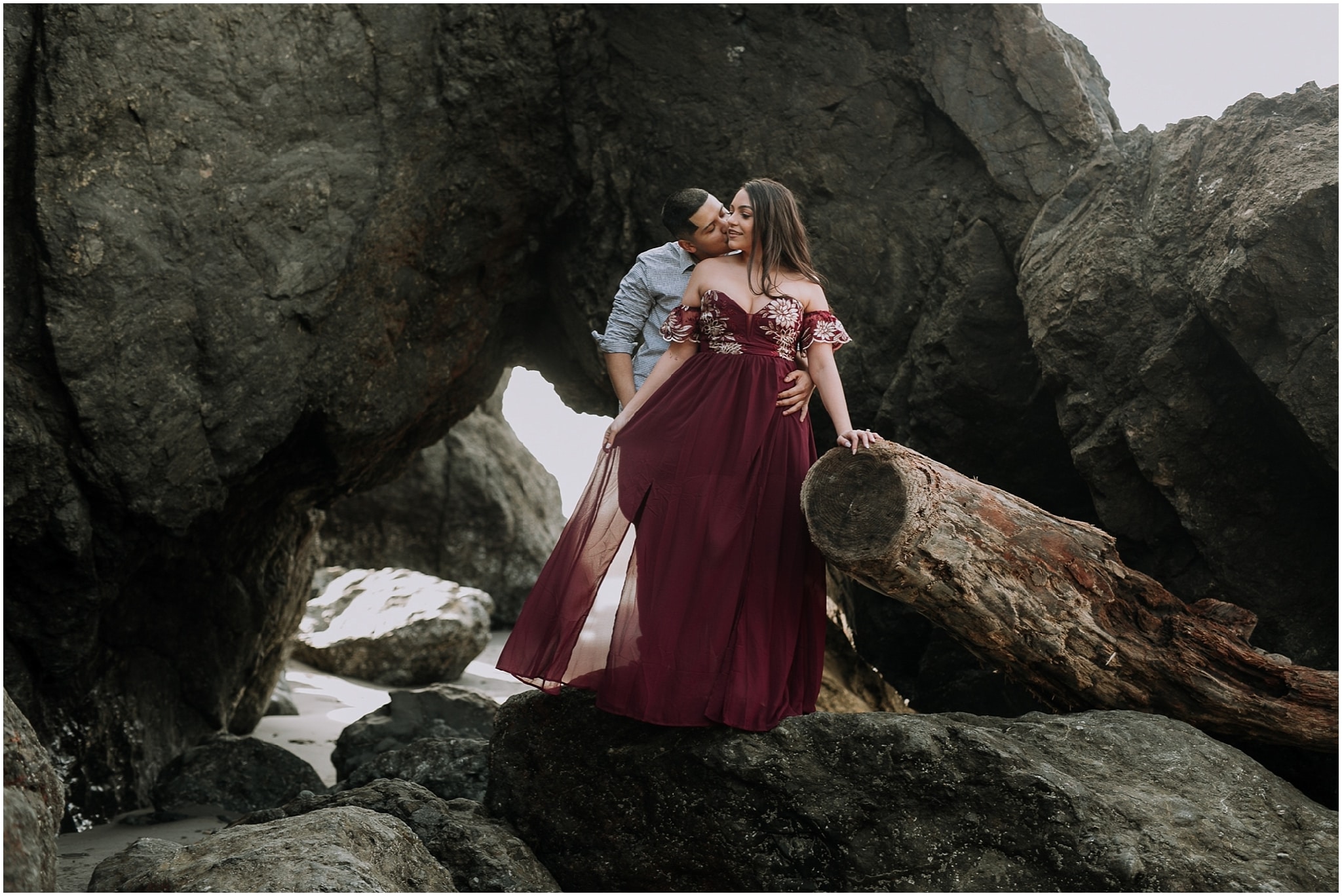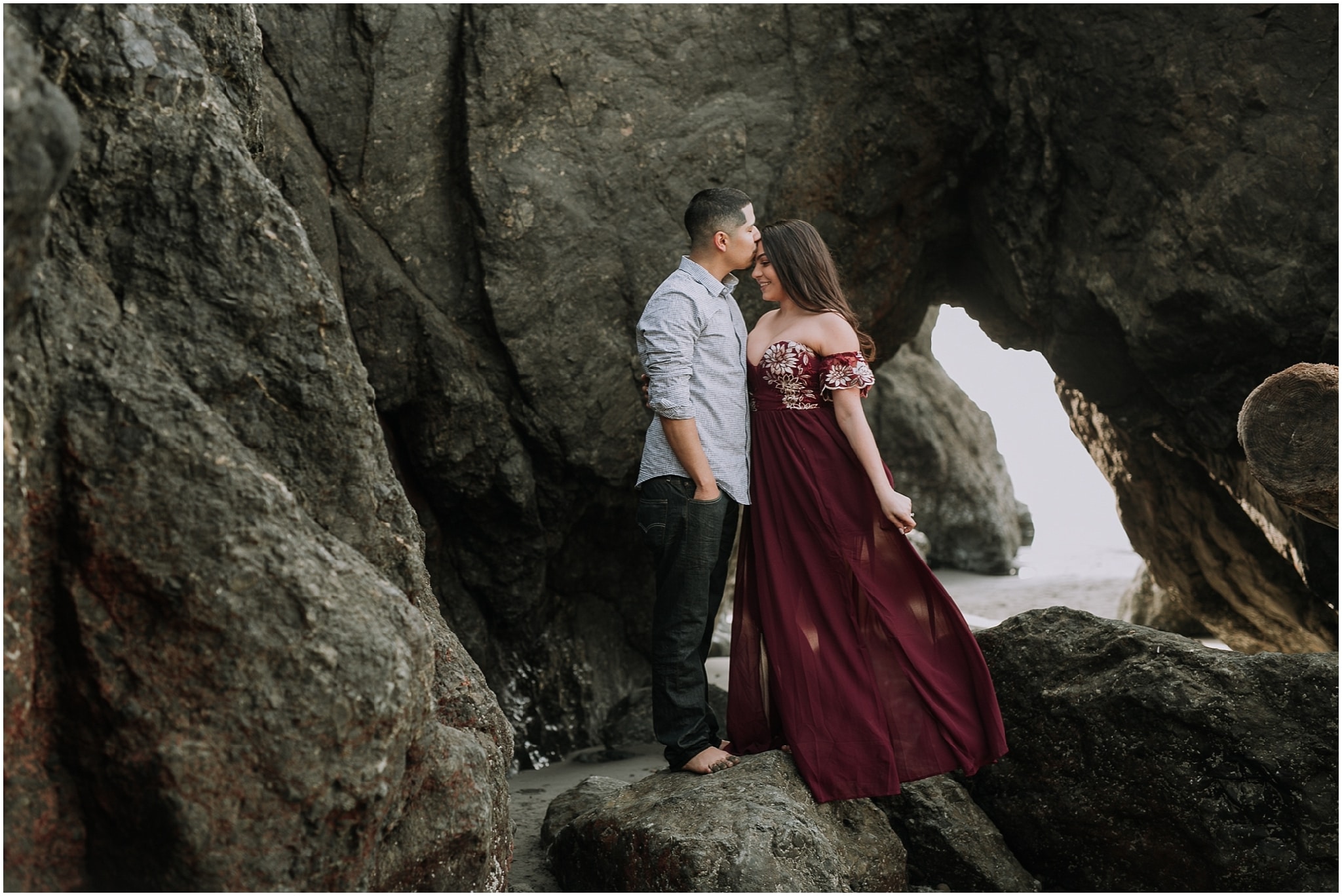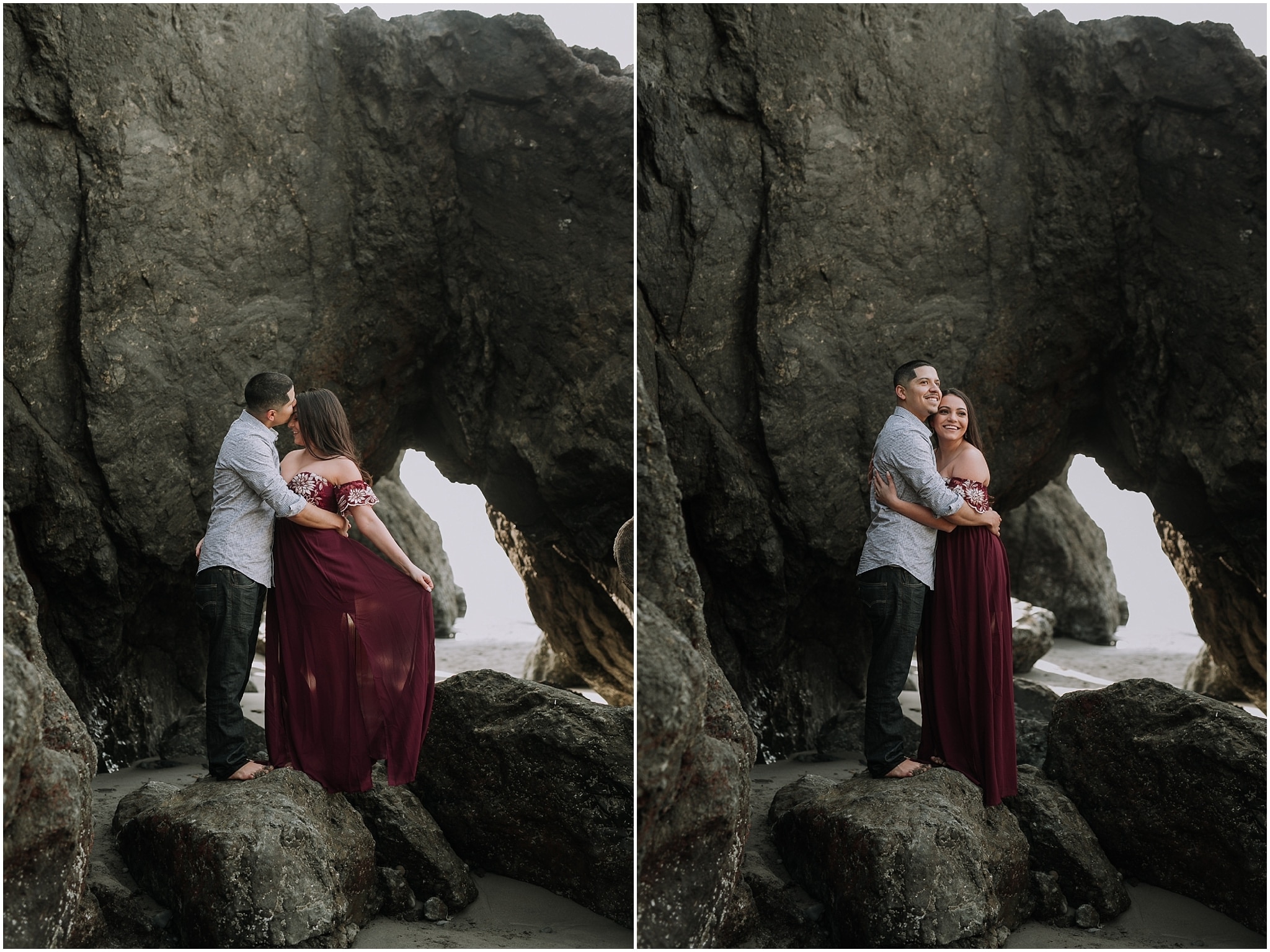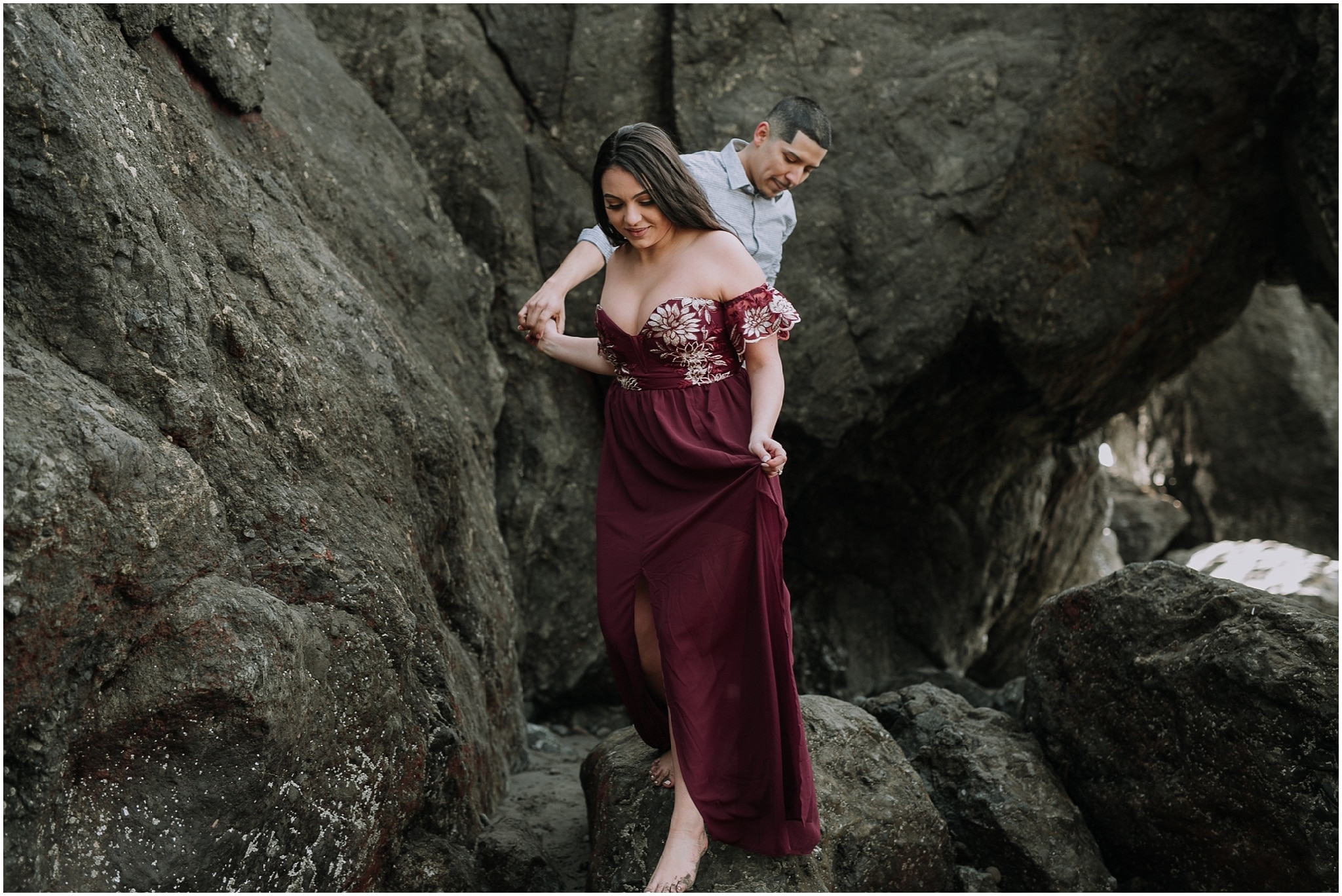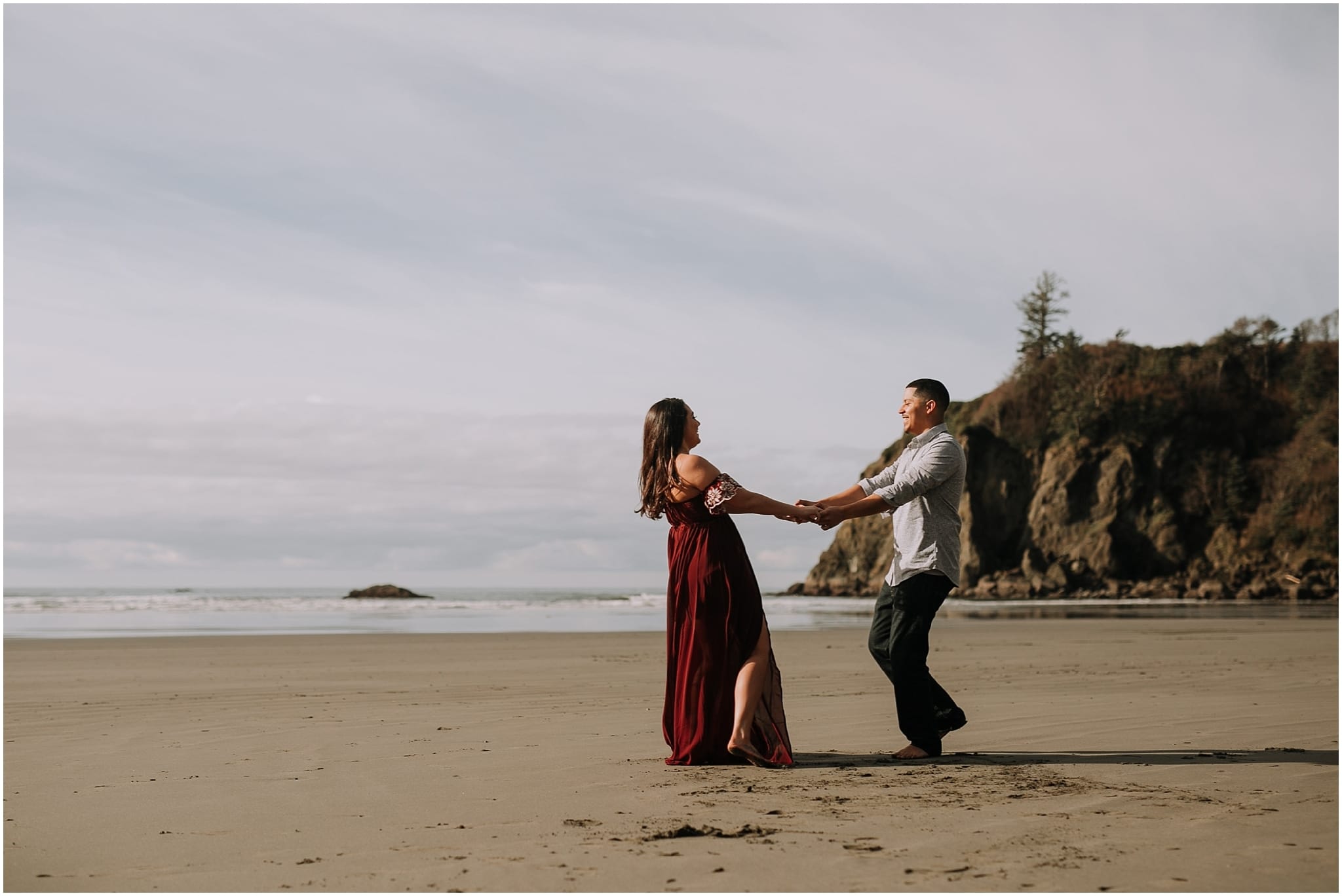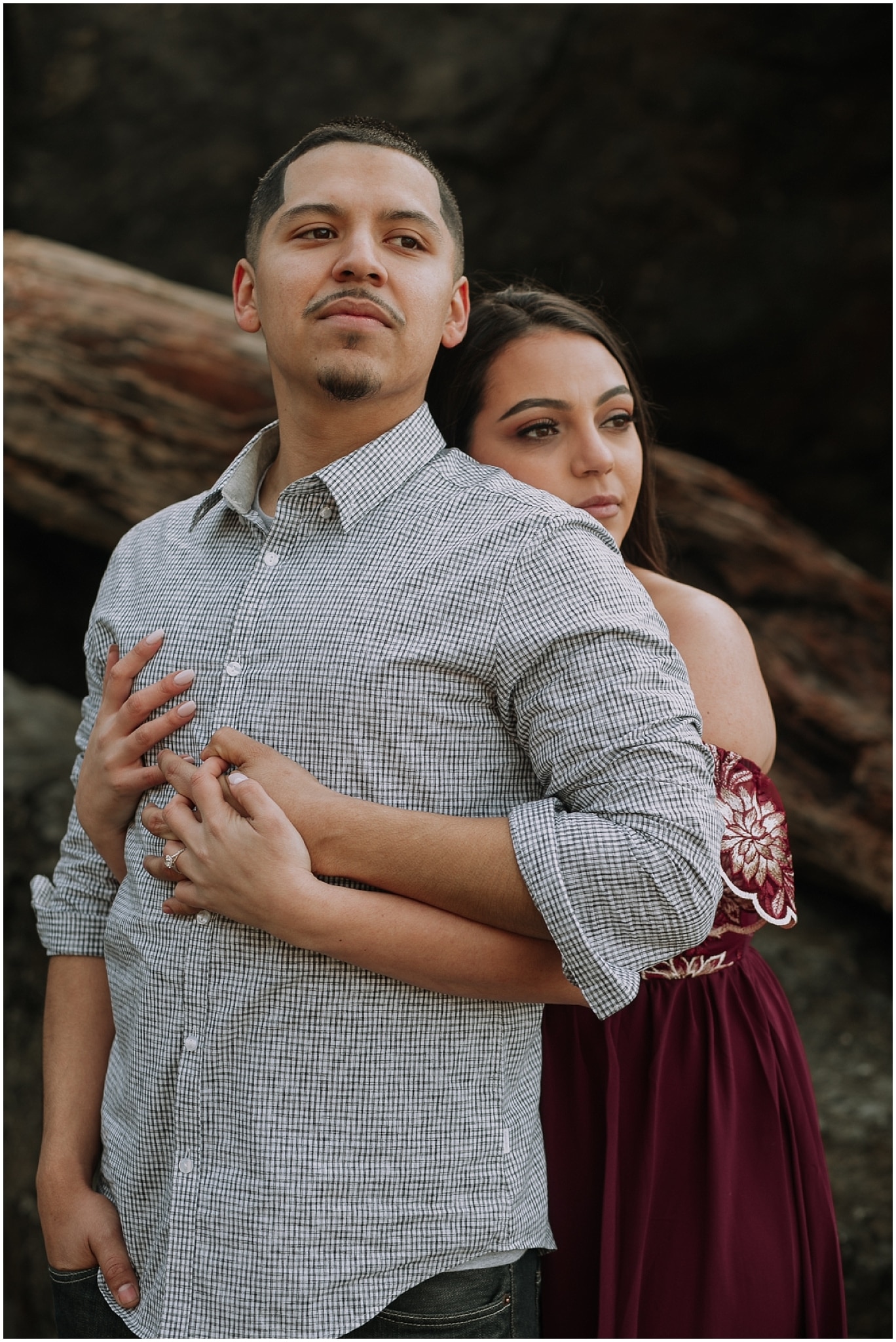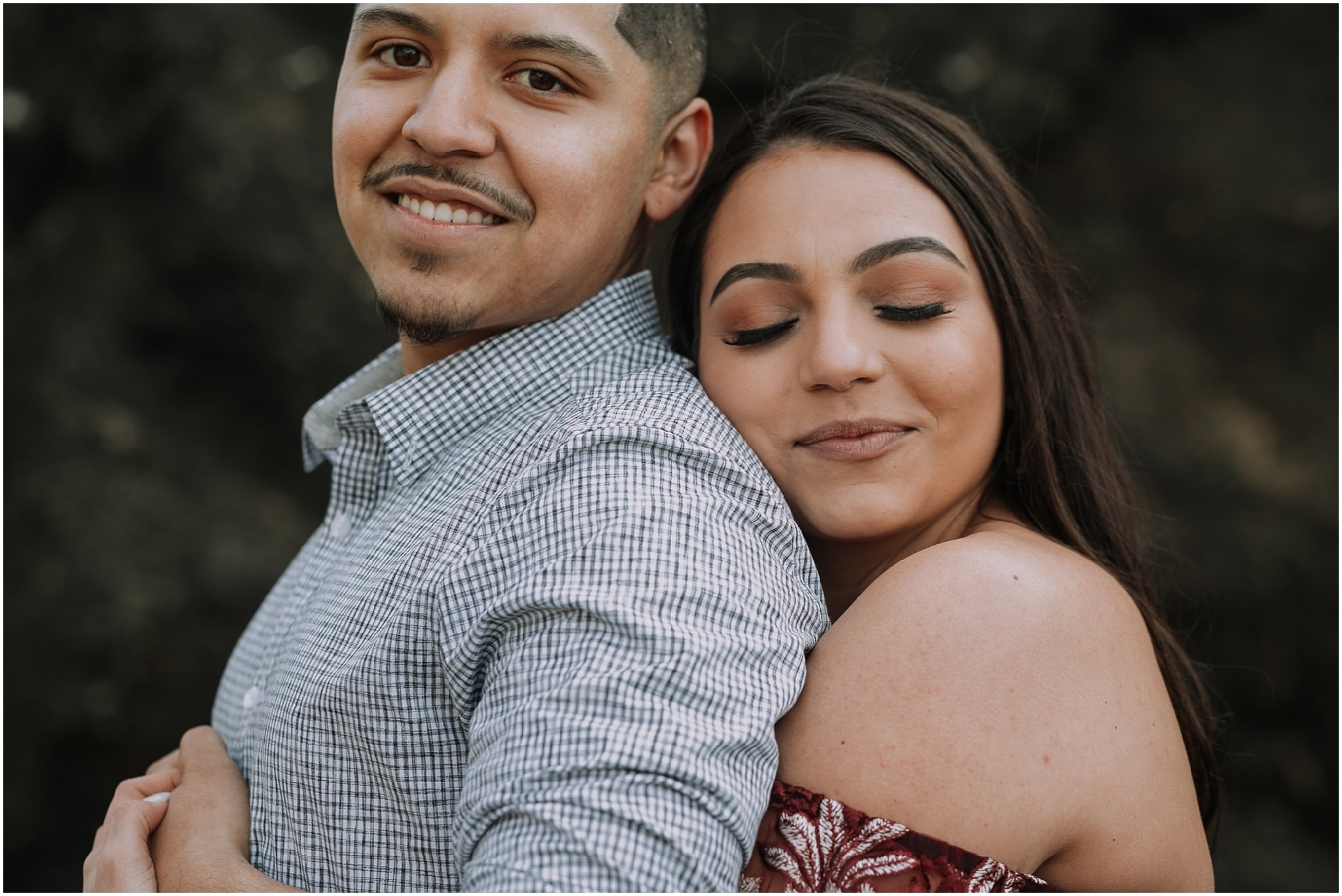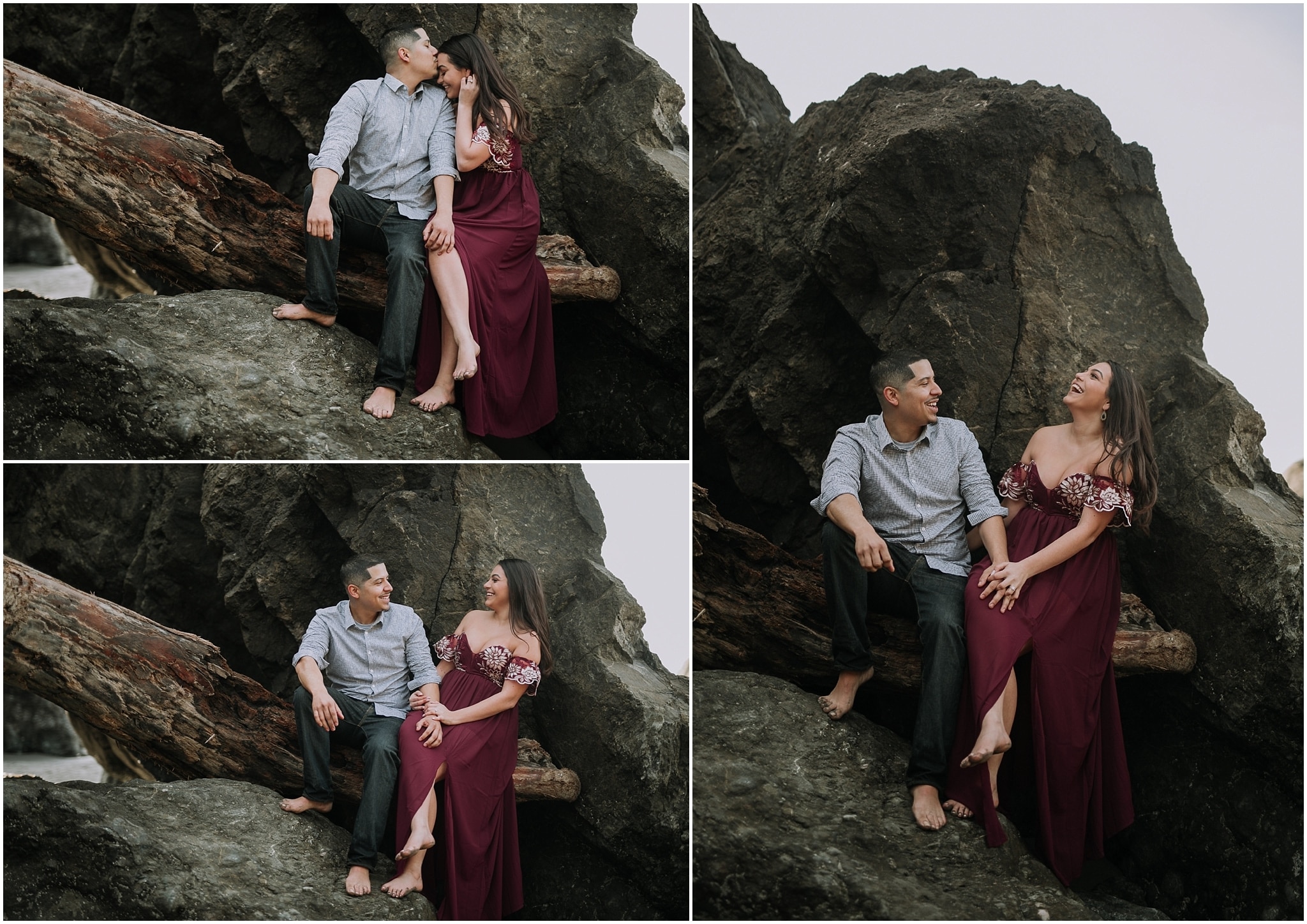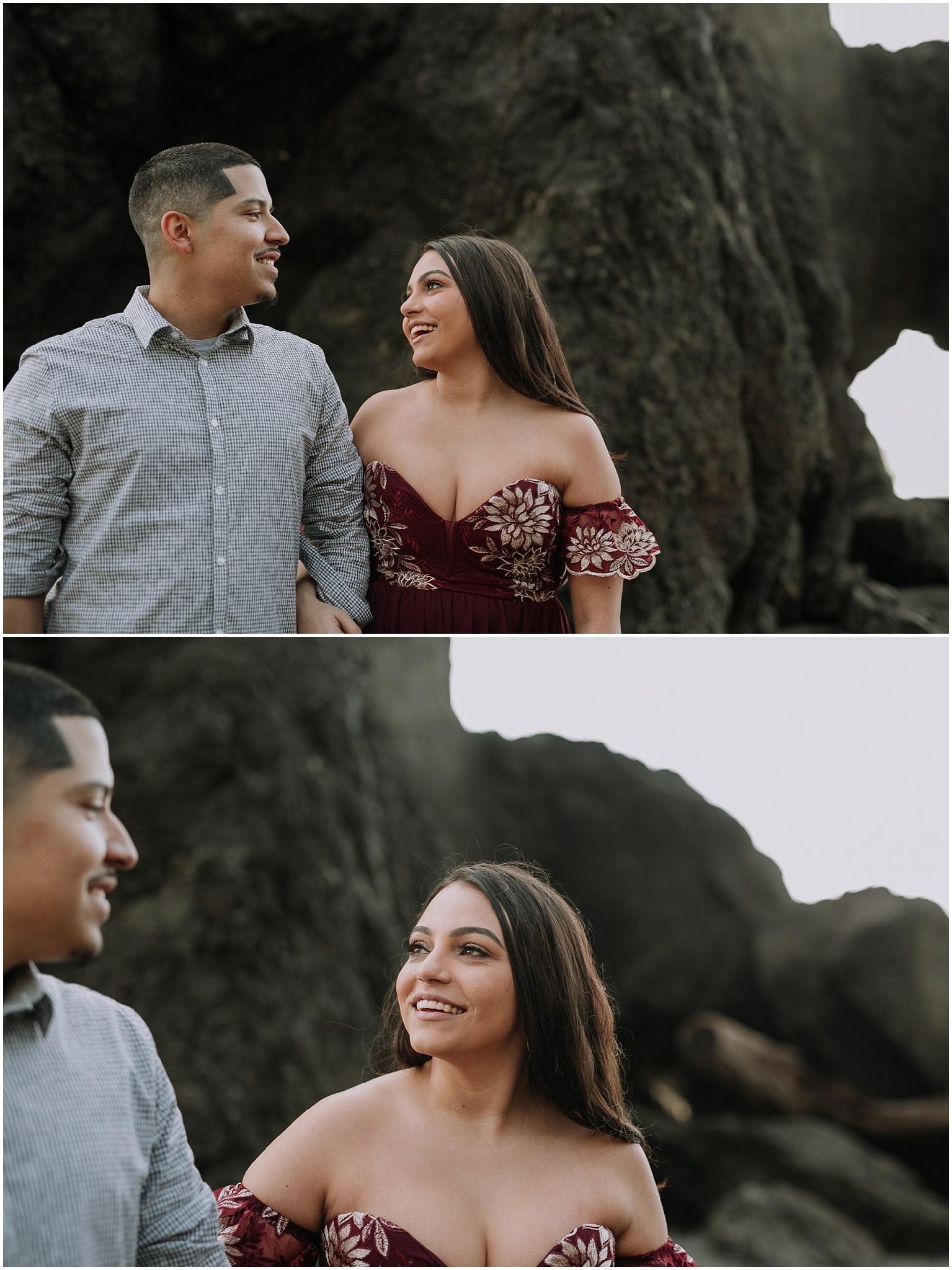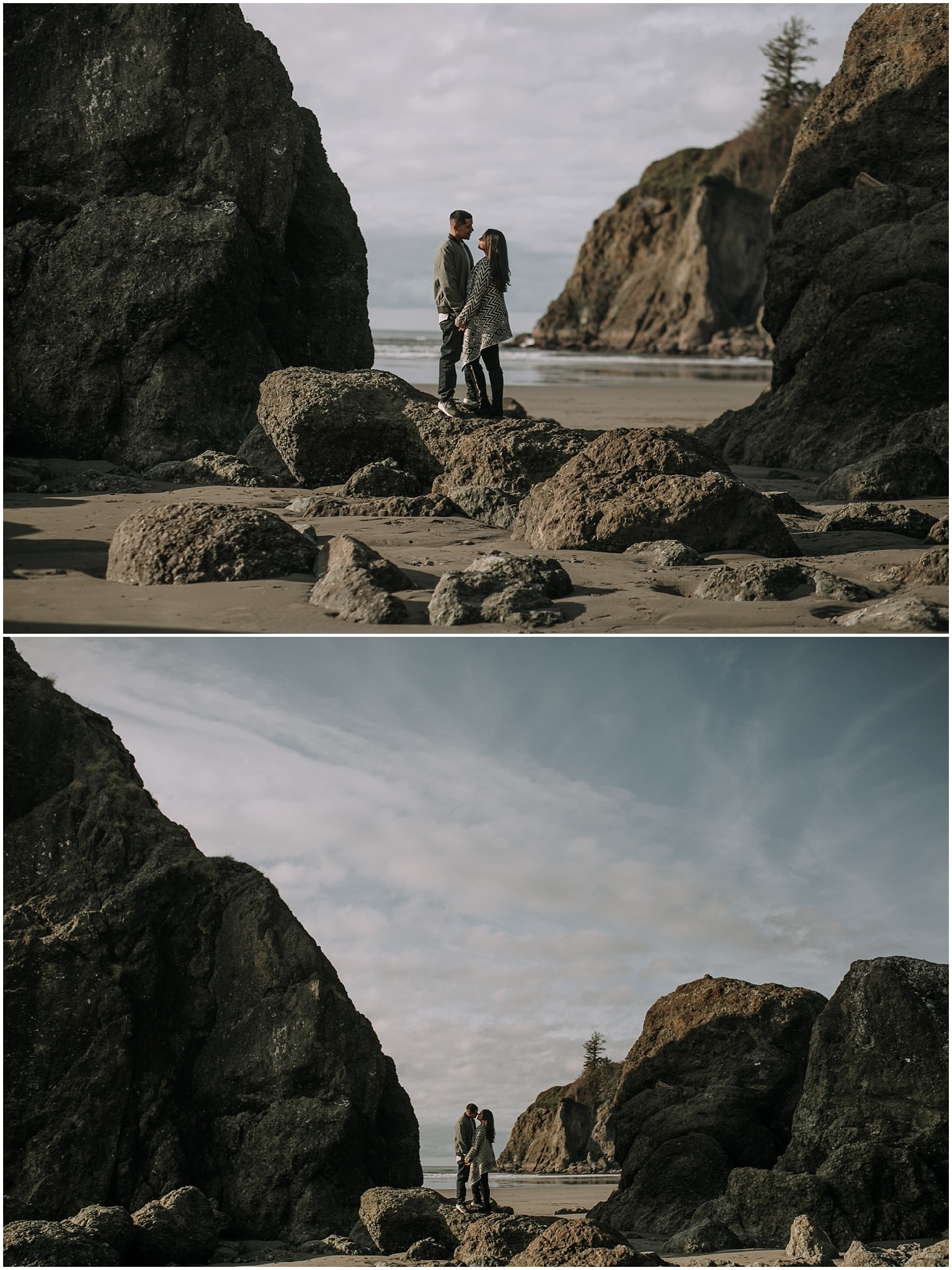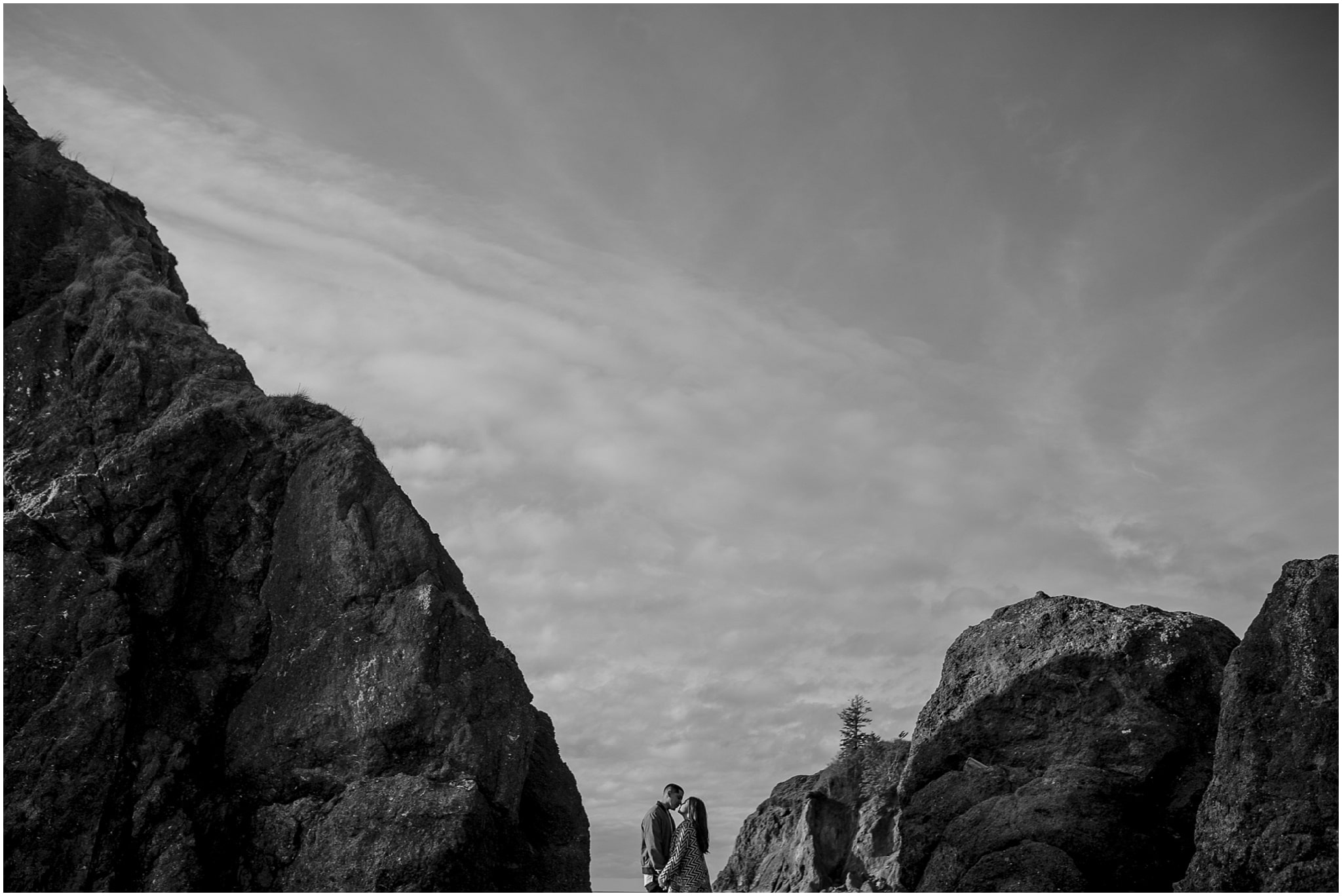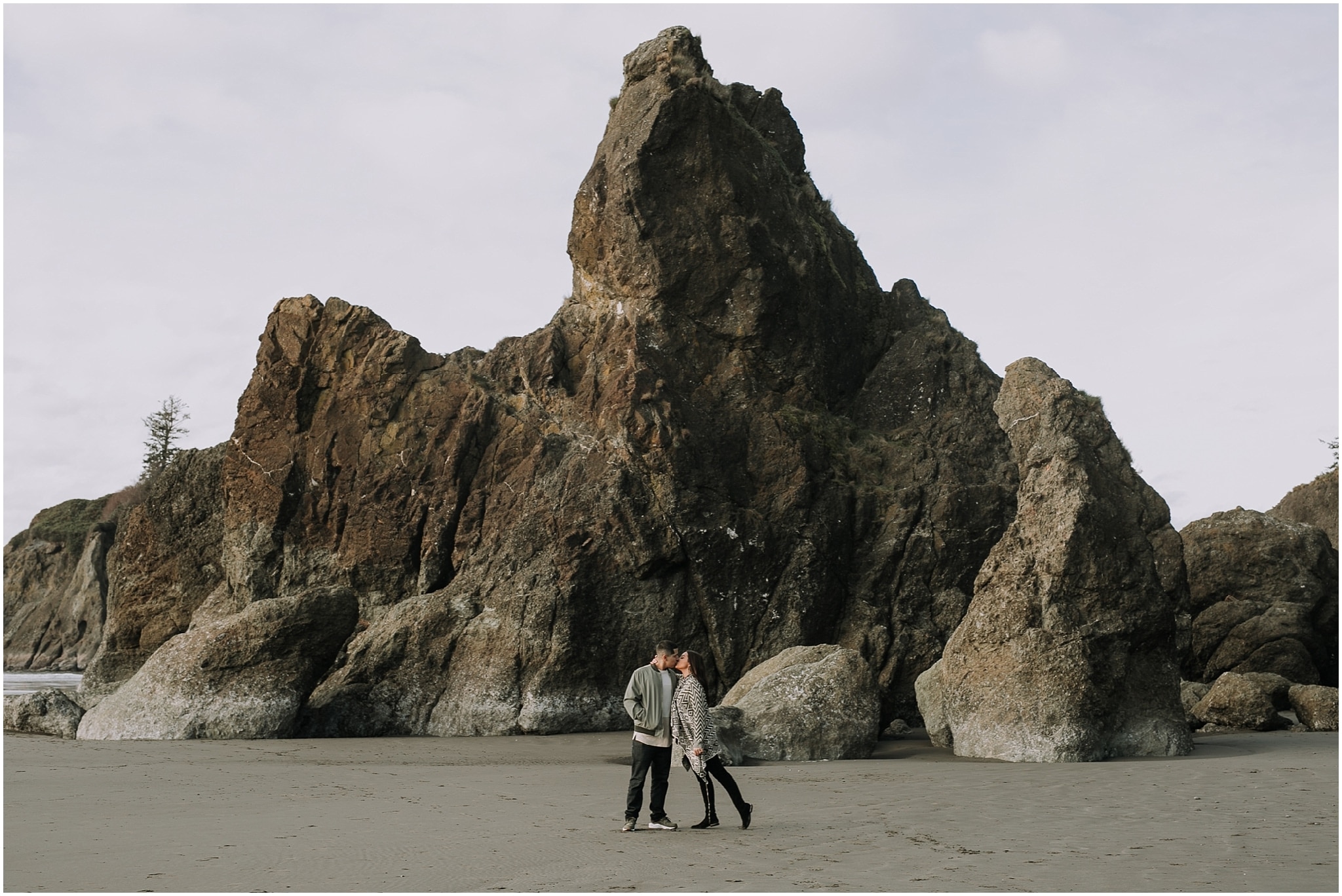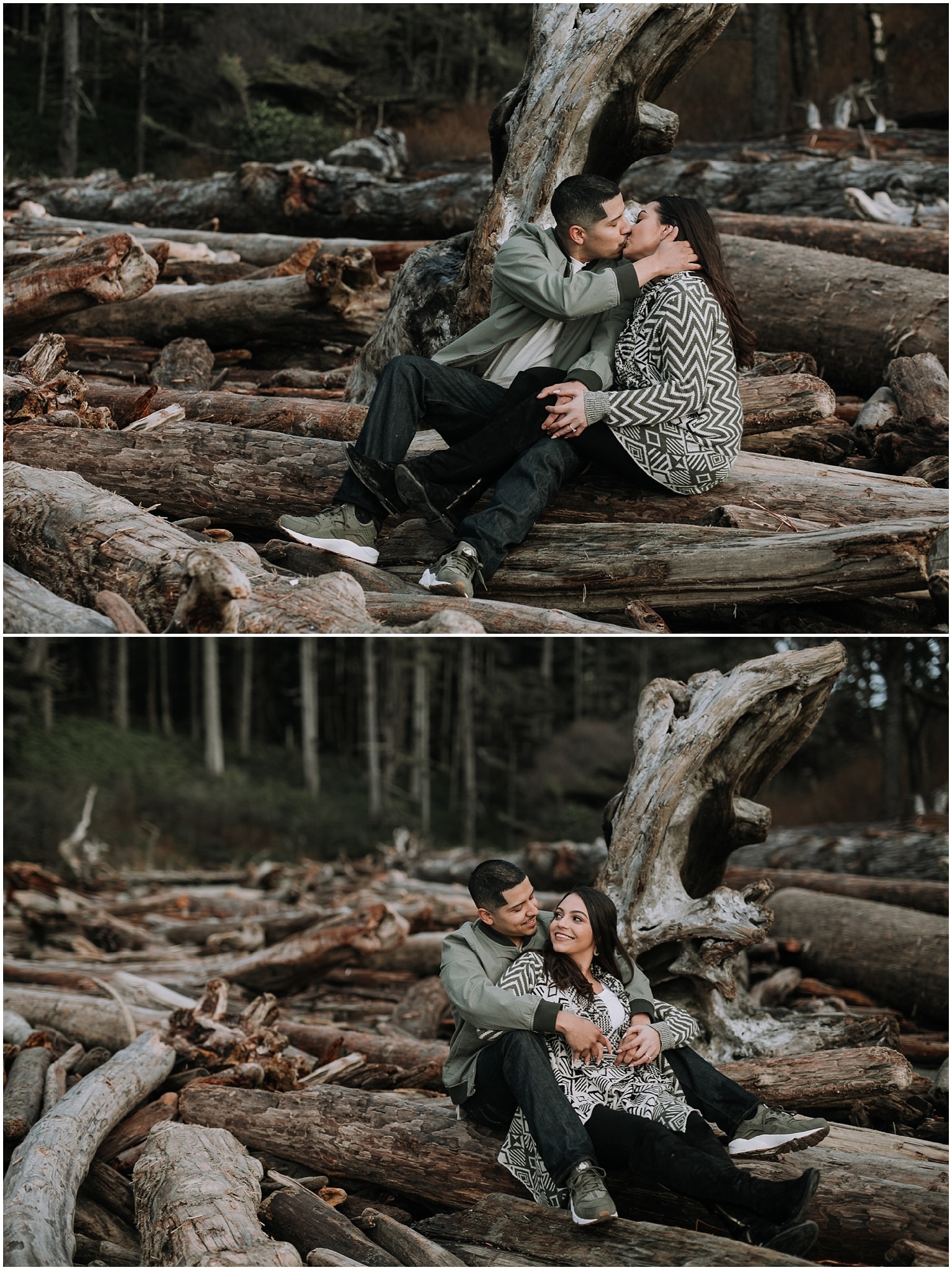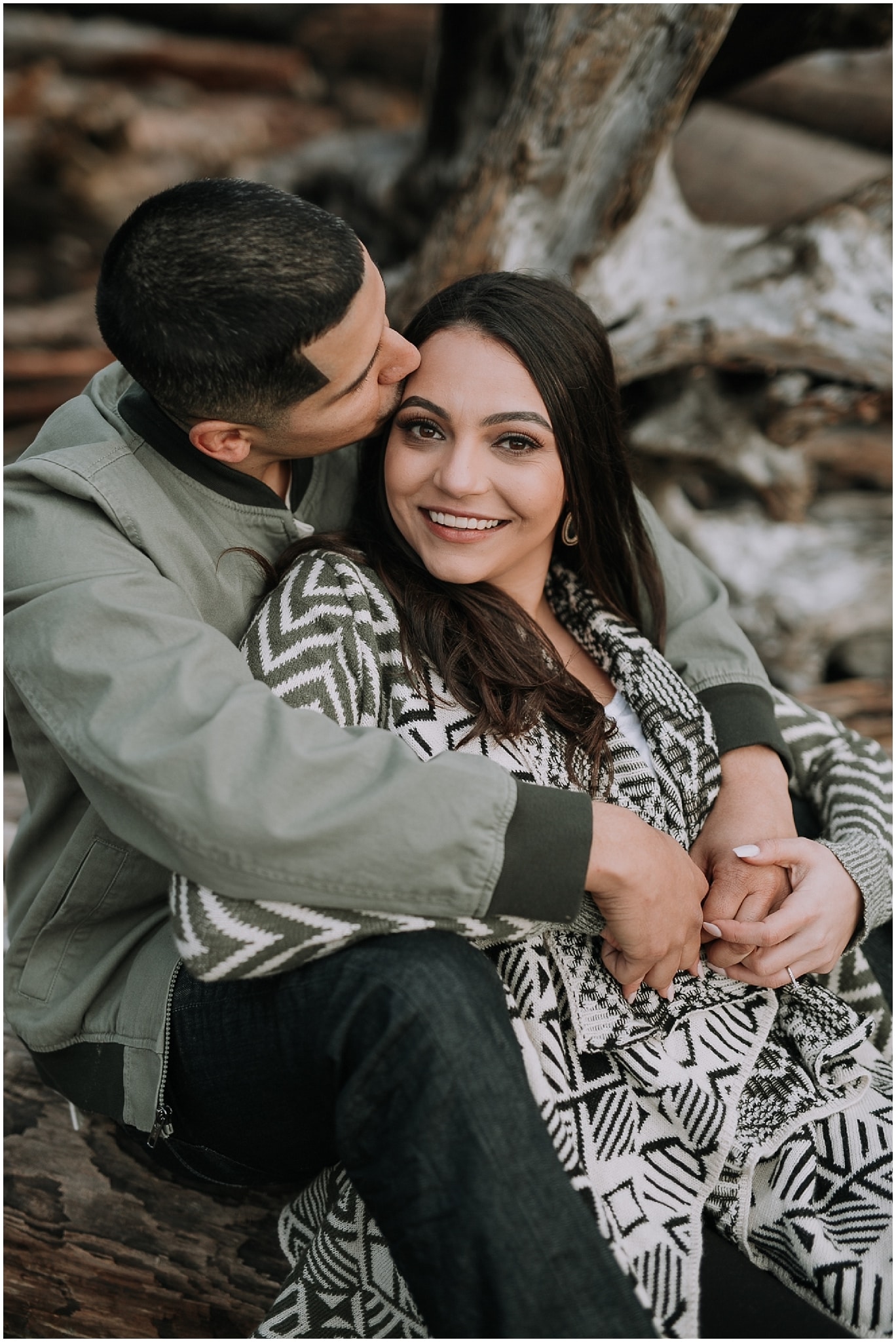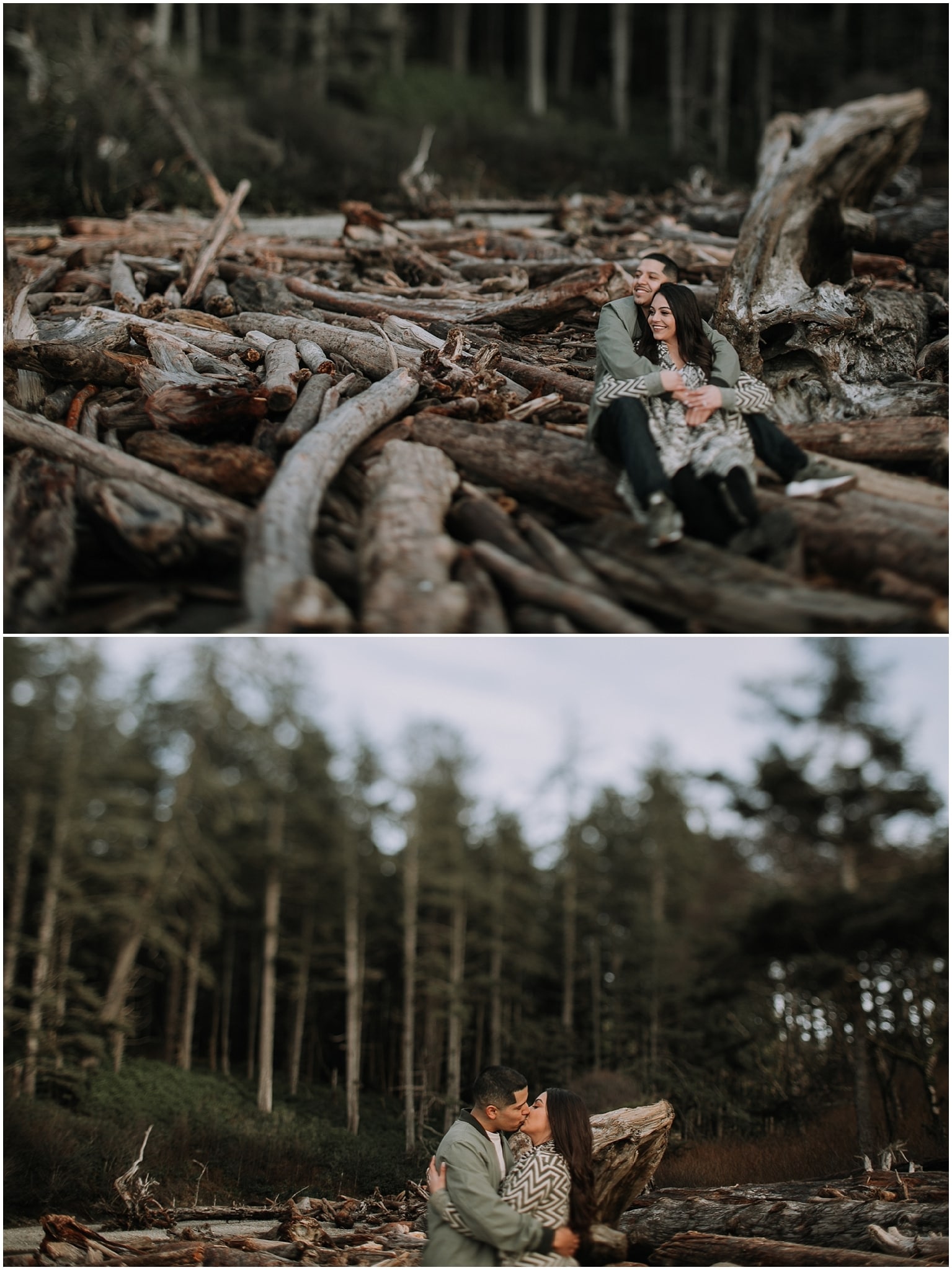 It will be a very long time before I forget this amazing session.  The perfect day for photos and such a gorgeous couple.  Wow.  That's all I can say.  One last glimpse of the beach as we hiked back up to the parking lot. Alyssa and Matt will be eloping in a few months and will be back here to the Olympic Peninsula. Stay tuned for their beautiful nuptials!  It's going to be amazing.
To check out the rest of my journal click here.
To check out my Instagram click here.