Devin & Kevin
An Adventure Engagement Session in Olympic National Park
Sunrise adventure engagement sessions are greatly underrated. Sure you have to get up early and if you are doing your hair and makeup then REALLY EARLY. But once you get up to those mountain views and you realize that it's just us, the deer and the birds and there are no tourists or hikers, it's well worth it.
With a such a stunning panoramic landscape, it would be easy for anyone to get caught in the moment and just stare at the glorious peaks and valleys for hours. I know I have before. Thankfully both Devin and Kevin were able to take it all in, enjoy themselves but get right into their session. Even though Kevin was in his uniform and Devin was in a wedding dress, that didn't stop them from having as much fun as possible.
As you keep scrolling you'll see just how goofy they are with each other. Devin is pretty tiny and Kevin is strong. So he is able to trow her up around his shoulders with ease and spin her like it's nothing. It was something I wasn't used to with my other couples and after this session I knew it would be something I would love to incorporate more!
We all got a great laugh when we saw the photo of Devin coming down off of Kevin's shoulders and it looked like had become a human diaper for her. I know how weird that sentence sounded and you're likely going to jump down to see it before you finish reading, but give it just a few more minutes.  I promise it will be worth it.
A little secret about these two, they actually are already married! Yeah, crazy I know! It was because he was going to be relocated and they wanted to make it official so she could go with him. But it was super quick, like courthouse style with no one there but them.
Since they did everything so quickly they felt it only right to take a few steps back and get engagement photos taken. Which of course is where I came into the picture. Pun very much intended!  We all decided that an adventure engagement session would be ideal.
When Devin reached out to me I instantly liked her and we clicked very well. We are both a little cray, a little (ok, a lot) loud, and very bubbly. She trusted me and my vision for their adventure engagement session and I loved that! So when I told her that I wanted to do sunrise up in the mountains, she was like "HELL YASS!" without hesitation.
Kevin was just as excited and it was actually his idea to do the champagne pop WITH Devin up on his shoulders. They are just crazy and fun like that.
We were standing on freaking slippery snow when that happened, and it was insane but 1000% worth the risk once I saw the photos. You seriously can't bottle that kind of joy and excitement, and trust me, I would if I could. Dev and Kev are the kind of couple a photographer always dreams about having as clients.
Now because I am blogging this session more than a year after it happened I can tell you that a lot has changed in their wedding plans. Their original plan was going to be a big celebration in Colorado on the 4th of July. Full of 200 guests, lots of drinking, dancing, and parting until the wee hours of the morning. Then Covid hit.  This year, having an adventure engagement session has become more popular.
They don't even live in Colorado anymore but in Philadelphia. Their families and friends all live in the Northeast anyway so it just makes more sense to move it closer to home. So hopefully, fingers crossed, it will be on New Years Eve in Philly. I know, BIG CHANGE! But then again, no one expected that 2020 would become what it is and everyone has had to learn to adapt to things changing and closing.
Thankfully Kevin and Devin didn't let this drastic change dampen their spirits. And I still am looking forward to dancing and parting with them into the wee hours, with my mask on of course.
If you would like to see some other adventure posts, my blog is here.
You can also follow me on Instagram by clicking here.
And since I have starting doing gifs..please enjoy this epic one of them!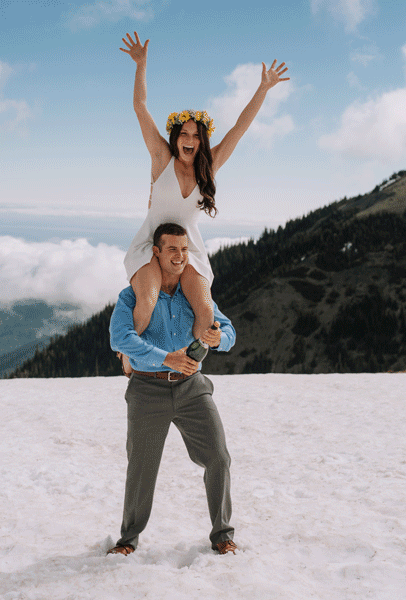 Your Narrative blog will appear here, click preview to see it live.
For any issues click here