Ben & Leslie Couples Session
A story about a romantic NYC couples Session on the Brooklyn Bridge and Central Park.
I was traveling to NYC for a photography workshop. I was going to be in the city for about a week in the beginning of November 2016. Leslie, who is also a photographer only newer, saw this she jumped on the opportunity to have me photograph her and her husband for a couples session.
I know right!? Like how amazing is that!? I was so excited to go to NYC, the Brooklyn Bridge & and even more to go see Central Park. All these places I have heard about, see in movies and TV shows and I was finally going to be there. Taking photos of a super adorable couple. How was this my life?? NYC 2016 OR BUST was my motto in the days leading up to the trip.
Not shown, me walking though Times Square, in complete aw of its beauty, and totally biffing it on a sidewalk. But hey, in 5 years from now I'll look back and laugh at it. Hopefully.
In talking with Leslie we decided to meet up at Central Park at the iconic Bethesda Terrace. And no, that was NOT the waterfall used in the opening to FRIENDS but it was still beautiful non the less. I loved all the detail work under the terrace bridge. Never seen anything like that here in Washington.
We spent a good 2 hours in Central Park walking around and enjoying the views. Getting photos amongst the architecture was like stepping out of a movie.
Then we went to across the water. Hands down, the Brooklyn Bridge is my favorite bridge in all of NYC, if not the united states! I couldn't have imaged a better location for their couples session. I felt like I had been so incredible blessed to shoot in such a beautiful city.
I may not ever come back to NYC, I don't know what the future holds. But if this is the one and only time I get to come here. It was the most amazing experience I ever had! I think the only thing that could have made it better was being able to see a famous person. Like Keanu Reeves riding the subway or Sarah Jessica Parker walking the streets in her Prada and Manolo Blahnik heels.
But still, what a wonderful way to end my trip to NYC than to do a couples session on the Brooklyn Bridge! I will forever remember this trip.

I still love the fact that we found the word "lovers" on the side of an old amphitheater. Is that too perfect or what?

Leslie and that black dress. It was a completely perfect selection. I really felt that the lines and structure of her dress perfectly complimented the beauty of the bride. It's like they were made for each other. And I'm not just talking about the dress and bridge.

One thing I didn't know about in getting to this location is just HOW FAR away we had to park in order to get to this very spot. It was quite exhausting to be honest and after about 3-4 hours together it was starting to make me very tired. But then I saw this shot on the back of my camera and I found a second wind to finish shooting. I look at these photos months later while I am blogging them and I still can't believe that I was ever in NYC doing a couples shoot. I can officially make this off my bucket list!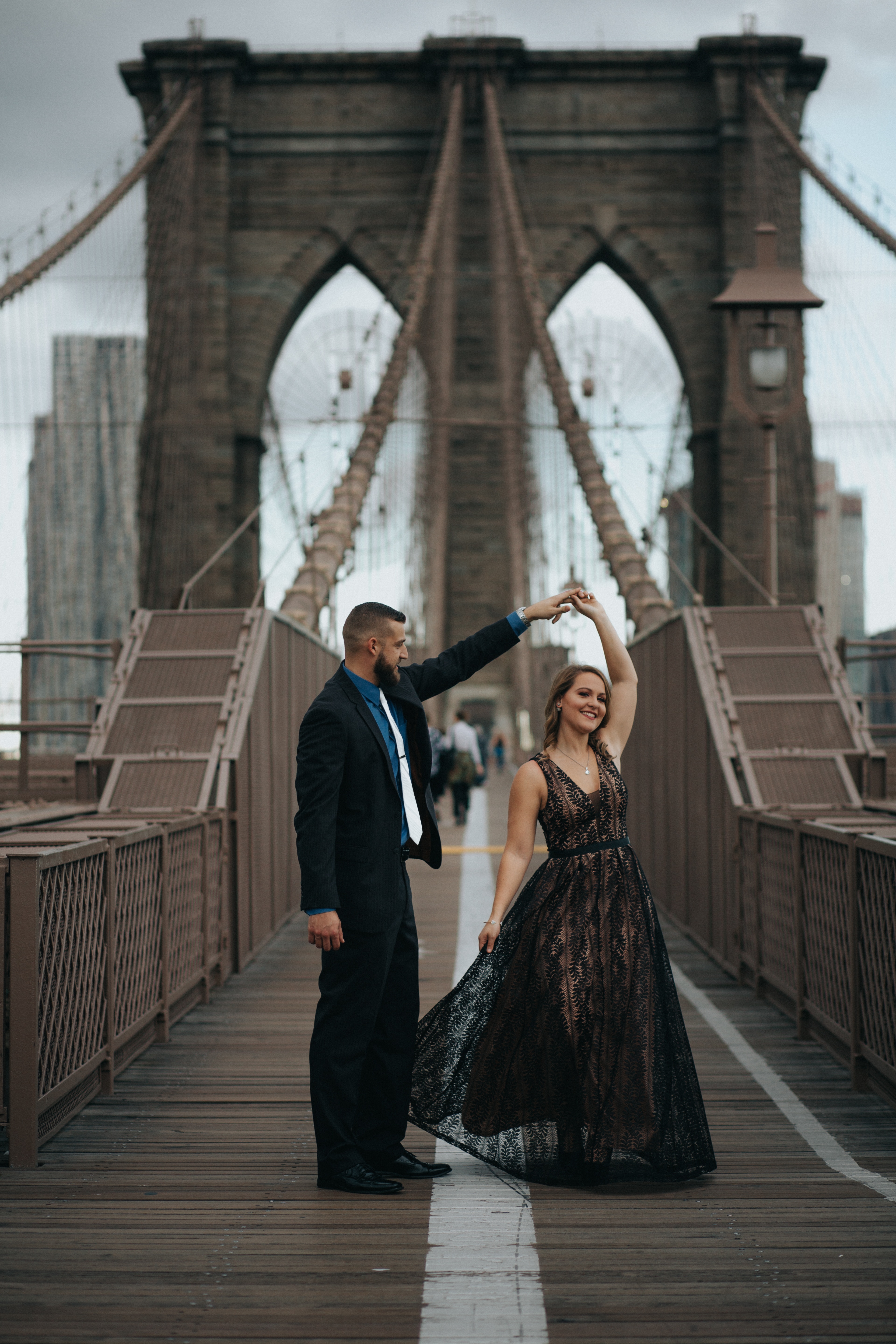 To check out my other journal/blog posts, click here.
To stalk me on Instagram, click here.