FIND LIMITLESS ADVENTURe
& HUMAN CONNECTION
Nomadic Photography For Intimate Weddings & Elopements in the Pacific Northwest, Southwest, Iceland or wherever you want... Seriously!
You've found your other half, your lobster, and the person you feel most comfortable to be your true weird self around. But before you start your life of together, LET'S get you married!

This is where I come into the picture
(pun intended)...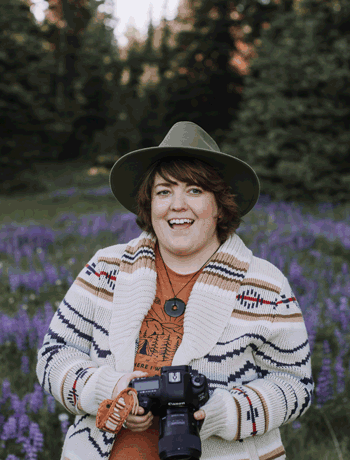 My job as the one behind the camera starts with making you comfortable and often ends with hugs, laughter and someone busting a move.
I live in a van so I literally go where the stories are. The kind where you make memories, leave footprints, and create epic new adventures. 
Adventure elopements are my PB&J. It's not enough to produce pictures you're going to love just for now. I want you to love them so much that your children and grandchildren will want to know the stories behind them when they see them 30+ years from now.
If you like the idea of a hiking trail being your wedding aisle, and wild animals (and not just your family) being your witnesses, then you're in the right place, and I'm the right photographer for you.
The heart emoji was made for these photo galleries
Kind words from my awesome couples
Kim is an AMAZING photographer and human being! From the day I reached out to her about taking our engagement and wedding photos, she was easy to talk to, lightning quick with responses, and made everything feel fun and relaxed. We first met Kim for our engagement photo shoot in Olympic National Park - she was easy-going and immediately made us feel comfortable in front of the camera. The weather was gloomy and rainy, but she made our photos absolutely beautiful. Then Kim traveled to Rhode Island for our wedding, and I cannot say enough about our wedding photos - I've only seen a few teasers so far but they are so gorgeous I don't have the words to do them justice. Kim made sure everyone in the wedding party was enjoying themselves and made the group photos feel seamless. I had had hopes for our wedding photos (doesn't anyone with an Instagram account??) and she exceeded them! ALSO we added in a next-day shoot so we could take pictures on the beach in RI, and that was also the best and the photos are incredible and I would recommend an extra day in your wedding outfits to anyone 🙂 Thank you, Kim, for giving my husband and I the best photos and wonderful memories forever!
We had the pleasure of having Kim shoot our engagement photos in Seattle and wedding in Hawaii. By the length of this review you can already see we are beyond satisfied with her work! She was kind enough to come all the way to Seattle to spend a day with us for our unconventional engagement photos of hanging out for a day of strolling around the city, eating, and enjoying a soccer match, while taking photos along the way. Before we even got started, I noticed how we instantly felt at ease around her. Being in front of a camera was something new for us both, and she made us feel so comfortable while keeping the sessions upbeat and fun. We were so impressed with both the candid shots and her creativity for poses. A year and a half later, Kim flew out for our wedding on Maui and she did it again with amazing photos! She worked well with the elements- hot sun, clouds, light wind, beach, a little rain- we had it all that day! She was so patient, professional, and I loved that she was there for it all- set up, dressing, and all through the night. She captured moments of us and guests that are so special. Two days later, we did another shoot on the west side of Maui and WOW! We cannot believe the images she captured! It was sunset as the waves were crashing high on the rocks behind us. Just magical. People actually gasp when they see our photos! Beyond her quality, her pricing is reasonable. This is a once-in-a-lifetime event and she sure delivered. One friend complimented her work saying Kim captured the essence of our love so perfectly and I agree 100%. We couldn't be happier with our experience. Thank you, Kim!
Working with Kim was a great experience and we hope to do it all over again some day in the future. We flew from Hawaii a total of two times to have Kim photograph our engagement photos & wedding portraits. We had these photo sessions in the lovely Olympic National Park. Kim was super responsive, friendly, funny, understanding, and accommodating in all our interactions. To us, This was all a bonus on top of her phenomenal photography skills. She is one of the best portrait photographers I've seen. Her editing style is clean & not overdone, her framing of shots is inviting, and the way she lets the photo shoot unfold is comfortable. When we got our photos, we were so happy both times. She also took a lot of candid photos that we were so glad to see and bring us back into the moment when we look at them. We were really glad we did both our engagement and wedding photos with Kim, because they are consistent and also it gave us the opportunity to meet with her and have the whole experience before our wedding photos, which made us even more comfortable for the wedding portraits. We are so grateful and happy that we connected with Kim to be our photographer. Truly one of the best (and I say this as a photographer myself). It is one of the few expenses that we absolutely do not regret at all from our whole wedding experience. So we are here to shout from the mountain tops (pun intended) that YOU WILL LOVE KIM AND HER WORK!
Kim was truly amazing. She made my special day super fun and captured amazing photos of us effortlessly. When Yosemite was on fire and we had to move the location of our ceremony, Kim did not hesitate to stick with us. She even spent a whole day touring Sequoia National Park with me and my family the day before the ceremony. I am so lucky to have chosen Kim for my wedding photography.
If I could give Kim more than five stars I would! Not only is she an amazing photographer but an amazing person. From the moment Kim responded to my e-mail we had a good feeling about her. I felt like I had just spent a whole day with my sister. She made my husband (who is camera shy) and myself feel so comfortable.

Kim is a wonderful person and her skills as a photographer speak for themselves. The only way that I can express how wonderful Kim is is by saying that of all the adventures we had in Iceland spending the day with Kim was the highlight of our trip.
We LOVE KIM! We adore EVERY single photo Kim captured of us!!! I can't even begin to express our gratitude and appreciation for Kim's amazing work. Not only is her work incredible but she is the easiest most laid back person to work with and has a heart of gold and great humor to keep the energy going! We had a BLAST.
We got these engagement photos done and can't part with her amazing work so we're bringing her across country to make it to our destination wedding! We are so lucky Kim is willing to travel for us!! I recommend her on every level!!! All I have to say is that I hope she's available for your big day!
Choosing Kim to be our photographer was one of the best decisions we made for our elopement and reception. Her work is breath taking, she captures the emotions and personalities of everyone she photographs. Not only is Kim's work amazing, you will feel like you have known her for years. At our elopement it felt like she was a friend excited to watch us get married and at our reception she appeared to fit right in and she seemed to be having fun, just the energy I was hoping for. I highly recommend Kim Butler to anyone who is searching for a photographer. You will not regret it.
I absolutely can NOT say enough good things about Kim. She goes above and beyond, treating her clients like family. She is friendly, super fun while also maintaining professionalism, so so kind, and hilarious to boot. She keeps you laughing and makes you feel utterly at ease during the entire shoot. And on top of all that, my goodness, her work is INCREDIBLE. We just got our photos back (4-week turnaround! WOW!) and we are blown away. All our friends and family are raving about the photos, and we could not be happier with how every single one turned out. If you are even vaguely entertaining the notion of booking Kim for your big day, DO IT!! Trust me, the results are worth every single penny and more. 15/10 would recommend
Kim was so awesome! It was absolutely POURING down rain in the Olympics the day we did our engagement pictures - she offered to reschedule (but we were in from Seattle, so we figured eh! lets go for it), but was also totally willing to romp around in the absolute monsoon that ensued upon us. My fiance and I are not super comfortable with PDA, but Kim made us feel completely comfortable. We appreciated her insights to cool spots that we hadn't originally thought of (especially since the rain made our original plans tricky). She got all our photos back to us in a beautiful gallery in a timely manner! We really appreciate all of Kim's hard work and her silly, comforting personality! If you're looking for adventure and fun, while feeling comfortable and open, she's your gal.
Kim is not only a skilled photographer, but also a greatly enjoyable person to work with. She trekked through sand and bushes to get the perfect shots, and offered funny quips and jokes to keep our laughs real. She allowed us to get beautiful photos that will be treasured for the rest of our lives.
Still need some answers before taking the leap? go here..
Stalk me On Instagram @kimbutlerphoto